Join Cape Ann Marine Partnership for Beer on the Pier Sunday, June 24
This Sunday, you can bring your whole family out to learn about Cape Ann Marine Partnership, marine debris, Gloucester's Harbors - and taste some of the latest beer from several local breweries at the same time.
Cape Ann Marine Partnership is an alliance of local organizations that work together on the issues of marine debris and litter. The partnership includes the Clean City Commission, Seaside Sustainability, Ocean Alliance, One Ocean One Love, Maritime Gloucester, Coast Guard Station Gloucester, and the NOAA Marine Debris Program.
To learn more about the group and their goals, I sat down with Ainsley Smith, who is responsible for a lot of the behind-the-scenes work on the Partnership. Originally from Western MA, she bounced around the East Coast while getting her undergrad degree, and has been in Gloucester for a few years. Her background is in marine biology, and she's also chair of the Clean City commission - which is how she first got involved in the Cape Ann Marine Partnership.
While each organization has its own separate projects, they've come together to work on solutions for keeping our harbor clean for all uses, recreational and industrials.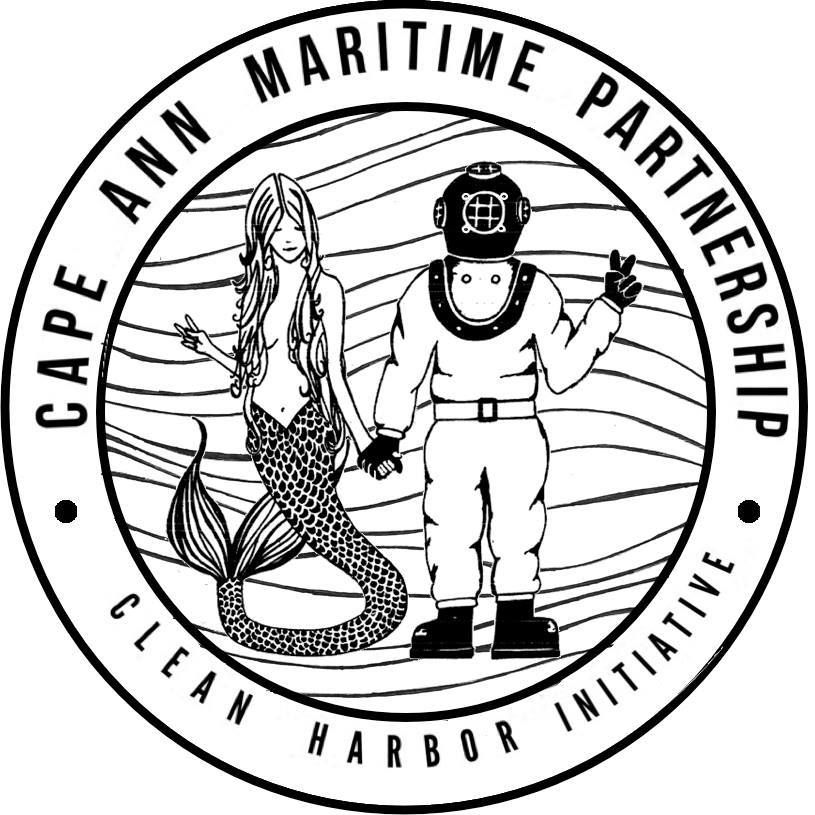 "It's been a really exciting 18 months or so," Ainsley told me. Over the last year, they've raised the $12,000 for a marine skimmer through a series of fundraisers. A naming contest for the skimmer was held online, and the name I chose, Skimmy Gibbler, won! "We're so excited to have her," she said, "She's the first marine skimmer in Massachusetts."
But what, exactly, is a marine skimmer? Skimmy is basically a small dumpster that sits in the water with a lid on top. The marine skimmers are placed in a static location where it's likely they'll encounter marine debris, which get sucked into the metal dumpster-like body. The debris and plastic can be removed with a pool skimmer.
The next closest marine skimmers are located in Rhode Island, in Newport and Aquidneck Island. "We've learned a lot from them, and gotten great advice on how to fix some of the skimmer's mechanical issues as they come up, as well as what's worked for them as far as data collection", Ainsley explained.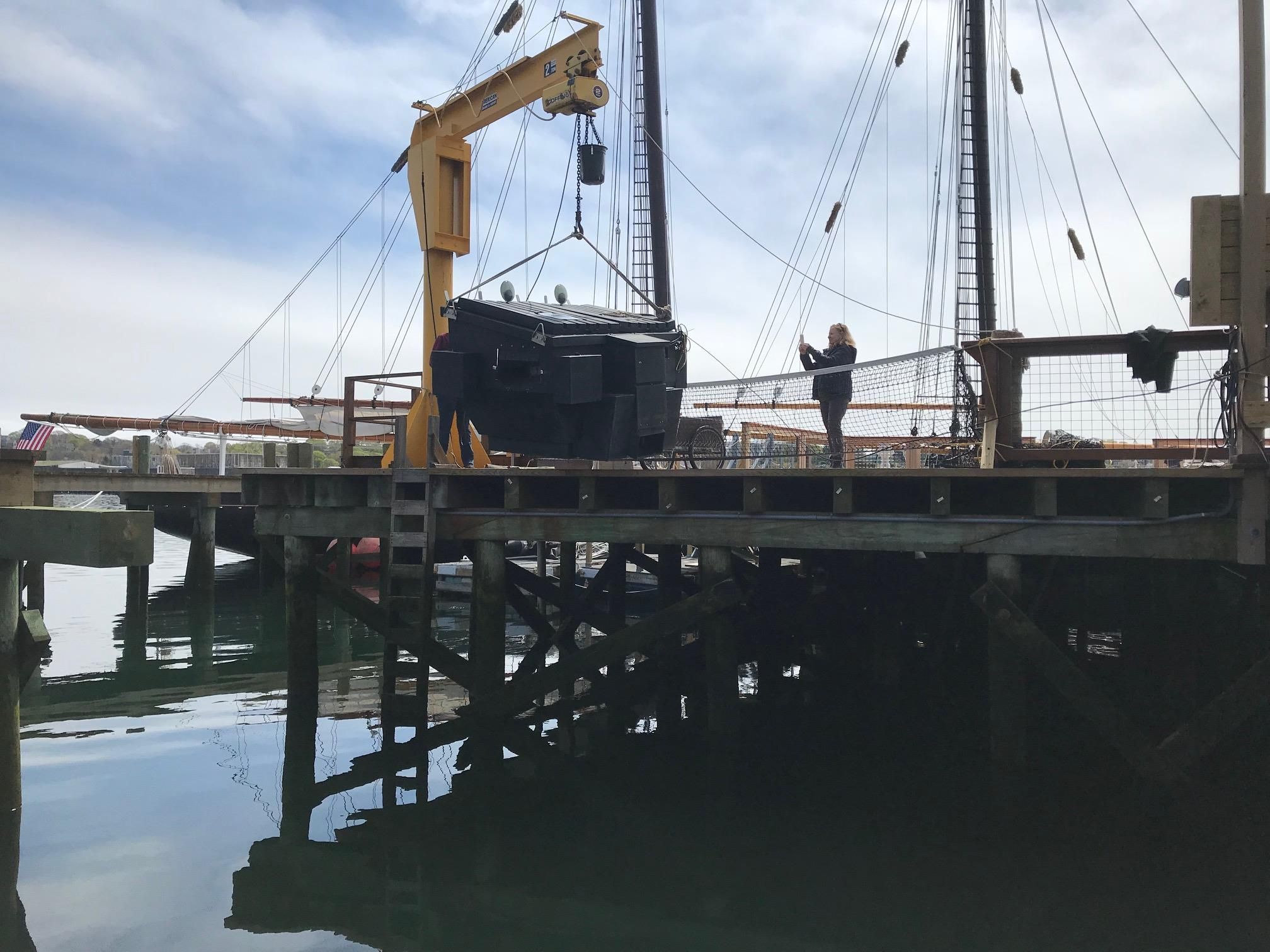 (Skimmy takes her first dip in the harbor - photo courtesy of Cape Ann Marine Partnership)
Skimmy Gibbler came to town last fall, and spent a month in the water in the late fall so Cape Ann Marine Partnership could learn the basics of how she runs and how often she needs to be checked before being removed for the winter season. She's now back in the water at the dock by Maritime Gloucester at Harbor Loop, poised and ready to eat up to 6,000 pounds of trash every year.
The best part? Her cool googly eyes. The Partnership bases a lot of their social media off Skimmy Gibbler's personality. This idea originates from the playfulness of Mr. Trash Wheel in Baltimore, a type of moving conveyor skimmer that floats in the inner harbor with an anthropomorphic personality. Bringing the debris cleaners to life helps build community and get kids and adults alike interested in the technology behind the skimmer. "We're all pretty attached to her at this point," Ainsley said excitedly.
Cape Ann Marine Partnership just received a grant from Patagonia Boston that will cover the purchase of 2 sea bins. The bins are smaller units - about the size of a 5 gallon bucket. The size allows the small units to be placed on any sized dock. The group is looking to place the bins at spaces such as the North Channel and Cripple Cove - spaces where debris tends to naturally accumulate from the tide flow. Production should begin on the units shortly.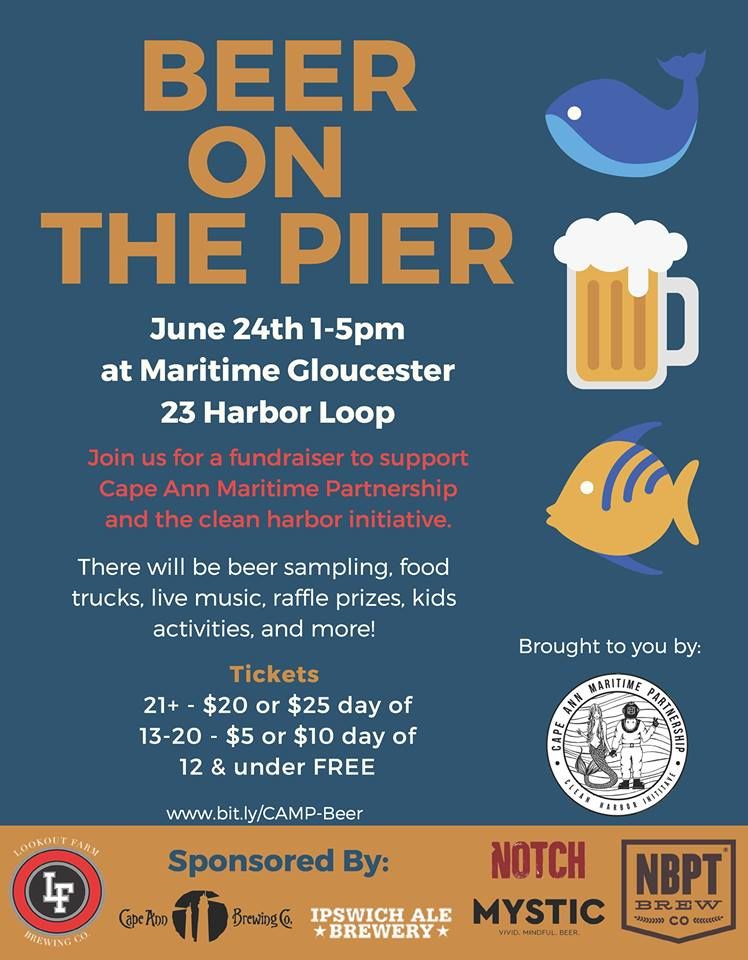 Sunday, June 24''s Beer on the Pier event, from 1-5 PM at the Maritime Gloucester dock at Harbor Loop. is a great way to come out and meet Skimmy Gibbler. The event is family friendly, so everyone can see her in action, as well as hear more about what the Cape Ann Marine Partnership is doing to keep the harbor clean as well as their future goals.
The event's entry price of $20 for adults ($25 on the day of the event) includes 8 beer tasting tickets. Beer and cider has been donated by local breweries such as Notch, Ipswich Ale, Cape Ann Brewery, Lookout Farm Brewing Company, Mystic Brewing, and Newburyport Brewing. Children 13 and up are $5 or $10 the day of, and kids under 13 are free.
There will also be raffle prizes and games, and Maritime Gloucester will have discounted tickets to the indoor aquarium for families, as well as music by Chris Langathianos and Joe Wilkins.
The Flour Shop in Rockport, who we recently featured on our blog, donated iced coffee and iced tea for the event - and the shop is already sustainable, using paper straws. There will also be several food trucks with snacks ranging from hot dogs to Chilean food.
Tickets may sell out in advance, so be sure to purchase ahead of time.
If you are interested in Skimmy, but can't go to the event, you can send them a message - they always need volunteers to learn how to scoop trash out of Skimmy, and you can get an in-depth look at how the skimmer works.
Fore more information on Skimmy Gibbler, and the Beer on the Pier event, check out Cape Ann Marine Partnership's Facebook page.


Selling Your Home?
Get your home's value - our custom reports include accurate and up to date information.
Get Home Value