Sometimes it may seem hard to get kids involved with creative or outdoor activities - but not with Glosta Rocks. This lighthearted and positive community grassroots adventure has brought joy to kids and adults alike - and best of all, it's relatively free!
The idea behind this constructive community project took off over the summer of 2017, when local Janine Parisi started the Glosta Rocks Facebook page with her daughter - though the project had initially been brought to Gloucester by Bridgette Matthews almost two years ago as part of a larger "Kindness Rocks" campaign. Kindness Rocks was originally started by a Massachusetts native, Megan Murphy, who according to an article about the phenomenon in Today, left a retail business in search for another more purposeful calling. She started painting rocks she picked up during walks along the ocean, adorning them with positive messages and leaving them on the beaches of Cape Cod. After a friend contacted her to let her know she had found the rock and its positive message had made her day, she knew she was onto something.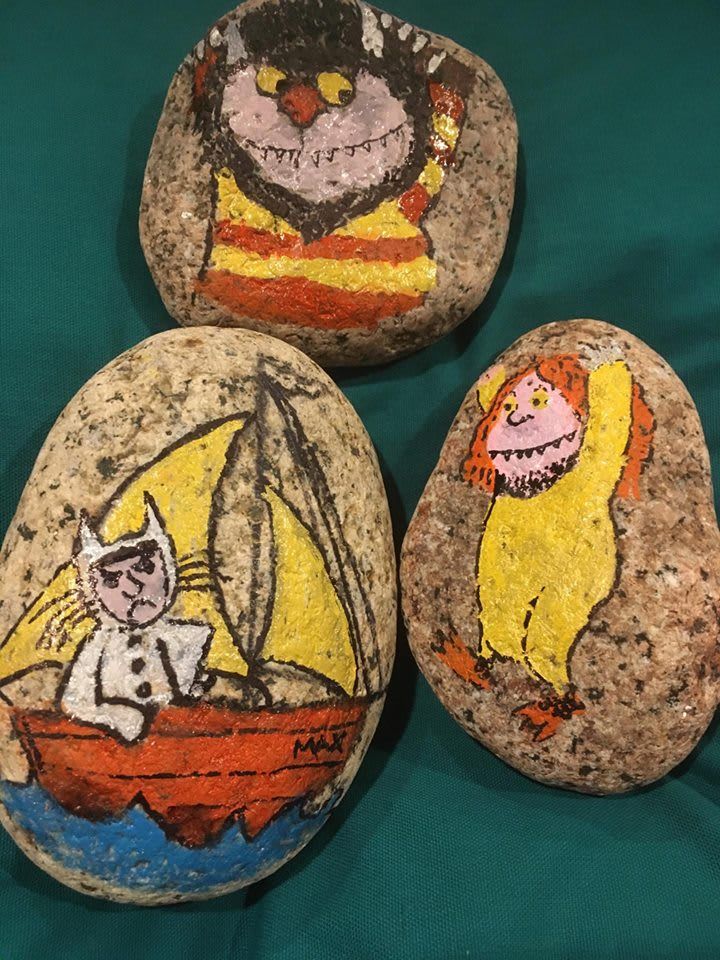 (Where the Wild Things Are rocks painted by Lara Jardullo)
The premise behind Glosta Rocks is simple. Anyone can paint rocks of all sizes and shapes, though most are smooth, and palm sized, for ease of painting and hiding. It doesn't matter what your skill level is - whether toddler or seasoned artist! On the back, mark them with #GlostaRocks, so those who find them know they're part of the fun - and more people can search the hashtag and find out about the game. The next thing to do is to hide them - mostly in plain sight, or tucked somewhere whimsical. They are spread across town, hidden in missing bricks, in planters, up in trees and on fences, downtown or in the woods. You'll never know where you'll come across a beautiful rock!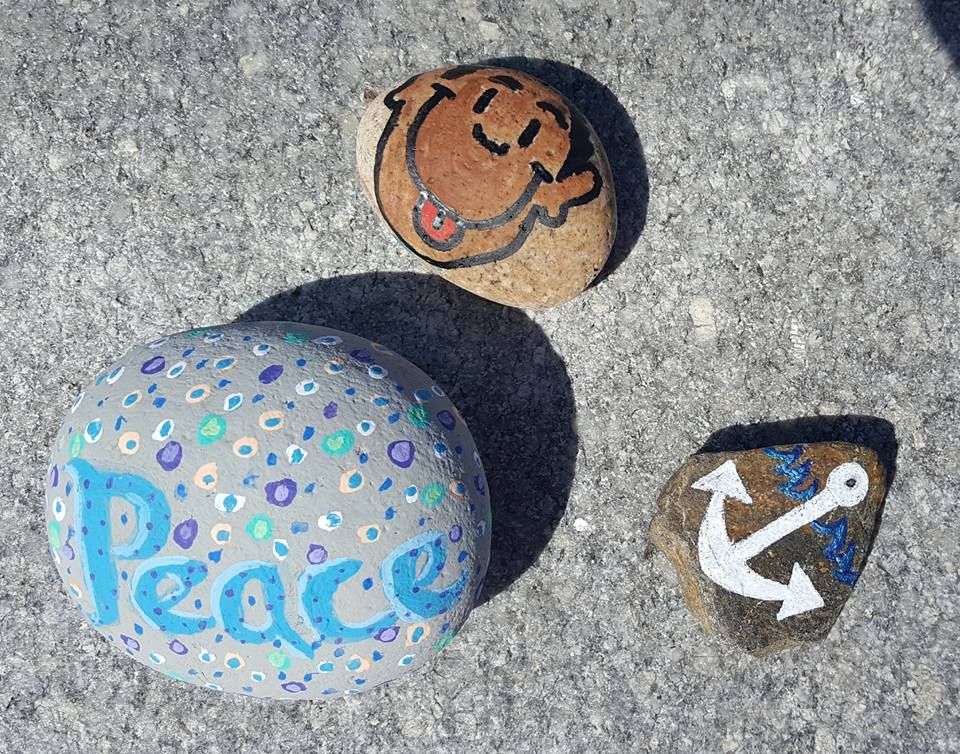 (Photo of rocks found by Chrissy Cauthers and her family)
If you find a rock, the choice is yours - keep it, or re-hide it for someone else to find. While some people choose to keep the rock if it's something they especially love, the majority put the rocks back - in either the same or different locations.
Some participants also keep the rocks temporarily to liven up their homes - then put them back for others to enjoy when they're done. The project is meant to inspire creativity, kindness, positivity and community - as well as get families to work on these art projects together. Kids are having a blast creating the rocks, and so are parents.
I spoke to a few of the Glosta Rocks participants about what the project has meant to them and what they enjoy most about participating. "Anything that puts a genuinely happy smile on mine or other kids faces are things we need more of," said Corey Brooks.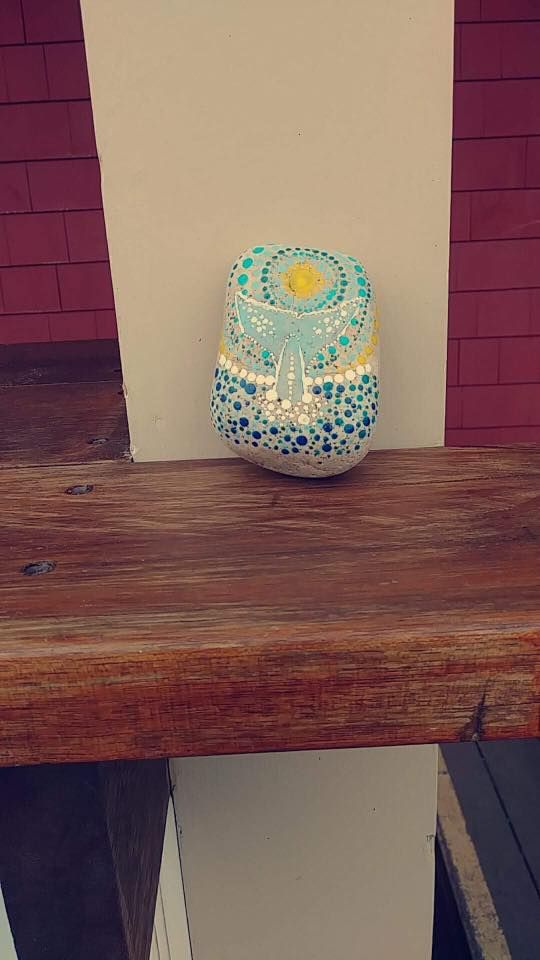 (Photo by Aleah Harris)
" I love this group!" said Aleah Harris. "It's a total inspiration to see what others paint on their rocks. I'm constantly following the posts to see what rocks they have found and which are being hidden or people are keeping. It's amazing how far these rocks really go!" She also noted how the group is quickly growing and what that means for the community. " I'm pretty sure since last week there's been over 1000 new members! Which is amazing!" It encourages others to find and post rocks or even paint them as well. My son loves hiding them and seeing the posts when someone finds it. It's very up lifting a little something to get you through your day or say 'hey I found this really cool rock'."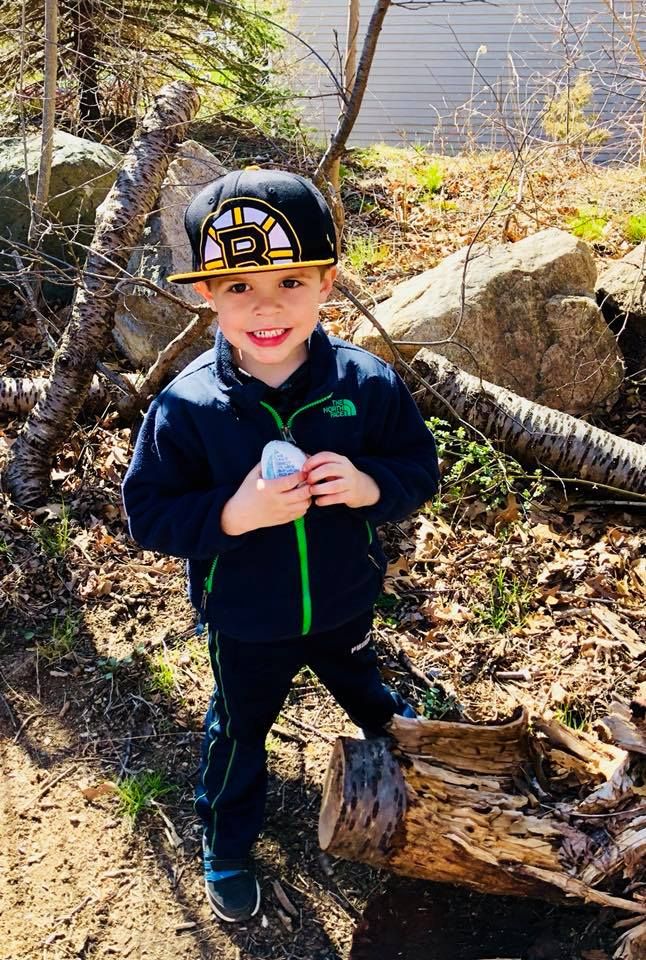 "Me and my son have been enjoying it tremendously!" explained Kerry Patricia Arsenault, who often posts pictures of her young son beaming with the rocks he's collected, like the one above. She painted the below rocks with her family and hid them around Gloucester - including the amazing unicorn rocks!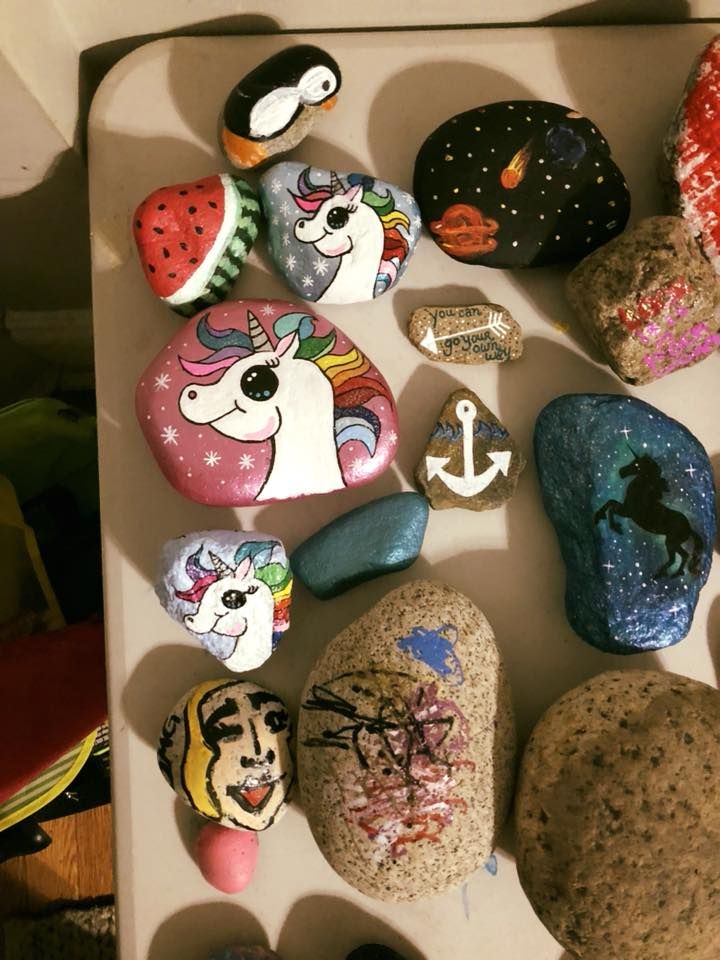 My family is having so much fun painting rocks , hiding rocks ,finding rocks and checking facebook to see who finds them and where they end up," explained Charlene Robinson. "We call them happy rocks because they bring so much joy to everyone's faces. It's so nice to see so many kids out looking for painted rocks , sharing their stories and showing other kids the rocks they find... This has been a great thing for our little community. I can't wait to get back out there looking for rocks and hiding rocks with the Grandkids after school today!"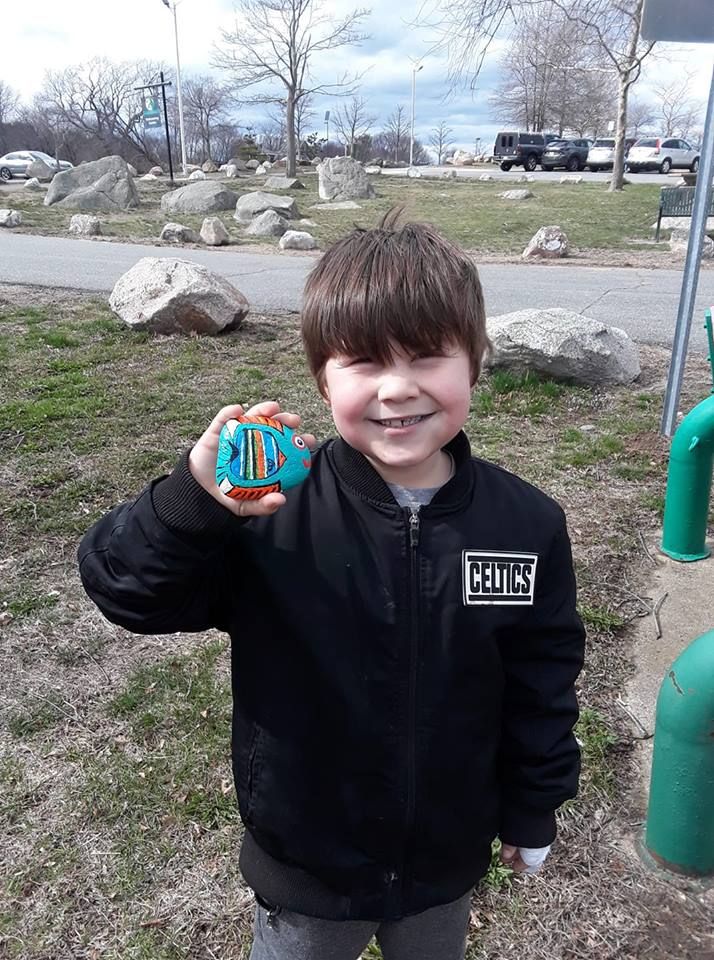 (Charlene Robinson's grandson, Blake, with one of the many rocks he's found in Gloucester)
I also spoke with my friend Lara Jardullo, who works downtown at the Dress Code and, with her immense talent, has started hiding 80's Carebears, Strawberry Shortcake and Muppets-themed rocks across Gloucester. "I have only been making [the rocks] for the last month, actually! I got into it after I saw all the amazing posts and someone added me into the group on Facebook. I'm an artist myself so I love to be involved in anything fun and creative! It reminded me of letterboxing which is also a treasure hunt kind of thing that is very low budget to do!" She says she has only found four rocks out in the wild so far - one with a super cute octopus. Her favorite one to create in hide was her Miss Piggy "Pigs in Space" themed rock. When I asked if she kept the rocks or re-hid them, she exclaimed, "I always rehide them! It spreads the love and joy behind them to others!" Her favorite spots are ones that no one else has used, and she also tried to hide hers in a place that relates to the theme of the painted rocks.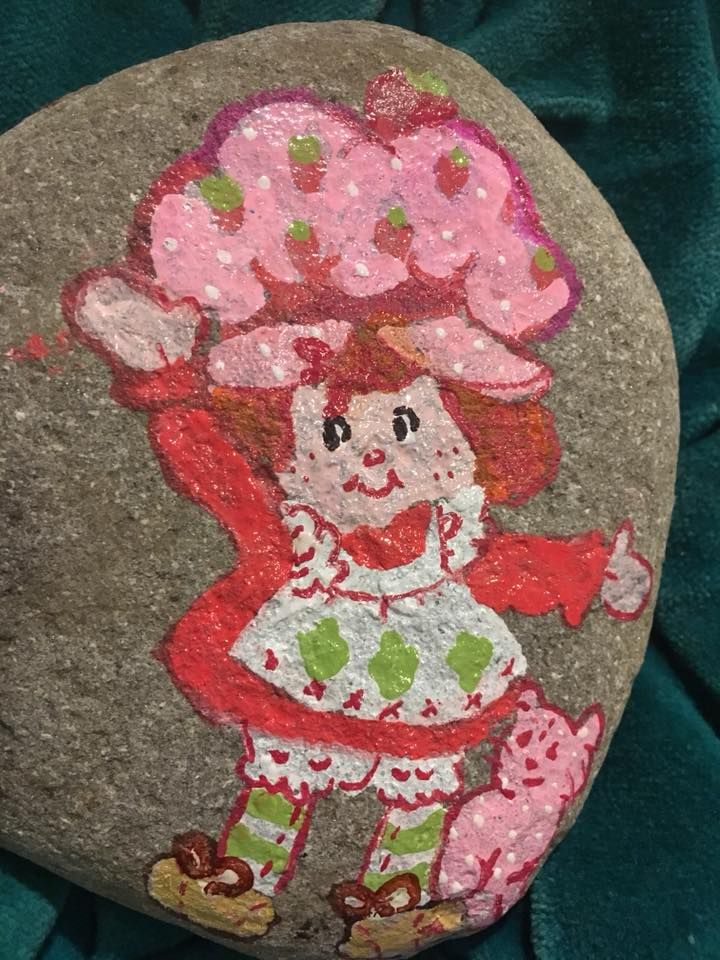 The project is taking off - far beyond Cape Ann. The rocks with #GlostaRocks on the back have been located as far as the NH Seacoast, Martha's Vineyard, and Boston. A local couple who have been traveling daily to Boston Children's for their newborn took a rock with them and left it on a sign - and it was found by another Gloucester resident! " I take a rock when I travel. I hope someone finds and posts [the rock] someday, said Eileen Jermyn."
And the Gloucester love is spreading internationally - recent posts in the group include a family on vacation in the Dominican Republic who hid a beautiful beach-themed rock near their resort - that was later found by a Pennsylvania couple who connected with GlostaRocks!
It's clear Glosta Rocks is a big hit with adults and kids alike! If you're inspired and want to make your own rocks, the Facebook group is a great place to start. You can get tips for how to best paint rocks - and best of all, you're likely to see the rocks you've hidden put a smile on someone's face!