Bike shops have come and gone on Cape Ann over the past few decades, despite the number of cyclists on the roads for leisure, exercise, or commuting. While a full-fledged retail shop may not be in the cards for Gloucester, there's still a great locally owned option that brings the bike shop directly to you - a mobile store with years of experience servicing Cape Ann and the North Shore!
Big Mike's Bikes
Big Mike's Bikes is run by longtime local resident Mike Rogers, who spent summers in Gloucester with his grandparents as a child and now runs a mobile bike enterprise out of that same house his grandparents built in downtown Gloucester.

Mike originally decided to get into cycling as a hobby, both in an effort to become more healthy and get around the city in a more environmentally friendly way. He learned to fix his own bike shortly thereafter. He considers himself part of the "maker culture" that's taken off in the past few years, and truly enjoys working with his hands.

After bringing home several free bikes and parts, he decided to start fixing them up, overhauling them and replacing the necessary parts, and then selling them locally. This proved to be a success, and word got around - and in 2010, he started at the Cape Ann Farmer's Market offering on-the-spot bike services, flat tire clinics, used and new parts, and more.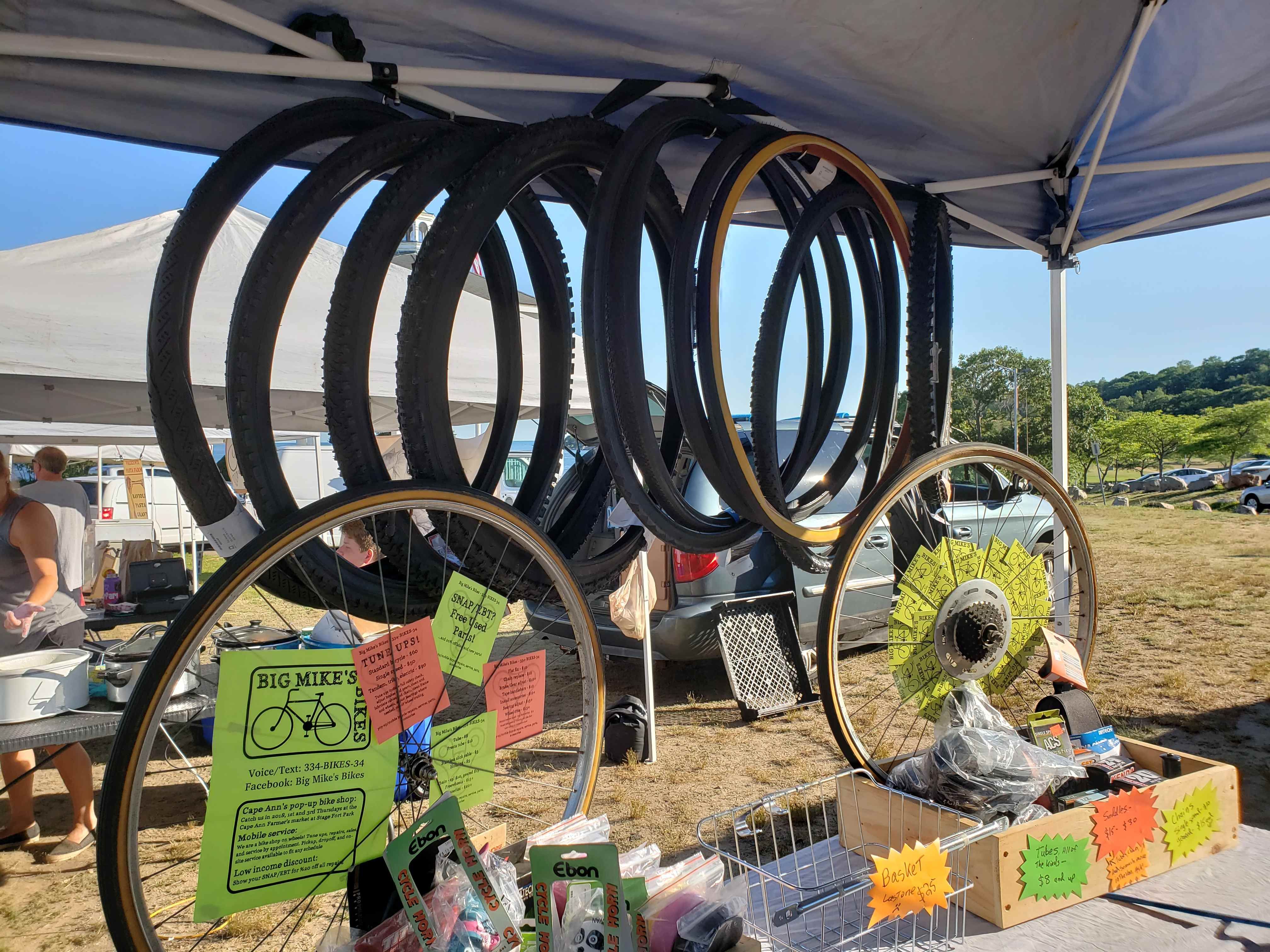 When word started spreading and the number of bikes in for service kept growing, the company moved to a retail storefront - starting with a 400 square foot space on Maplewood Ave and ending with a large, 1500 square foot showroom - with an equal sized basement - on Washington Street.

Rentals were a big hit in the seaside community, and every weekend groups would come visit by train, rent bikes and go to the beach or use them to get around the seaside community. At one point, he even sold and rented bikes to H. Jon Benjamin, the star voice actor behind cartoons such as Archer and Bob's Burgers. Thanks to a team of interns from Salem State's marketing program, they built up a solid following on Facebook, as well as being featured several times on Good Morning Gloucester.

Big Mike's Bikes was instrumental in getting bicycle lanes put in on Rogers street, as well as creating a signed bike route around Cape Ann on 127 and up Cherry Street to dissuade riders from crossing at Grant Circle, which is prohibited by law but often done by tourists unsure of the rules. The company had rave Yelp and Facebook reviews, but after the 2014 season, Mike decided to take a break from the difficult and time-consuming job of owning a small, seasonally busy business - and focus on his two sons, making sure they had a great summer.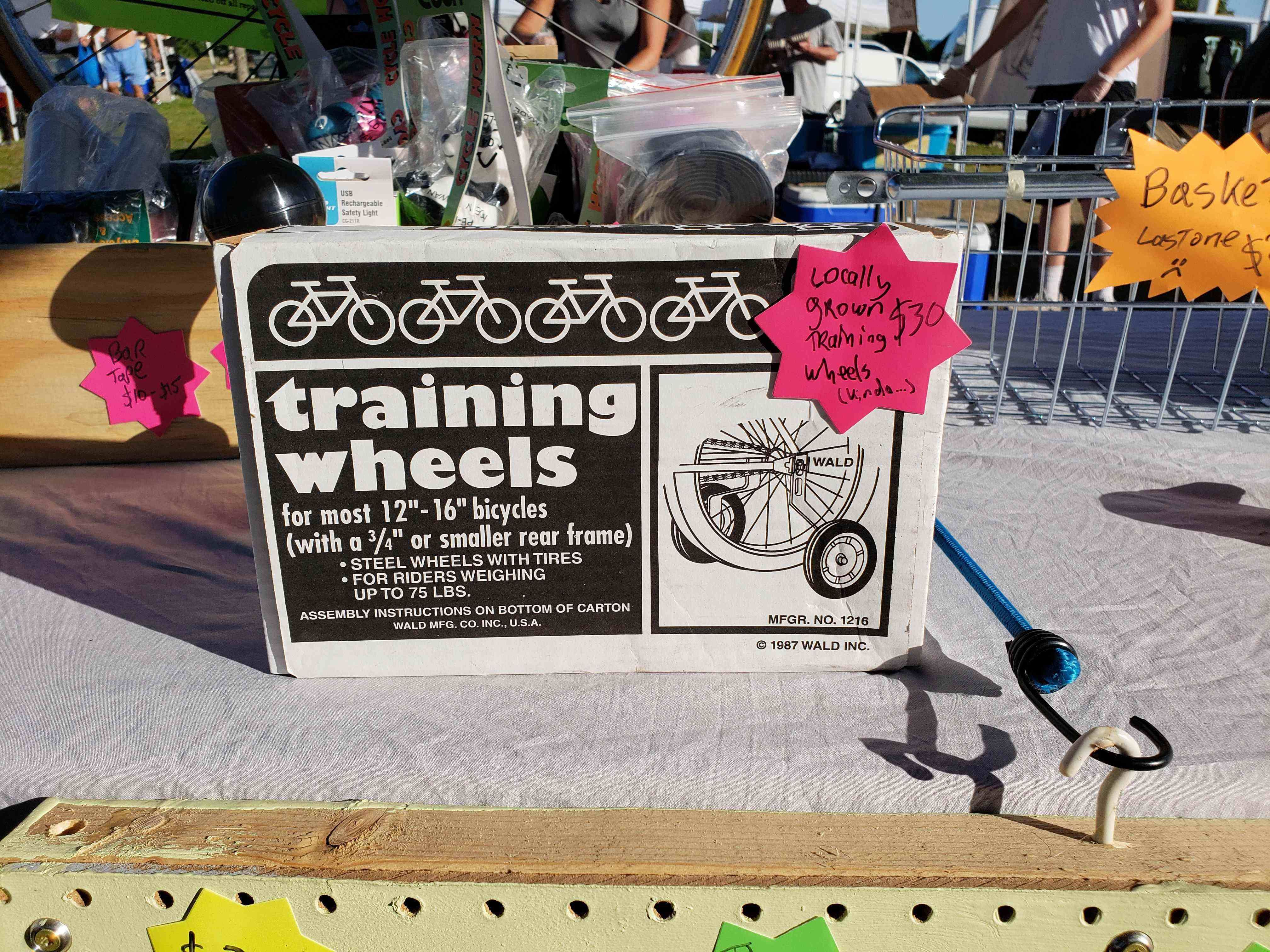 After a few years, however, it was clear that Cape Ann really needed a local bike shop option. This became even more clear after local favorite Palazola's Sporting Goods closed down, meaning there was now no bike service or purchasing options on the island. Seeing an opportunity to get back into the business, Mike decided to start back up as a mobile-only enterprise, relying on social media and word of mouth for business. This allowed him to work around his own scheduling needs to be present for his kids, and keep overhead costs down.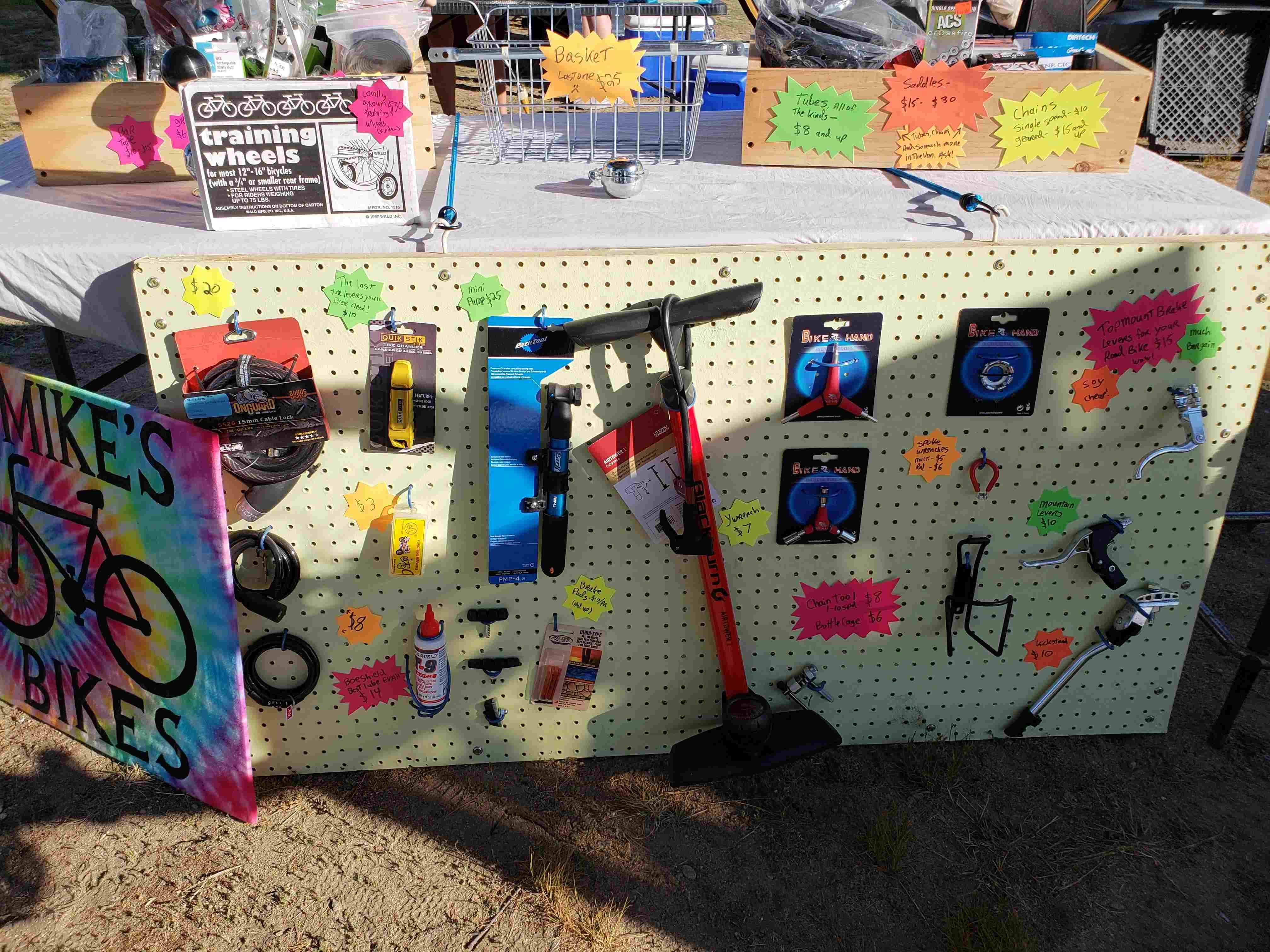 For the 2018 season, Mike has a pop-up shop at the Cape Ann Farmer's market on the 1st and 3rd Thursdays of the month. The farmer's market tent gives consumers a chance to buy bike parts and accessories locally from a small business - everything from tools to repair your own bike, as well as inner tubes and flat replacement kits, new grips, training wheels for kids' bikes, air pumps, horns, wheels, lights for safe night riding, lubricants, bike locks, and more! Anything not immediately available can be ordered, and specialty parts may be in stock but not brought to the farmer's market - so if you're in need of something specific, it's best to call, email, or ask via Facebook Message.
Parts and accessories aren't the only things available at the farmer's market - you can also get flats fixed or have quick service work done. Longer, more involved jobs like full tune ups will require dropping off or setting an appointment for work, but can sometimes be done on-site - make sure to call ahead to schedule.

Mike uses a van as his fully-insured mobile bike shop, and he offers a pickup and dropoff service, which is convenient for customers who may not want to, or be able to, load their bikes into their own cars. Customers can also choose on-site service, and scheduling is flexible to fit most schedules.

Tune ups for a standard bicycle are $60, which includes a full safety check, adjusting brakes and gears, cleaning and lubricating the cables and chain, cleaning the fame and wheels, adjusting bearings where needed, and minor wheel truing. For a single speed bicycle, a tune up is $50, and for tandems, adult tricycles, and electric bicycles, the cost is $90.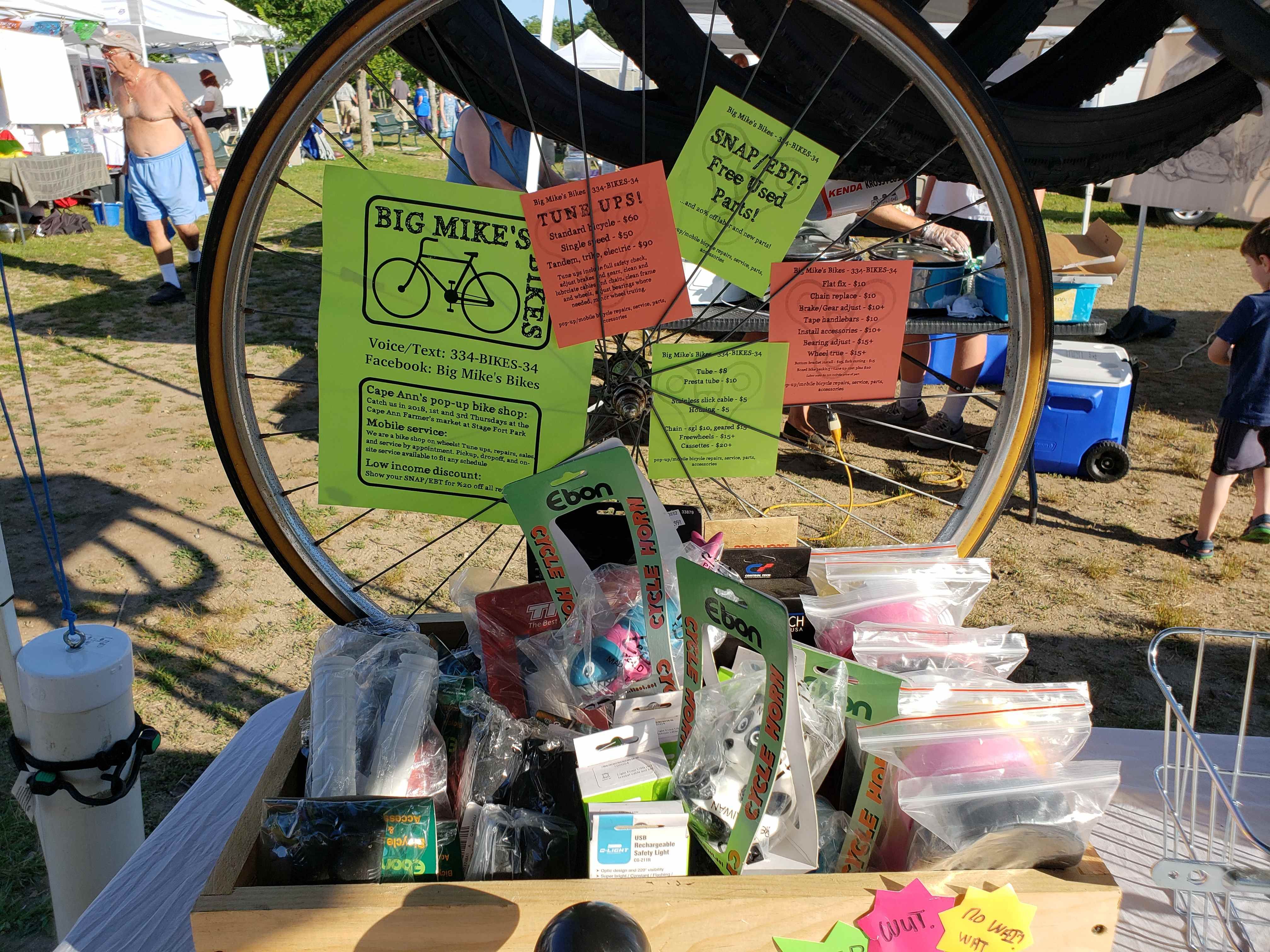 Other necessary services are priced individually - labor costs on chain replacement, flat fixes, adjusting brakes and gears, installing accessories, and taping handlebars are all $10 each and up, and adjusting bearings and truing wheels are $15 each and up.
Big Mike's Bikes gives back to the community and is geared towards making bicycling accessible to everyone, no matter what their income level is. For those enrolled in income-eligible services such as SNAP or EBT, you can show your card and get 20% off new parts and labor, as well as have access to a library of free used parts.

In the near future, Mike is planning on re-building a rental fleet, so that visitors and tourists can once again easily get around Gloucester in an eco-friendly manner, without adding to the beach traffic.

For more information, or to book services, contact Big Mike's Bikes by calling/texting (334) BIKES-34 or at their Facebook Page.


Selling Your Home?
Get your home's value - our custom reports include accurate and up to date information.
Get Home Value