What's Happening This Summer - Gloucester's Downtown Entertainment Schedule
(Cover photo from Gloucester Block Party's Facebook Page)
There's nothing like Cape Ann in the summer. For residents and tourists alike, the city of Gloucester comes together to host events that entertain the whole family. Music, movies, shopping, and more - this is what's happening in Gloucester this season!


The HarborWalk Cinema Series
For the third year in a row, Gloucester's HarborWalk Cinema Series is taking place every Wednesday night at sundown between July 12 and August 16. The outdoor movies, shown on a large blow-up screen, hearken back to the drive ins of yesteryear- but without the cars! The large dirt lot known as I4-C2 on Rogers Street between the Gloucester House and Building Center transforms into an expanse where families can bring chairs and blankets and spread out on a large astroturf "grass" field to watch the movies. Many bring a picnic dinner and refreshments. There is plentiful street parking, as well as parking at the Harbor Loop lot across from Walgreen's and other local lots are a short walk.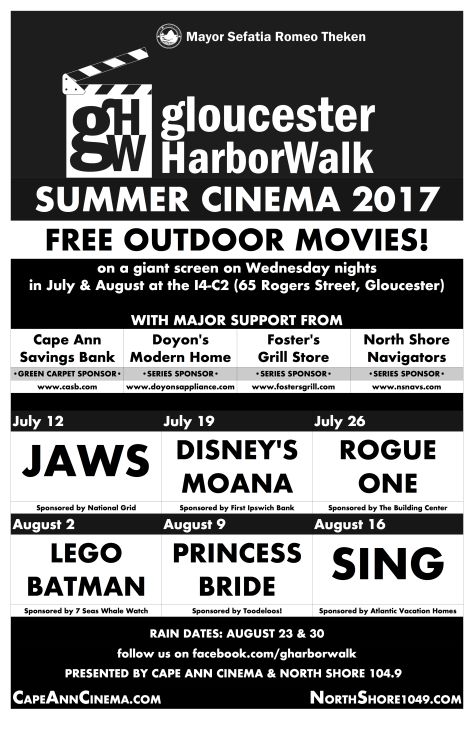 The movies are a joint partnership between the City of Gloucester, Cape Ann Cinema and Stage, and local radio station North Shore 104.9. There are other local business sponsors as well - the green astroturf carpet is sponsored by Cape Ann Savings Bank. The series is also sponsored by Foster's Grill Store, North Shore Navigators, and Doyon's Appliances.
The community sponsor is North Shore Community College, and individual films are sponsored by local businesses as well. Other local businesses also help support the event, including Ipswich Bank, Gloucester Stage Company, Auto Expressions, and BankGloucester.
Each movie starts around 8PM or when it gets dark enough, whichever is first. North Shore 104.9's on-air personalities offer kid's prizes for trivia questions before the show, and the event is very family-friendly. For those looking to get there early and spend some together time with the family, the lot opens at 5:30.
The first movie in the series was Jaws on July 12 (sponsored by National Grid), followed by Disney's Moana on July 19 (sponsored by First Ipswich Bank). Next, on July 26, the blockbuster Star Wars Rogue One will be shown (sponsored by Building Center). August 2nd is Lego Batman (sponsored by Seven Seas Whale Watch), August 9 is the cult classic Princess Bride (sponsored by Toodleoos! toy store), and finally August 16 is the hit movie Sing (sponsored by Atlantic Vacation Homes). There will be two rain dates in case of inclement weather, August 23rd and 30th.
Gloucester's Downtown Block Party
The sunny weather welcomes the return of the Downtown Associations and Cape Ann Chamber of Commerce's' block parties as well! The first took place this past Saturday, July 15, with another on both August 12 and September first. Each take place Saturday evenings between 6pm and 10pm and feature music and performances as well as street merchants.


BankGloucester, Cape Ann Savings Bank, and the Institute for Savings are the stage sponsors for the bands and musicians playing the events on different parts of Main Street. The past weekend's musicians included the John Jerome Band, a doo-wop band called the Jantelles, Allan Estes, and Quentin Callewaert.

Aside from musicians, there are also performances along Main Street during the block parties. Last week's party had Cape Ann Dance, The Red Trouser Show, Sophia Gadbois, Gloucester Stage Kids Performance, a Folklore Theatre performance, and the Balloonatik.

The Main Street Merchants and restaurants that are participating this year are: Blue River Diamonds, Café Bischo, Caffe Sicilia, Cape Ann Auction, Cape Ann Olive Oil, Cape Ann Power Yoga, Design of Mine, DIVA, Dogtown Bookshop, Fireflies, Floating Lotus, Italiano, Gloucester Estate Buyers, Goodlinens Studio, Inner Harmony Music Therapy, Jalapenos, Main Street Arts & Antiques, Mark Adrian Shoes, Pisces, Pop Gallery, Premier Imprints, Short & Main, Brass Monkey, The Cave, Toodeloos!, Village Silversmith.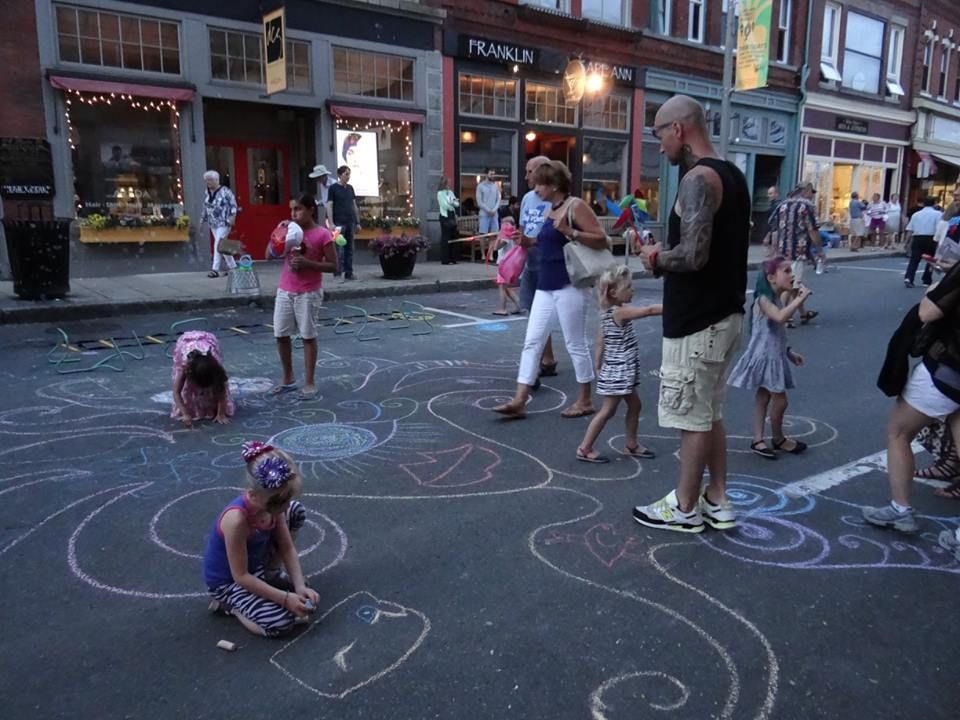 (above photo is property of the Gloucester Block Party FB Page)
Nonprofits also get a spotlight at the block party and can be seen at vendor tents are: Action, Inc, Animal Adventure Park, Cape Ann Chamber of Commerce, Cape Ann Dance, Cape Ann Vernal Pond, Cape Ann YMCA, Kestrel Educational Adventures, Mass Army National Guard, Phyllis A Marine Association, Sargent House Museum, Schooner Adventure, and Spaulding Outpatient Cape Ann. Community tents for groups like the Fishermen Youth Soccer, GHS Drama Club, and Gloucester Stage will be represented, in addition.

Peppered amongst the brick and mortar stores and restaurants, market vendors that don't have a traditional downtown storefront set up. You can see Annette Dion, who does tarot and past life readings, Bare Cheek Beauty, Joie Designs, Maggie Towne's LuLaRoe, and Wicked Good Henna.
Other businesses that sponsor this event's arts and entertainers are Applied Materials, Americold Logistics, Beauport Hospitality Group and Manchester Athletic Club. For more information on the Gloucester Block Parties, check out the official Facebook page!
Harbor Loop Concert Series
Another great family event takes place on Thursday evenings at Gloucester's Harbor Loop, off Rogers Street. Parking is plentiful at the I4C2 lot, at the top of Harbor Loop, and on Rogers Street. This is a great way to spend family time together - while catching plenty of local live music! Bringing a blanket, chairs, and a picnic dinner is highly encouraged! Kids are welcome.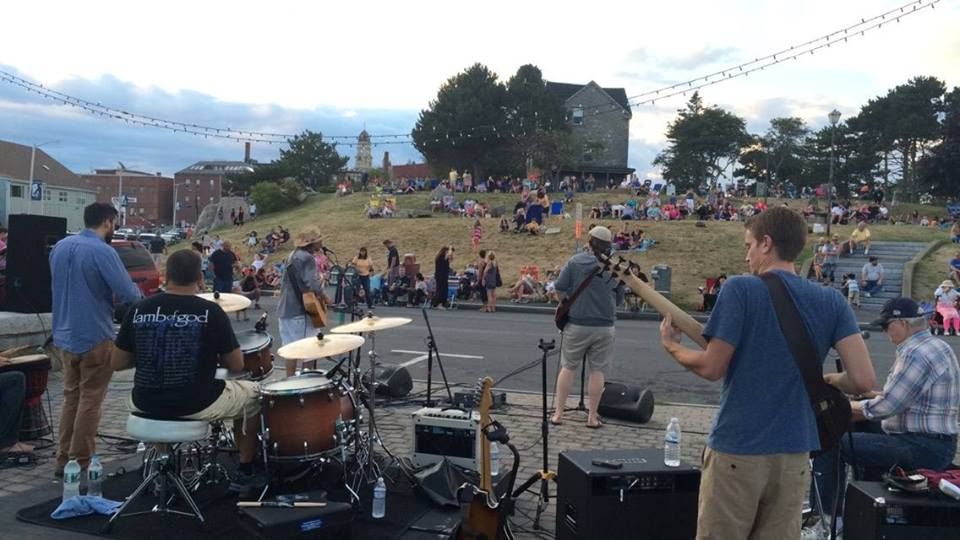 (John Jerome Band - Photo Courtesy of Harbor Loop's Facebook Page)
Each concert starts around 6PM. July 27th's show features Nadia Robertson and Livin' On Luck. Thursday August 3 features Quentin Callawaert and perennial favorites, 80's cover band Safety. August 10th is Tony Frontiero, August 17th is Alex and Josh as well as Live Dead, a Grateful Dead cover band. Thursday, August 24th is Groove Therapy, who have been rocking on the island for decades. Thursday, August 31st is The Goddesses, featuring local musicians Tony and Sam Goddess, and Jenny Dee & The Deelinquents.


More information can be found at GimmeSound and the series' Facebook page.