Thinking About Selling Without A Realtor? You May Want To Think Again.
(By KT Toomey with Patty Knaggs - cover photo courtesy of TaxRebate.org.uk)
If you're selling your home or planning to in the near future, especially if you've been through the process before, you may be asking yourself, "can I do this alone?" Even though 90% of home buyers and sellers use a real estate agent, there are the remaining 10% who decide to go through the selling or buying process on their own - and even in the internet age, the number of those who go without a real estate agent is actually on the decline. Below is an infographic courtesy of The Real Estate Trainer website that maps out that statistic.
So what's the reasoning behind taking on the sale yourself, without a listing agent? The most likely reason sellers decide to strike out on their own - known as For Sale By Owner or FSBO -is the money. Saving the average 6% of the home sale that serves as the agent's commission seems like an attractive option.
However, while it's tempting to try to save money in the home selling process, there are many unforeseen consequences to going this route that we'll explain. There are a few smart reasons why enlisting professional help and hiring a realtor for your Cape Ann real estate listing is a good decision in your home selling (or buying) process.
First off, selling a home is quite time and labor-intensive. As we've discussed before on our blog, a good realtor will spend the money to have photographs of their listings taken by professionals. Those professional photos make a big difference in the way your home is considered by potential buyers on the internet. Even better, most realtors use professionals who have experience in real estate photography. For instance, we here at Live On Cape Ann have a longstanding positive relationship with Nashua Video Tours, and we know Fred and Rudy are going to do a fabulous job on our client's homes, like in the living room below.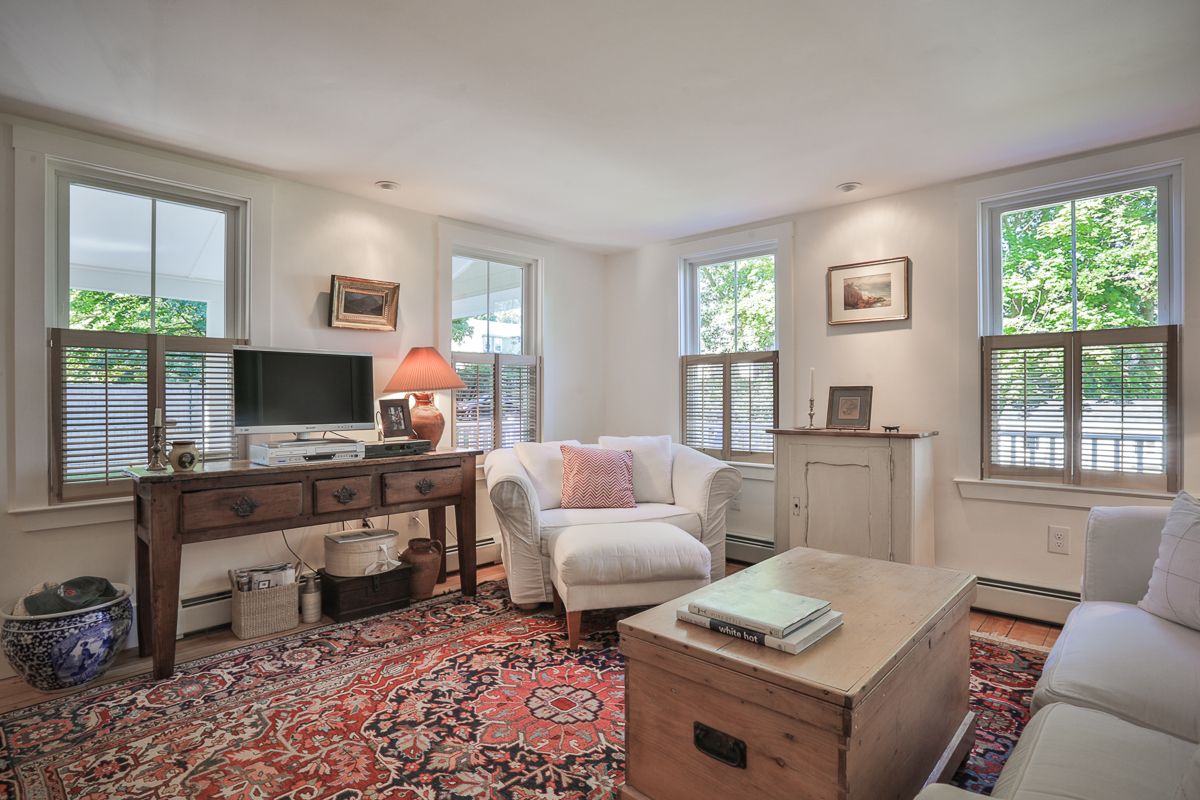 Your realtor will also advise you on the best way to stage your home so it looks great not only in pictures, but when potential buyers show up on your doorstep. Patty Knaggs uses BK Home Stagers, as well - the price is worth it. "Some people will balk at spending $1k-5k on fresh paint and staging - but guess what? The first price reduction is going to be greater then the cost of staging." she said.
In addition to the photographs and staging, your realtor has the know-how to write up the listing sheet with all the features of your home that she knows will attract a potential buyer - which is not only sometimes specific to the Cape Ann area, but can also change quickly. A qualified realtor knows how to best market your home and appeal to buyers that are looking for homes similar to yours.
Without an agent to show your home, you will have to work much harder to get prospective buyers through your door. Some FSBO websites can get your listing to more eyeballs, but you'll also need a sign, word of mouth, possibly listing newspaper and/or Craigslist ads, or anything else that may help.
In most cases with an FSBO you'll have to schedule buyers on your own time, instead of leaving a key with a realtor who can show your home when you're at work during the day. If your availability doesn't work for a prospective buyer, you run the risk of them moving on to the next home. A seller has no way to vet potential buyers for their seriousness or ability to afford the home, two things a Realtor is experienced with. Furthermore, a lot of buyers prefer the seller not be home when they view a listing, so they feel more comfortable exploring and assessing some of the negatives of the home. With an FSBO listing, the seller must be there.
A realtor's job is also to provide the most appropriate selling price for your home based on sold homes in your area and past sales trends.The real estate market moves quickly, and a realtor's job is to keep abreast of changes to advise you on the best way to get the highest offer you can reasonably receive for your property. With new listings coming on every day, it's important that your home is priced to move - or it risks looking like a stale listing, or giving off the impression that it's not selling due to a particular problem with the home. FSBO listings take longer to sell - over two months longer, on average.
A realtor will also know how to handle negotiations, potential offers, and handle any bumps along the way - like issues arising from a home inspection, the buyer's finances, any loan or title company stipulations, etc.. You may be shocked at the number of resources a realtor has at their finger tips due to their experience. They'll also handle all the paperwork necessary for the process.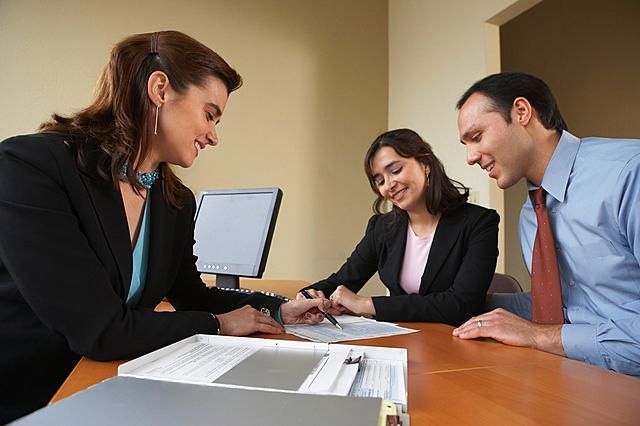 (photo courtesy of Mark Moz via Flickr)
The second important metric to discuss if you're considering foregoing a seller's agent is doing a cost benefit analysis for your decision. Even though you're not using an agent, there are still costs involved. There are several websites available to help sellers list their homes on Trulia or Zillow, and those websites charge around $400 to do so.
In reality, 87% of buyers use an agent in their search. Buyer's agents may not go out of their way to show your property without word of mouth or any information from other realtors, especially since if their buyer is interested, they won't get any commission - which is why many FSBOs offer to pay the buyer's agent 2-3% commission.
Now, let's look at the math. In this scenario, with paying a buyer's agent, you would be saving an average of 3-4% off the selling price of your home. But is that worth it? According to Realtor.com, in 2014 the typical FSBO home sold for $210,000, compared to $249,000 for agent-assisted home sales. That's a difference of over 18.5%. Yet the selling agent's cut for a $249,000 house would be in the ballpark of $6,000. Sure, you saved $6,000 - but you likely lost far more by settling on a lower offer for your home. Below, an infographic shows that in 2013, the price difference was similar. (source)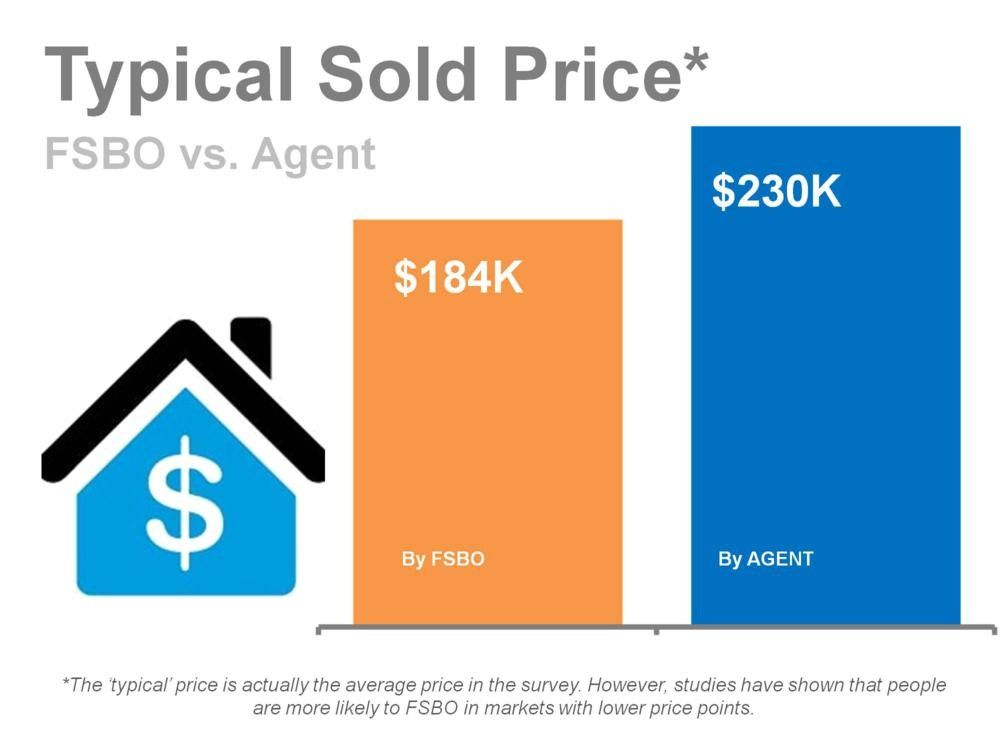 Keep in mind, as well, that Gloucester's housing market has much higher home sale prices than the national average - Realtor.com's website states that Gloucester's average home sales are currently around $419,000. An 18.5% reduction in the selling price of a home in that range is over $77,000.
Finally, don't forget that you'll still need to hire a real estate attorney to help you with a FSBO sales agreement - Massachusetts law requires that attorneys conduct real estate closings.
Clearly, this isn't the area of your home in which it pays to DIY. It's a no-brainer as to why 9 out of 10 home buyers and sellers use a realtor - so if you're thinking of selling contact a listing professional - Patty Knaggs!