These Gloucester Pop-Up Shops Are Perfect for Unique, Local Gifts!
The new trend of pop-up shops - a spin on traditional brick and mortar retailing - has hit the big time. This year, they are expected to top $10 billion in sales, according to a retailer trends website - and it's not hard to see why. Pop-up stores, no matter what they sell, are unique. In fact, 61% of consumers who go to a pop-up store are there because they expect to find something they can't get elsewhere - usually a seasonal item. Some of these items are also either hard to find, or handmade. Here in Gloucester, you have not only one, but two local pop-up shops on downtown Main Street!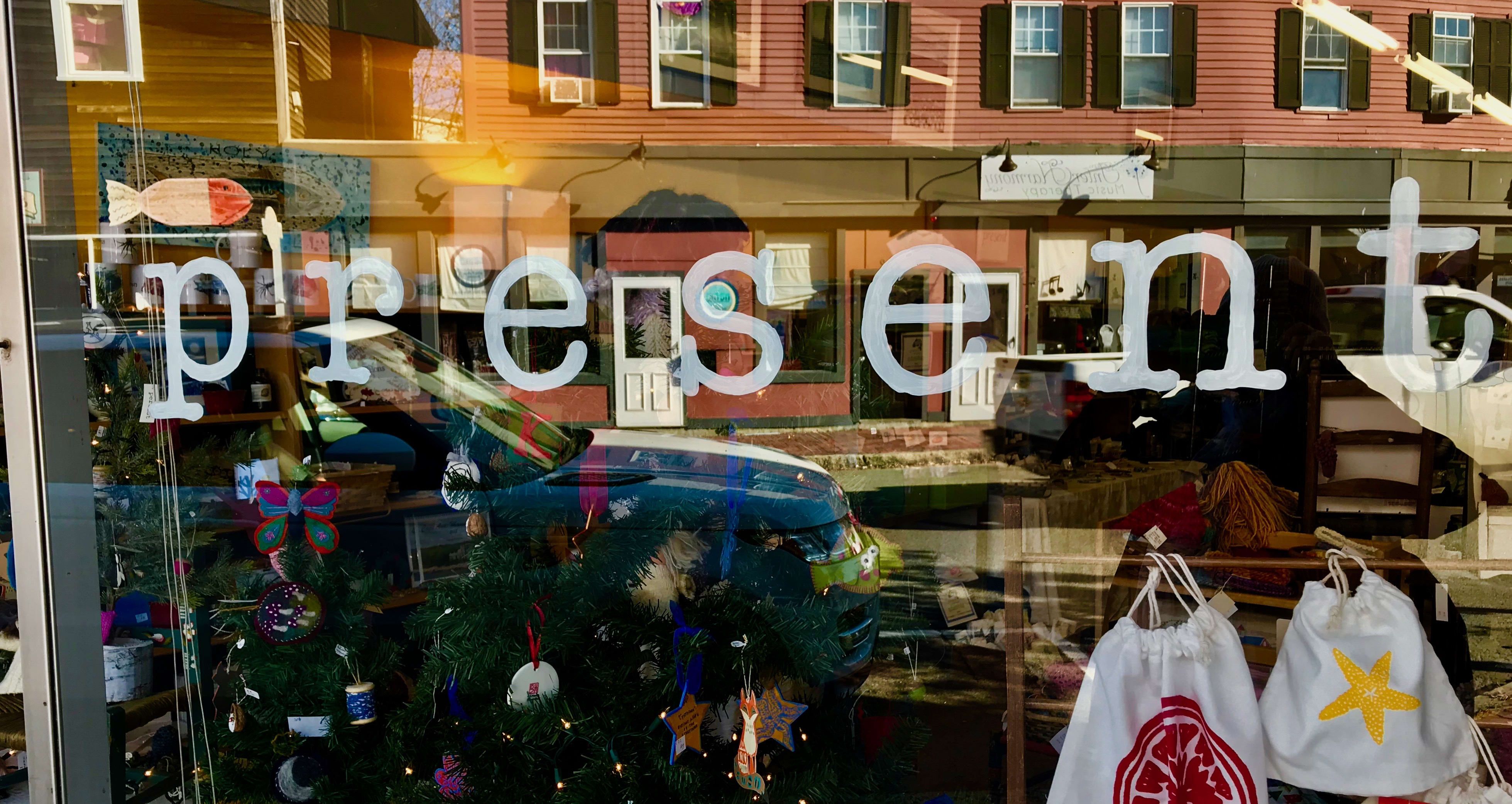 Present Gloucester
Now in its 11th year, Present is open for the season - as Gloucester's original pop-up holiday shop! In total since its first shop in 2006 on Pleasant Street, Present has occupied seven different downtown locations depending on storefront availability. For the second year in a row, Present will be located at the storefront of Eastern Point Lit House, located at 261 Main Street in downtown Gloucester, next to Alexandra's Bread. If you're a fan of the Lit House, Eastern Point keeps a back section of the shop free in order to still keep their literary meetings and workshops running during the holiday season!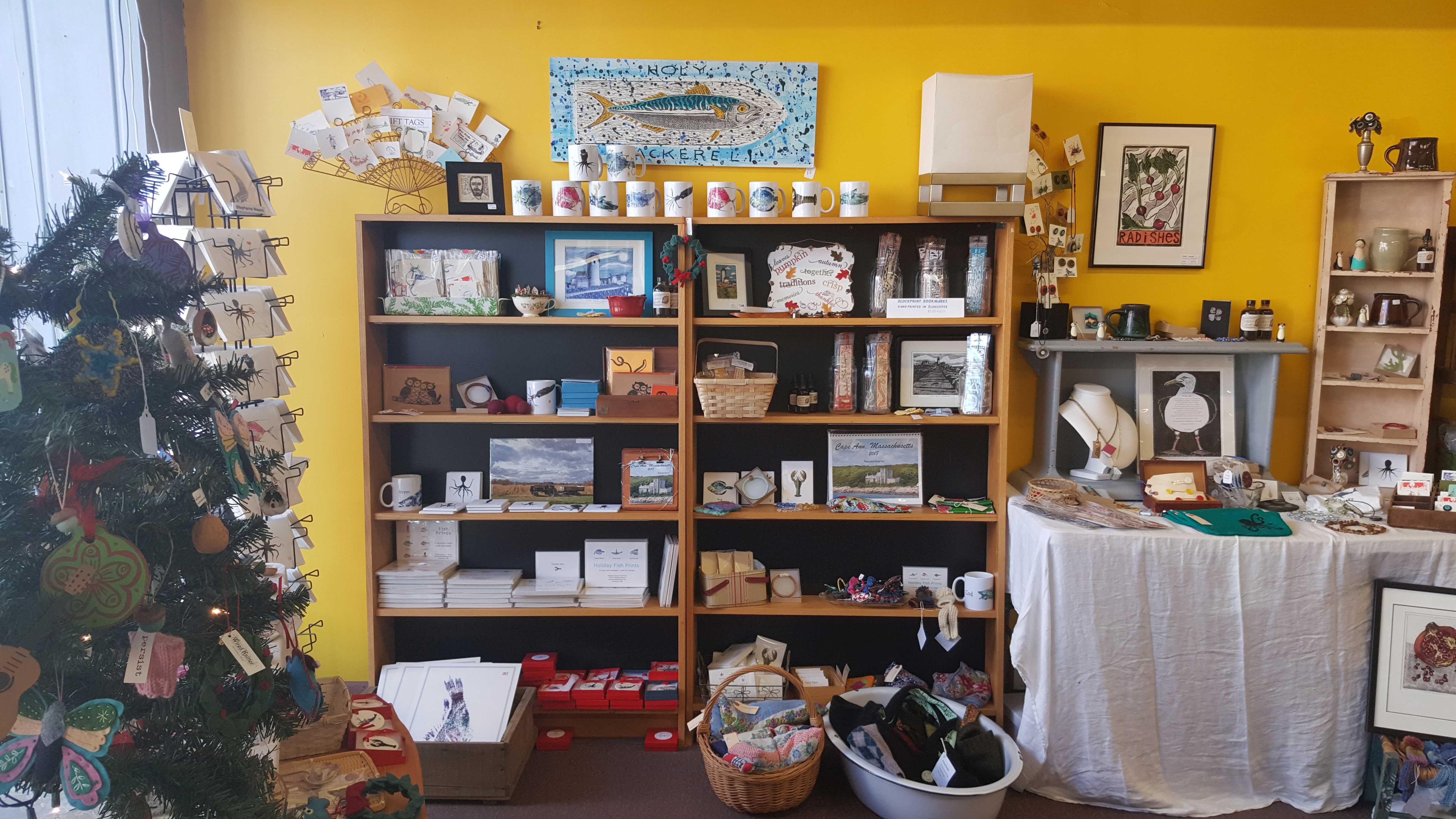 This well-placed storefront location, at the East end of Main street, means there's plenty of parking - not only on the street, but also extra parking in the large lot with the Rose Baker Senior Center and Liquor Locker.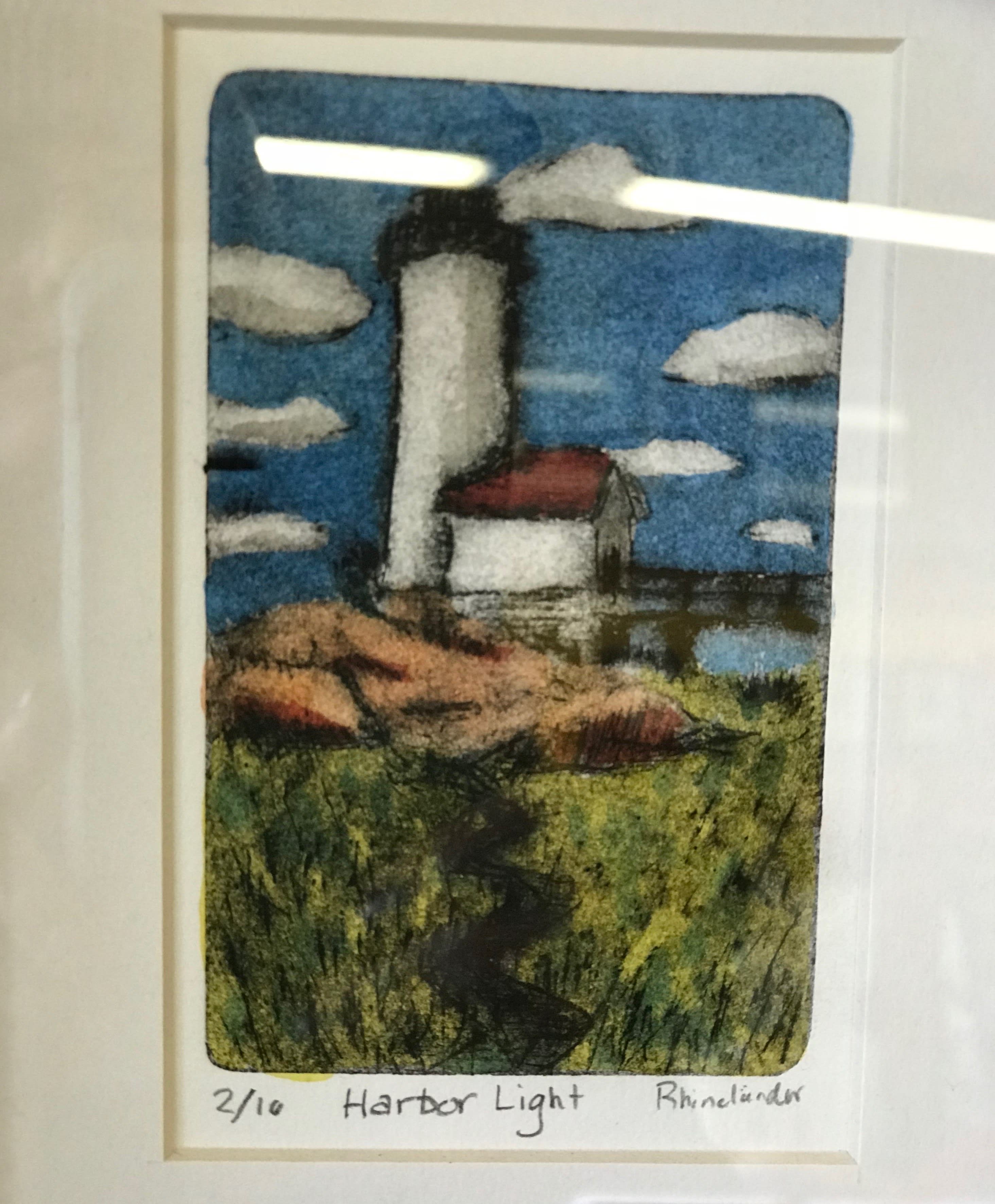 Present is an artist collective of 17 local crafters who each create something unique and interesting for the holiday sales season. The artists can vary from year to year, but most are perennial participators! Many sellers also take turns working at the store, which gives them an opportunity to talk to buyers about what they sell and their creative process. Items are handmade, unique, and often upcycled or made with recycled materials.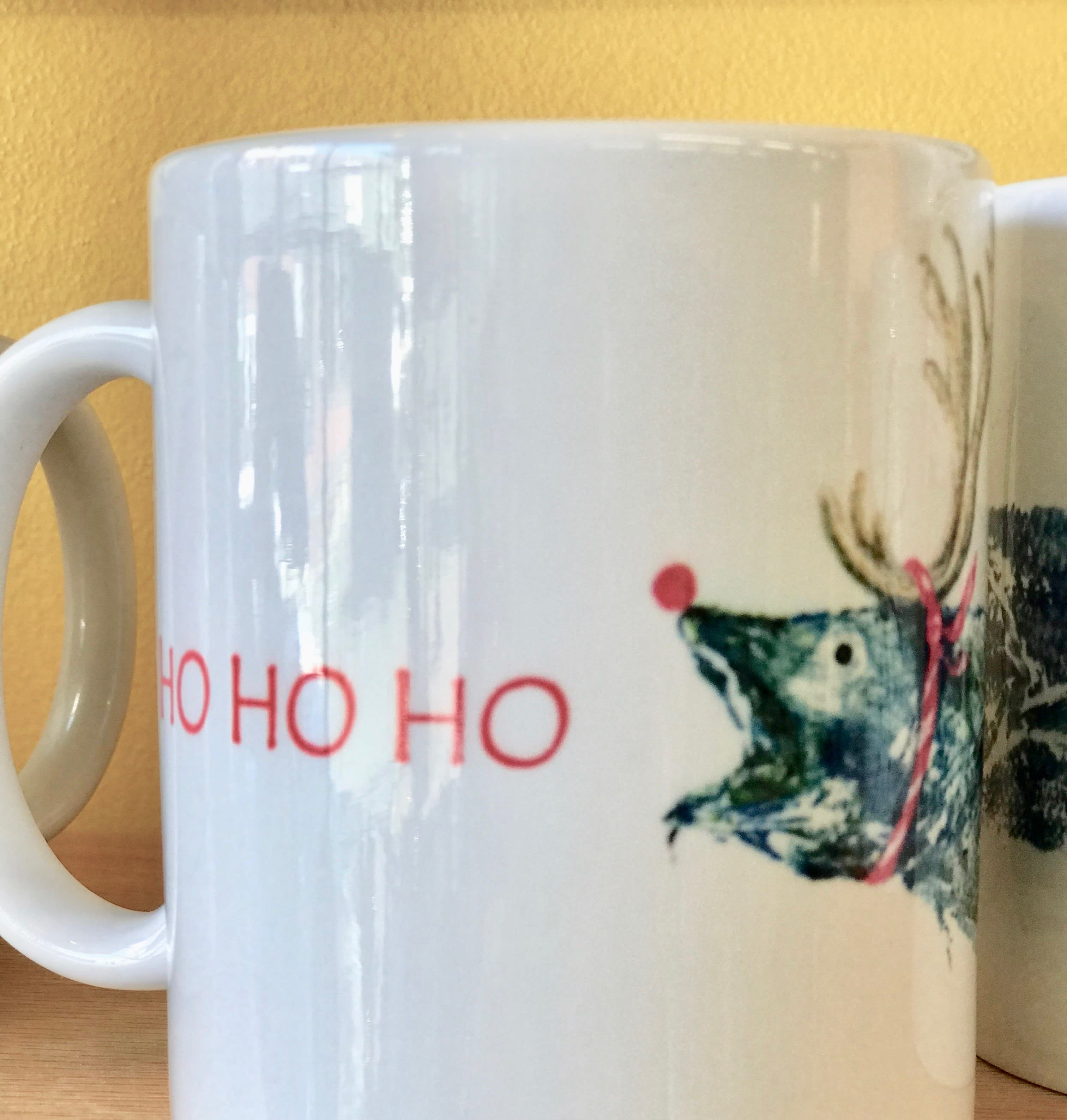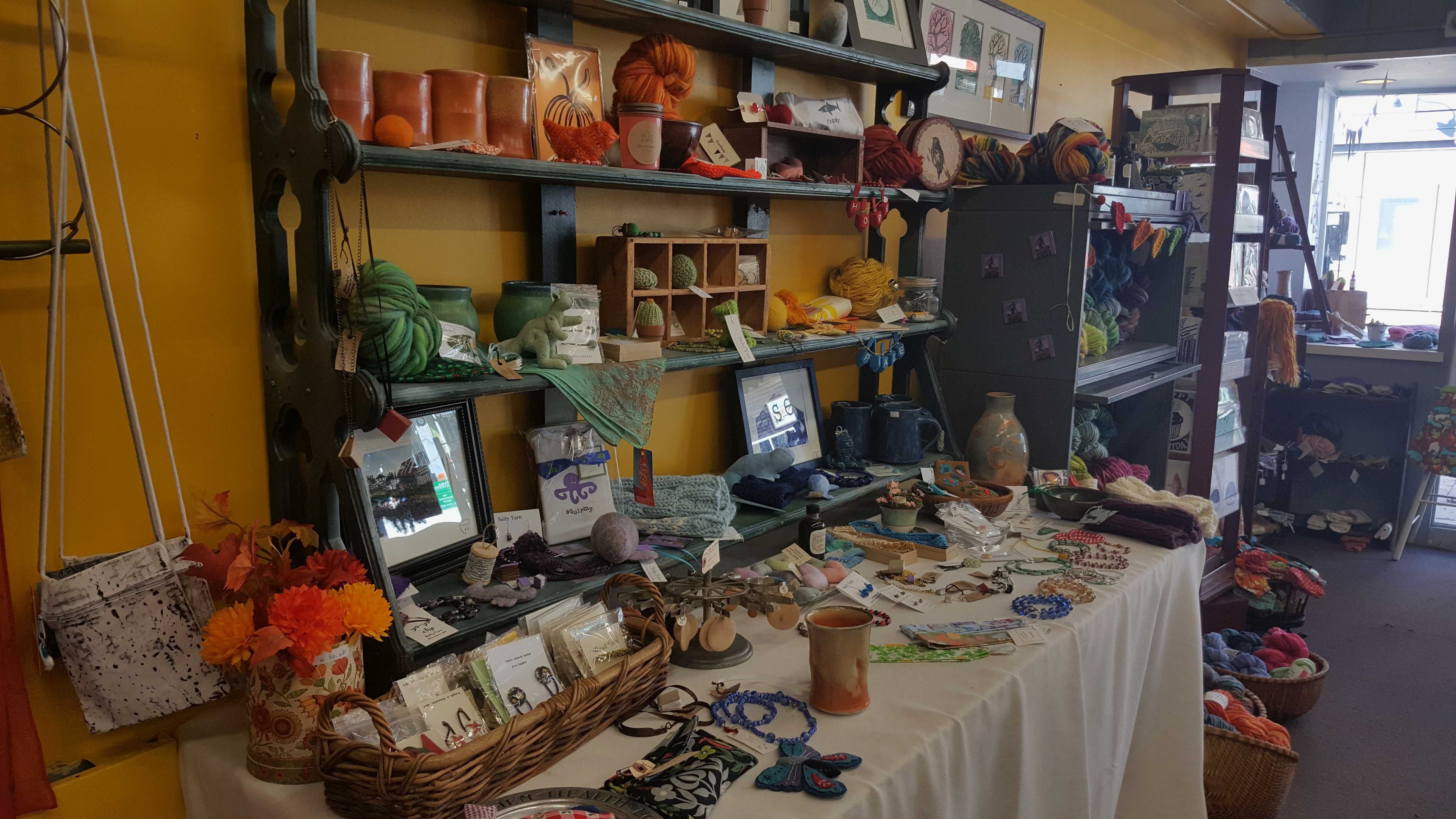 You'll be sure whatever you pick out is not only one of a kind - and can't be purchased at a big box store - but the money goes directly back into the community. Present's gifts are quite often unconventional and cheeky - like their tiny scarves and hats made for wine bottles, real clam shell thongs by Gloucester Onesea (which also sells infant onesies with adorable screen printed designs), sweaters for chickens, archival walnut ink made in small batches by local artist Stevens Brosnihan, and more.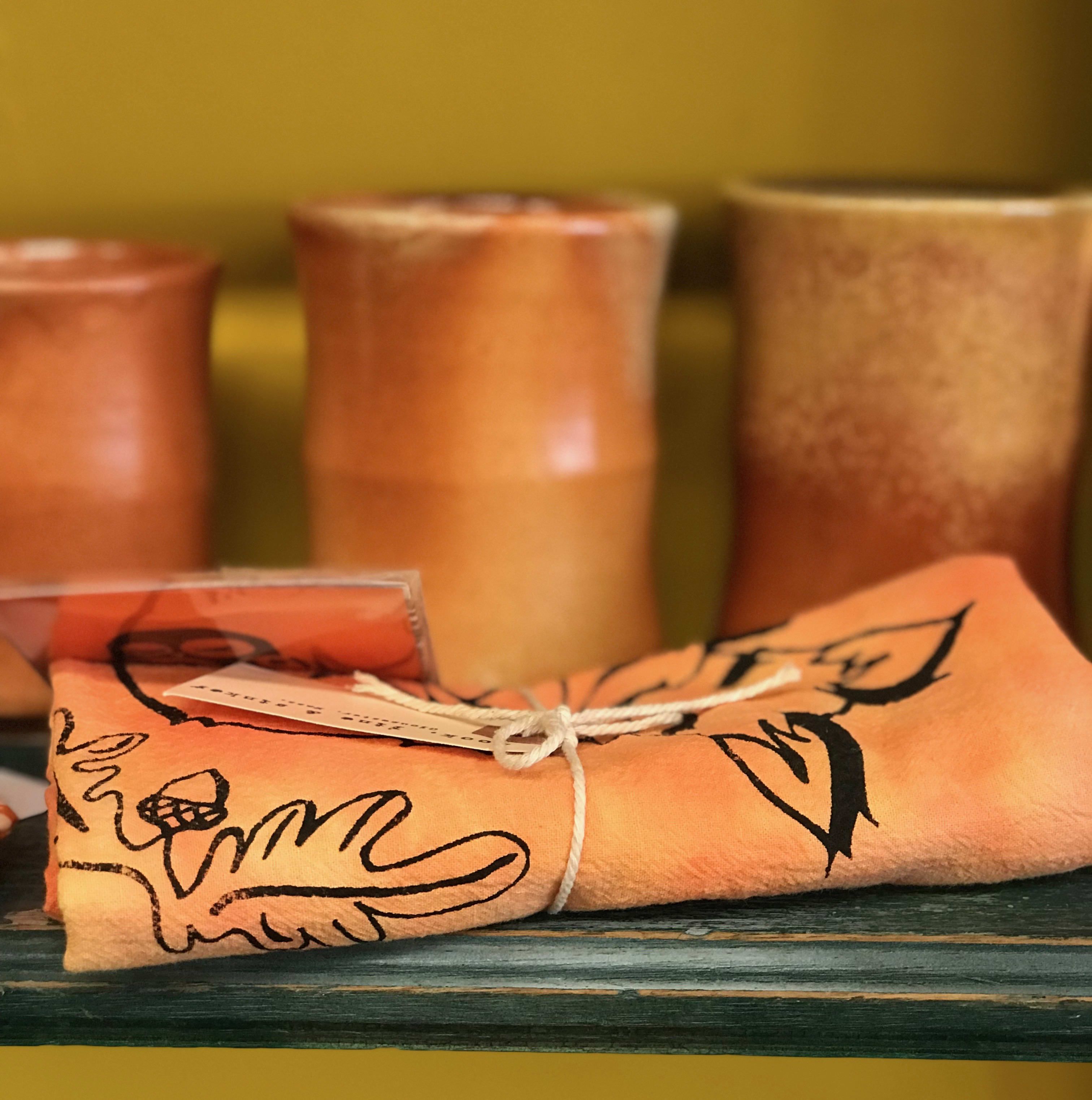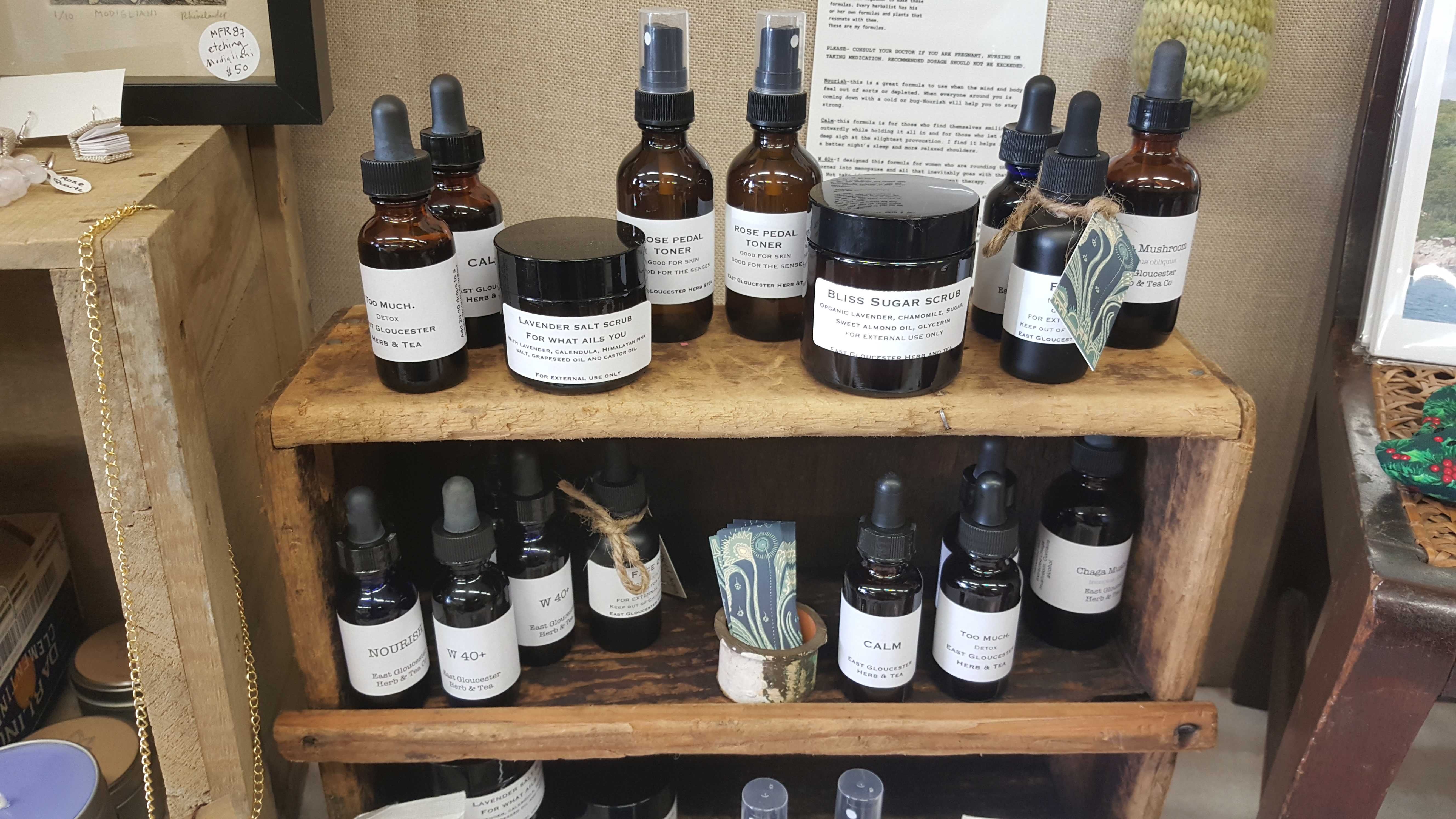 This year's new seller is Cape Ann Farmer's Market manager Nicki Bogin, who has created a line of compounded herbal tinctures and teas under the name East Gloucester Herb and Tea. She first makes herbal extractions with plant matter and alcohol, then blends those extractions together into formulas. You can try blends like Nourish, which is formulated to keep you strong when others are coming down with colds, or Calm, for those who are stressed - helping you feel more balanced and leading to a better night's sleep. You can also purchase a lavender salt scrub or a bliss sugar scrub, or a face oil that helps clear your complexion.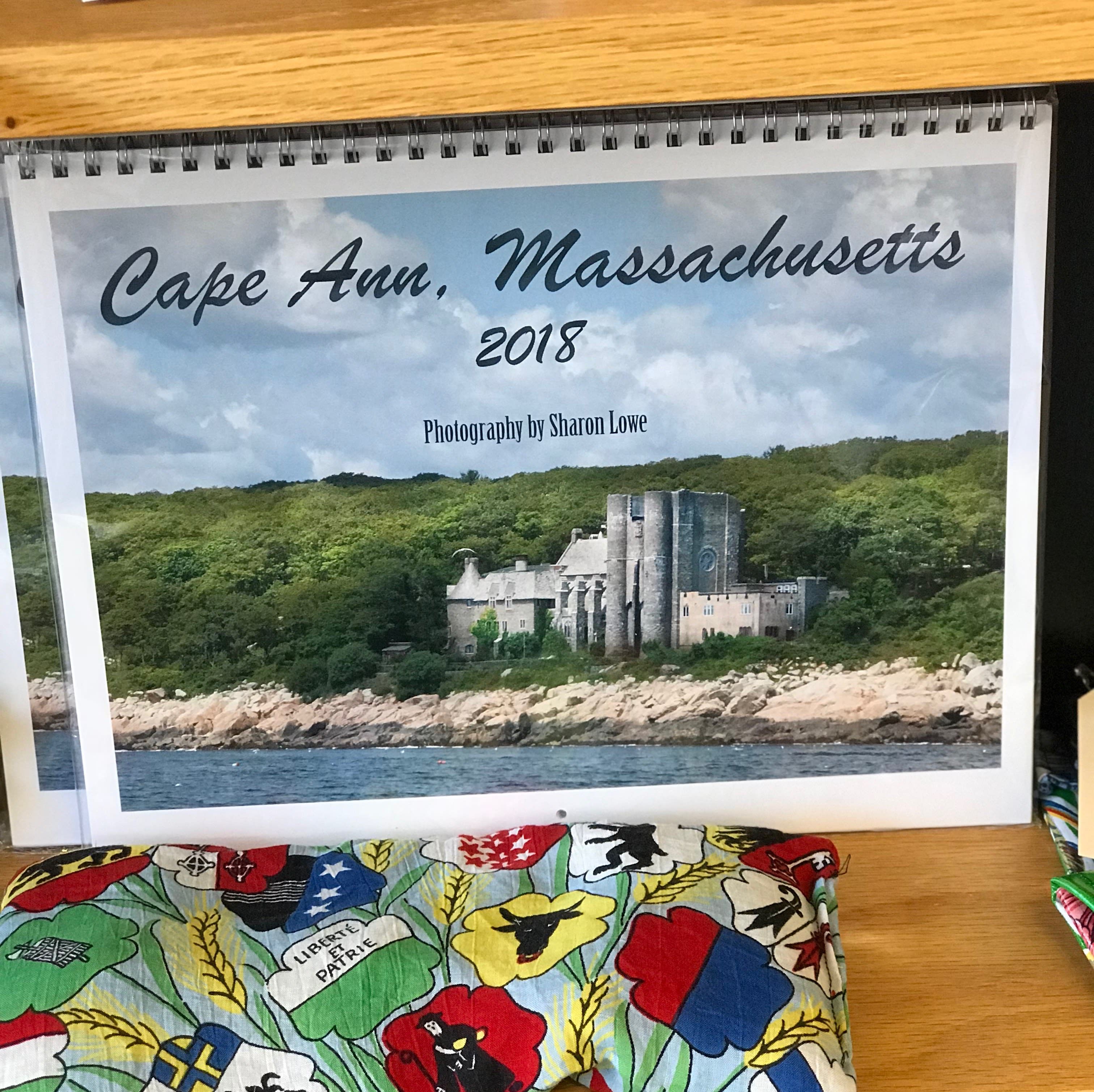 Local photographer Sharon Lowe's popular calendars are back for another season! These printed calendars, with beautiful landscapes and ocean sunsets, are great gift items for locals or visitors alike. These often sell out by Christmas, so it's best not to wait if you've got your heart set on one!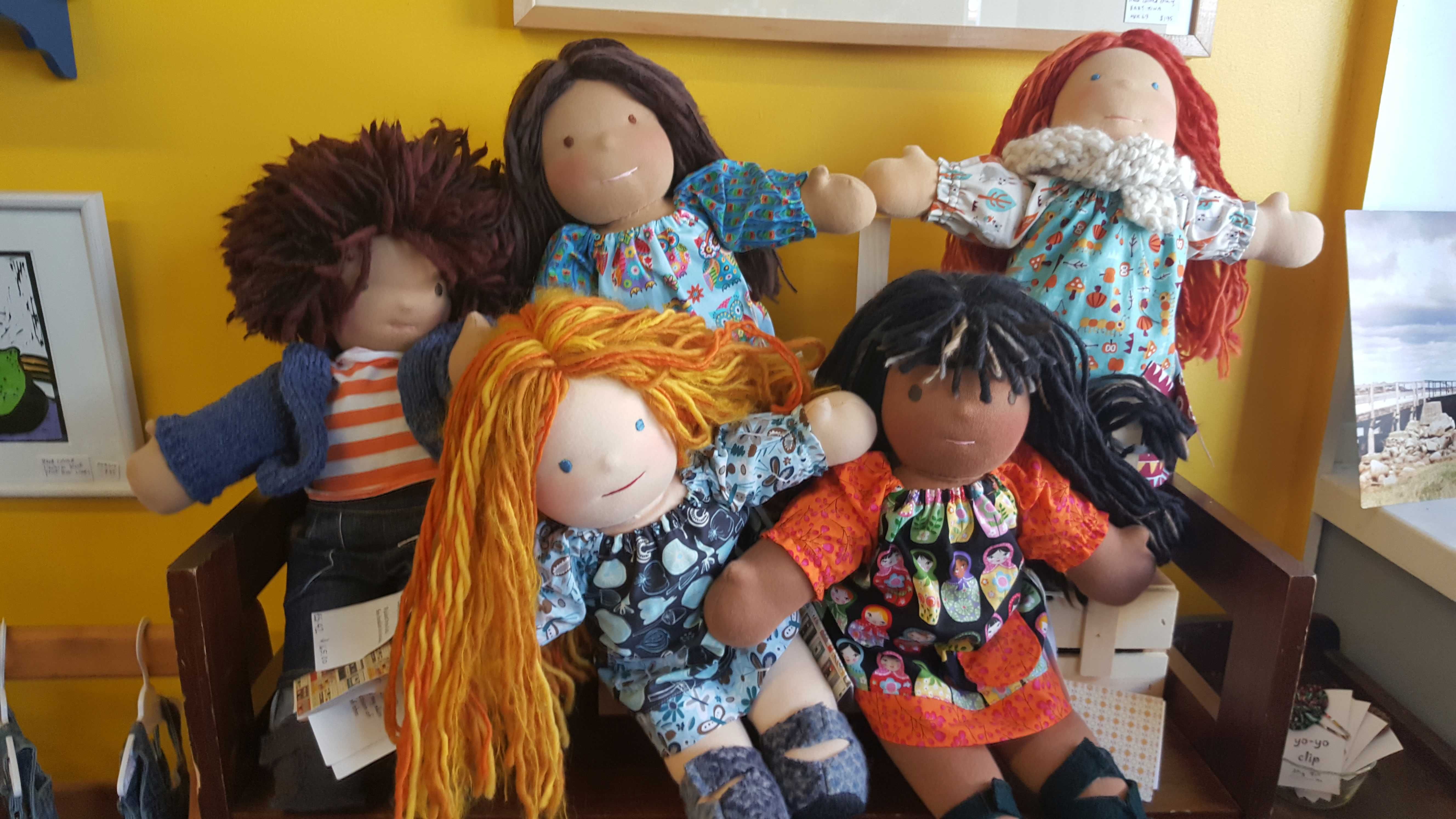 These fabulous dolls are sold under the name Lizzyknits and are crafted by local Elizabeth Porter Grammas. They are the perfect doll for any young child - soft, cuddly, and age-appropriate and body-positive. She also has hand-dyed yarn for those looking to take on new knitting projects, and arm warmers as well as hand-knit, warm hats.
Amanda Cook, Elizabeth's sister, once again has a great selection of earrings made for sensitive ears, bracelets, and necklaces - as well as favorites like felt Babson Boulders and narwhal Christmas tree decorations!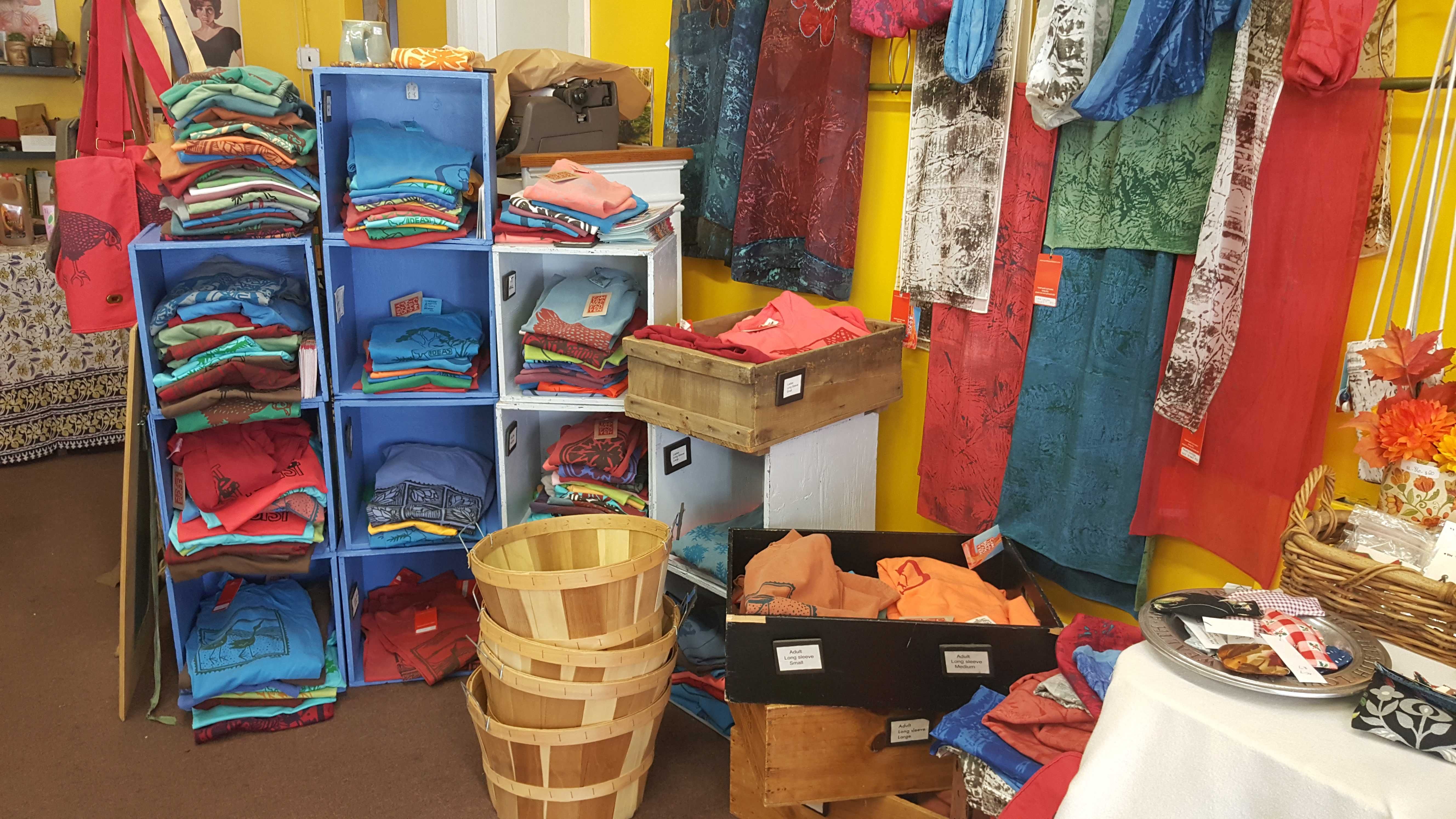 Camilla McFadyen, a mainstay of Present, returns again this season with her own screen-printed shirts, as well as messenger bags, for sale - all at reasonable prices, adorned with brilliant block print designs.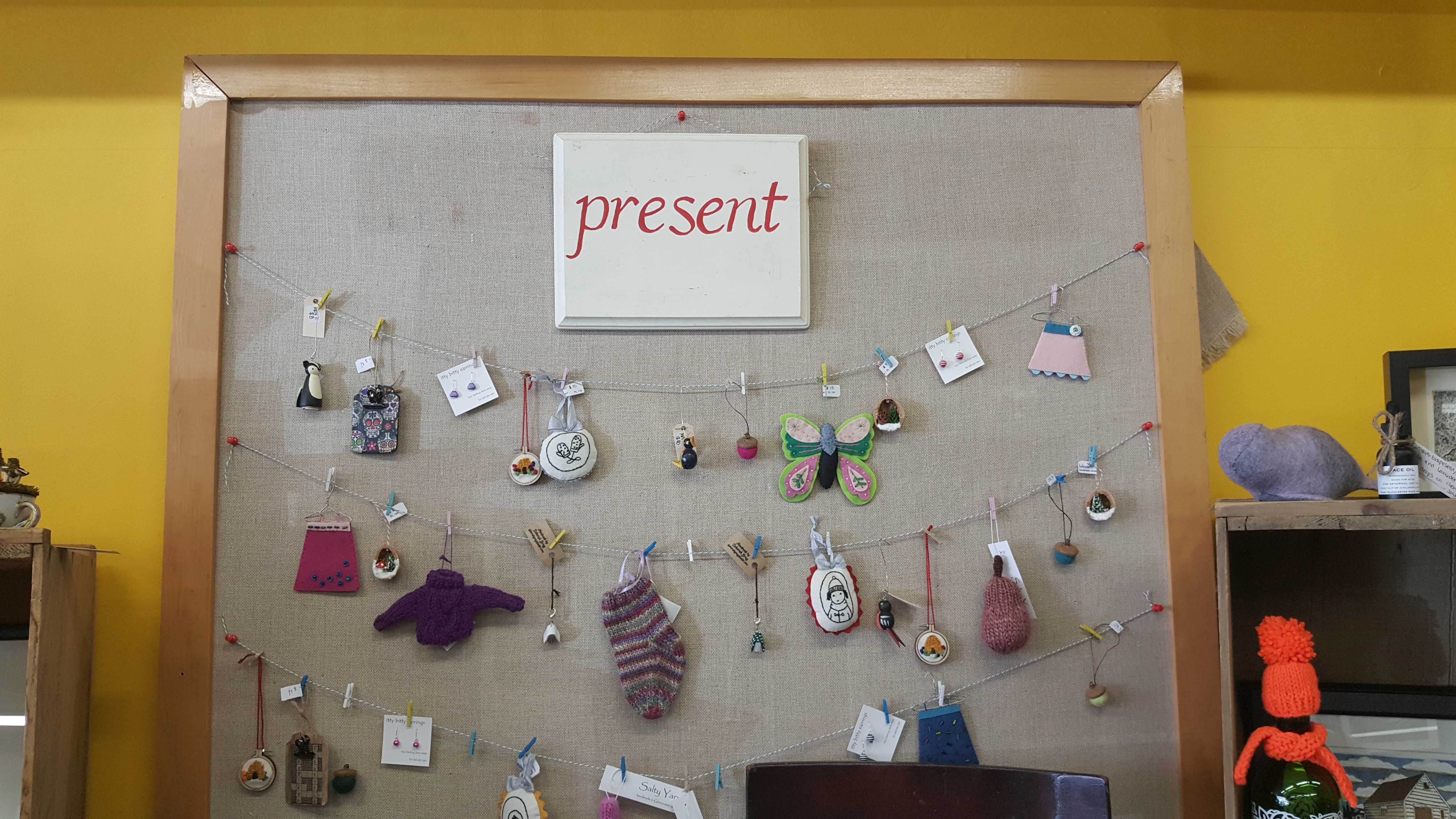 One of our favorite things to buy at Present are the handmade Christmas tree ornaments. You can find everything from hand-knit fruit to acorns, tiny socks, sweaters, and books, sugar skulls, and even winter scenes inside walnut shells!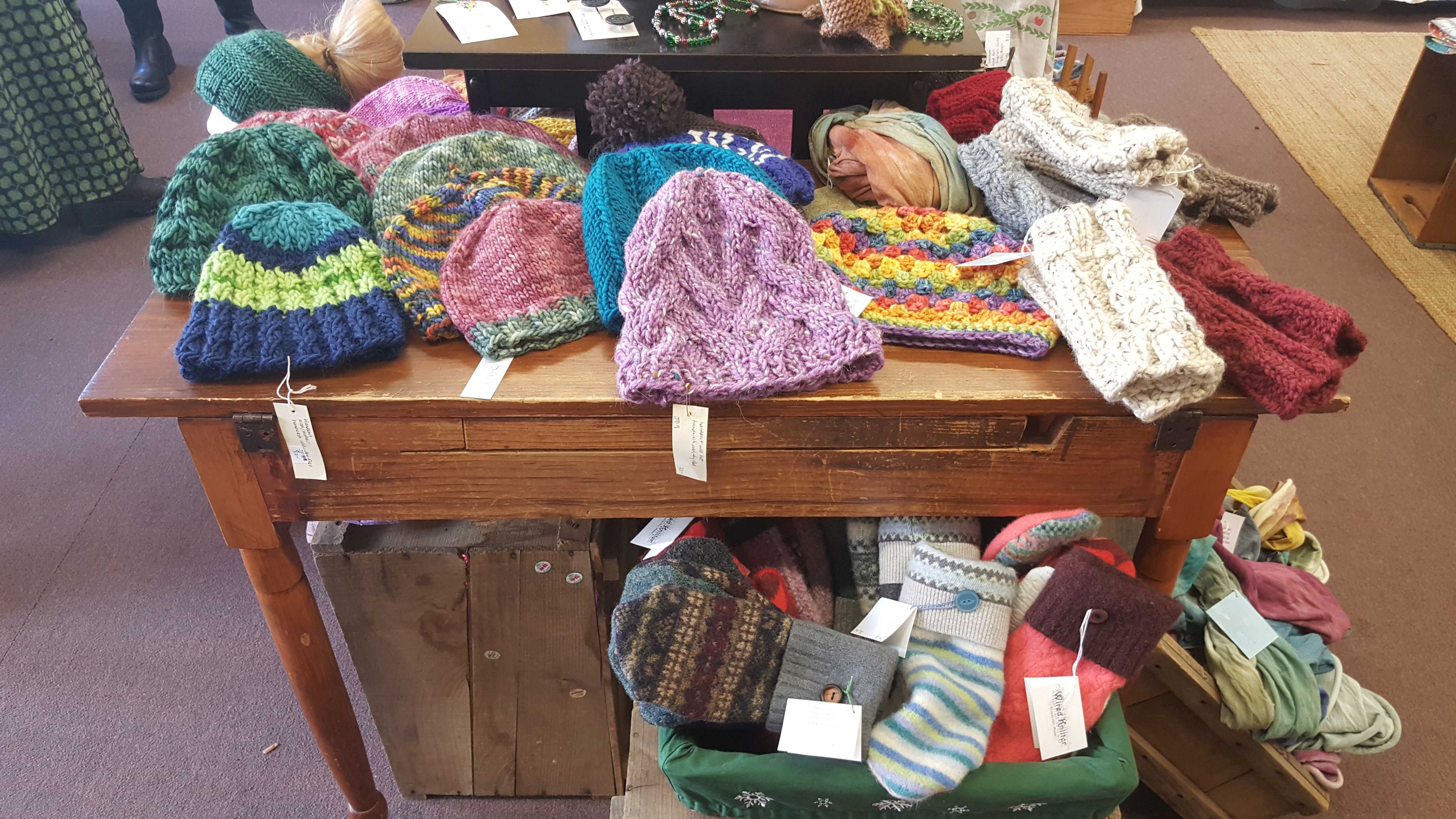 Once again this season, Jessica Demarjian has a collection of extremely warm double-layered made of recycled and upcycled materials- however, this year they're upgraded with cashmere lining! Brittany Ashforth is selling handcrafted candles in tins - with scents such as cranberry, lemongrass sage, nag champa, pine, and spearmint basil.
Presents holiday hours are 10-5 Monday-Saturday and 12-5 on Sunday, until Christmas Eve. They'll also be open for the Gloucester Downtown Association's Ladies' Night and Men's Night. For more information or to contact the store, please visit their Facebook page.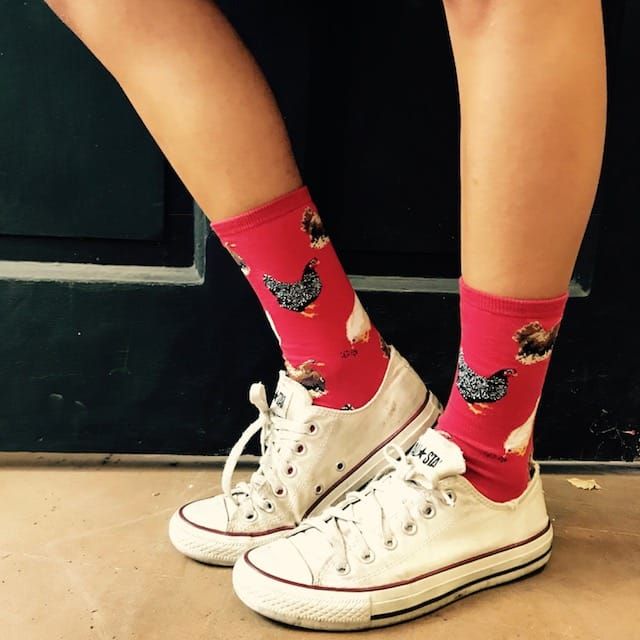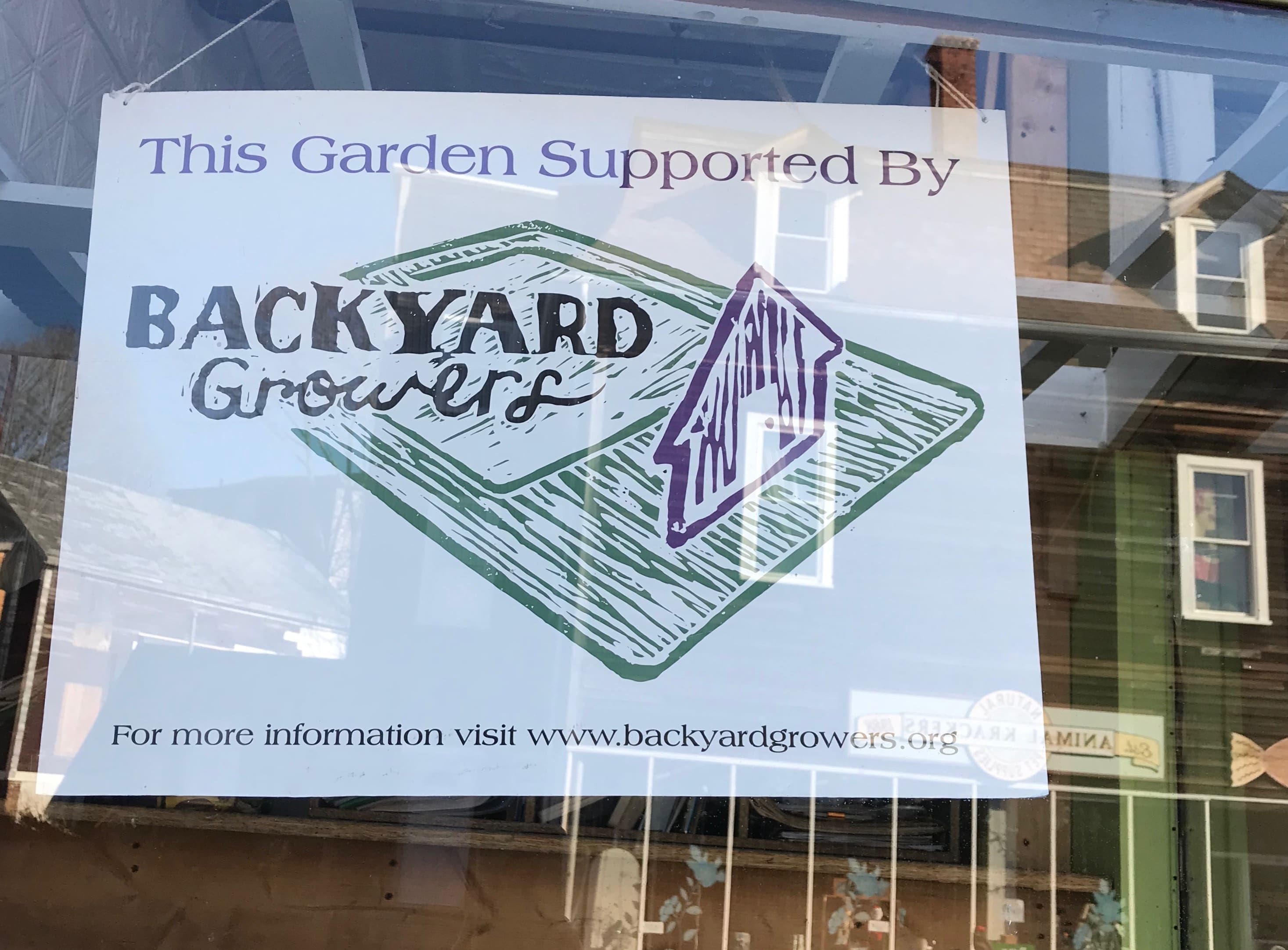 Just a few doors down from Present, there's another great pop-up shop - this one at the headquarters for Backyard Growers at 271 Main Street! We've previously covered everything the Backyard Growers do for the community, and they're again opening up a seasonal pop-up shop to help fund their programs and classes. What better way to shop for the holidays for unique items for the gardening and cooking enthusiasts in your life - as well as give back to a nonprofit at the same time?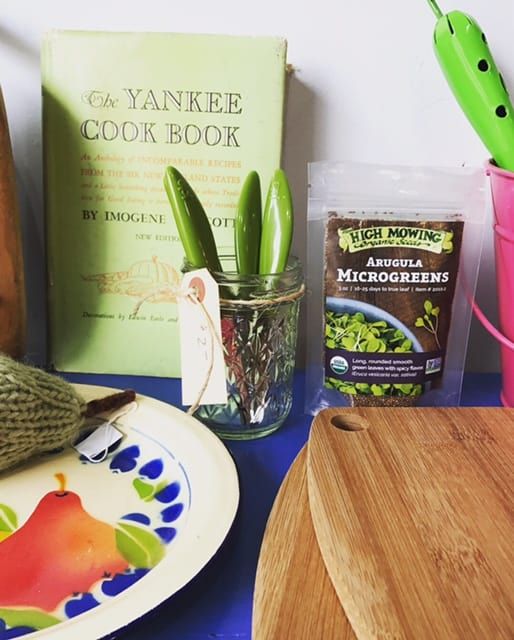 The shop has children's gardening items as well as tools for adults - and you can also pick up gardening books, T-shirts to support the Backyard Growers program, and quirky items like veggie and chicken socks and these superb vegetable and chicken ornaments!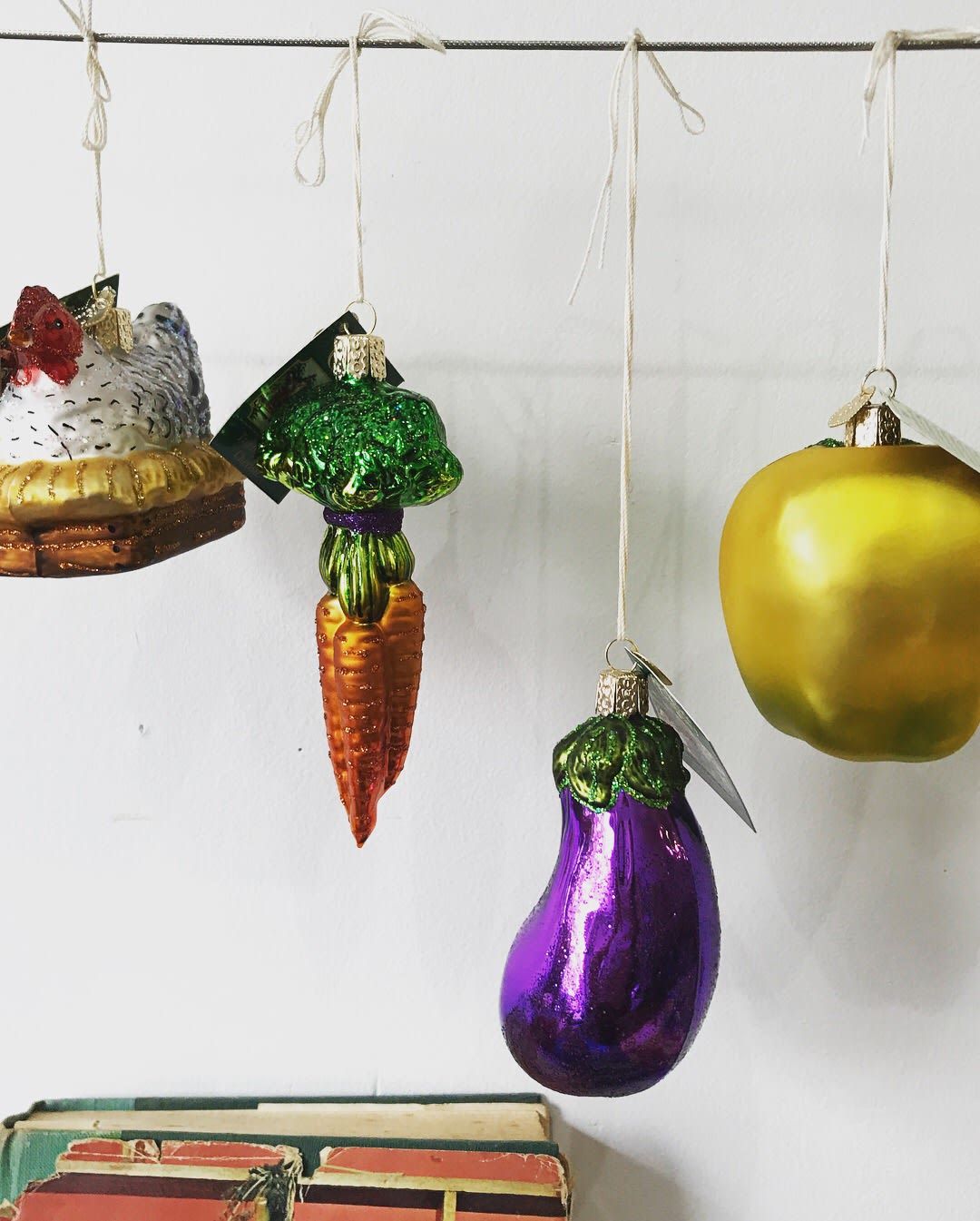 The Backyard Growers shop is open from December 1-December 22, and the holiday hours are 9AM-5PM Monday through Friday. Don't forget, all proceeds benefit Backyard Growers' school, community, and backyard garden programs. For more information on the pop-up shop or the programs and services offered by Backyard Growers, make sure to visit the Backyard Growers website.