The Resurgence of Gloucester's Burnham's Field
On a recent sunny Saturday, the crack of softballs against aluminum, followed by raucous cheers, rang out across a former swampland in the middle of downtown Gloucester. Children in bathing suits frolicked nearby in a public splash pad. It's a scene that represents the idyllic summer atmosphere in America. But, it wasn't always this way - Burnham's Field had earned itself a negative reputation for drug dealing, graffiti, and late-night underage drinking hangouts. The field hadn't been renovated or updated since the early 1980's, but generations of downtown Gloucester residents still remembered it fondly from their childhood - with seven acres of basketball courts, baseball fields, large grassy areas, swings, and slides. And they weren't about to give up on one of their favorite nostalgia spots.
With help from local community members and public funds, this open space - the largest in Central Gloucester - recently received a major facelift, and is once again enjoyable for the whole community.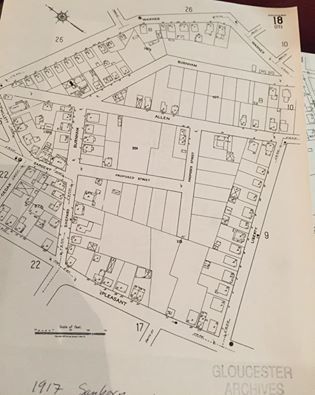 Once known as "Harbor Swamp", the area of Burnham's Field, bordered by Liberty, Allen, Pleasant, and Burnham streets, was originally a marshy area unsuitable for building on until the city of Gloucester became more and more populated and the swamp was backfilled for usable land. The field was originally slated for further development, with Allen Street reaching all the way to Burnham street instead of its current dead end. At the turn of the century, there was even a large barn-like storage shed on the property, as shown below.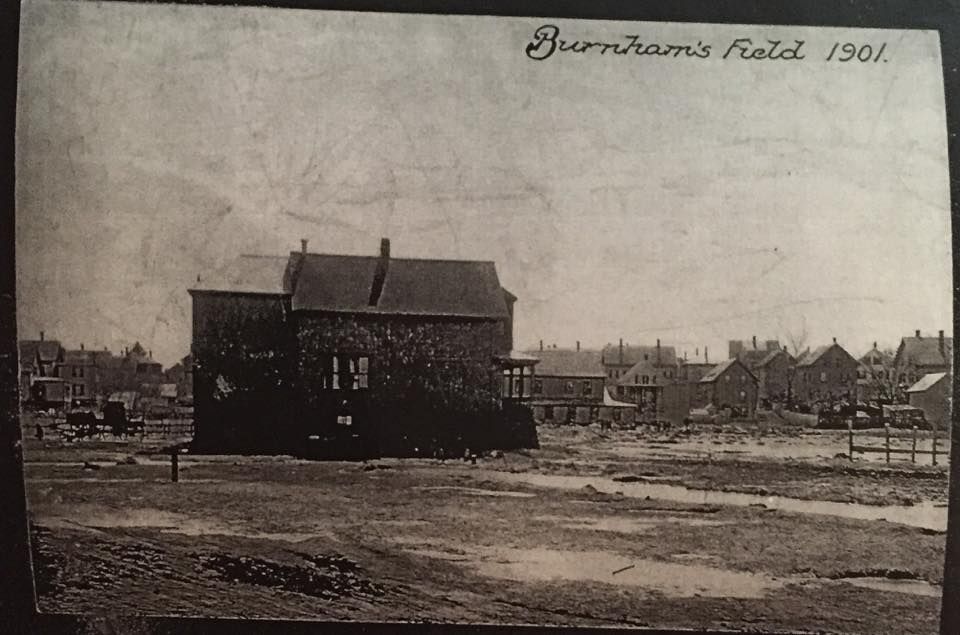 Decades later, with development scrapped and the area turned into a public space, there's a lot of positive change happening at the field. One of the first new projects for the area was the development of the Burnham's Field Community Garden, which opened in 2011 to help local families grow their own fruits, flowers, and vegetables and aims to teach a new generation of neighborhood children where food comes from.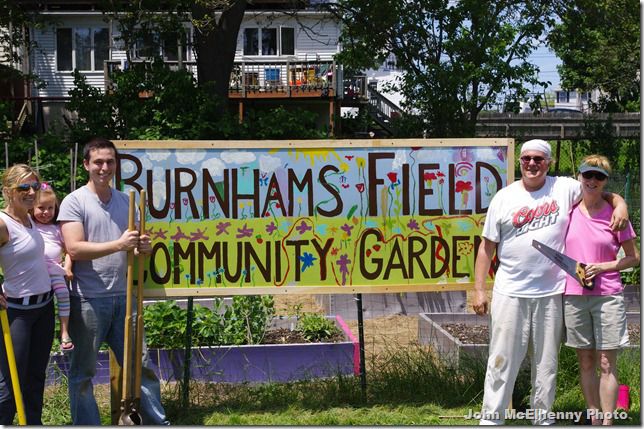 Photo courtesy of John McElhenny/Friends of Burnham's Field
In the ensuing five years, much of the renovation of the field has been completed. Already installed are new playground equipment, including different play structures for smaller and larger age groups swings, new fences and backstops for the baseball fields, a walking loop that young children can also bike on, lighted paths, benches, and a spray fountain for kids.
During the building of the new West Parish School, the temporary school at St. Ann's used Burnham's field for recess and gym classes. The school also teamed up with Backyard Growers to install a school garden at the field.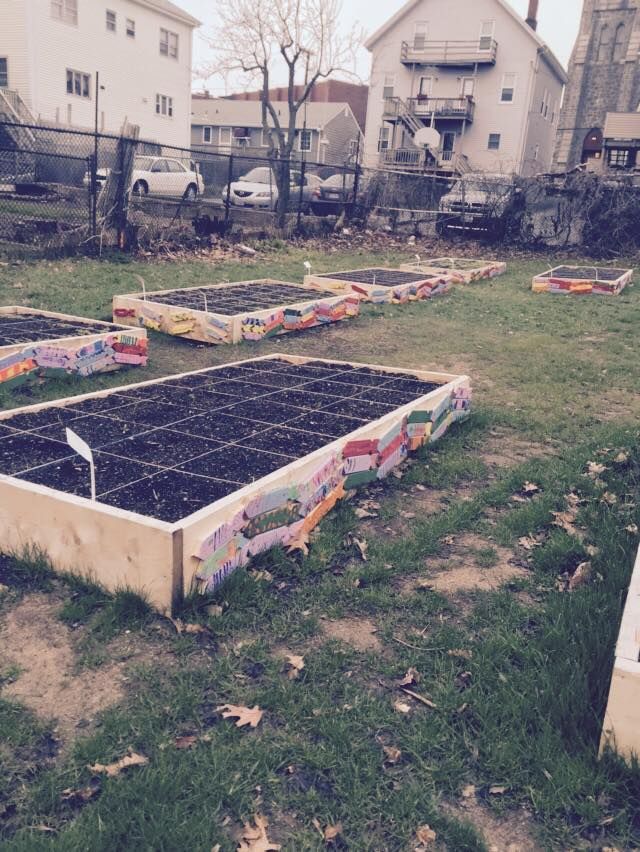 With the revitalization, an upswell of public support and volunteerism has also been a boon for the park. For instance, in May of 2015, a man who asked to remain anonymous purchased new basketball nets with his own money, despite not playing basketball himself, and brought a ladder down to the field to install them. "It's for the kids, he said." The Friends of Burnham's Field also purchased paint to update the faded, graffiti-plagued basketball net backboards and volunteered their time to the project.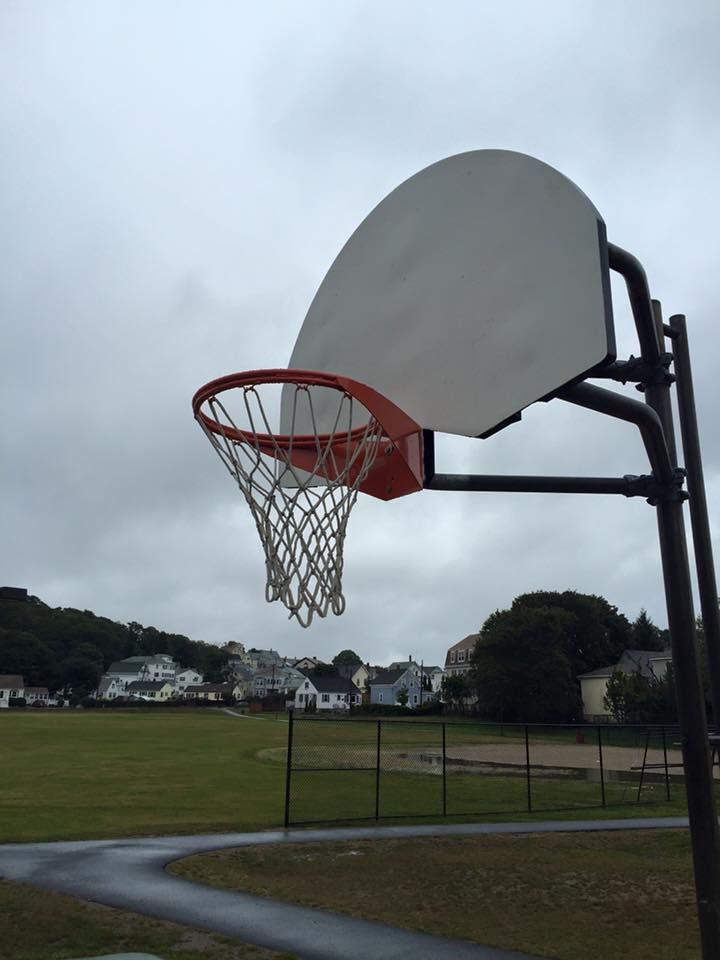 (Photo Courtesy Burnham's Field Facebook Page)
This summer's big hit has been the splash pad - even a few local seniors got in on the fun! John McElhenny grabbed a fantastic snapshot of these two ladies from Sheedy Park checking out the new splash pad.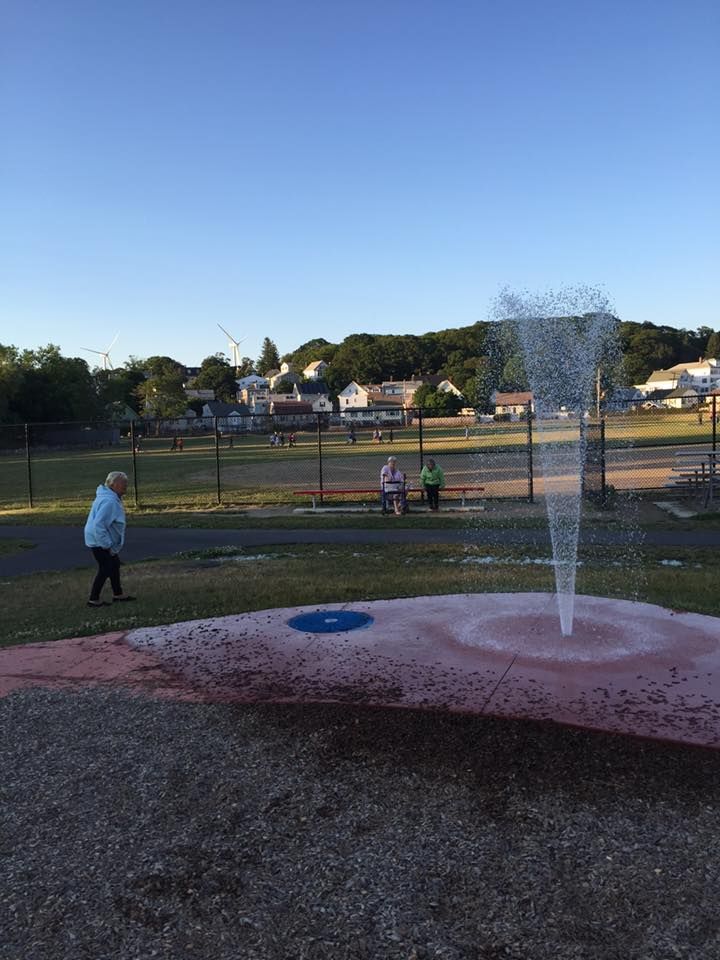 The price tag of more than half a million dollars for the project was raised in several ways. Gloucester's Community Development Department worked tirelessly to secure state, federal and City Community Preservation grants to help get the project funded. The Massachusetts Department of Environmental Protection's Natural Resource Damage program provided $195,000 towards the revitalization. The balance, roughly $370,000 is being funded with Federal Community Development Block Grant funds and City Community Preservation Funds. The Gloucester Open Space and Recreation Committee, as well as the City of Gloucester under Mayor Kirk, and state senator Bruce Tarr.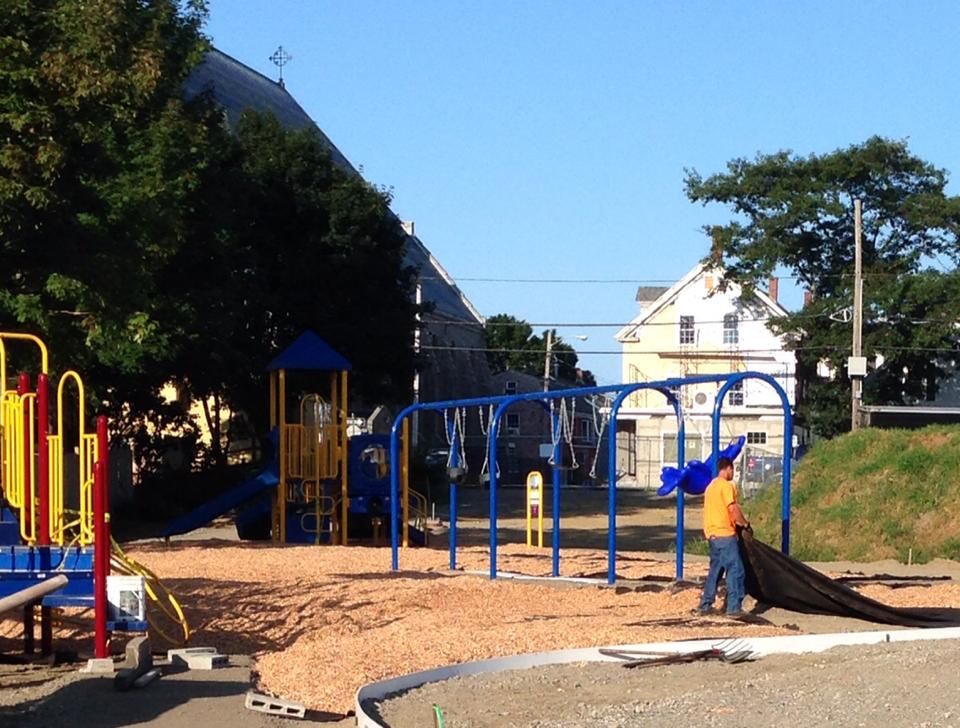 (Assembling the New Playground - Photo Courtesy Burnham's Field Facebook Page)
Another local partnership has also emerged as a steward to the area - The Friends of Burnham's Field, who have a website and Facebook page. The Friends, organized under the Gloucester Fund (a registered 501(c)(3) charity) are made up of neighbors, parents, children, and other community members who want to keep the field beautiful, welcoming, and ensure it continues to be a wonderful open space to walk, exercise, play and enjoy the outdoors - for everyone in Gloucester and beyond.
Although much of the project has been completed, there are still opportunities for companies or community members to show their support for the field and market to the families, including the school sports teams that use the field for games and practices. Burnham's Field sponsors will receive a plaque on the item they sponsor with their company's name, as well as a news release from the Friends of Burnham's Field for posting to the sponsor's website, a thank you note from the Friends of Burnham's Field sent to the Gloucester Times, GoodMorningGloucester and Cape Ann Beacon, as well as an announcement of the sponsorship and thank you via the Friends of Burnham's Field Facebook page and website. Corporate sponsorship opportunities range from $1000 for trees to $25,000 for the softball backstop. To become a sponsor or for more information, visit the Friends of Burham's Field Website.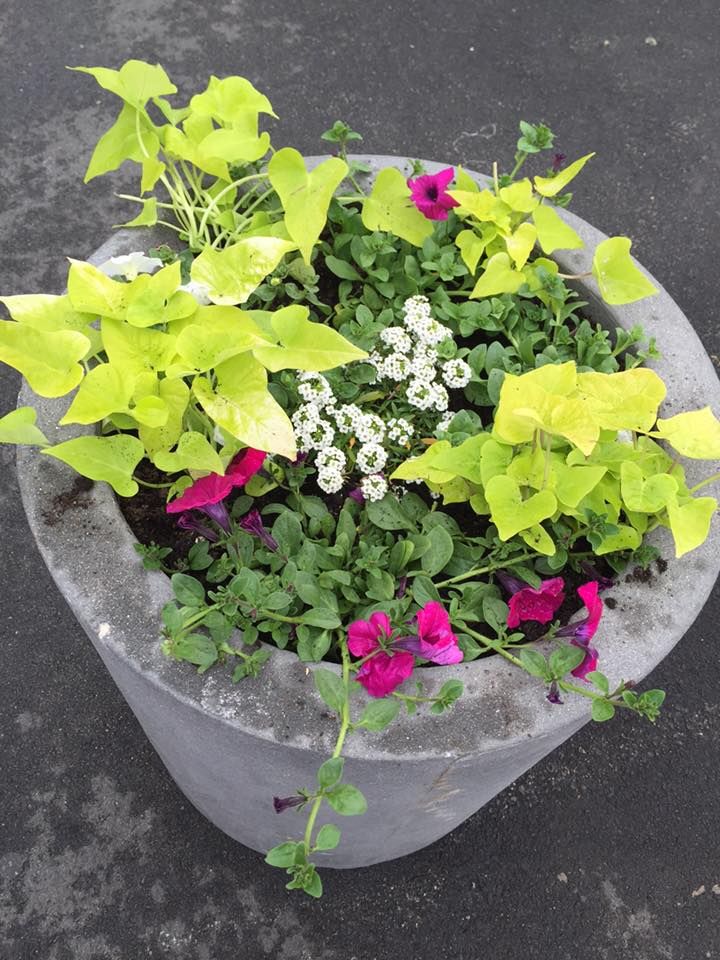 Along with the upgrade of Burnham's field comes the resurgence of another local classic as well - Holy Cow Ice Cream Cafe! Beloved by many for decades, Holy Cow Ice Cream once had a demanding presence on the corner of Pleasant and Smith streets before closing after a fire years ago. Soon Lynnfield native Mike Schifino, who had purchased and was rehabilitating the building, noticed that passing pedestrians would ask when Holy Cow was coming back. After awhile, Schifino decided to try out the ice cream business, and Holy Cow was reborn, offering not only fantastic ice cream, but delicious shakes, homemade ice cream sandwiches, ice cream stuffed cannoli, and flavored iced coffees, as well as an assortment of penny candy - every kid's dream.
These days, Holy Cow is not only a thriving ice cream shop, but also a community leader - offering its April profits to local nonprofits, as well as doling out free ice creams and shakes to those who participate in the annual field clean up.
Now, families of all ages can again congregate at Burnham's field to play and participate in the community - and that's something to be excited about!