The Farmer's Markets on Cape Ann are in Full Swing!
Now that fall is in the air and the kids are back in school, it feels like the good weather is coming to an end - but there's still a lot of life left in the season. And as September rolls in, there's nothing better than strolling through a farmer's market and feeling like you're part of a small community - and picking out handmade crafts, delicious desserts, and vegetables for your dinner. Here in Gloucester, we're lucky enough to have two farmer's markets to choose from, each with its own unique attributes, both serving the community - and a great meal.


Magnolia Farmer's Market
The Magnolia Farmer's Market, hosted by the Magnolia Historical Society and sponsored by J Barrett Realty, Rock the Baby, and Extreme Auto & Truck, has been running for the past several seasons. It takes place each Monday afternoon from 4PM - 7PM on Lexington Ave in downtown Magnolia. This year, the market's season runs from June 15 to September 21st.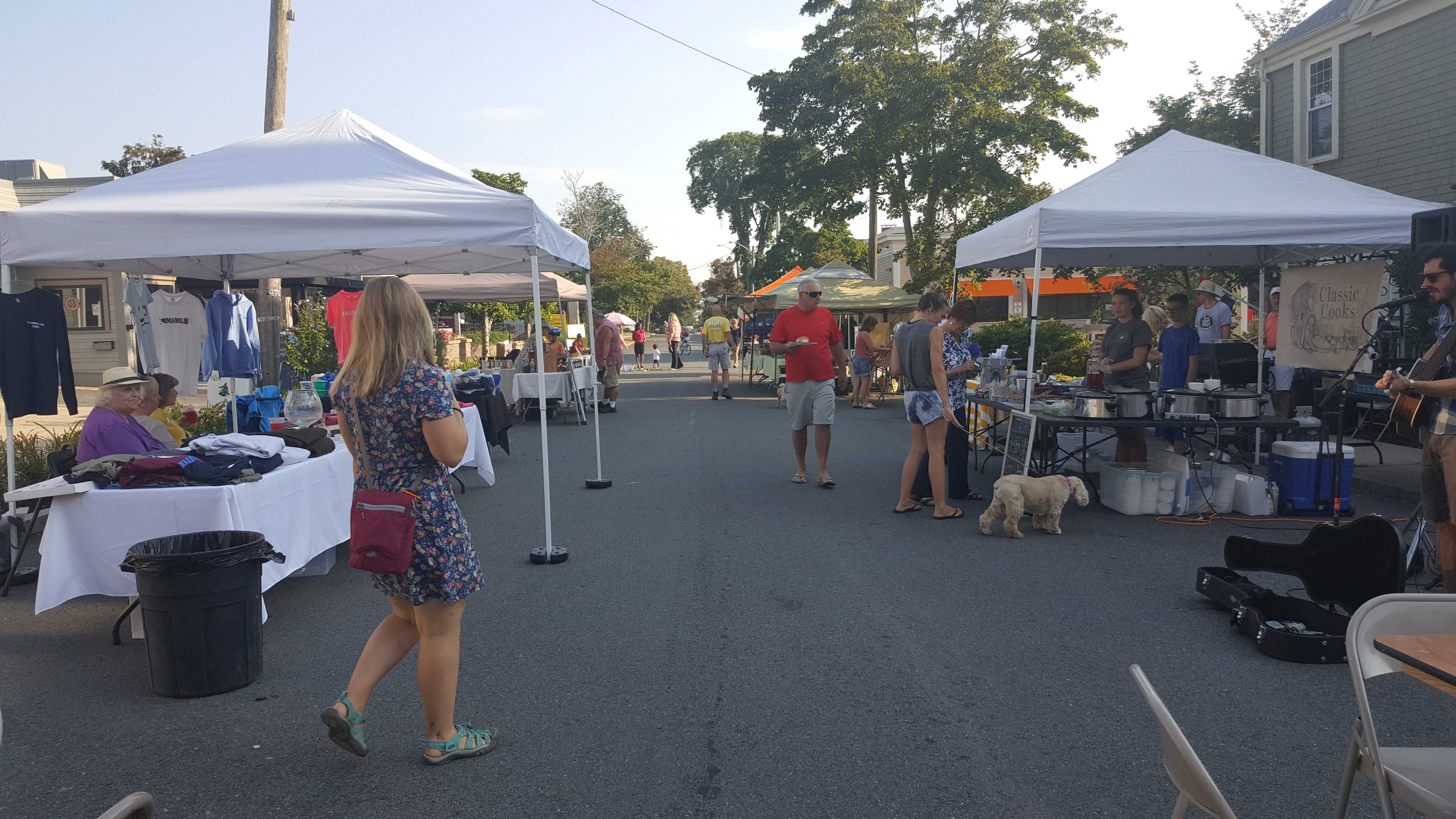 The organizers close down Lexington Avenue to traffic, and tables for eating, as well as vendors, are set up along each side of the street. The relaxing atmosphere, as well as the wide sidewalks of Lexington Avenue, make the Magnolia Farmer's market a great place to grab dinner - either ready to serve or just the ingredients - with the family.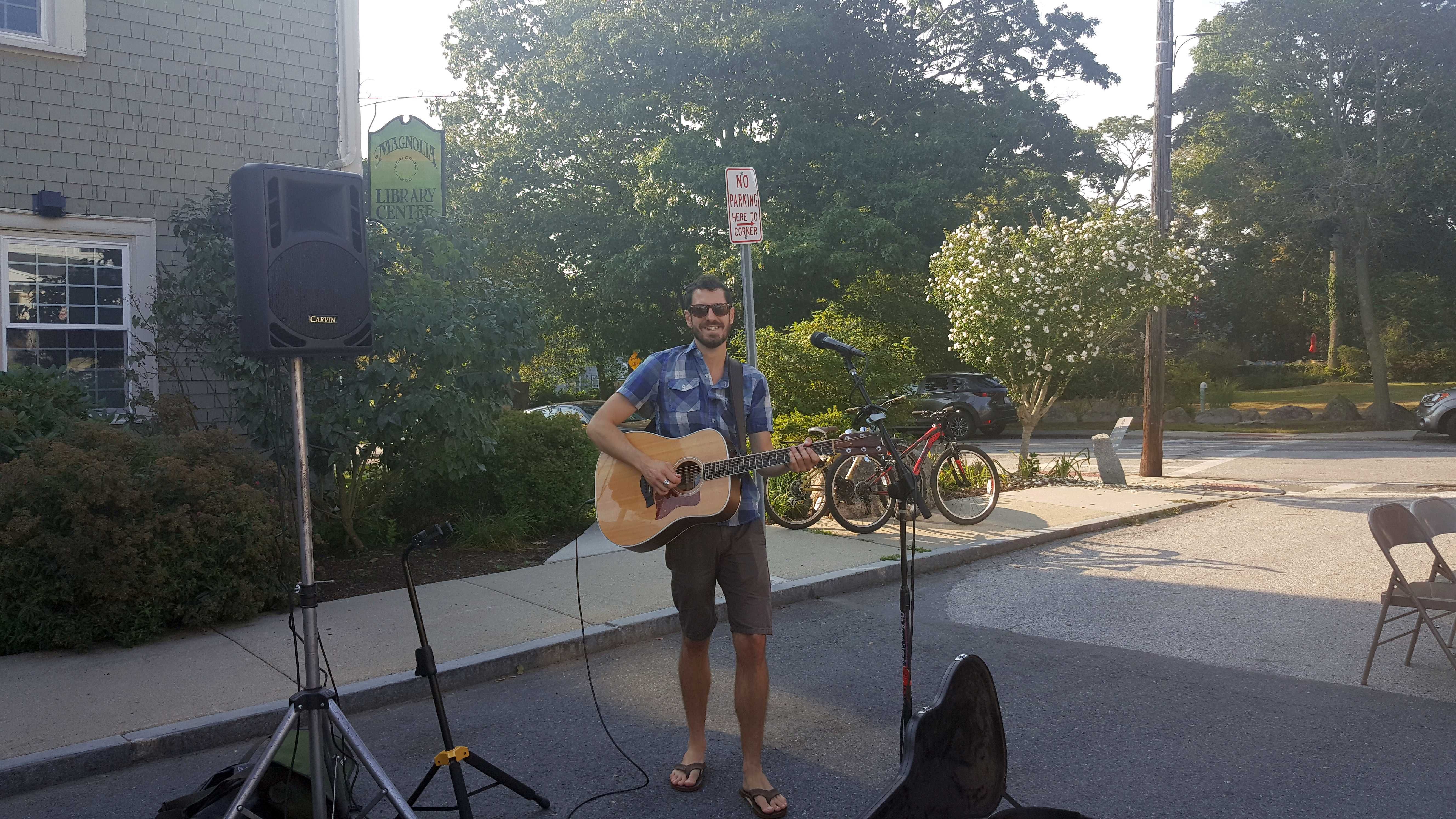 The market features entertainment by local musician Joe Wilkins, playing crowd favorites on acoustic guitar, and features family and community friendly tables, like a face painting station set up by Rock the Baby.
While smaller than the Cape Ann Farmer's Market, Magnolia is growing in size, and does add new vendors often. The largest was Marshall's Farm Stand, providing locally grown fruits and vegetables - like blackberries, blueberries and raspberries, lettuce, carrots, cherry tomatoes, and delicious sweet corn - to their farmer's market customers.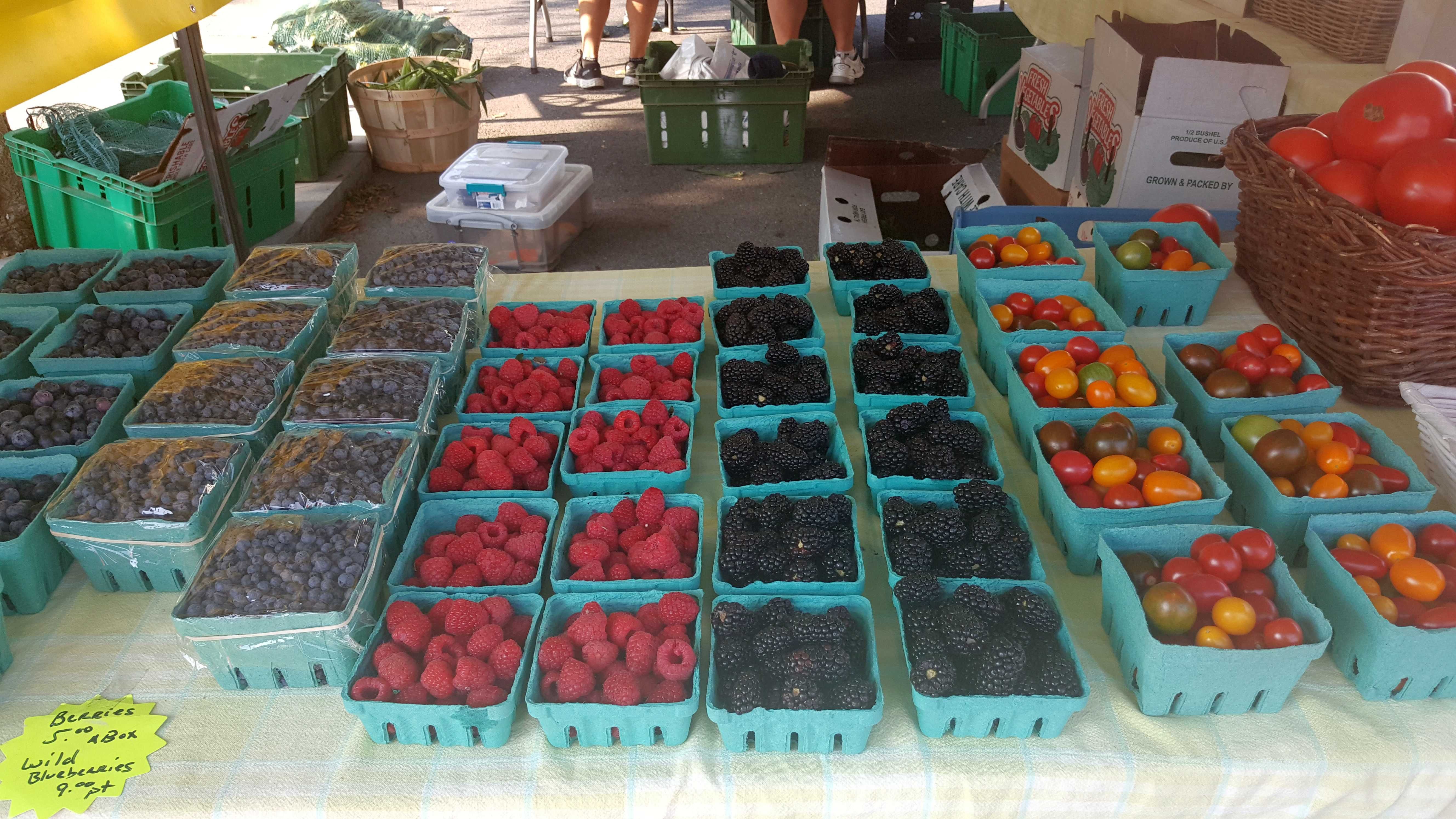 Seaview Farm, a local vendor at the Magnolia market, has been caretaking its Rockport land for 175 years. The farm raises grass fed, all natural beef on its own land, which is sold through local farmer's markets as well as its own farm stand - offering cuts like short ribs, T-bones, top rounds, London broil, and mini steaks. In addition, they sell their own farm-fresh eggs and fresh vegetables, along with a selection of quality locally crafted jams and jellies, butters, honeys and syrups, breads, and more. The farm has beef and vegetable CSA farm shares each season.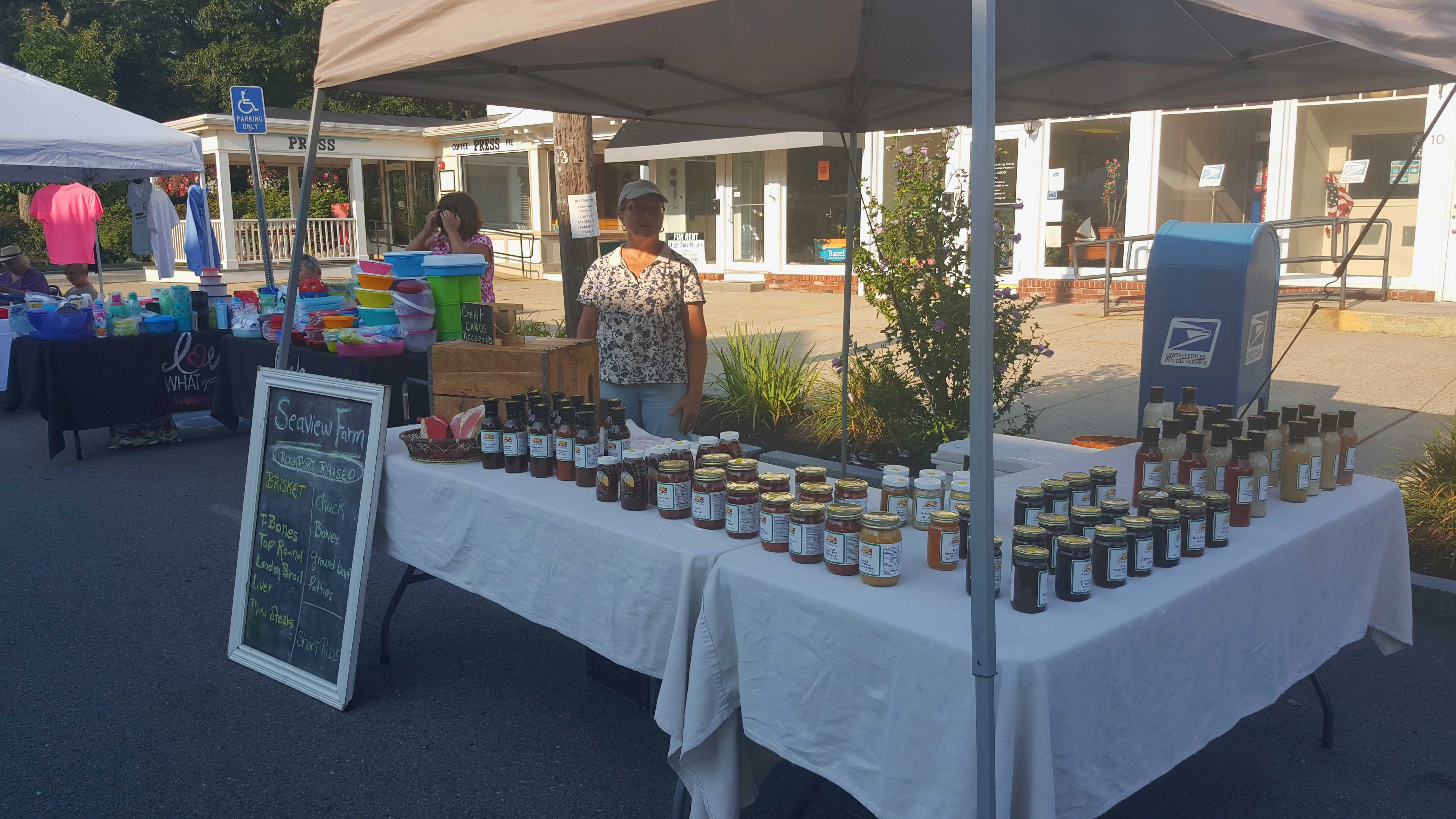 Classic Cooks, also out of Gloucester, serves a variety of fresh foods to go, or to eat at the market - like pulled pork, mac and cheese, and even lobster rolls! Other local vendors, businesses, and community tables at the Magnolia market this season include Sticky Fingers Bakery, Virgilio's, Top Dog Nutrition, Alfalfa Farm Winery, Bare Cheek Beauty, Trupiano's Sausage, Magnolia Library, Cape Ann Auction, 525 Tavern, JD & Myers Best Friends and Magnolia's.
Cape Ann Farmer's Market
Just up the road from the Magnolia market, the expansive Cape Ann Farmer's Market takes place on Thursday afternoons. Now in its 11th season, the Cape Ann Farmer's Market takes place from 3-6:30 PM at Stage Fort Park in Gloucester. Their 2017 season runs from June 1st through October 12. Parking is free - and plentiful.
The market has blossomed over the past decade, with live music and entertainment, the Seafood Throwdown cook-off battles featuring local chefs and fresh ocean ingredients, and a varied group of local artisans, food vendors, and other crafts and trades. It has become a close-knit community that promotes local business - the market helps support over 800 acres of local farmland. Cape Ann Farmer's Market facilitates farm-to-table eating no matter your budget - the market accepts WIC and EBT benefits, as well as senior vouchers, so that everyone has access to nutritious food. The market promotes nonprofit communities by giving them free tables to engage in community outreach and education.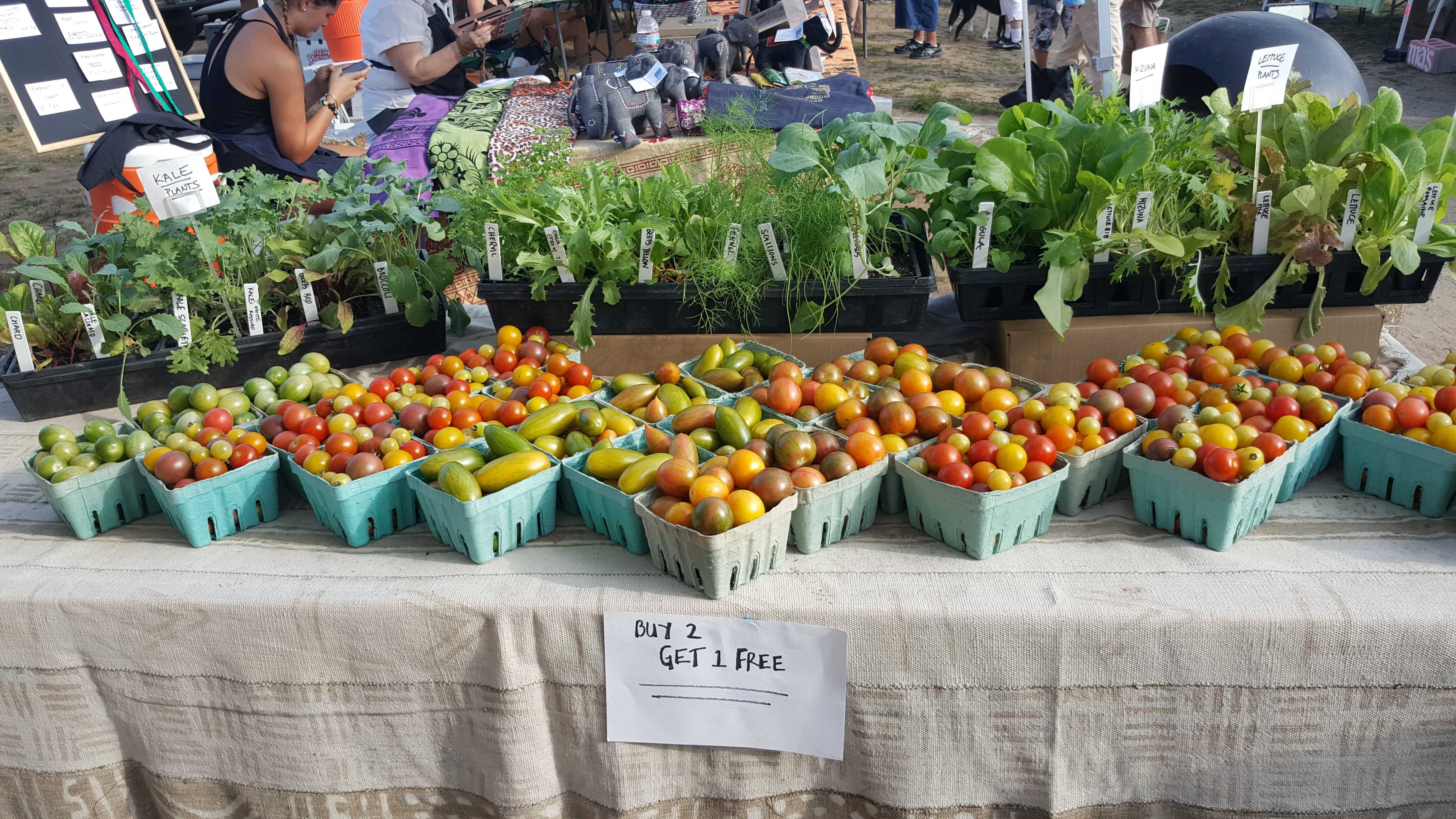 This year's vendors include longstanding vendors as well as some new faces. Beyond the typical craftsmen and local food vendors, you can now get a tarot reading at the market from Annette Dion, or bring your knives for on-the spot sharpening at just $5-10 per knife. There is a rotating lineup of bands and musicians playing - the whole family is guaranteed to have a great time.
One of the biggest supporters of the market is Marshall's Farm Stand, who not only sell at the Cape Ann and Magnolia markets, but have their own large farmstand on Concord Street in West Gloucester. Marshall's sells delicious, locally grown sweet corn, tomatoes, lettuce, berries, and more, and their farmstand is stocked with local cheeses, honey, ice cream, and other small batch, homemade foods from small local outfits.
Classic Cooks sets up at the market to provide hot food, as well as Markouk Bread, a longtime market staple that serves delicious middle eastern food and take-home containers of hummus, labneh, garlic sauce, pesto, Baba Ganoush, and more!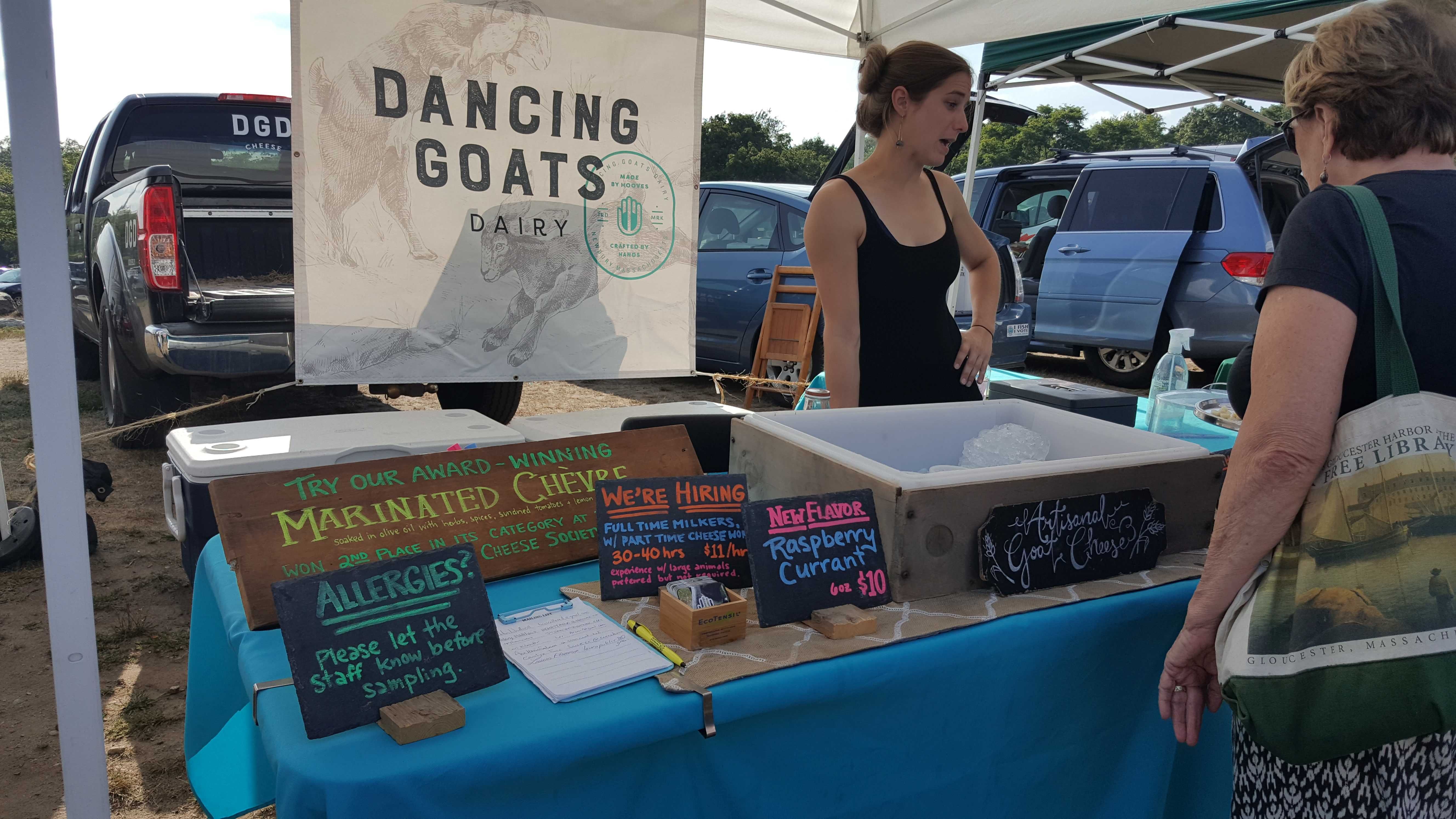 Dancing Goats Dairy, a small goat dairy farm based in Newbury, sells delicious handmade, small-batch cheeses, as well as delicious goat milk caramel, goat milk fudge, and handcrafted soaps. Marketgoers can test out samples of their marinated cheeses, such as the delicious Ruth Bader Ginsburg, loaded with peppercorns.
Zen Bear Foods, based in Whitinsville, MA, is another new vendor in its first year of business. They provide a variety of scintillating spice and BBQ rubs and homemade sauces that are gluten free and all natural.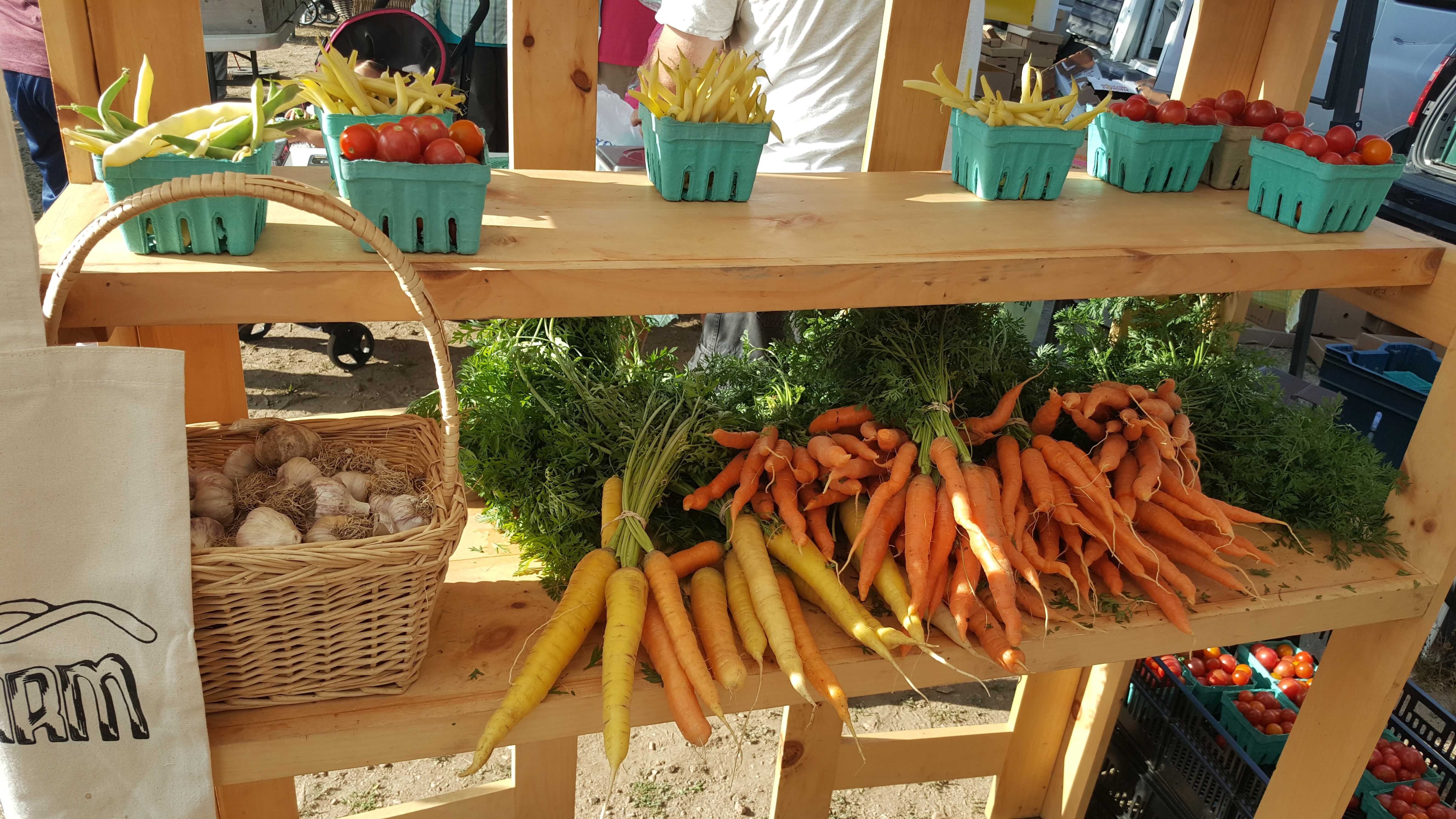 Iron Ox Farm, run by 27 year old skateboarder and Danvers native Alex Cecchinelli, has taken over the CSA and vegetable growing portion of Goose Cove Garden's former business. This is his first year of farming, and he tills one acre of land in West Gloucester, as well as some greenhouse space from Cedar Rock Gardens. His vendor tent is stocked with eye-catching orange and yellow carrots, wax beans, tomatoes, and garlic.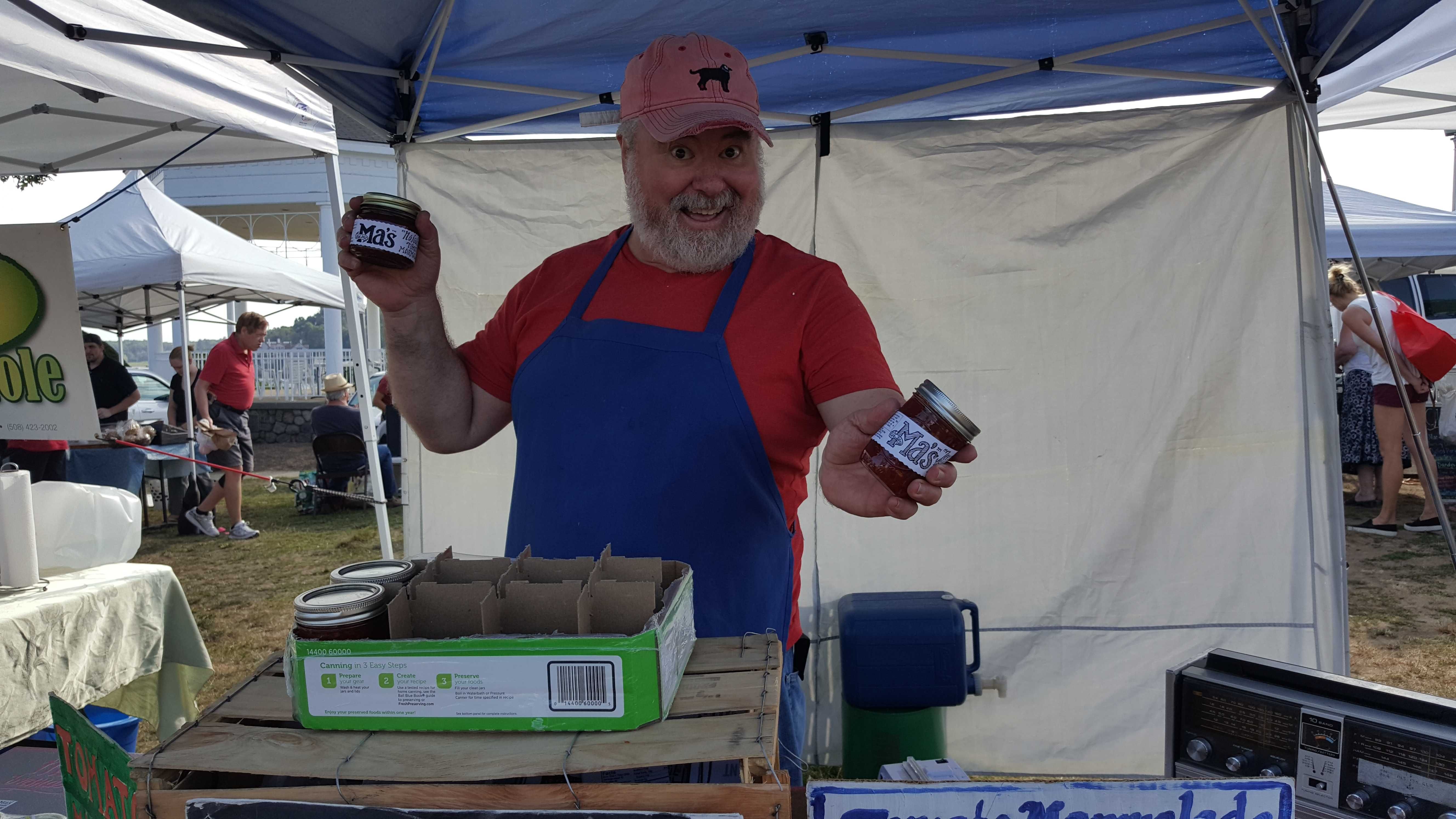 Gloucester resident Alexander Thompson has found sweet success with his Ma's Brands line. Named after his family matriarch for her fantastic tomato marmalade recipe, Alexander has been producing his spicy, original marmalade and bread and butter pickles in small batches from locally sourced ingredients.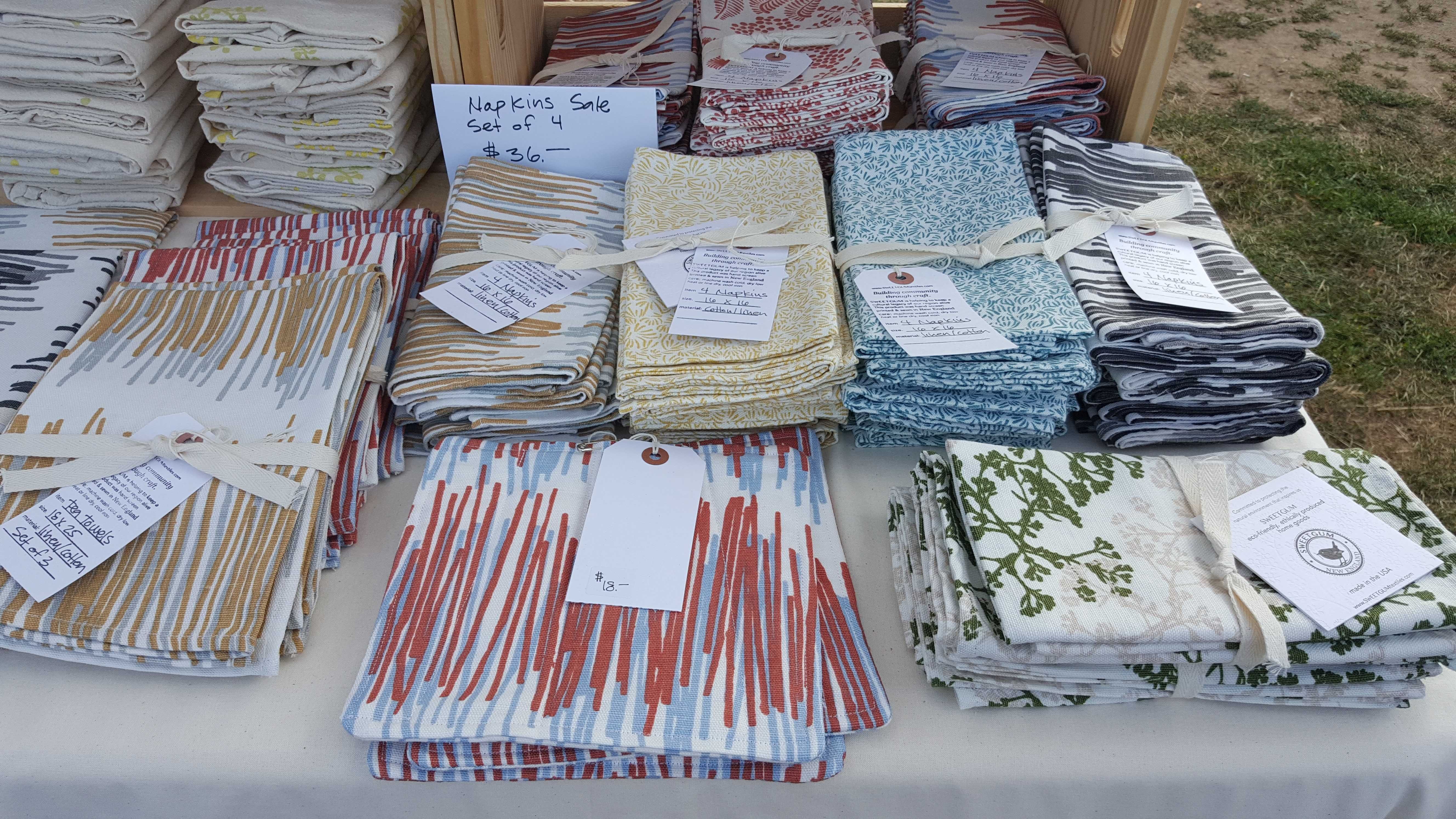 The tent belonging to Sweetgum textiles, based in Wenham, has a colorful array of cloth napkins in modern, trend-setting designs. One of their unique products is a cellulose-based, patterned, eco-friendly dishcloth. Meant to take the place of paper towels, these dish cloths are an environmentally friendly and inexpensive alternative. For $6, each towel lasts 6-9 months, and can be machine washed (air dry only) or placed in the dishwasher to sanitize. They are perfect for dish washing or cleaning spills - and after their lifespan is complete, they can be composted!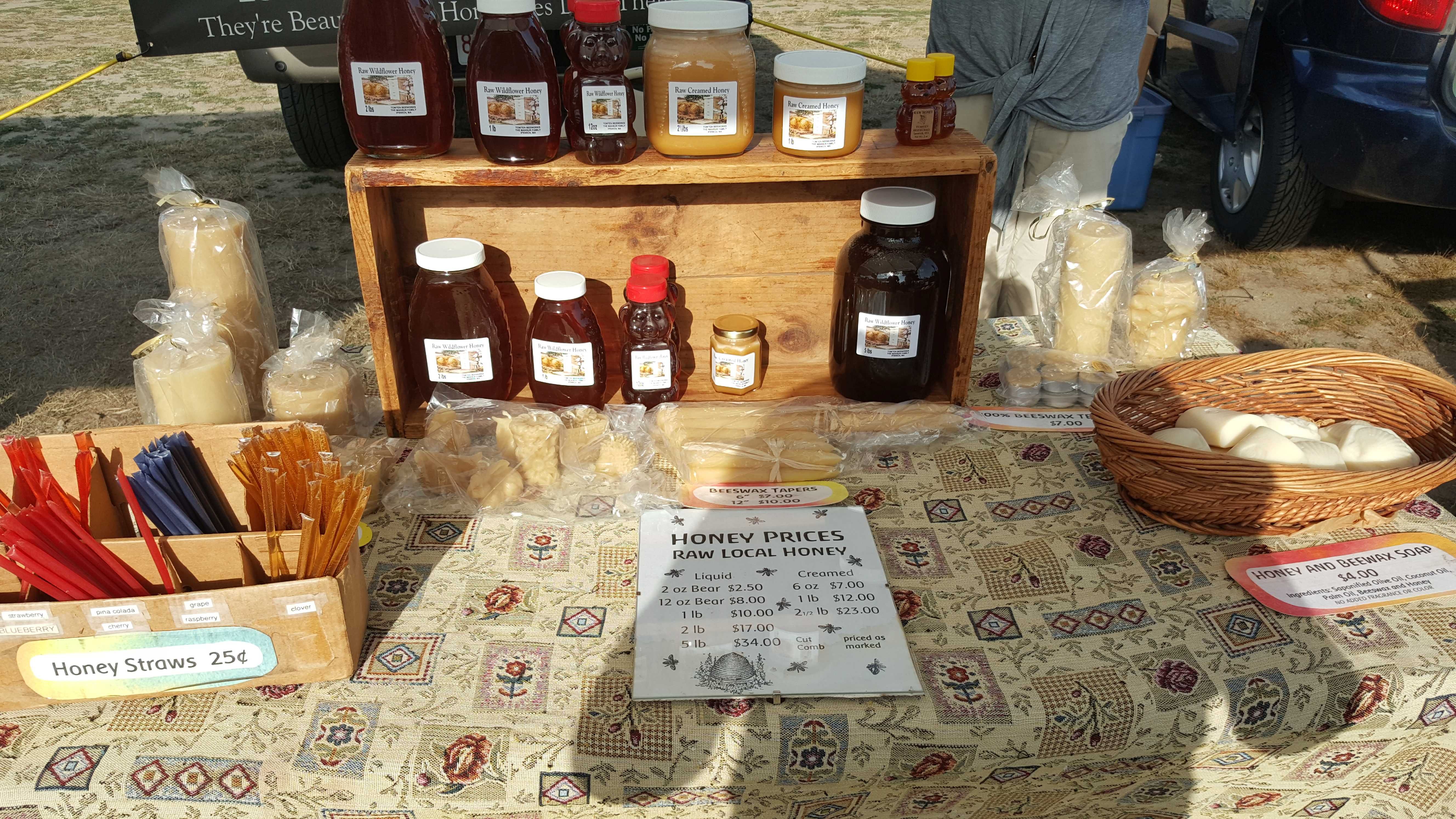 Tomten Beeworks, based out of Ipswich, sells local raw honey, creamed honey (one of the best tasting substances on earth), and handcrafted, natural beeswax candles. Their honey sticks, flavored or natural honey, are perfect for treats for little ones at the market.
Salt Marsh Poultry, run by locals Liz Jaeger and Edgar Foudray, features poultry humanely raised on pastures with non-GMO feed on their Essex farm. One of their best sellers is their absolutely delicious handmade breakfast sausage! Salt Marsh sells delicious and wildly popular Thanksgiving turkeys to bring your holiday to the next level. The farm also raises lamb and pigs on their land, with an eye towards responsible animal husbandry - meaning you can eat meat and feel good about its origin.
Close Quarters Collective, with local crafts made in Rockport and Gloucester, has a permanent storefront at 6 Dock Square in Rockport. Their vendor tent is chock full of beautifully carved wooden spoons, cutting boards, jewelry, throw pillows, and more!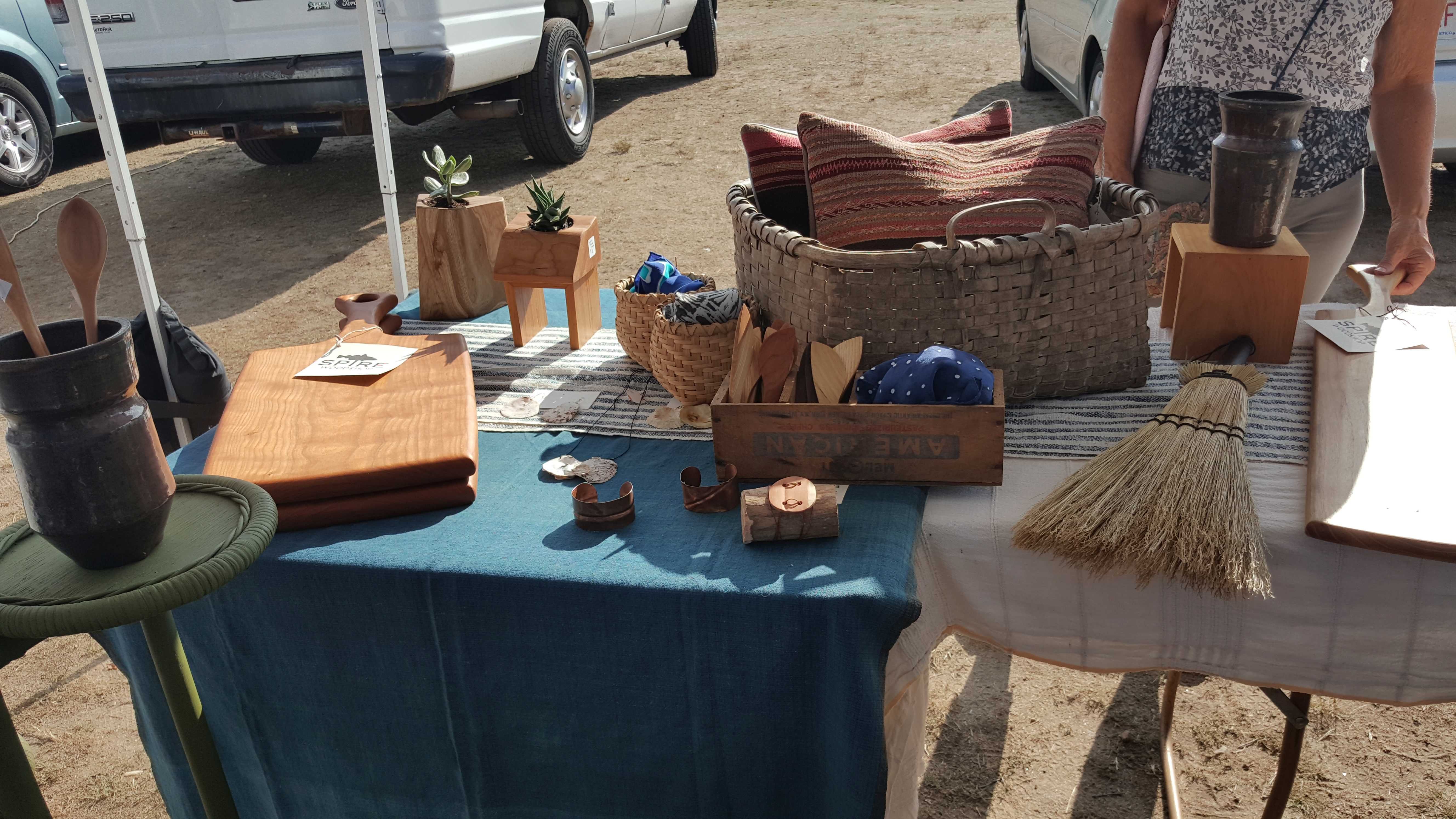 Other vendors include perennial favorite and market staple Farmer Dave's, a larger sized farm stand vendor tent with a wide array of fresh vegetables and a CSA pickup, Sasquatch Smokehouse out of Gloucester, which sells smoked salmon and mussels, Tatiana's Treats with a selection of cakes and cookies (try the flourless chocolate and hazlenut cakes!), Tenuata San Pietro Olive Oil, Ma and Pa's Pickles, Patty's Guacamole, Quinn's Canine Cafe, Valencenti Pasta, Pigeon Cove Ferments, Cake Ann, and A&J King - among many others. Many vendors rotate, so be sure to check the CAFM Facebook page or with the vendors for their particular market schedule.
Each year, the Cape Ann Farmer's Market has a dinner and a movie fundraiser at Cape Ann Cinema, as well as contributing winning, and charming, floats to the Gloucester Horribles Parade. For more information on the benefits of membership with the CAFM which helps support the market, as well as upcoming events, visit their website.


Rockport Farmer's Market
Lastly, the Rockport Farmer's Market takes place on Saturdays from 9 AM - 1 PM from June 17th through October 17th's Harvestfest. Taking place at Harvey Park in front of the First Baptist Church of Rockport , at the corner of Mt. Pleasant and Broadway, the Rockport market is a medium-sized market full of local vegetable and food vendors.
The Rockport market differs from Cape Ann and Magnolia's because it is specifically a food market - all vendors must grow or make their own food products. Anything that isn't a food product, such as crafts, aren't sold there.

Vendors such as Knead Dough Bakery, a Lanesville outfit that bakes Nisu and Anadama loafs, Cake Ann, an Eastern Ave- based bakery, Atlantic Saltworks, Heath Tea Room, Bella and Harvey, a Peabody-based bakery with delicious cannolis that sell out quickly, and of course, farm stands, all set up at the Market.
With three Farmer's Markets to choose from, you're guaranteed to get a great local dining experience that helps the local community here on Cape Ann!
Magnolia Farmer's Market: Mondays, 4-7 PM from 6/15-9/21, Lexington Ave, Gloucester
Cape Ann Farmer's Market: Thursdays, 3-6:30 PM, from 6/1 - 10/12, Stage Fort Park, Gloucester
Rockport Farmer's Market: Saturdays, 9AM-1PM from 6/17- 10/17, Harvey Park, Rockport