The 5 Best Places to See Live Music in Gloucester
Whether you're new to Gloucester, a tourist, or visitor, if you are interested in seeing great live, local music, you're in luck. Gloucester, Cape Ann, and the North Shore area have a spectacular music scene where you can find something interesting happening every day of the week, all year round. It's not unusual for national musicians to visit the area during the summer tourist seasons, and several well known musicians have retired to Gloucester and live here full time. It's not hard to see why - our city celebrates art and music year round, and has a vibrant scene as a result!


Mile Marker One
Mile Marker One is comprised of a spacious indoor/outdoor tent attached to Cape Ann's Marina Resort on Essex Ave that features live music seasonally from the late spring up until late November. There is plenty of parking, and you don't need to be staying at the hotel to attend the Mile Marker. The tent has open sides and an outdoor portion of the deck overlooking the marina's docks during the good weather - with amazing views of the working boats and the Annisquam river. It's not unusual to see a band playing at the same time they are filming the TV show Wicked Tuna! There is plenty of room at the long bar, as well as tables and booths - and there's an additional rum bar in the back of the tent open during the busiest times that serves summer specialty cocktails like pina coladas and margaritas, as well as a bar outside at the front of the hotel that serves a rum punch - and even pizza by the slice late at night!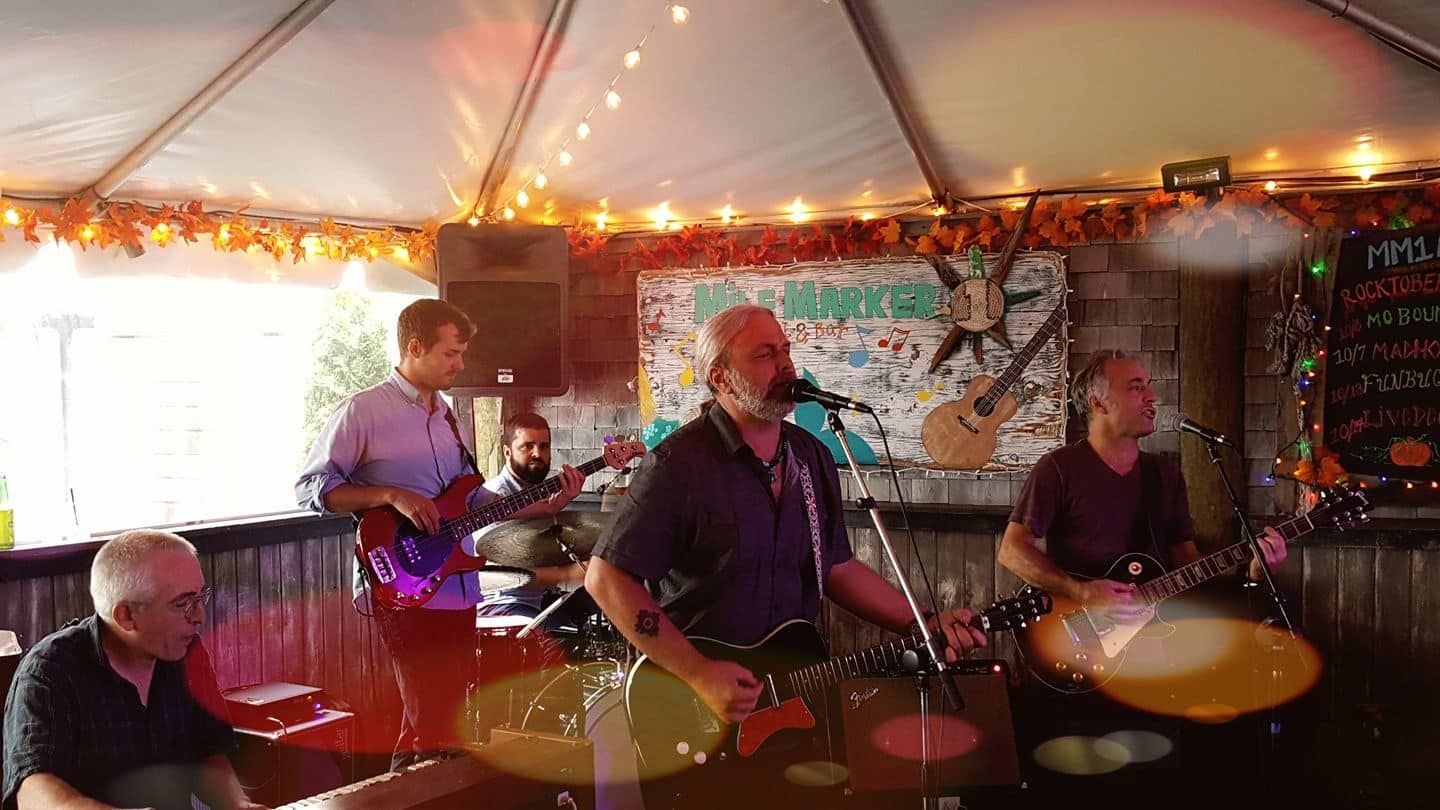 (Orville Giddings, Mike O'Connell Steve Burke John Cameron & Leo Ciaramitaro play Mile Marker One)
When the weather gets cooler, sides and a heater are added to the tent to keep the concert series going until nearly Christmas! Because the sound tends to carry across the Annisquam and into densely populated neighborhoods, concerts here usually begin right at 8 and end at 11. During many weekends, there is also afternoon entertainment, which is perfect for family audiences. The menu at Mile Marker is varied, with typical pub fare as well as some locally sourced seafood dishes - above average flavor at reasonable prices.


The Rhumbline
Located on Railroad Ave by Washington Street, the Rhumbline has been showcasing local talent since the late 1970's under the ownership of Gloucester's Fred Shrigley.
The Rhumbline is well known for having music every day of the week. Monday nights are the long-running Open Jam, where new and experienced musicians alike can sign up for a half hour slot to play with other musicians, or with their entire band. Some musicians will be playing for their first time, some have been coming for a year. The type of music is varied - from rock, to blues, to soul - even ska or punk or acoustic folk. Every Monday is different, but the crowd of regulars is welcoming to new musicians.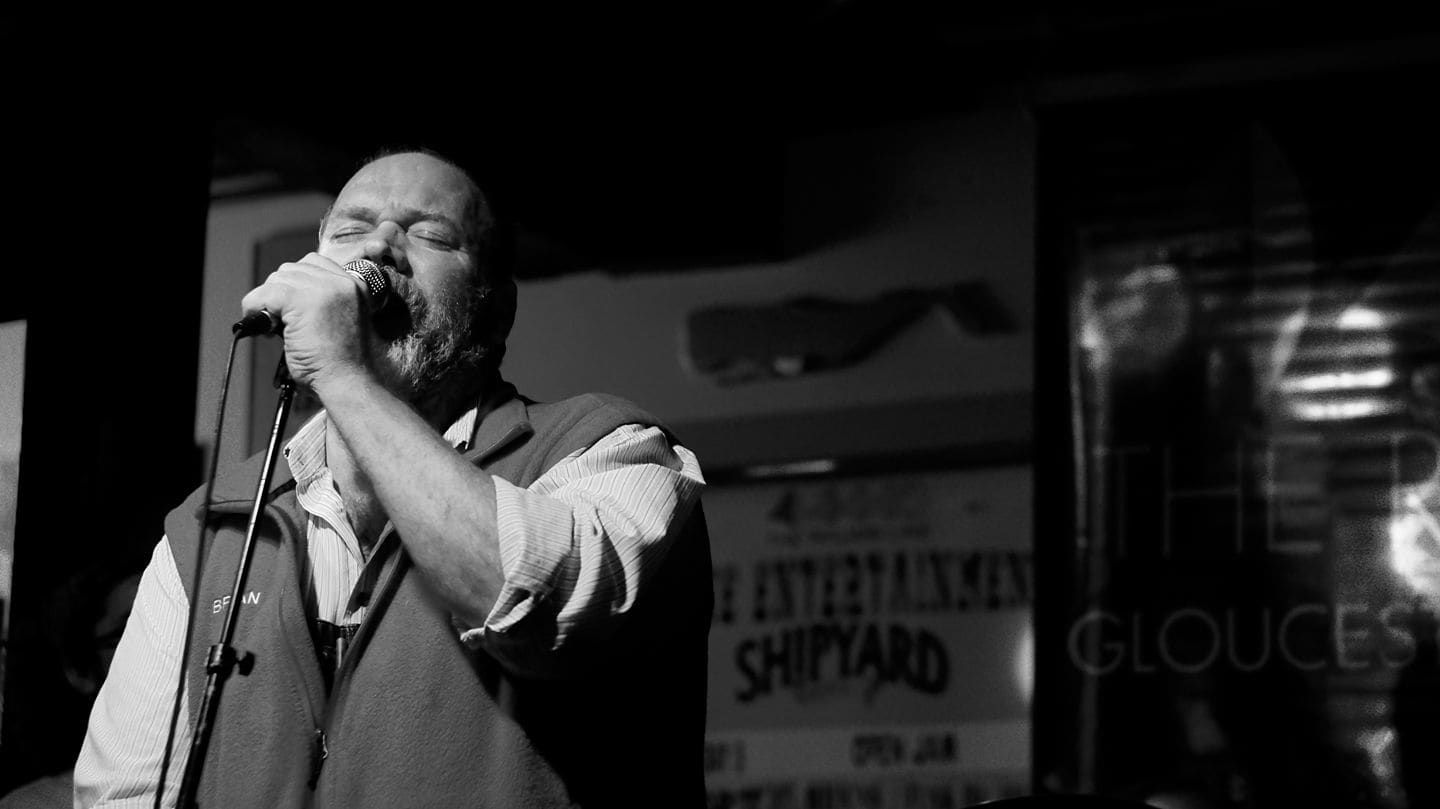 (Brian O'Connor plays the Rhumbline's Monday Night Open Jam)
Tuesday night is the Funk Du Jour, a funk jam with local musicians Joe Wilkins and Dennis Monagle, alternating with Henley Douglas Junior. Wednesday night, host Fly Amero plays a variety of blues and rock with guest, Thursdays is Dave Sag's Blues Party, with weekly guests. Friday and Saturday are a rotating set of local bands- for upcoming schedules, visit their website or Facebook page. Sundays are more downtempo, with an earlier starting time for bands and a more acoustic solo or duet, instead of a full band - perfect to eat dinner or bring a family to an early local show. The second floor is open at times for special events and occasional shows as well - for entertainment on two floors! The Rhumbline has well-priced drinks as well as typical pub fare such as burgers, sandwiches, nachos, and rotating specials such as lobster rolls in summer and prime rib on Tuesdays.


Katrina's
Katrina's is located in the former Old Timer's spot at 14 Rogers Street. This downtown bar and grill location opened its door several years ago and is owned by local resident Katrina Fuller Favazza, who has decades of restaurant industry experience on Cape ANn. Katrina's not only features an excellent selection of craft beers and cocktails, but also has great specials - such as 50 cent wings and seafood - and an American pub-style menu. Katrina's has live music during the week and weekends from not only local bands, solo artists, duets and trios on a rotating schedule like Live Dead, but also bands from out of town as well - and a karaoke night.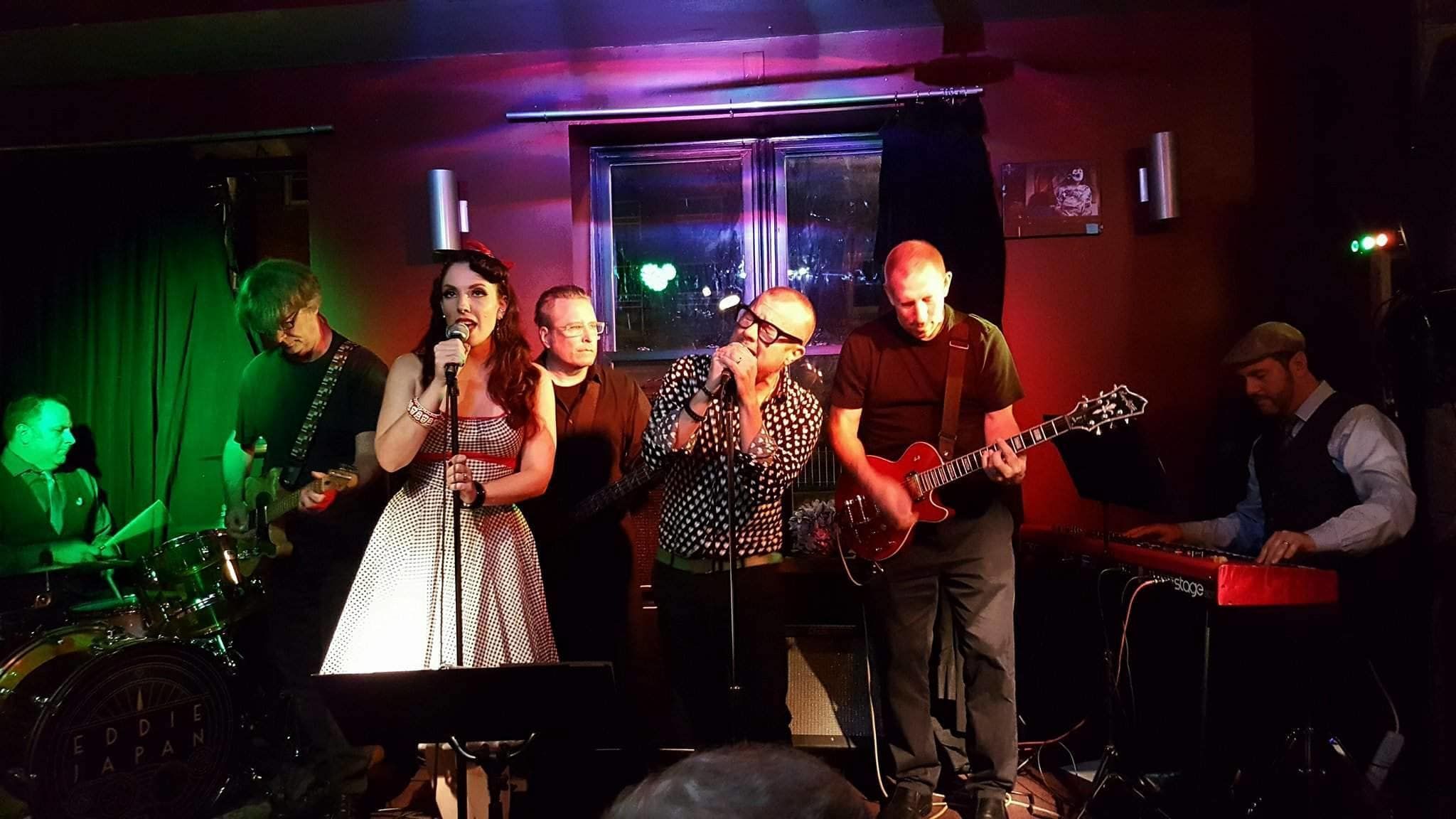 (Boston's Eddie Japan play at Katrina's)
Over the past summer, Katrina's hosted their Summer Sessions Singer Songwriter Challenge, an 8-week series taking place on Tuesdays - and the event will hopefully be returning for another encore. Each week, singer songwriters from across Cape Ann and the North Shore perform original songs in front of an audience and a panel of judges that rotates weekly made of local musicians and business owners, who pick finalists that appear in the 8th week - with a chance to win part of a $1000 prize! Performers must play at least one original song, can play up to 3 songs, and can be a solo, duo, trio or band - no drum sets, as set up can take a maximum of 5 minutes. This summer's winners were Gentle Temper in 1st place, Calvin Lamothe in 2nd and Nico Rivers in 3rd place.
Nico Rivers plays this Sunday, Nov 19th at Katrinas, and Doors cover band Mojo Risin' plays on Saturday evening.
Captain Carlo's
A perennial favorite with visitors and residents alike, Captain Carlo's is open seasonally, from springtime to the holiday season, closing for winter. While there is a traditional restaurant with a large dining room set up, they do also have live music! During the good weather, the spacious outdoor open-air deck and bar has a professional stage setup for swinging outdoor concerts on their dock overlooking Gloucester harbor. Each week, local rock and blues bands are scheduled. Bands can also set up to play indoors if the weather isn't amenable.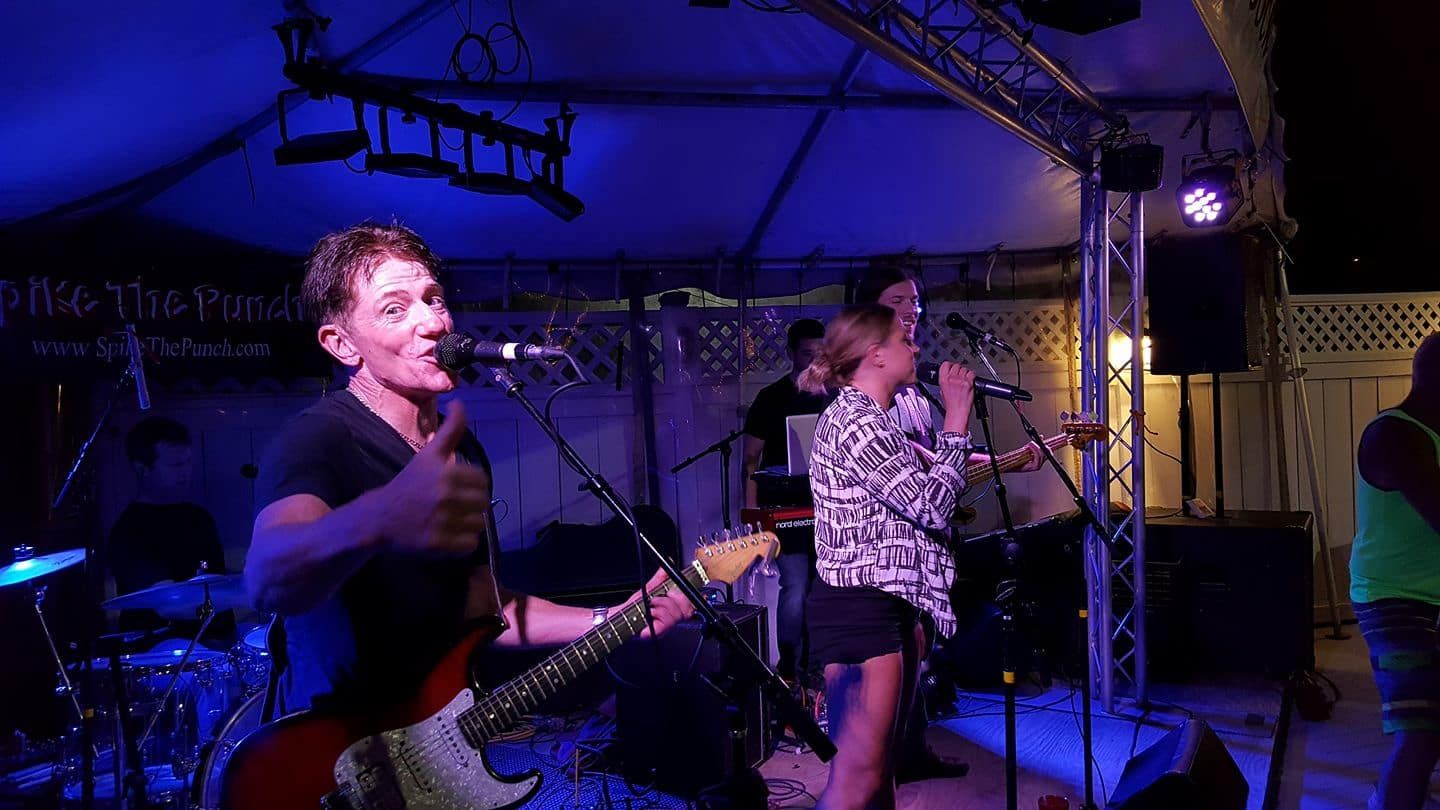 (Spike the Punch plays outdoors at Captain Carlo's)
The outdoor dock and stage space is one of the largest in town, and usually the crowd is sizeable. While the outside stage and live shows are over for the season, Captain Carlo's will surely have a great lineup for 2018! Stay tuned for their schedule at their website and Facebook page.
Minglewood Tavern

Last but not least the Minglewood Tavern, the pub-style front portion of Latitude 43 restaurant, is another great space to see local, live music. With up and comers as well as established local acts rotating monthly, Minglewood won Northshore magazine's Best of North Shore award for Best Dancing in 2016. Minglewood is managed by the Serenitee Group, who also own other local spots such as Happy Belly, Hale Street Tavern in Beverly, and Cala's in Manchester.

Minglewood has a wide selection of locally sourced craft beers and cider and a great menu - including sushi. New American fare such as fried brussel sprouts and fried pickles, arancini, and even cauliflower bisque round out their pub menu.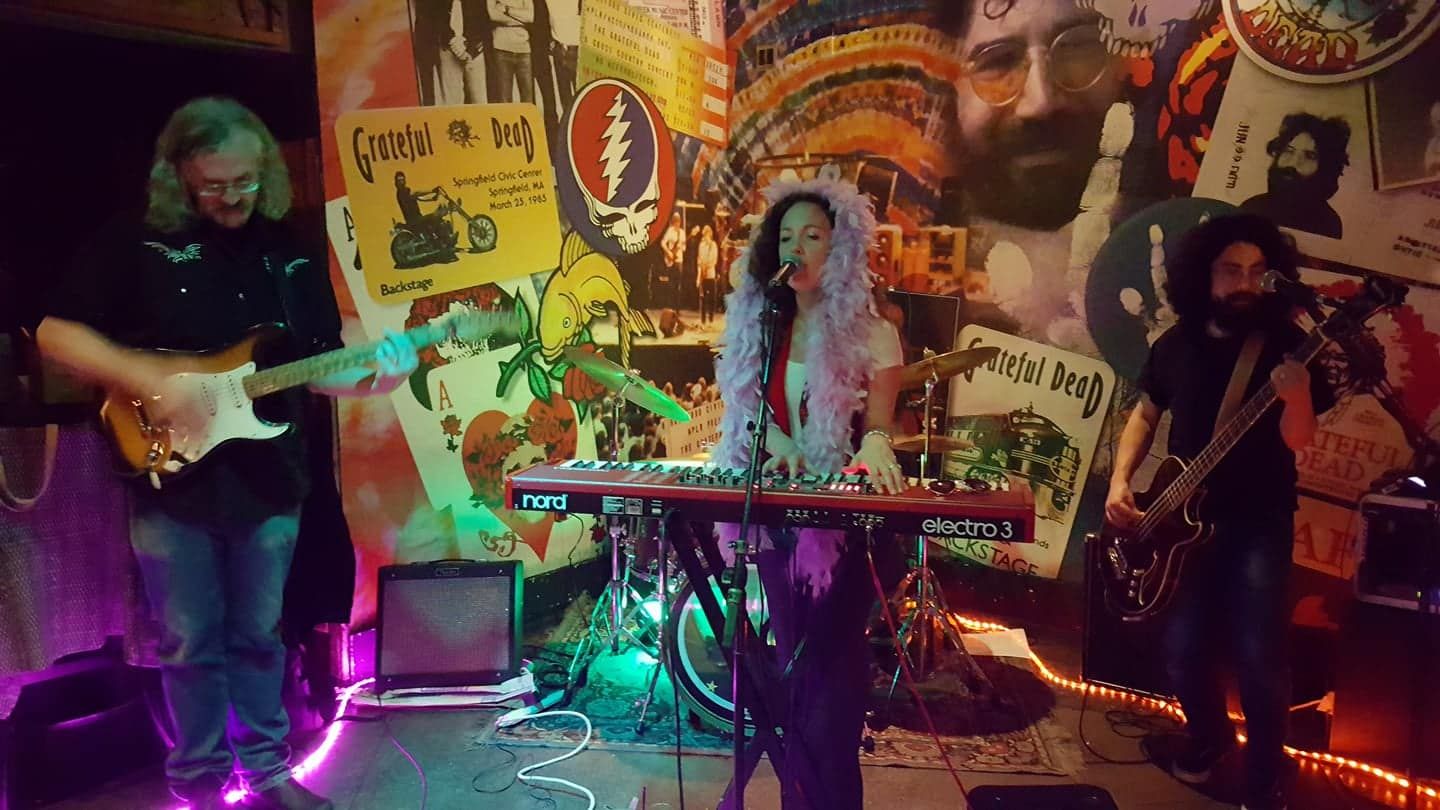 (George Hall, Renee Dupuis, and Joe Cardoza rock Minglewood Tavern at Halloween)
While a DJ plays throwback hits on Thursdays, Minglewood has live bands on weekends starting at 9 PM. This upcoming weekend, November 17-18, they'll have local favorites Generation Gap, with rock covers from Dave Matthews Band, Third Eye Blind, and more playing Friday at 9. On Saturday, hip hop, reggae, and rock group Over The Bridge take the stage.

A very special thank you to our friend Joanne Silva, who took all the above photos. Be sure to check out her blog, in which she keeps an updated list of live music on Cape Ann.