The 2nd Annual Cape Ann Plein Air Festival is Here!
Art on Cape Ann has a storied past, and has woven itself into our way of life over the past few centuries. Nothing is more quintessentially Cape Ann than plein air painting. Whether a resident or visitor to Gloucester or Rockport, you've more than likely to have come across at one time or another the sight of an artist set up in one of our multitude of scenic spots, with a full easel and paints, capturing a landscape of boats, buildings, fields, sky, and more. Plein air painting, where an artist leaves their indoor studio to capture the essence and light of a natural landscape - recreating the feeling, and taking a "snapshot" through their paint - began in the 19th century with French impressionists, who began painting outside "en plain air". The practice soon moved to America, gaining a strong foothold with Cape Ann's painters, who flocked to the area for the stunning ocean and rocky landscapes, as well as unique light, which is a major component of plein air art. Plein air has remained a major force in our local art scene since that time.
With our rich artistic history, it's only natural that Cape Ann hosts its second annual Plein Air painting competition and festival, a week long event that celebrates the art of outdoor painting, taking place across Gloucester, Rockport, Manchester, and Essex. The festival begins on Sunday, October 8th, and runs until Monday, October 16th. An opening reception will take place Sunday from 6 to 8 PM at the North Shore Arts Association on Pirate's Lane in East Gloucester.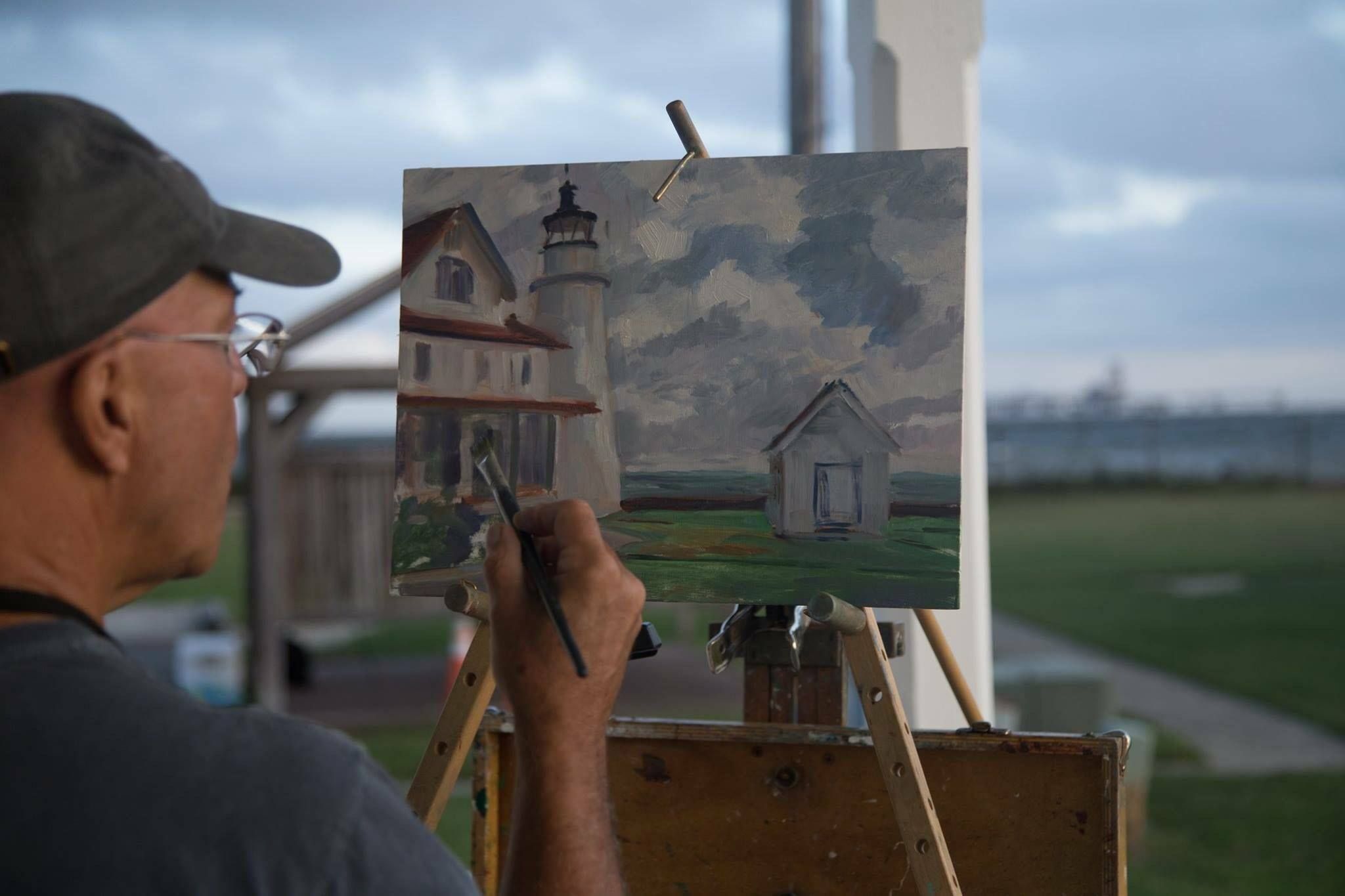 (Local artist John Caggiano. Credit: Cape Ann Plein Air's Facebook page)
This year's selection of participating artists have traveled from across the country to come to Gloucester to create their art - from as far as Arizona, Illinois, Florida, Wyoming, California - and even Canada! A major portion of the festival is a competition, which is judged - this year's award judge is artist Marc Hanson. The monetary prizes are sponsored by Applied Materials. The Diamond Sponsor is By The Sea Sotheby's International, Platinum Sponsor is Linzee and Beth Coolidge, Silver Sponsors are Cape Ann Savings Bank, Jason Traino, Financial Advisor, Morgan Stanley
Lynne Comb, William and Anne Kneisel/Kneisel Foundation and Judi Rotenberg Zuker and Ed Zuker.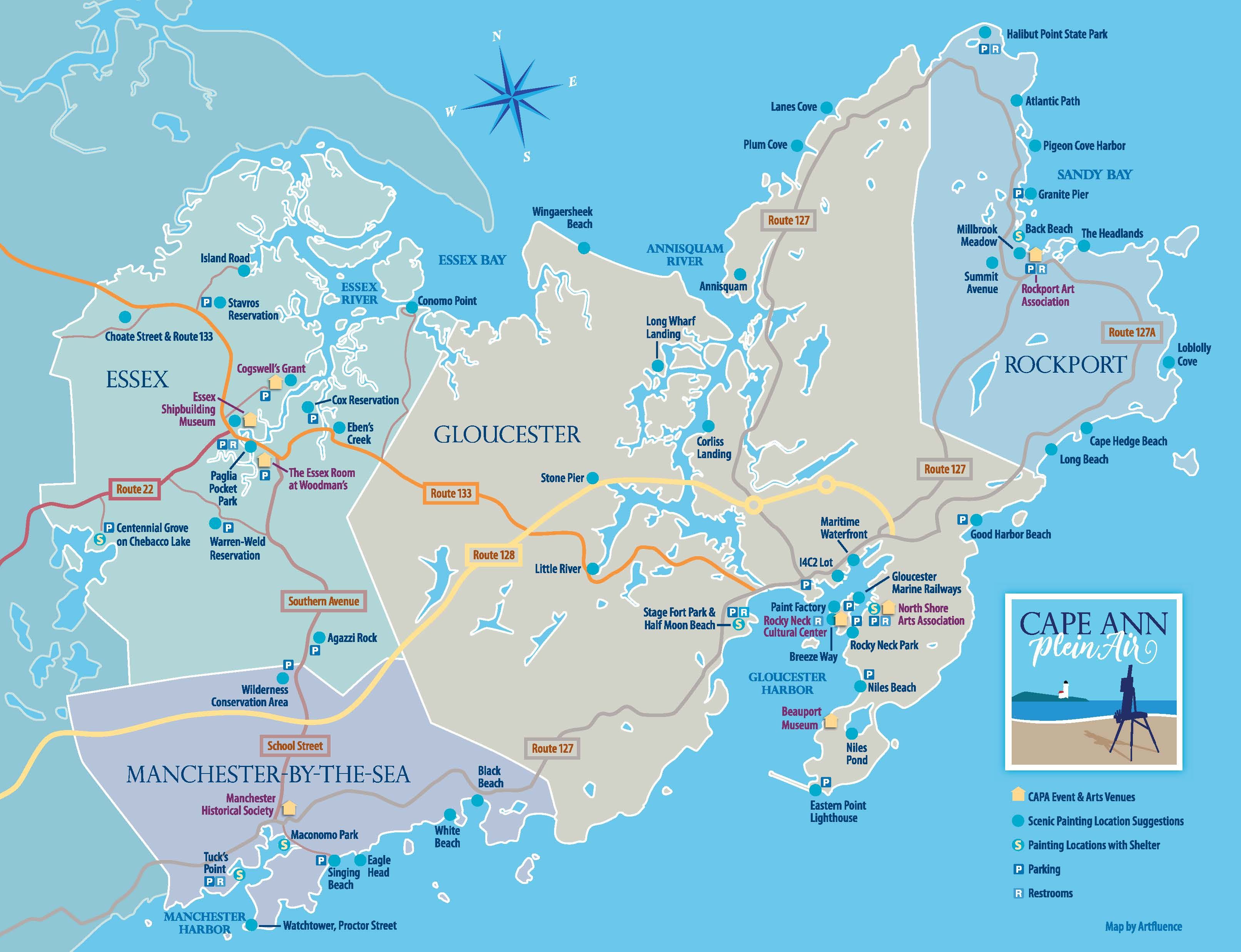 The quick draw competition takes place at the Essex Shipbuilding Museum and Essex River Basin on Sunday October 15, from 9:00AM to 3:00 PM. The paintings must all be completed in 2 hours, and between 11 and 11:30, must be delivered framed and ready to hang to the judges, who will determine winners. After that, there will be an award ceremony celebration which is open to the public, as well as a public sale of the paintings! This is a fantastic way to connect with a piece of art that can be yours forever. Participation is limited, so if you're an interested plein air painter, advanced registration (a $20 fee) is recommended. The sponsors of this year's quick draw competition are the Essex Merchants Group, Essex Historical Society and Shipbuilding Museum, Chebacco Market, and Sea Meadow Gift and Gardens.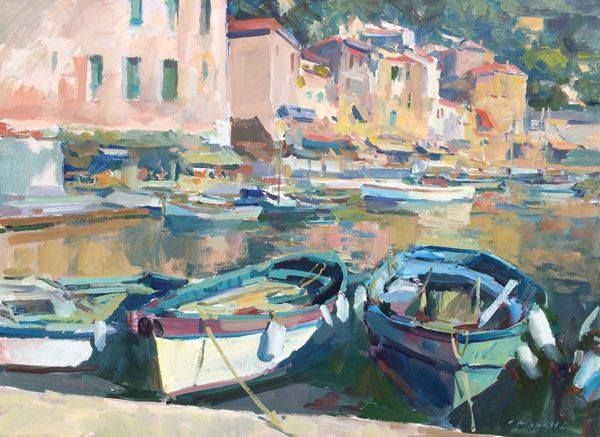 Charles Movalli (1945-2016) Villefranche, acrylic, 30 x 40. An artist retrospective takes place at the North Shore Arts Association through October 28th.
A number of artist demonstrations are scheduled to take place throughout the week. If you're interested in getting to know local artists or learning more about the plein air process, the following upcoming events are perfect!
Tues Oct 10, 12-1PM: David Curtis demonstrates at Cogswell Grant Essex, with Muzio Designs in Essex hosting a casual lunch after the event.
Wed Oct 11, 12-1PM: Don Demers demonstrates at Masconomo Point Manchester, with Manchester Historical Museum/Trask House hosting a casual post-event lunch.
Thurs Oct 12, 12-1PM: KT Morse hosts a demo at the Rockport Art Association
Thurs Oct 12, 5-6:30 PM: Marc Hanson, this year's awards judge, demonstrates at the Rocky Neck Cultural Center Gloucester.
Fri Oct 13, 12-1PM: Sergio Roffo hosts a demonstration at the Beauport Sleeper-McCann house on Gloucester's Eastern Point.
To celebrate Cape Ann Plein AIr, the Cape Ann museum is participating with daily guided tours at 3 PM from Tuesday, October 11 to Saturday, October 15. The guide features the highlights of their collection, featuring work by Fitz Henry Lane, Winslow Homer, Cecilia Beaux, Marsden Hartley, Milton Avery, Walker Hancock and Paul Manship as well as by many local artists currently working in the area. This free tour is open to all Cape Ann Plein Air participants, friends and visitors during Cape Ann Plein Air Week.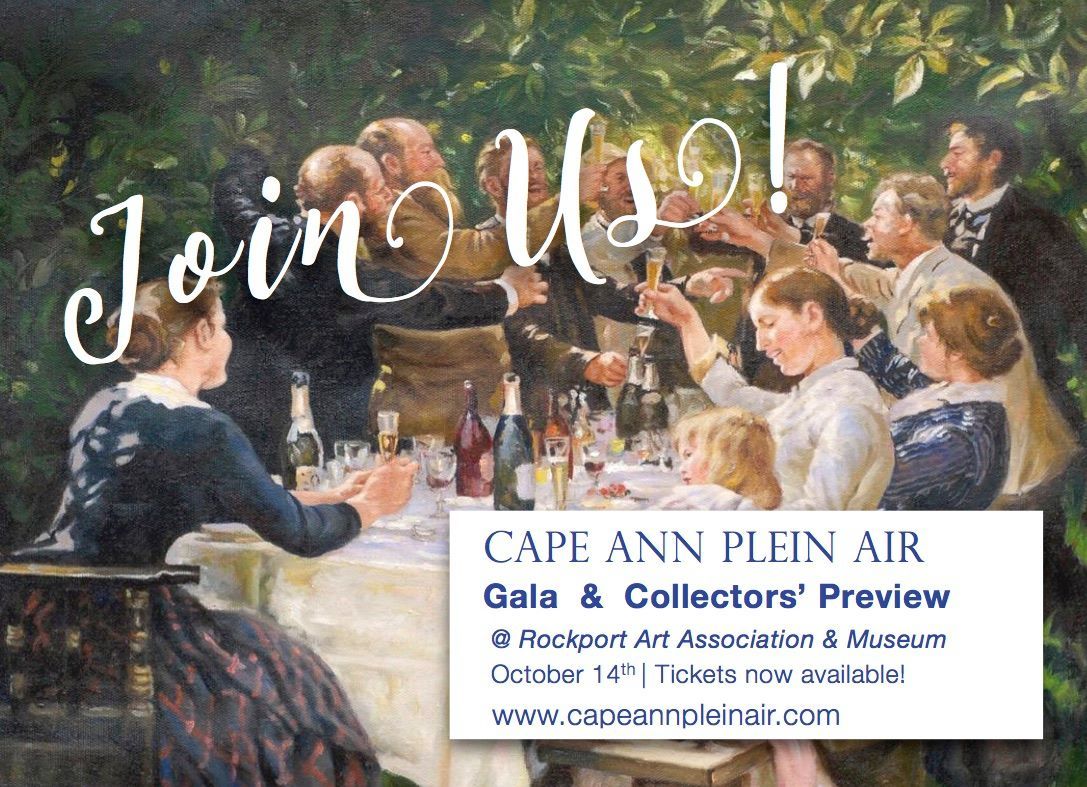 During the final weekend of the Cape Ann Plein Air event, a gala will be held at the Rockport Art Association from 4:30-10 PM on Saturday, October 14th. From 4:30-6 pm, the Cape Ann Plein Air Collectors' Preview will feature Hors d'oevres, an open bar, and an exclusive opportunity to view and purchase fresh works of art from the nationally recognized plein air painters who have come to Gloucester to participate. This is a very limited ticketed event - tickets are $150, which is considered pre-payment for the purchase of a plein air painting.
Between 6-10 pm, Rockport Art Association will host a general access party for art patrons and enthusiasts to meet the award winning, nationally recognized participating artists as well as get the opportunity to purchase one of over 200 paintings created over the course of Cape Ann Plein Air week. Hor d'oevres will be served. The $65 advance, $75 after October 13th ticket price may be used toward the purchase of a painting.
For a complete listing of events throughout the week, as well at ticketing and artist information, visit the Cape Ann Plein Air website.
(Cover photo: Winslow Homer, 'Study for High Tide Eagle Head' 1863)