Sherry's Corner Cafe Brings Breakfast and Lunch to Magnolia
We've posted about Magnolia's growing, vibrant scene of small businesses before - including their Farmer's Market. Now, downtown Magnolia also has a great breakfast and lunch spot - perfect to feed the tight-knit local community.
Sherry's Corner Cafe opened just a few weeks ago at the corner of Ocean and Lexington Avenues, in the space that previously held Dunkin Donuts until the chain moved up and across the street.
For owner Sherry Karvelas, who relocated to Gloucester seven years ago, this is a new endeavor - one she's pursuing as a new line of work that came about pretty unexpectedly - during an evening board game. " My amazing husband and I started talking about a career change for me," she explained, "and after some good conversation with George and Judi, my in-laws, during a game of cribbage, we ultimately decided this would be my first restaurant venture."
Like most life plans, this one came about in a different way than Sherri expected. "We actually were not planning on my career change this quickly." The initial plan wasn't even necessarily to open in Magnolia - but when her father in law suggested over Thanksgiving weekend she call their landlord, Dave Gardner, to see if he was interested in selling the restaurant equipment, she ended up taking the entire spot - and signed the least two weeks later. "This location to me is an act of fate. It's crazy because less than two months ago I was sitting at my desk typing away, 10-12 hours a day!"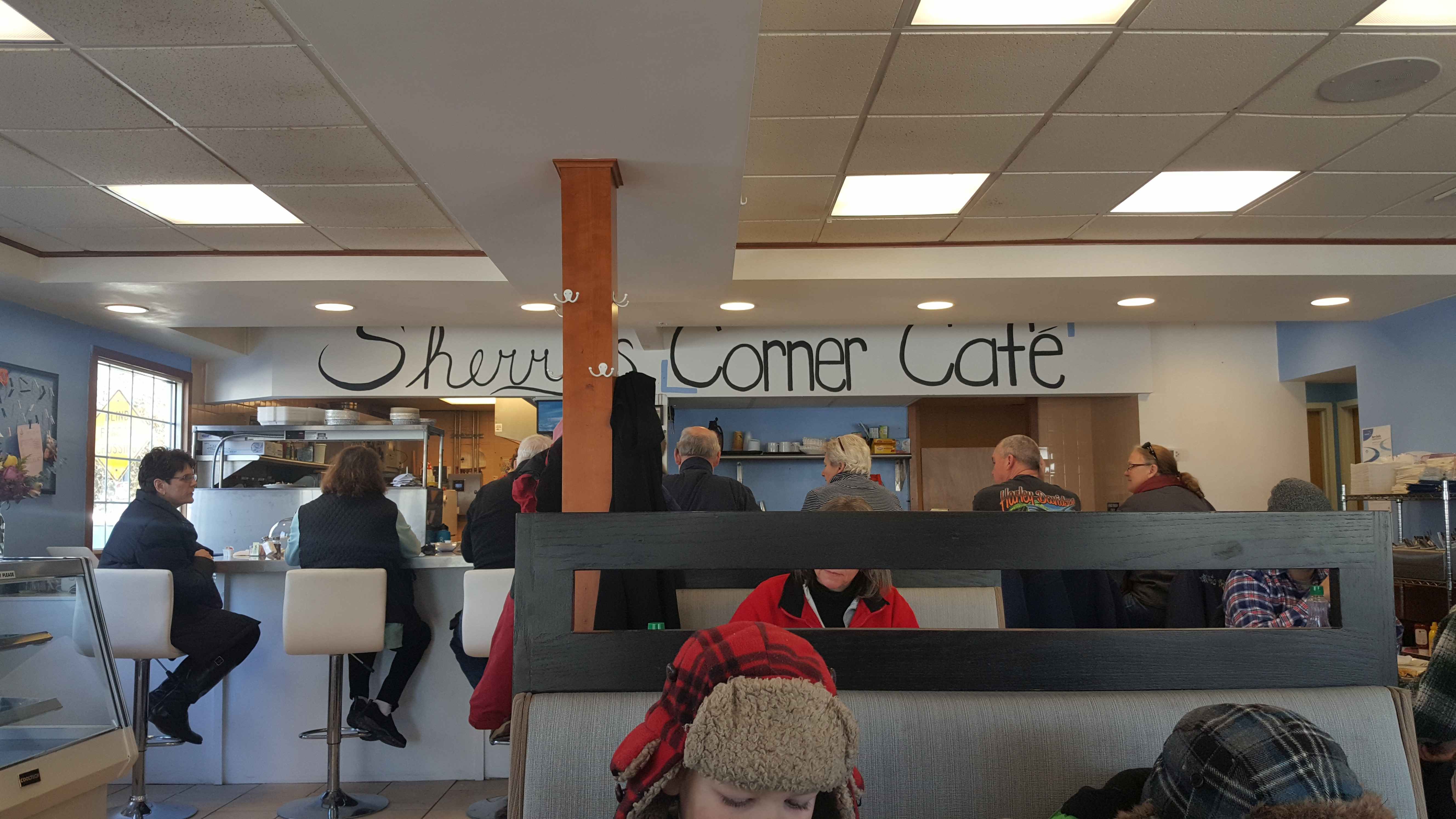 On its recent opening weekend, the cafe was full and bustling - although the wait wasn't long, and we had plenty of chairs in the entryway. Sherry apologized for the wait and even gave us some gooey homemade brownies to test!
It appears Sherry's initial impression on the local community is one of success - and fantastic food. "So far the reception has been amazing. Once I signed the lease, the buzz of excitement was very humbling. From the second we walked through the door until the day we opened for the first time, people have stopped by and wished us luck and the turnout has been exceptional."
The breakfast menu has all the favorites you'd imagine from a diner-style establishment - with the typical eggs any style, meat, potatoes, and toast dishes (all with Magnolia-themed names). Toast choices include sourdough (my personal favorite) and anadama - as well as gluten-free - along with the staples like white, wheat, and marble rye. Waffles, as well as pancakes with bananas, chocolate chips, or blueberries, are plentiful and inexpensive. Breakfast sandwiches are available for eating in or taking out - starting at $3.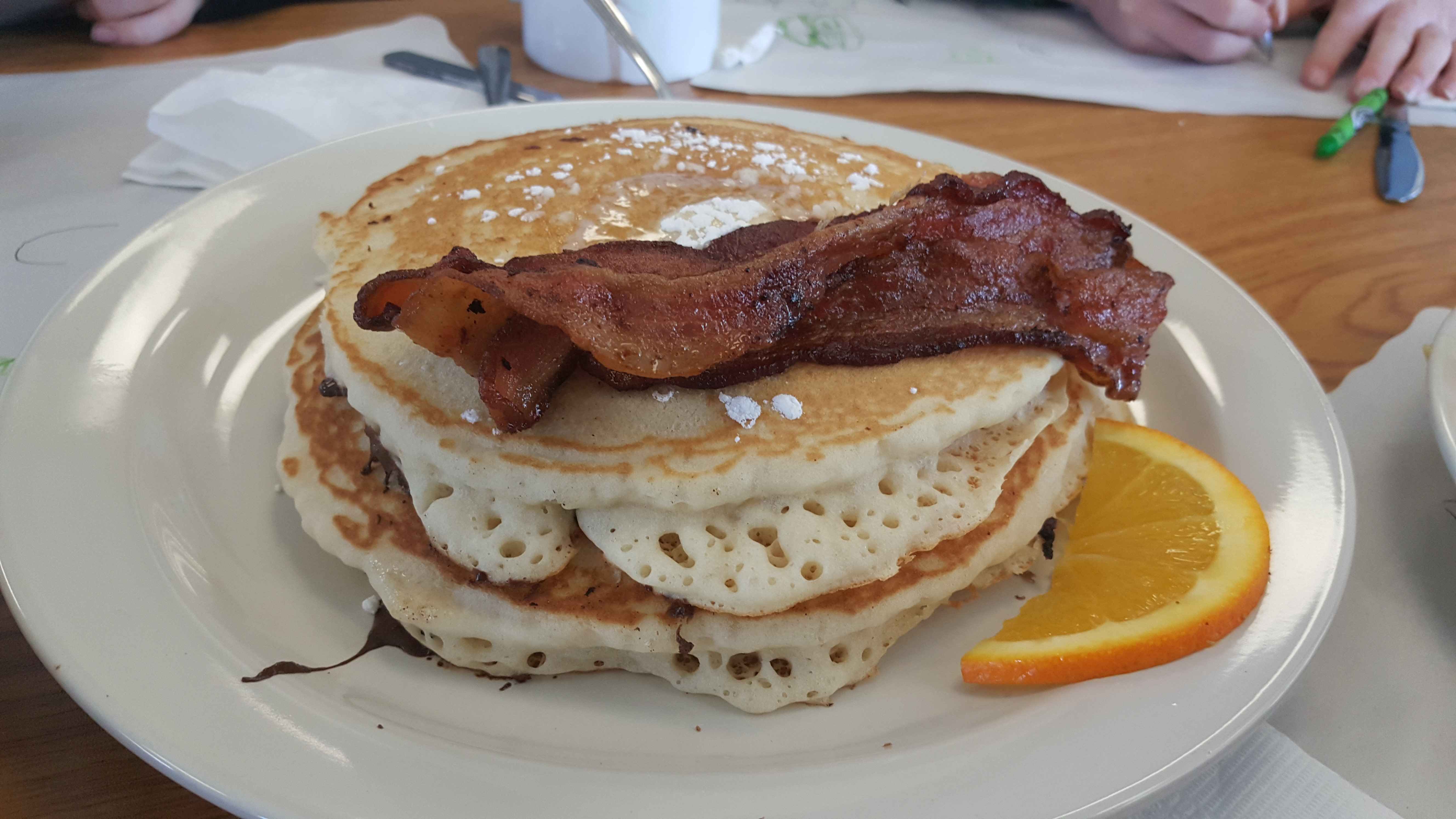 Sherry's Corner also has a wide selection of omelets, with vegetables, corned beef hash, meat, and cheese. You can build your own - with whatever you're craving.
No diner-style breakfast spot is complete without its own selection of house specials, and Sherry's is no different. You can get the Hat Trick - with three eggs, three pancakes, and 3 strips of bacon or sausages, or the $11 Lumpa, a huge plate with four eggs, four pancakes or french toast pieces, and a choice of bacon sausage, linguica, lukanika (Greek sausage), or corned beef hash - rounded out with home fries and toast. If you're a fan of wraps, the Big Karvy breakfast wrap includes 3 scrambled eggs, cheddar cheese, home fries, jalapenos, tomato, and onion! For those with a sweet tooth, there's Sherry's favorite the Lola, which has three banana pancakes drizzled with caramel sauce - or Poppy's French Toast, a heaping pile of french toast stuffed with peanut butter and chocolate chips.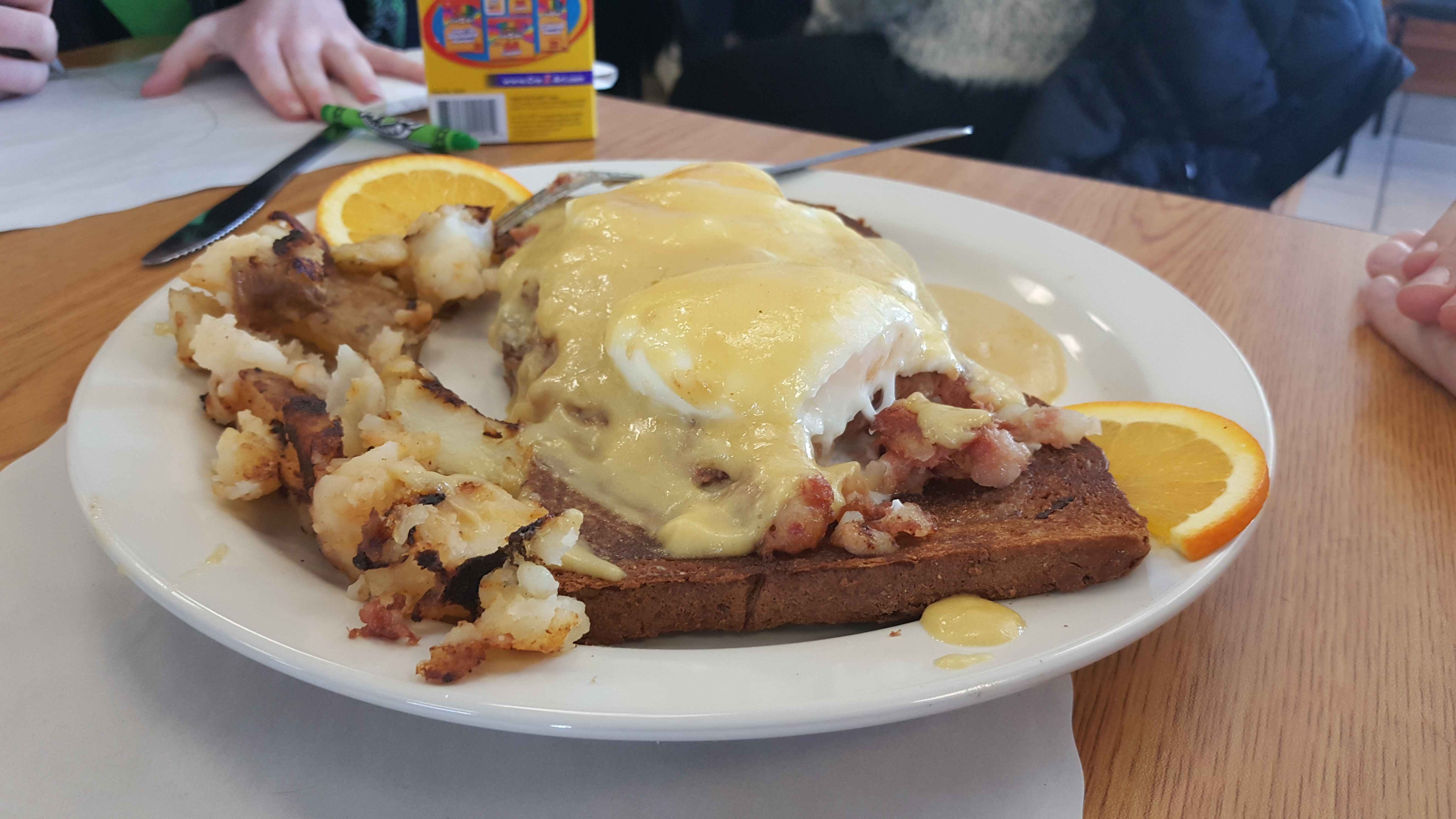 Each morning, there's also a new selection of fresh-baked, delicious muffins - like banana chocolate chip, extra blueberry, orange cranberry, apple cinnamon, and even bacon jalapeno cheddar!
Of course, breakfast is only part of Sherry's menu. You can stop in and grab a quick, inexpensive lunch on the go - at the counter or in a booth.
The lunch menu starts off with Sherry's simple sandwiches, such as a grilled cheese with tomato, bacon, or both - or a BLT, tuna or chicken salad, or hot dog. The sandwiches come with a side of chips, a pickle, and a choice of homemade potato salad or coleslaw!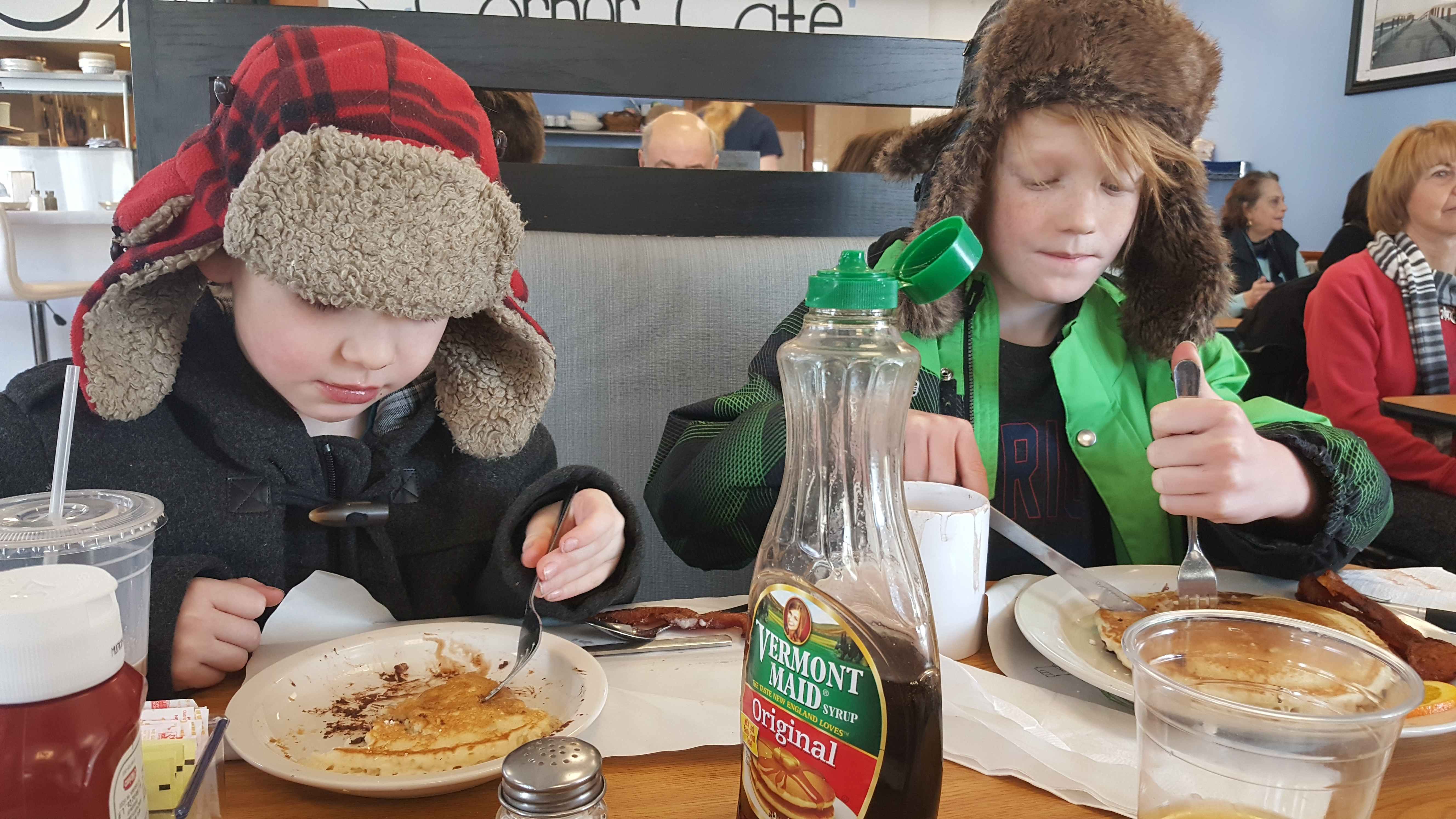 That's not all - try a ciabatta or pita wrap, like The Greek (grillled chicken with onions, tomato, lettuce, feta and greek dressing), a George the Spartan (2 cheeseburger patties, grilled peppers and onions, lettuce, tomato, feta and greek dressing), or a hot and cold veggie (stuffed with grilled broccoli, peppers, onion, mushrooms, asparagus with spinach, lettuce, tomato, and choice of cheese).
Sherry has a selection of burgers as well - from a simple hamburger for $7.50 to bacon cheeseburgers, mushroom and swiss burgers, a jalapeno burger, and the signature Sherry's corner burger (one of Sherry's favorites), served with cheddar cheese, bacon, and James River BBQ sauce. All the burgers come with the same sides as the sandwiches.
For lighter fare, there's a soup of the day, such as french onion or clam chowder, or plenty of salad choices, served with pita bread - like greek, caesar, garden, and chef's salads - with or without meat.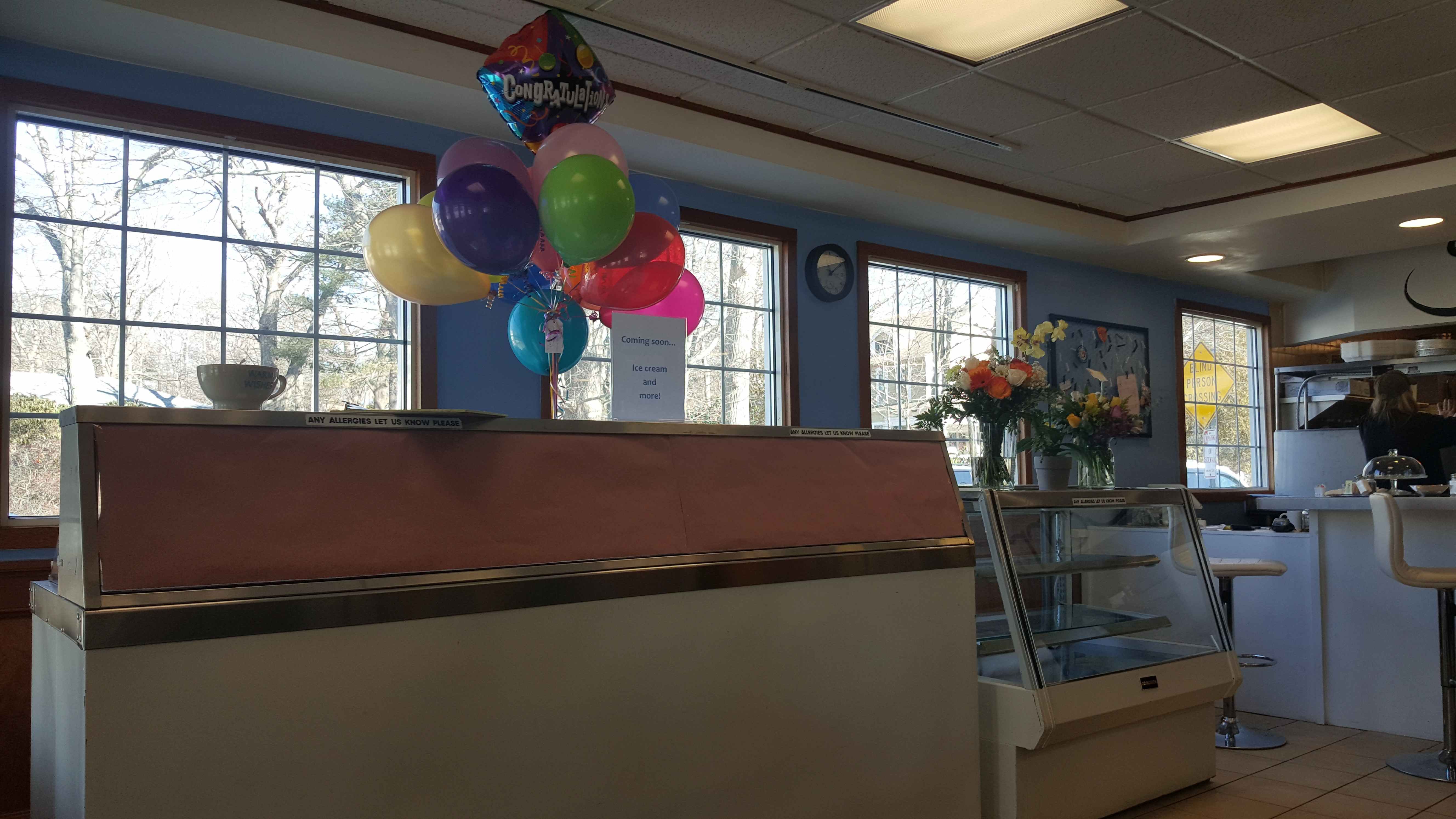 The restaurant menu will expand to include ice cream when the weather gets better - and we can't wait.
Sherry's also offers a 20% discount to all police, fire, military and veterans on all their meals if you inform your server.
Sherry's Corner Cafe is located at 2 Lexington Ave in Magnolia, and is open from 6 AM - 3 PM Monday-Friday and 6AM - 1PM Saturday and Sunday. Breakfast is served all day. They can be reached for questions or takeout orders at 978-525-2177.