​Schoonerfest: Meet The Schooners of Gloucester!
One of the many wonderful facets of Gloucester is that we have our very own small fleet of schooners that participate in the upcoming Gloucester Schooner Festival happening this Labor Day Weekend. Each has their own history and character.

The Schooner Thomas E. Lannon is one of Gloucester's more well-known attractions. Built in 1997, the Lannon is used for both public, ticketed excursions and charters. It holds 49 passengers and is 90 feet in length. The Schooner Lannon came about when owner Tom Ellis finally put into action his long-time dream to own a schooner and realized his dream would only come with making it a commercially viable venture. Named after Ellis' Grandfather who was a local fisherman in the early part of the 20th century, the Thomas E. Lannon was designed by Harold Burnham, whose family has been involved in building local wooden fishing schooners for hundreds of years, and built at the Essex Shipbuilding Museum's shipyard. The white oak and black locust trees felled to make the schooner were grown locally - with the Essex County Greenbelt Association, as well as local private homeowners, donating the wood. This truly makes the Lannon a local legend!
To take a trip on the Lannon, there are public two-hour sails out of the Seven Seas dock next to the Gloucester House. Tickets are $40 for adults, $35 for seniors, and $27.50 for children under 16. The sail schedule varies by day and is available on the Lannons' website. There is alcohol served on board, as well as snacks available for purchase. If you want to charter the Lannon for a private function, there are lobster bake catering options available. Charter rates start at $550 per hour.
The Schooner Ardelle, also docked in Gloucester, is similar to the Lannon in capacity and size, as well as also being built by Harold Burnham. The Ardelle offers public sales at similar prices as the Lannon as well as charters for 49 passengers starting at $425 per hour. The Ardelle was also built by Harold Burnham in Essex using volunteer labor, with mostly recycled materials and donated cut wood from local landscapers. The Ardelle helped keep the local shipbuilding industry alive throughout the recent economic downturn, and was finally certified for passenger sail in September of 2011. It docks at Maritime Gloucester, where it serves as the research and educational vessel for the center when not at sail around the harbor.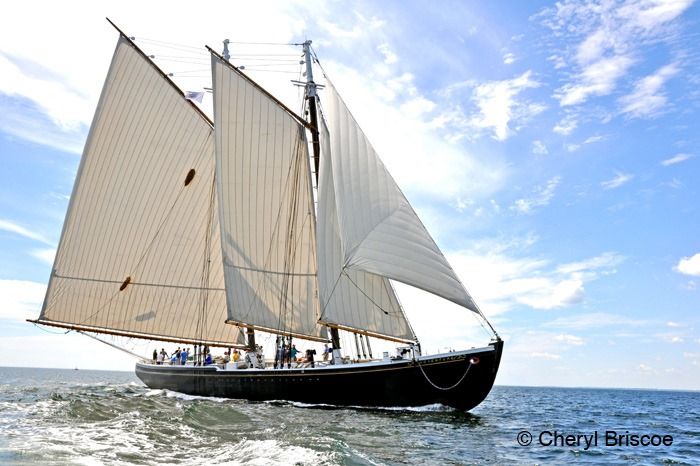 The Schooner Adventure at Maritime Gloucester is another local gem. This ship was originally built as a fishing schooner in 1939, as a"highliner," the biggest moneymaker of all time, landing nearly $4 million worth of cod and halibut before her retirement in 1953. Schooner Adventure was the last American dory fishing trawler left in the Atlantic at that point. In 1954, it was converted into a windjammer for passenger use, until its donation to the people of Gloucester in 1988 as a National Historic Landmark. Since that time, it has been painstakingly restored, and has participated in the last two years of SchoonerFest. Just this summer, it finally received its passenger certification from the Coast Guard!
With these vessels gracing Gloucester's docks, we are quite blessed as a city! You can see all three at this weekend's Schooner Festival.