Plan A Getaway at Rockport's Main Street Guest House
In November of 2015, locals Carl and Julie Oulton purchased a stately, ample Victorian home at 196 Main Street in downtown Rockport, MA and quickly set about remodeling it to their liking. Julie grew up in Delaware, and has a rich background in horticulture, having a career in floral design and working in garden centers around Cape Ann. Her passion is working in the beautifully landscaped yard of the Main Street Guest House.

Carl is a Rockport native - on the AirB&B listing, he explains that as a kid, he experienced all the great summer activities of Rockport, "swimming at Front Beach and at the quarries, fishing off T-Wharf and on the deep sea fishing excursions, tromping around Dogtown Commons and catching anything that would live in an aquarium." He has a background in philosophy, as well as operating a nonprofit organization, Hope ASCENDING, which has him traveling to India each year for two months at a time working on programs which give children in the poorest parts of cities into enriching educational programs.

Carl currently runs his own painting business in town, "Just Call The Guy." Of course, it helps to be a handyman when taking on a big remodel! At the time of sale, 165 Main Street was a two-family home, with a small second floor apartment and larger owner's living quarters. However, they soon realized they wanted the flexibility of having a space for guests of their own, and their remodeling plan soon morphed into two suites - one the original apartment, and the other consuming two bedrooms of the original owner's quarters.

Together, Julie and Carl, who love working together, took on the home's rehab, completing it in a little over a year. The building now has all new electric, and plumbing utility work as well as bathrooms, ceilings, and walls. Each suite has been remodeled, top to bottom, and has a vintage, soothing beach feel. Julie and Carl both live in their own, private space in the home's first floor.
The ornate Victorian has a broad, wrap-around porch with plenty of comfortable spots for sitting with a morning coffee. The classic foyer has information on local attractions, as well as the keys and check in/check out information for both suites. A grand staircase with its own stained glass window brings you upstairs to both suites.
The two Main Street Guest House suites each have their own private bathrooms with towels, although the shared hallway has a large storage area with many extra towels in case they're needed - you're guaranteed never to run out!
Suite one, the smaller two-room suite, is perfect for a couple or three people, with a separate single bedroom with a queen size memory foam four-poster bed originally built in 1825! The combination kitchen and living space, with a sectional couch and flat-screen HDTV featuring satellite TV and Netflix, can also fit another guest if they're comfortable as a couch sleeper . The tiny, adorable mid-century styled retro kitchenette features a mini-fridge, microwave, sink, coffee maker, convection hot plate, and a small closet to hang clothes - as well as an adorable tin backsplash.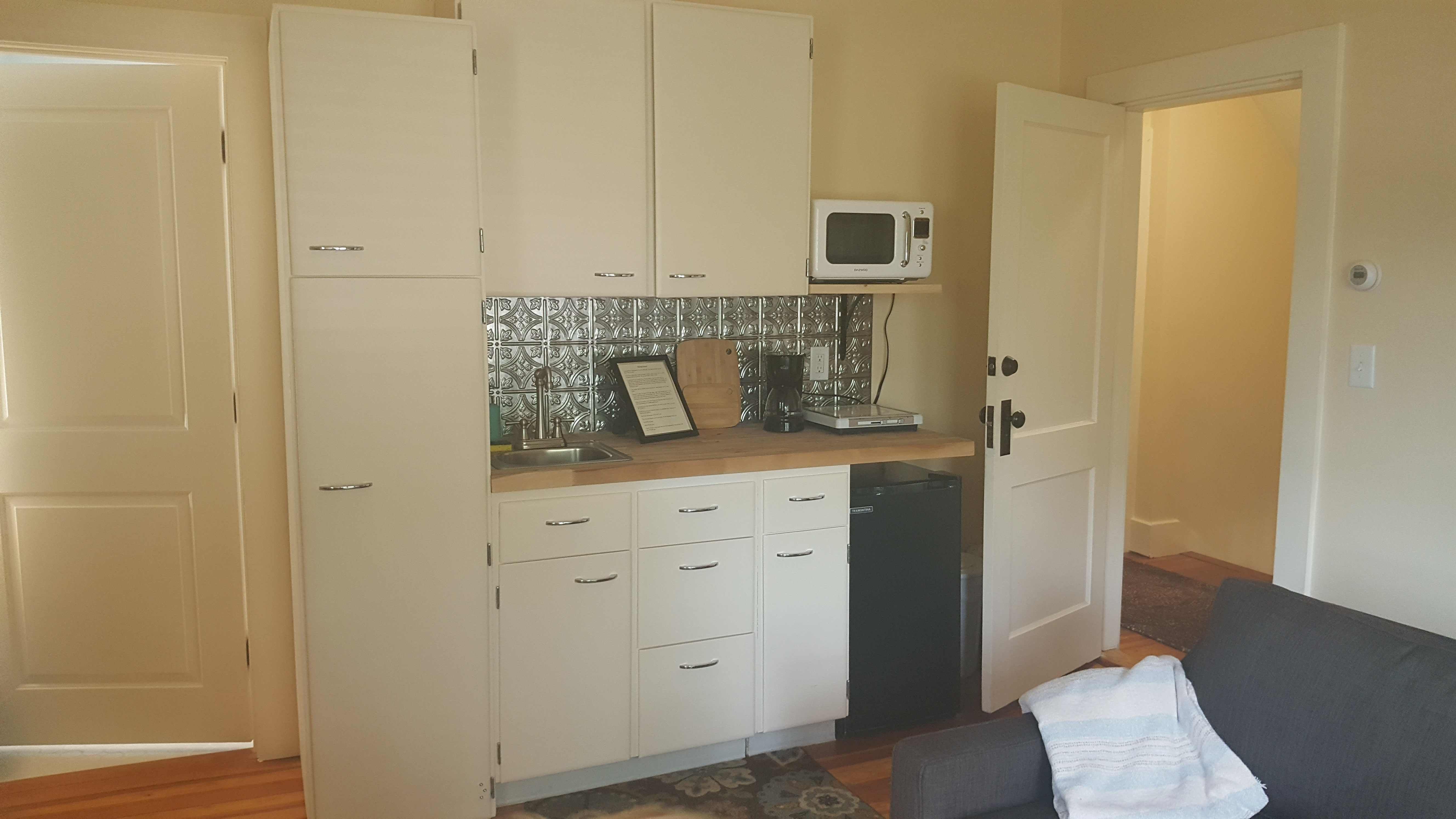 The larger former apartment has been remodeled from top to bottom. The spacious living room has a foldaway cot in the closet, a comfortable couch, TV, and even private access to a fabulous metal spiral staircase that winds down into the driveway. It has a full, eat-in kitchen, with granite countertops and brand new appliances and cabinets.
This larger unit has a staircase to the third floor bedroom featuring another memory foam bed. This oversized, open beam bedroom is light and airy, with closet space, a separate sitting area and an air conditioner and soft carpeting. An alcove at the top of the stairs has another daybed that can easily fit another teenager or small adult, although it isn't a private second bedroom.
Julie and Carl's fabulous Main Street Guest House suites are in a prime location very close to downtown Rockport - meaning an easy and fast walk to shops, restaurants, and more. All of Bearskin Neck, the commuter rail, and Front Beach are just a few minutes away by foot. All of this makes the suites perfect for those who may not have a car on their vacation.
The new hosts have seen their business increase month over month since listing their suites such as AirBnB and VRBO, and so far, they've had nothing but positive experiences with their guests. "We've had guests we haven't even seen," Julie explained. However, most guests who had stayed have been outgoing and friendly, and the couple has had the chance to chat about local things to do and see, as well as where to grab a great bite to eat. Guests have loved the space, as well. In the short time the listing has been up, all reviews have been very positive - with a perfect 5-star rating on AirBnB!
"Carl and Julie were the kindest, most hospitable hosts," writes one reviewer who stayed in June, " It's comfortable, clean, spacious, and so charming. Would 100% stay there again!"
Another reviewer highly recommended the suites after his stay. "The whole place is brand new, and everything is clean and perfect. The house has a big wraparound porch that guests can relax on. Carl, a Rockport native, was an affable host who gave us great suggestions on where to eat and things to see and do."

"This guest house is beautiful, both inside and out. The owners have taken the time to make the two suites - we stayed in both - immaculately turned out and very finely furnished and decorated. Both Carl and Julie were incredibly easy to talk to and especially helpful with practical matters," wrote another reviewer.
Interested in booking a room for yourself or your guests? The Main Street Guest House's listings can be found on AirBnB and VRBO, and more information is available on their website. The home does not allow pets or smoking. It has plenty of off-street and additional side street parking, and can be booked online via AirBnB for an average of $110-125 per night for the smaller unit, $170 per night for the larger - though prices may vary according to the season. The bookings are 100% refundable up to five days before your stay. So why not relax, and enjoy all the beauty of Rockport - in a central location with fantastic, helpful hosts!