Patty Knaggs Real Estate 101: What does Homeowner's Insurance do?
Chances are, if you are looking to enter the buyer's market here on Cape Ann in the near future, you'll have plenty of questions about the process. From offers to inspections to closings, buying a home can be a real roller-coaster ride, and we're here to help you along the way.
For instance, you may not know much about homeowner's insurance. But, you'll need to have it in place before closing. Homeowner's insurance can be confusing. There are many types of insurance, and you may not have any idea what is or isn't covered. Add this to all the other parts of the home buying puzzle, and it's easy to overlook something you should know more about..
There are two major types of insurance that cover a home. The first, a Dwelling Fire policy, is a more basic type that does not cover as many "perils", or causes of loss (fire, for instance, is a peril). This insurance can be used to insure a home you rent to others, a mobile home on a permanent foundation, or a seasonal home. One of the more important distinctions with this type of policy is that it provides coverage for your dwelling, as well as additional structures on your property, but does not automatically include any liability protection.
The more common type of insurance is the standard Homeowner's Insurance policy. However, there are still several types of policy, and each one provides different coverage. For instance, even renter's insurance falls under the umbrella of homeowner's policies. Not only does renter's insurance cover your belongings if you're a tenant, but also provides liability protection if you get sued on or off your property. It will also provide additional living expenses if you're displaced from your home - so if you have to live in a hotel for a month, your policy will pay the difference between your normal rent payment and your hotel bill.
Condominium unit owner's policies are quite similar, but are meant to cover what the association's master policy doesn't. Normally, these policies cover from the outer studs inward.
The rest of the different types of Homeowner's forms are meant for owner-occupied single families or multi-families with 4 units or less. There are three different major forms, each which contain different levels of coverage. Depending on the type of mortgage you have, you may either pay your homeowner's insurance bill yourself, or it may be escrowed, or rolled into your mortgage payment and paid by your mortgage company.
Your homeowner's form may seem hard to read, but with a little time, you'll be able to understand the basics. Each policy comes with several parts - the declarations page, a one or two page document with all the basics about your property's address and your coverages, and other forms such as lists of exclusions (what isn't covered), the insuring agreement (the basics of the policy), conditions (the list of rules that both you and the insurance company must adhere to before, during, and after a loss), as well as a section of definitions to help you more easily understand the policy.
Your declarations page will have several sections. The first is Coverage A, or your actual home itself. This is the monetary amount your home is worth, without any personal property. Your insurance company will decide the proper amount of coverage you need. It's important to remember that this may differ from what you paid for the house, because it may be more costly, as far as materials and labor are concerned, to rebuild your home than it was for you to purchase it. All homeowner's forms cover replacement cost - that is, they must replace your home to what it was before your loss. The second section is Coverage B, which covers other structures on your property that are not attached to your home, such as swimming pools, sheds, pool houses, or detached garages. Coverage B is 10% of Coverage A.
The third section, Coverage C, is for your personal property, and is 50% of coverage A. What many people do not realize is that without a proper endorsement (an "add on" to your policy with a premium increase), your personal property is not covered at replacement value, but at actual cash value (which is the replacement cost minus depreciation) - meaning if you purchased a dryer 8 years ago, you aren't going to be paid enough to buy a brand new dryer. Also, there are limits to certain classes of property such as jewelry, firearms, silverware, and other items. So if you have expensive jewelry such as an engagement ring, you should speak to your insurance agent or company about adding a scheduled items endorsement to ensure you are covered if there is a loss.
Lastly, Coverage D covers not only fair rental value if you have tenants that are displaced from your home due to a covered peril, but also your own additional living expenses for the time you are unable to live in your home. This is covered at a maximum of 30% of your Coverage A limit.
There are also several additional coverages that are paid out above your insurance company's liability limit - which means if you've exhausted all the limits on your policy, you will still receive extra money for these coverages.
The first is plants, trees, and shrubs on your property, which are covered for certain perils like vandalism, theft, fire, or explosion - but not for expected, natural occurrences like storms. Debris removal, as well, is covered. You can also receive payments for lost wages incurred if you are sued or must appear in court due to a liability lawsuit covered by your policy. You will also be reimbursed for all reasonable costs incurred to protect your property from further damage after a loss - such as boarding up your windows after a fire or storm has damaged your home. There is also a limited amount of coverage if you break or lose something that you have borrowed from another person - like an expensive tool, or a laptop.
The other major component to your homeowner's insurance is Section II - Liability. This coverage starts at $100,000 and goes up from there. This is meant to cover you in case you are sued not only on your property for such things as slip and falls, but also bodily injury or property damage you cause away from your home. There are restrictions, such as if you borrow certain boats, if you cause someone harm during a business transaction, or if you are sued for libel or slander, among others. However, it's important to note that even if you are on the receiving end of a frivolous lawsuit, your insurance company will defend you. It's a little piece of mind in a crazy world. There is also a secondary Medical Payments to Others coverage that provides up to $1000 in medical expenses to a guest or visitor (not a family member living with you) if they are hurt, even if you are not liable, such as if a neighbor's dog bites them.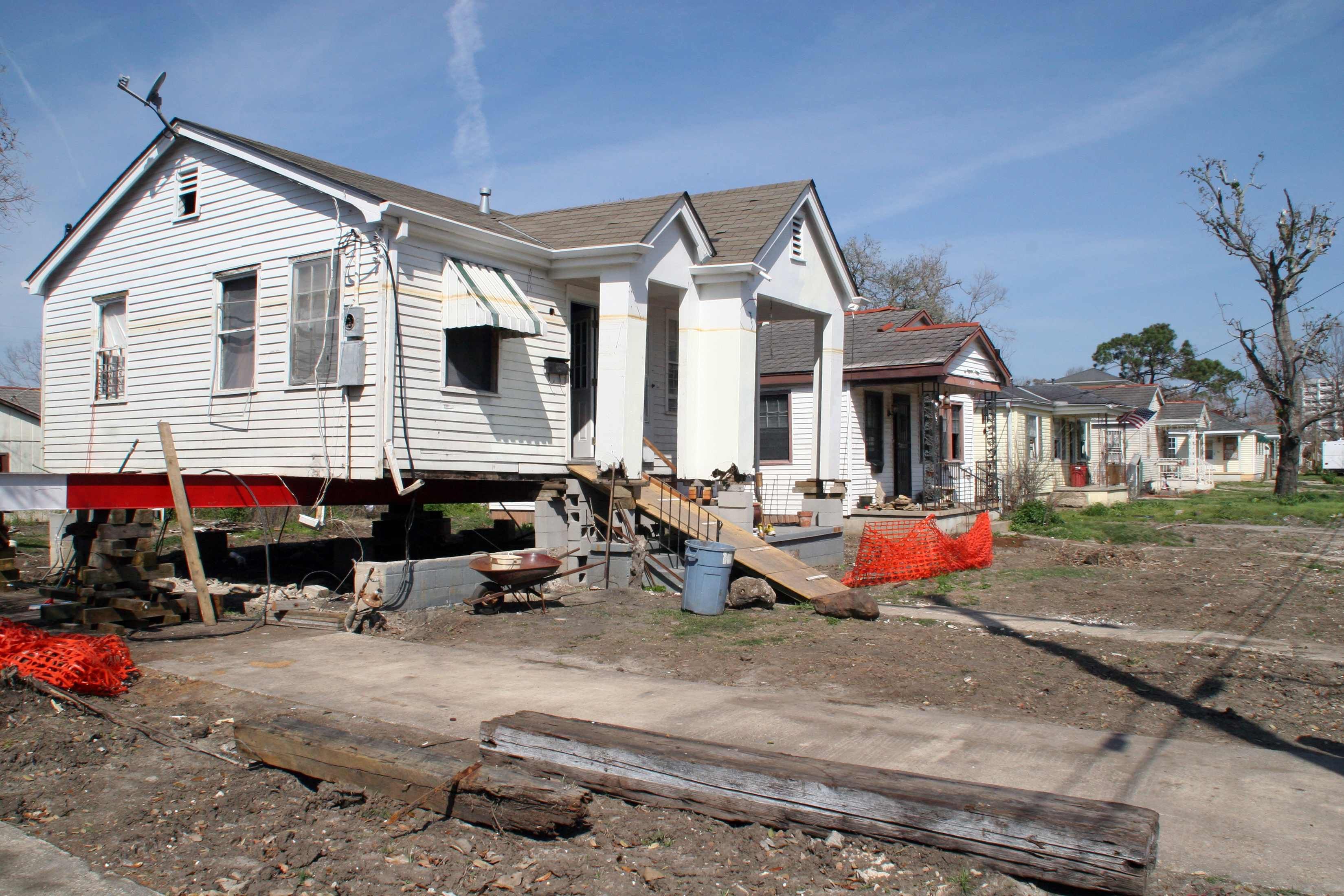 (above: a home in Louisiana gets disaster assistance from FEMA. The water line is deep yellow.)
It's imperative to explain that no homeowner's form covers floods. Those in low or high risk areas must purchase a separate flood policy, which is more restrictive and can only guarantee up to $250,000 towards your dwelling and $100,000 for your personal belongings in a flood, because this program is underwritten by the federal government's National Flood Insurance Program. It's not meant to indemnify you to the exact state your house was in if it's destroyed by flood, but it's meant to make sure no citizens of the US are left without their homes and any funds to rebuild, much like post-Katrina New Orleans. It's important, also, to note that flood insurance has a 30-day waiting period until coverage begins, except for certain circumstances like the purchase of a home where the mortgage company deems it necessary. So, it's very important to have flood insurance in place long before a storm hits.
While this basic guide may help you understand the general ins and outs of Homeowner's insurance, it's very important to speak to your insurance agent or company to get advice about your specific policy.