Patty Knaggs' Cape Ann Spotlight: Backyard Growers
Back in 2008, Lara Lepionka began a small scale farming project in her postage stamp downtown Gloucester yard – on space that amounted to 1/100th of an acre. Soon, more than a half-dozen raised garden beds, as well as a chicken coop, surrounded her plum-colored Victorian – taking up her front and side yards. Not only did the garden feed her family of four, but soon there was more than enough! Lara began selling her produce and fresh eggs to local farm-to-table restaurants like Duckworth's Bistrot and Short and Main to supplement her family's income. As growing seasons passed, neighbors and passersby were taking notice of the tiny Beacon Street Farm – and Lara was getting questions about how others could grow food for themselves on their own tiny plots of land. In 2010, Lara's mentorship resulted in the launch of the Backyard Growers program, under the guidance of the Cape Ann Farmer's Market. The program began providing eight neighboring families with raised-bed gardens in their own backyards, as well as advice and support.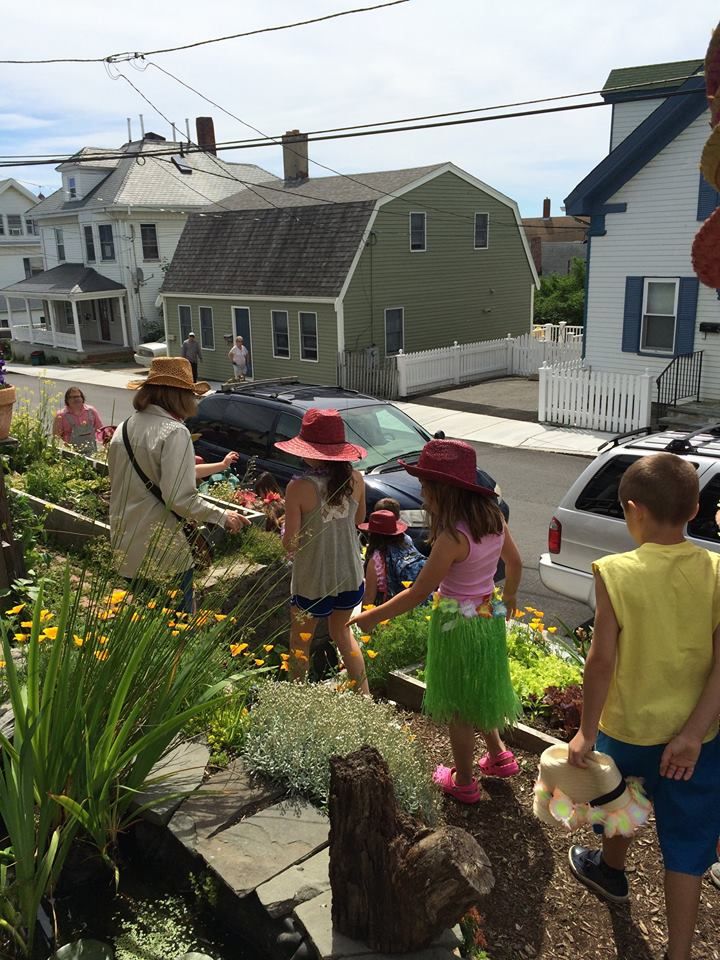 (above: a school field trip to Beacon Street Farm, courtesy of BYG Facebook)
In the six years since Backyard Growers began, the organization has had years of successful expansion. In 2013, they separated from the farmer's market to become their own nonprofit entity. Recently, they have leased space downtown, on Main Street, and their storefront sells seeds, seedlings, garden supplies, apparel - and last year, day-old chicks were raised until old enough to go home with local families!
The Backyard Growers program has resulted in the building and implementing of over 150 raised bed gardens, community gardens, and school gardens. The organization's mission is to connect residents of Gloucester with healthy food, and to provide a seed-to-fork experience for every school-aged child in Gloucester – changing relationships and attitudes between ourselves and our food. Currently, the backyard program has served nearly 700 low to moderate income individuals, 130 families, and 7 organization and housing communities. 80% of their sites are located in poverty or food desert census tracts.
Backyard Gardens
Although the organization has expanded beyond individual backyard gardens for families, this program is still an integral part of Backyard Growers, with major support from The Food Project. In order to become a backyard garden participant, potential growers must complete an application and return it before the season's deadline (The 2016 season, alas, is full – and the deadline was February 12). There are eligibility guidelines based on HUD income limits, and renters must have permission from their landlord to place a backyard garden, as the organization isn't responsible for removing the gardens after they've been placed. All gardens must be placed in an area that receives at least 6 hours of full sun, and have access to water. As well as paying a sliding-scale participation fee per season, potential backyard garden families must also attend mandatory garden training and cooking workshops, commit to participating in the program for two years, communicate with their assigned Garden Mentor, and also complete a participant survey.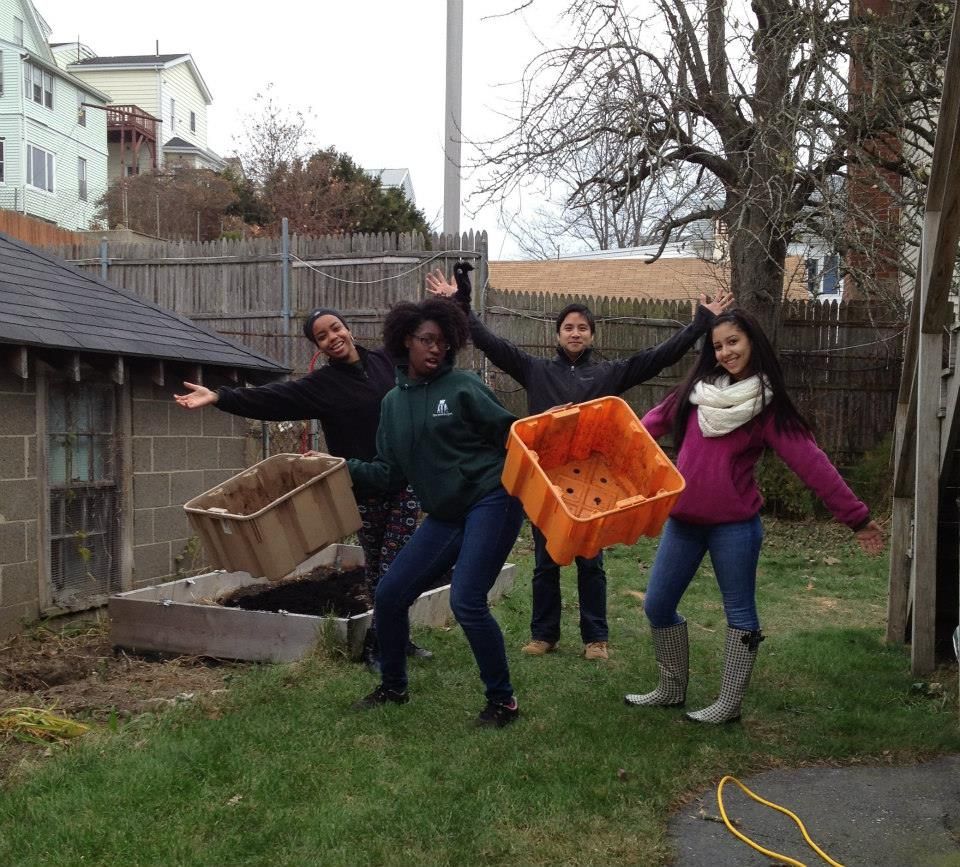 (Above: Food Project interns top off a Backyard Garden with compost)
It doesn't matter if you're a beginner gardener or have been growing for years – all skill levels are welcome in the program. Participants in the program receive a free 4 x 8′ raised garden bed, filled with compost by volunteers, as well as seeds and seedlings, distributed in April and May.
The project's impact has been measurably successful. As a result of having a backyard garden, 91% of project participants eat more fresh vegetables, while 81% eat new kinds of food, and 79% reported making homemade meals more often. More than ¾ of participants reported being more physically active, the same percentage spent less money on food. For those participants who rely on the Open Door food pantry, 71% relied on the pantry's vegetables less during the growing season, and across the board, almost 70% of growers reported feeling more able to provide food for their family.
One grower reported, "Because of my garden, I am more creative with my cooking," while another said "I know I feel better when I eat better." Best of all, before receiving a backyard garden, 18% of participants reported that they did not even eat one serving of vegetables per day. After their gardening season, that percentage dropped to zero. Similarly, the number of growers who reported eating 3-4 servings of vegetables a day showed an 81% increase.
As a result of the backyard garden program, 100% of participants are consuming fresh vegetables each day.
School Programs
A sizeable portion of Backyard Grower's programs take place in Gloucester's public schools. Every grade, from preschool through high school, is served by Backyard Growers school programs - 1700 students.
Through a partnership with FoodCorps, Backyard Growers is able to host a FoodCorps service member who serves the school district. There are now raised bed gardens installed across the school district - including 36 newly constructed beds at O'Maley, West Parish, and the Gloucester Preschool.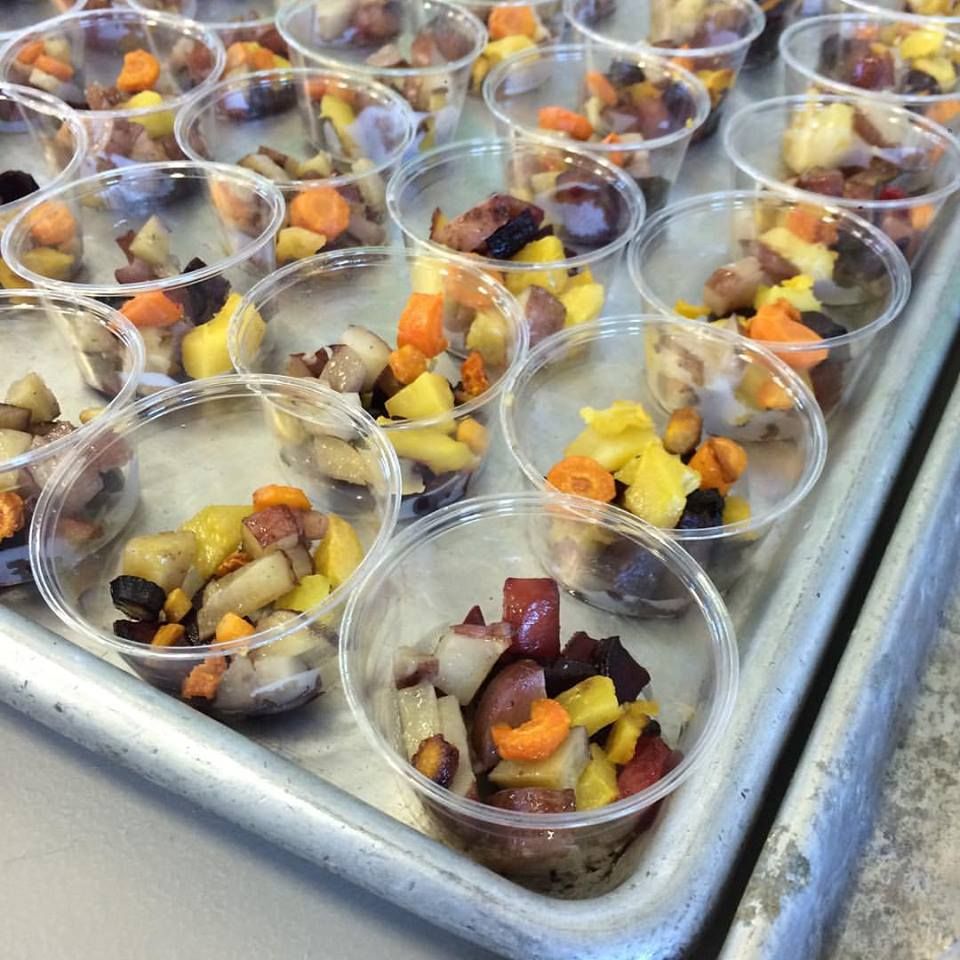 (Above: Taste testing at West Parish. Photo courtesy of BYG Facebook)
The school programs offered by Backyard Growers include Salad Days, where students at each elementary school plant several varieties of lettuce that they are able to harvest and enjoy in June during school lunch, as well as Fall Harvest Days, where each grade level plants a specific vegetable before the end of the school year in spring that is then harvested and enjoyed in the cafeteria when students return in the fall. The school programs let children get their hands dirty, learn basic gardening skills, and get to taste delicious vegetables grown at their own school. Cafeteria workers clean and prepare the vegetables, and students can taste-test them during lunchtime.


Community
The Backyard Growers program is also active in the community, beyond the school and backyard gardens. The organization manages the Burnham's Field Community Garden, as well as worked with or established The Open Door Garden Project, North Shore Health Project, Action Emergency Shelter, Pond View Village, McPherson Park Senior Housing, Riverdale Park Youth Garden.
Even if you're not income-eligible or interested in a raised-bed garden, it's still possible to take advantage of some of the Backyard Growers programs. They run a "Give a garden, get a garden" program, where not only do you get a garden, but you make it possible for a low-income Gloucester family to have a garden as well. When you make a contribution of $500, Backyard Growers will use half of it to build a garden for you, and the other half to build a garden for a low-income Gloucester family. $250 of your contribution is tax deductible. The organization will handle all aspects of building your garden- including coming to your home, helping you pick the best spot in your yard for your garden, building your 4 x 8' raised bed, and making sure it's filled with compost. Give a Garden Get a Garden donors also receive a Growing Guide and starter seeds.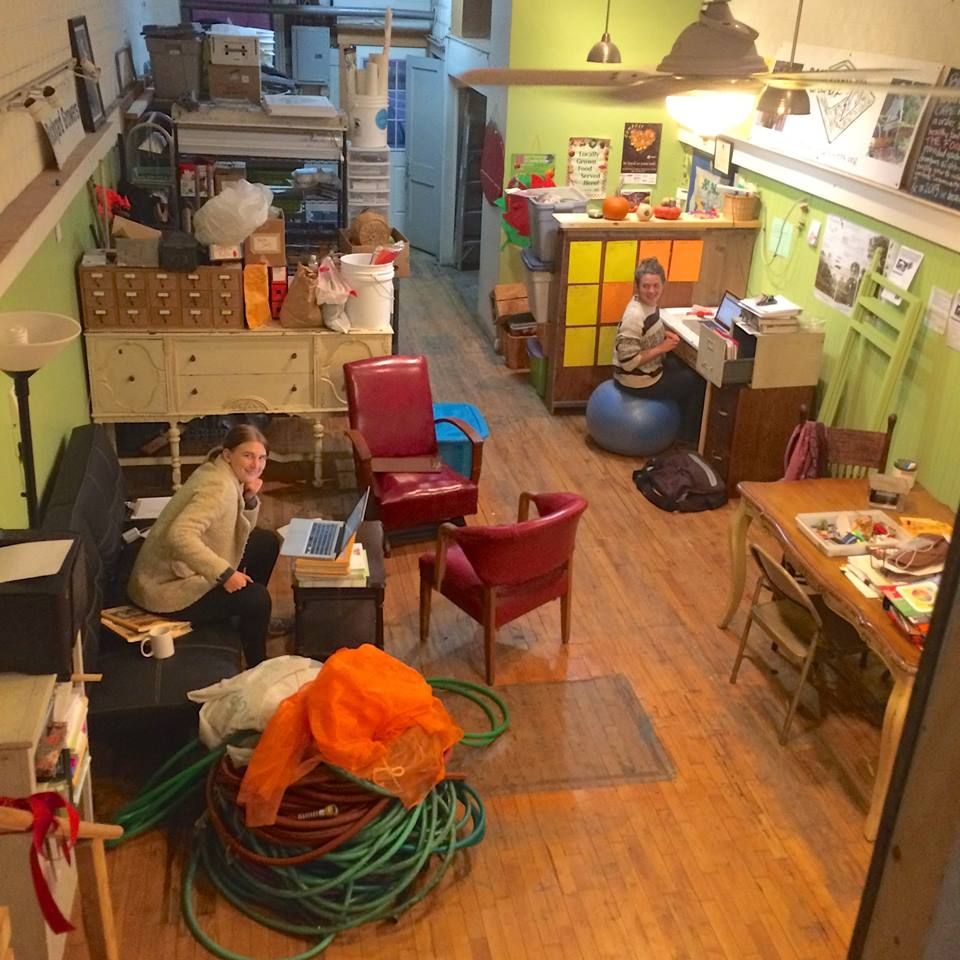 (Backyard Growers Headquarters)
Also, this month the organization is holding two square foot gardening training sessions open to community members. For $25 ($10 for previous program participants), participants take part in a hands-on workshop, learn about the Square Foot Gardening method, make a garden plan, and meet with garden mentors.
The training takes place at the Open Door, located at 28 Emerson Ave in Gloucester. For participants within the West Parish and Beeman areas, the session runs on Saturday, March 12, 2016 from 10:00am 12:00pm For those in the Veterans, East Gloucester and Plum Cove areas, the session runs on Saturday, March 19, 2016 from 10:00am 12:00pm.
For more information on Backyard Growers, their impact on community health, or to donate to the organization, please visit their website.