Happy Belly Brings Coffee, Cocktails and Comfort Food to Downtown Gloucester!
Happy Belly is one of the newer concepts from Serenitee Restaurant Group, who own a smattering of North Shore restaurants including Cape Ann spots Latitude 43 and Minglewood Tavern on Rogers Street, Opus in Salem, Cala's in Manchester, and Hale Street Tavern in Beverly Farms. While many locals were saddened to see Alchemy go, Serenitee recognized the spot needed a makeover - and has a lot more to offer in its newest incarnation.
Happy Belly opened its doors on June 8th, according to Serenitee's media relations guru, Samantha Porter Giddings, a Gloucester native. While most of their restaurants have larger grand openings, they decided on a more laid-back approach with Happy Belly, instead inviting the community in for a more casual dinner to check out the establishment. "We were slow and steady to begin with, but things are starting to pick up," she said. Phantom Gourmet, for instance, dropped by earlier this week to take stock of the menu.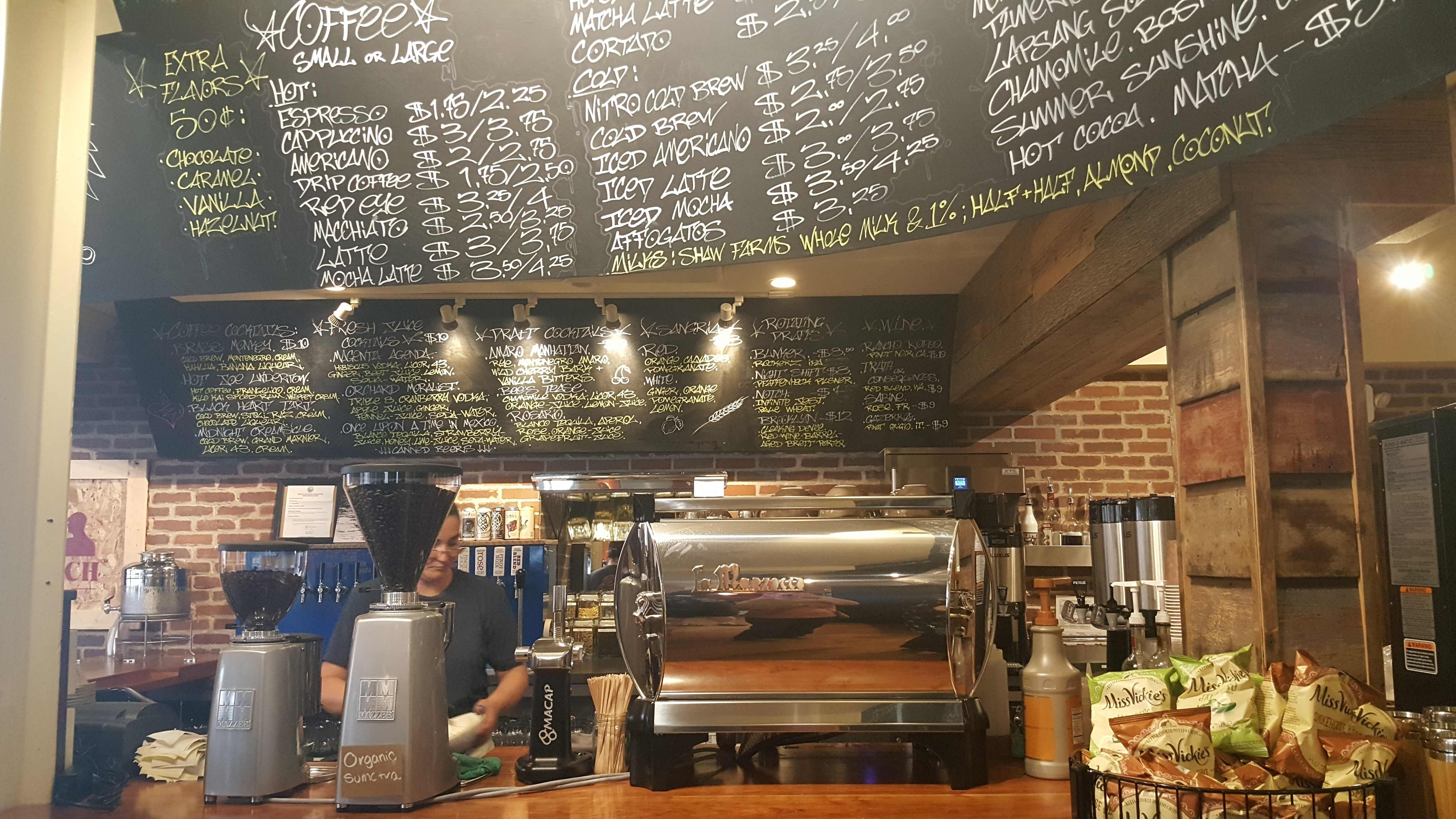 The restaurant refined their menu a few weeks back, taking in patron's feedback after the first two months and learning what was working well and what needed retooling. The biggest change, of course, is the restaurant's style - while Alchemy was a full service, sit down restaurant and bar, the new concept is counter service, with countertop bars, tables, and even living room style chairs. The spot is open for breakfast, lunch, and dinner, with a tailored menu for each and a cold prepared food case for the beach, as well as a full coffee and espresso bar - and plenty of cakes and pastries made by Sticky Fingers Bakery's Melissa Hays.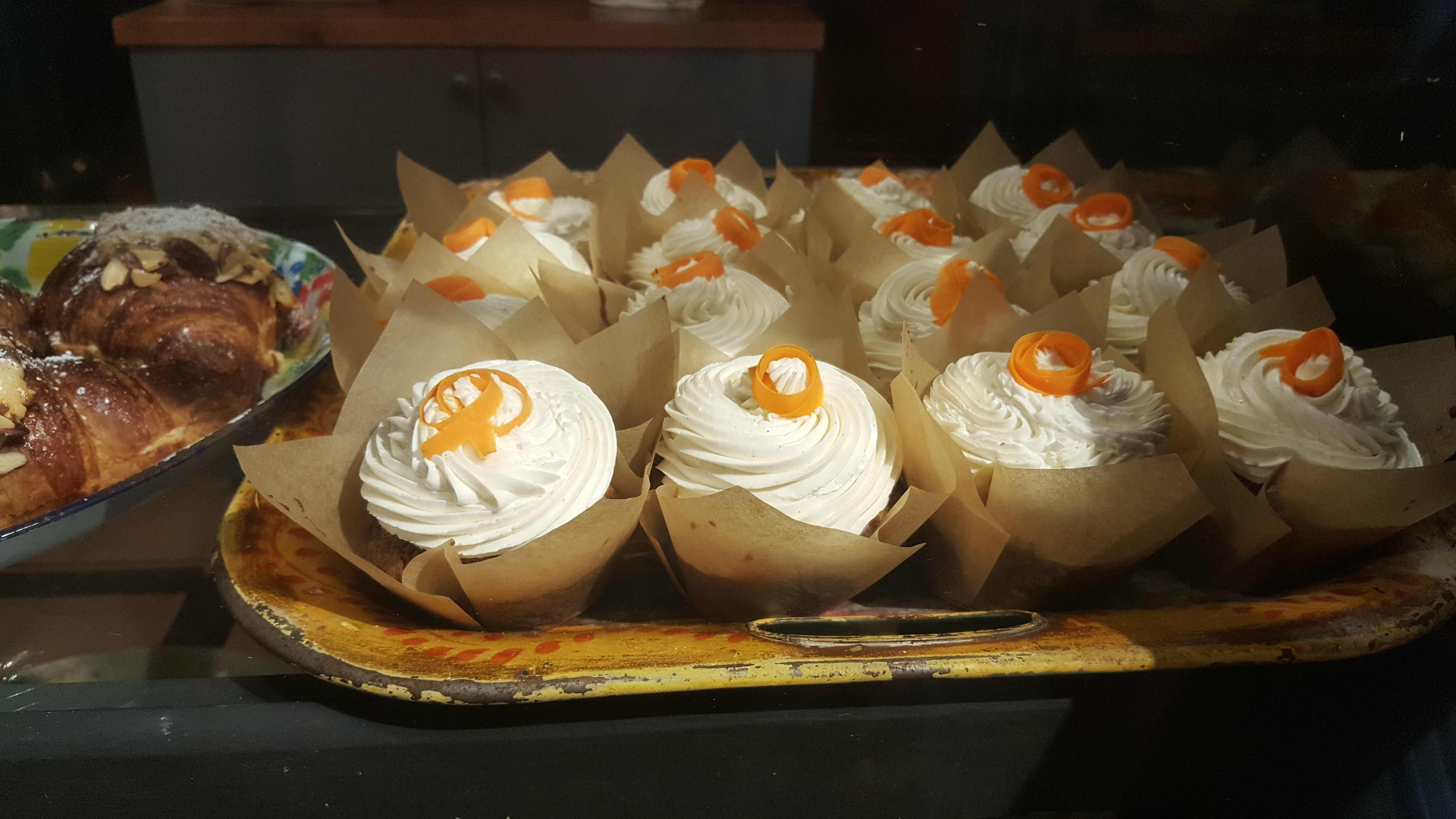 "There's a learning curve with the idea of using counter service, especially at dinner with a great quality meal." Once people get into the groove, however, the concept makes sense. "It's really great if you have kids - the adults can sit down and have a drink with friends, while kids can play battleship." The menu is varied, and focuses on locally grown food and healthy choices like salads and smoothies, but also has a wide range of options for those who may want something different. The idea is that taking comfort food and healthy food and taking it to the next level - and providing a great tasting meal - will make their patrons happy. For instance, I stopped by for lunch and devoured a fried chicken sandwich with bacon dust, provolone cheese and garlic herb buttermilk dressing.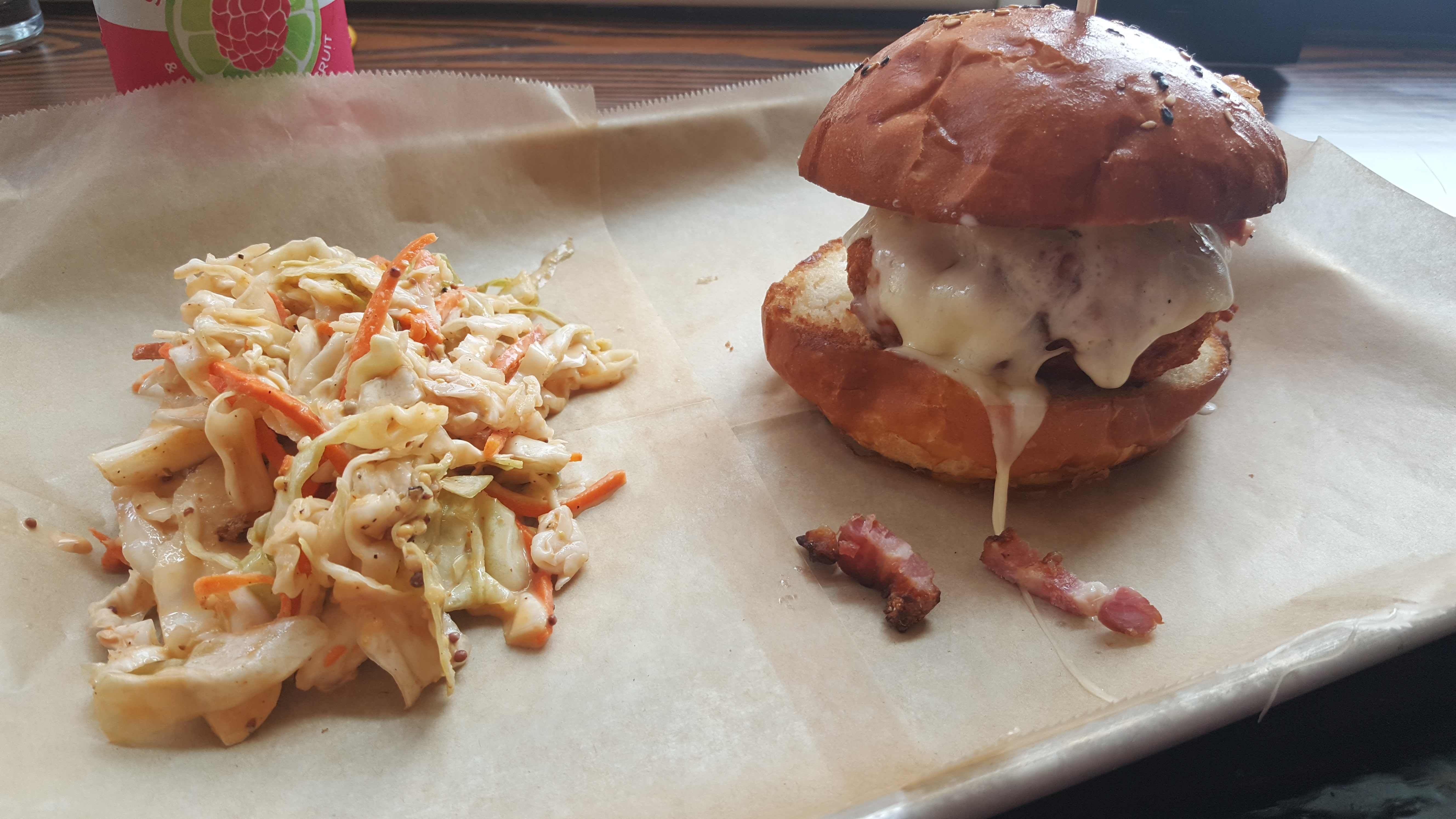 I also tried the shredded pork Bahn Mi, stuffed with pickled vegetables, radishes, bean sprouts, cilantro, and cucumber on a ciabatta with coleslaw on the sides - which was equally delicious. Happy Belly's $5 individual tacos - with options for crispy pork belly, blackened swordfish, carne asada, and veggie- are great for a small snack or appetizer, or can be combined into a larger plate.
One of the most popular dinner options, Sam explained, is the mac and cheese, which is rich, creamy, and filled with asparagus, peas, and pork belly. Chicken and waffles, which started as an occasional special, has been added to the daily menu. Bowls of ramen and pho round out the menu - perfect comfort food! The restaurant's pickled vegetables and condiments are made fresh from scratch, and all the meat is smoked in-house as well. Don't overlook their small snacks and appetizers, like their crispy onion & aged cheddar tater tots, with mustard aioli, smoked ancho powder, sweet pickles, and shallots.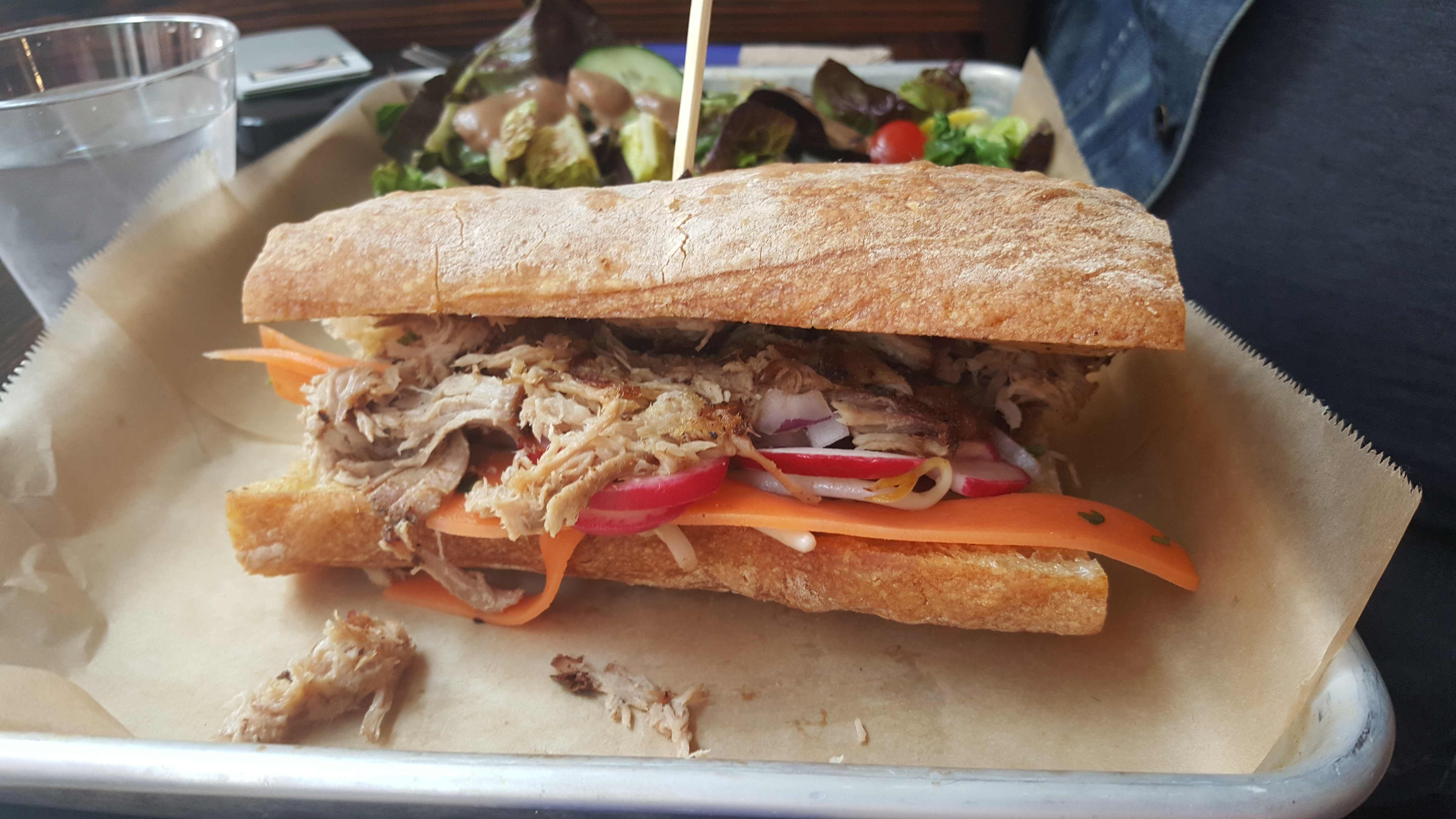 Happy Belly has a full liquor license, with beer, wine, draft cocktails such as the Bee's Tease, made with chamomile vodka, licor 43, orange and lemon juice, and the Rosario, with blanco tequila, aperol, rose, orange and grapefruit juice - and individual cocktails crafted with fresh squeezed juice, such as the Magenta Agenda (hibiscus vodka, licor 43, ginger, beet juice, lemon juice, soda water), the Orchard Moralist (triple 8 cranberry vodka, apple juice, ginger, fennel juice, soda water) and the Once Upon a Time in Mexico (blanco tequila, strawberry juice, orange juice, honey, lime juice, soda water).
Unique to Happy Belly are what Sam describes as "booze-accinos" - made with flavored cold brew, ice cream, and liquors like amaretto, banana liquor, or frangelico. Of course, with any Serenitee restaurant comes an extensive craft beer and cider list! Nonalcoholic locally made and craft juices, sodas, and sparkling waters are available in the cold cases as well.
Aside from the format and menu changes, the space has been renovated extensively as well, but the staples, such as the bar area, large windows, and phone booth bathrooms, remain. The building used to be a bank, and Happy Belly's layout encompasses part of an old vault - which involves a lot of intensive work when it comes to renovating. Cutting a hole to vent the coffee roaster, for instance, required some heavy machinery and shook the building!
The restaurant is outfitted with eclectic, modern furnishings and reclaimed doors and wood. The large, long table in the dining area is actually a huge piece of scrap redwood from a reclaimed wood scrapyard in Cambridge, and was sanded and built in the Empire space as both locations were being remodeled together by the same contractors.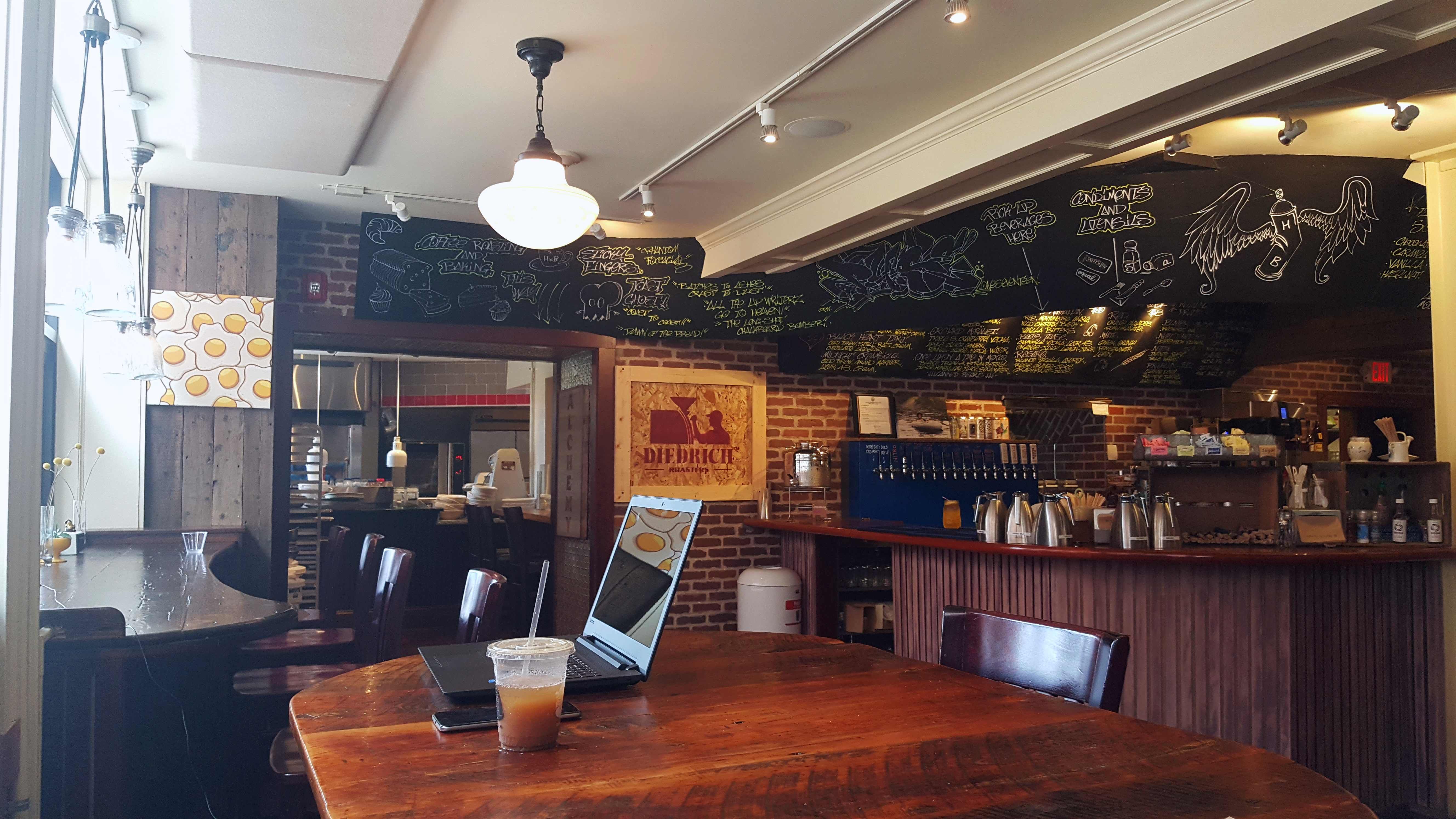 The funky, vintage spot may also soon be brightened up with throwback music - the restaurant is looking into buying record player and records to replace their Pandora playlist. They'll also be installing the fish tank that currently sits at Opus. "Adults aren't really giving it the attention it needs," Sam says, "We think the kids that come here will enjoy it much more."
Happy Belly's small side room, the "brick room", will still have local art, just as Alchemy did - but now it's children's designs from Art Haven that adorn the walls. A new installation will be up within the next week "kid art is just so fun and makes us so happy, and it's great when kids come in and recognize their own work," explained Sam.
The restaurant is planning on selling their printed tote bags with the Hive's screen-printed designs. Not only will the Hive create great original art, but some of the bags' proceeds will go back to Art Haven's programs.
While they haven't yet had live music, they expect to bring back Alchemy's live acoustic guitar singer/songwriter, local John Rockwell, who Sam agreed "pretty much defines this space." A local young magician, Seamus Swift, will also do an upcoming magic show for his fellow elementary aged kids. As far as events, Happy Belly is easing into the future - but expect things like spaghetti dinners to raise money for local sports teams and charities to be on the calendar, as the spot is perfect for teenagers and families.
"We're happy," says Sam. Clearly, the community is happy too!
Happy Belly is located at 3 Duncan Street in Gloucester and can be reached at 978.281.3997 They are open seven days a week for breakfast, lunch, and dinner, 7 am to 9pm.