Gloucester's 57th Annual Sidewalk Bazaar

(Cover photo credit: David B Cox/Good Morning Gloucester)
Good news for everyone who loves a bargain and a good time! This upcoming Thursday, Friday and Saturday- August 6th, 7th, and 8th - is Gloucester's 57th annual Sidewalk Bazaar. From 9 AM to 5 PM, Main Street is closed to vehicle traffic, and merchants, crafters, entertainers, and restaurants take over! Sidewalk sales take place outside of downtown merchants, and there is guaranteed to be something for everyone - at a steal of a price! The Bazaar is put on by the Gloucester Downtown Association - a group of retailers from Main Street and beyond - and additionally sponsored in part by local businesses like Cape Ann Savings Bank, Bank Gloucester, and Howard Fritsch, CPA.
Don't forget your wallet - most downtown merchants have large sidewalk sales, and you can pick up great art, clothing, vintage finds, and more for cheap! In addition to offerings from the brick and mortar stores along Main Street, local crafters and food vendors set up all over, and bring a wonderful and eclectic balance to the Bazaar.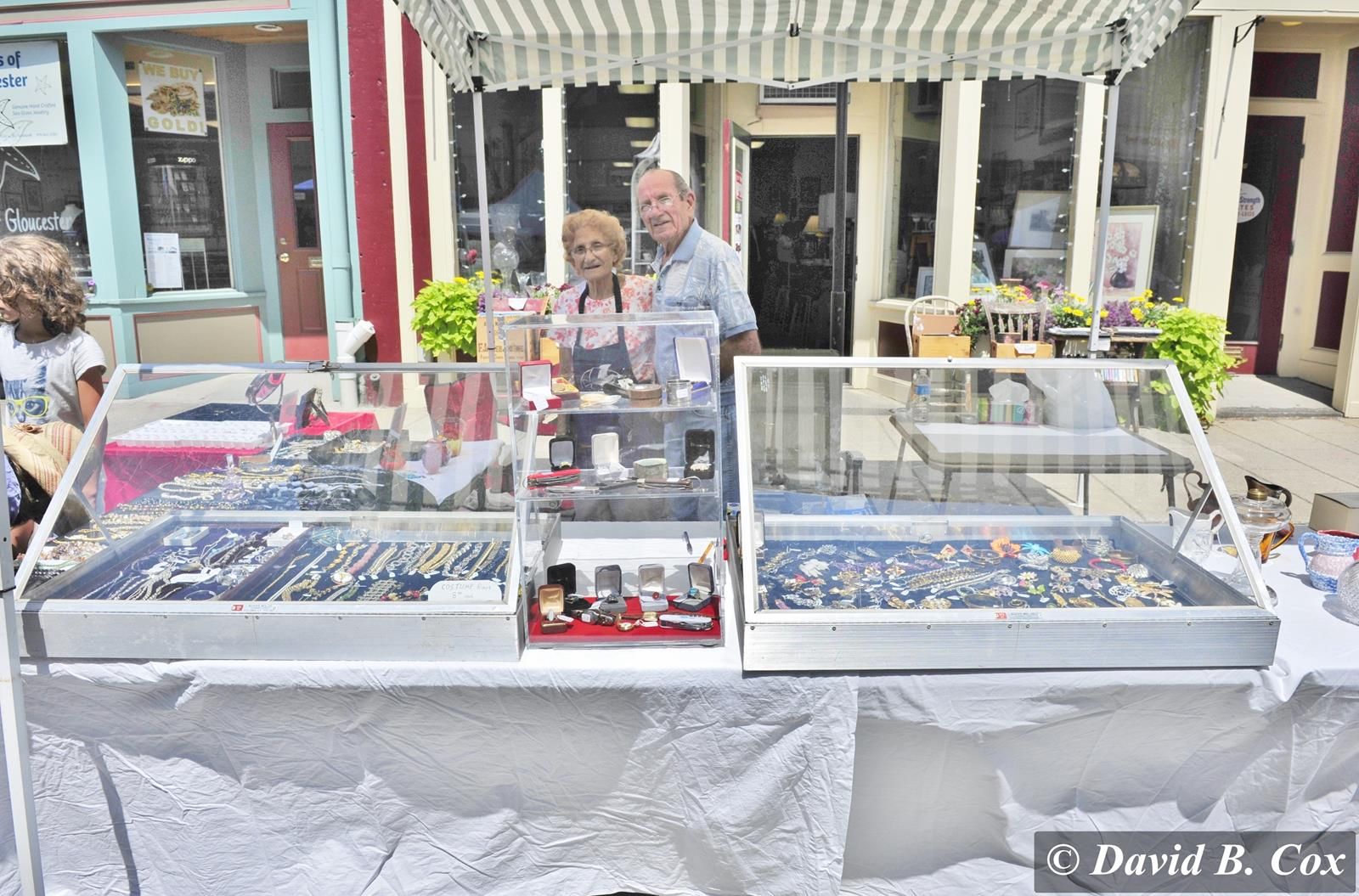 The Sidewalk Bazaar features live performances all three days at the corner of Main and Porter streets. On Thursday, the entertainment starts with Gerry Ryan from 11-12:30, Toni Ann Eames and Deb Wantman from 12:30-2, Sheila Schrank and Deb Wantman from 2-3:30, Maureen Benson from 3:30-4:30, and the Honky Tonk Women of Gloucester from 4:30-5. Friday, the music begins at 11:30 with Roze and Jim Malone, followed by Amy Spillert at 12:30, Sheila and Ron Schrank at 2:00, Melody Makers (Rick Broughton & Brian Ware) singing Beatles hits at 3:30.
Continuing on Saturday, the music kicks off again at 11:30 with Roze and Jim Malone, Julie Dougherty at 12:30, Meridian's Colivia Gayle and Colin de la Barre at 2 PM, and finishes it up with Sheila and Ron Schrank at 3:30.
Music isn't the sole entertainment - Thursday at 1PM, Dawn's School of Dance performs at the corner of Main and Hancock. Friday at 11:30 AM Ms. Tina's School of Dance performs there as well, and on Saturday, Mr. Demetri's Tae Kwon Do has an exhibition at 11 AM.
One of the most enjoyable parts of the Sidewalk Bazaar is the added outdoor seating area for local restaurants. Enjoy food from Passports, Ohana, Jalapeno's, and more in a beautiful outdoor atmosphere with entertainment!
The Bazaar has plenty of great kid's activities like the Roaming Railroad, a motorized ride from one end of Main street to the other, crafts, and facepainting. It also features booths for many local nonprofits to raise awareness and invite the public to get to know them.
Shopping local has never been so fun - so make sure you don't miss the 57th Annual Sidewalk Bazaar!