Gloucester Summer Entertainment: Harbor Loop Concerts and Outdoor Movies
One of the most enjoyable seasons of the year on Cape Ann is upon us, and that also means plentiful outdoor activities for families. Not only is there plenty of energizing live entertainment with the Harbor Loop Concert Series, but there are also free movies on city-owned property downtown.
For the past three years, Rob Newton of the Cape Ann Cinema and Stage has helped to make the Outdoor Movie Series happen for Gloucester. For a series of weeks during the summer, a large inflatable screen is placed on the I4C2 lot on Rogers Street on Wednesday Evenings. I4C2 is a large flat lot owned by the city, and located between Building Center and the Gloucester House. The lot is part of the Gloucester Harborwalk, which winds through downtown and provides a backdrop to Gloucester's history. The movies are generally very family-friendly, and participants are encouraged to bring blankets, beach chairs, picnic dinners, and more! Some families even bring blow-up pools filled with pillows and blankets for their kiddos to relax in while they watch a great movie.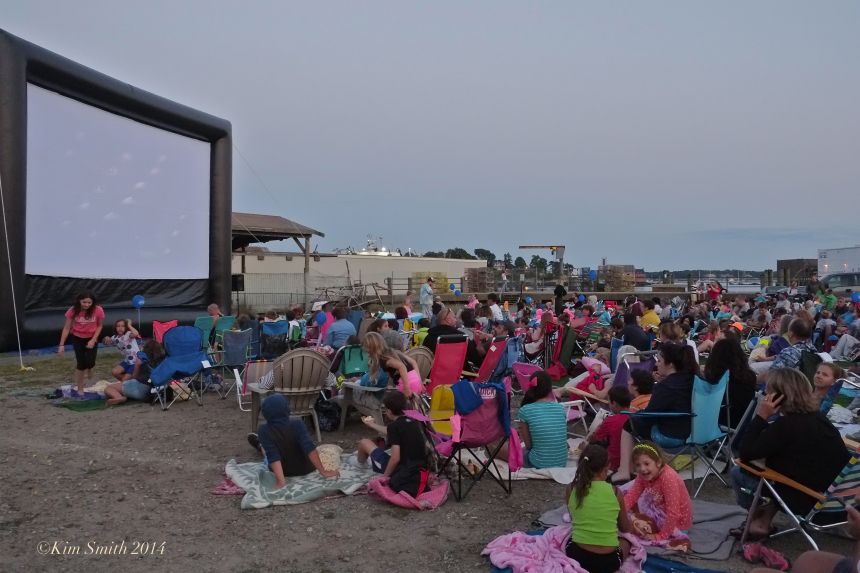 (Photo courtesy of Kim Smith and Good Morning Gloucester)
Even if you've forgotten your dinner, don't panic - there are food vendors on site. Candy, kettle corn, and other locally-based mobile food trucks come to provide a real movie theater experience. There are multiple portable bathrooms on-site, as well.
The Harborwalk Summer Cinema Series is sponsored by Cape Ann Savings Bank which is Green Carpet Sponsor (a large astroturf carpet is placed on the lot so families can sit directly on the ground) and North Shore Community College, the Community Sponsor. There are many individual film sponsors as well, include Doyon's Modern Home, The Open Door Food Pantry, Toodeloos!, The Building Center of Gloucester and Essex, and Manchester Athletic Club. Other local businesses providing support include: Ipswich Bank, Gloucester Stage Company, Auto Expressions, and BankGloucester.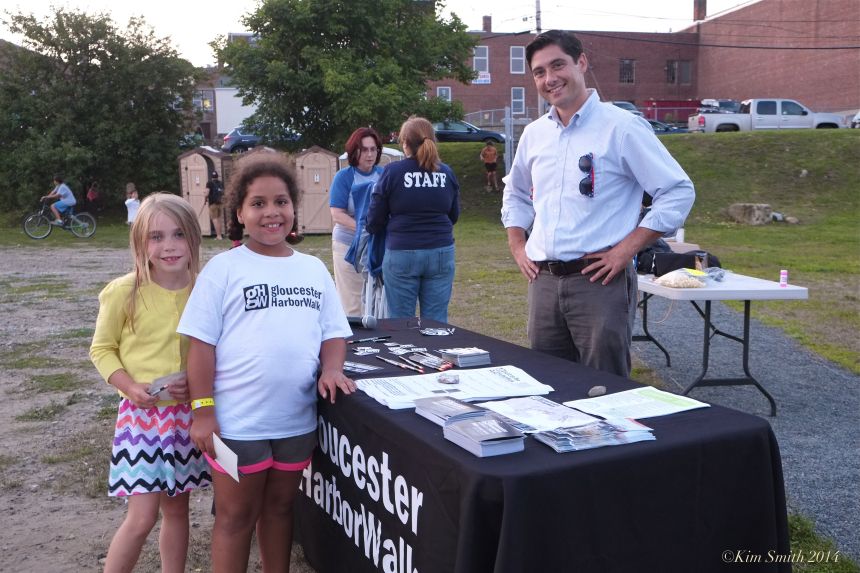 (Photo courtesy of Kim Smith and Good Morning Gloucester)
Before the movie, North Shore 104.9 offers giveaways and trivia for young and old. While the events are free, donations to Cape Ann Cinema and Stage, a local nonprofit, can be made at their website, and all funds go to continuing their community focus. The cinema offers many donation packages to raise funds for more outdoor movies. $20 will get you one free movie ticket at the theatre, $30 gives a ticket and $5 in snacks, $40 will give you 2 movie tickets, and $50 gives 2 tickets plus $10 in snacks. Not only can you donate and feel good, but you'll get something back!
This year's film schedule is as follows:
Wednesday July 13: Grease
Wednesday July 20: Finding Nemo
Wednesday July 27: Minions
Wednesday, August 3: Star Wars: The Force Awakens
Wednesday, August 10: Inside Out
A rain date is also planned for August 17 if necessary. All movies start at 8PM or dusk, whichever happens first. The lot opens at 6 PM.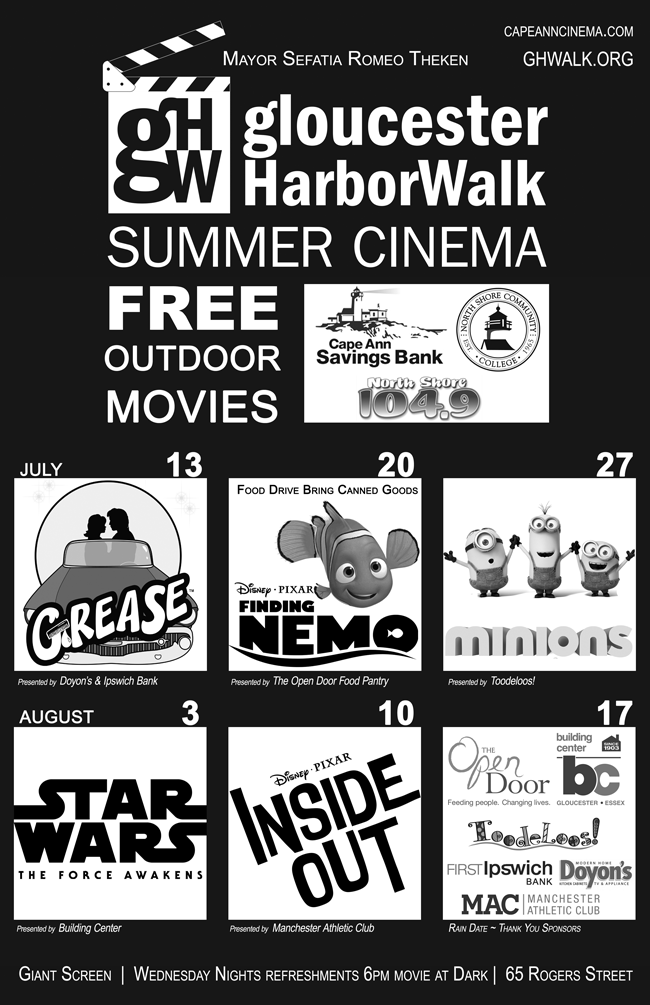 The fun doesn't stop with the movies. Next door, on Harbor Loop, the annual summer concert series takes place on Thursday nights. It's no secret that Gloucester has a fantastic live music scene, full of many different genres and styles. There are multiple restaurants, bars, and other venues that host weekly, if not daily, shows featuring local bands and artists. Whether you're into rock, blues, jazz, folk, or even ska or reggae, there's a band here in Gloucester for you! The Harbor Loop Concert Series has been taking place annually since 1973.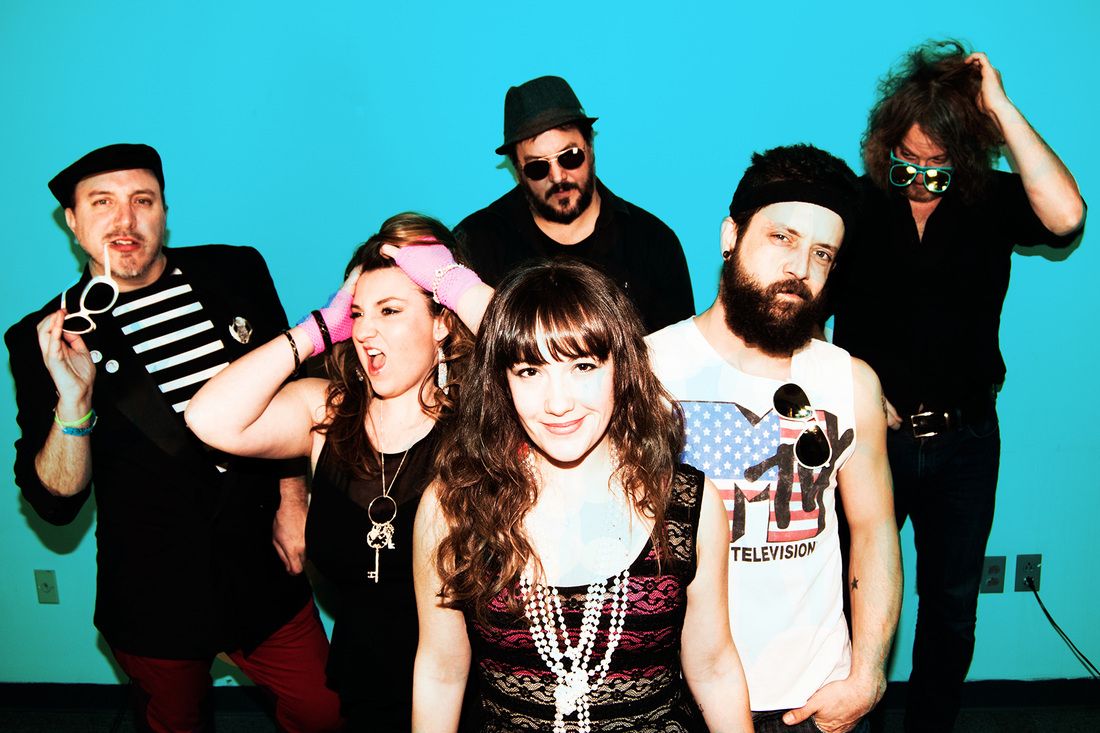 Local band Safety, with (L-R): Brian King, Megan McKenzie, Dan King, Renee Dupuis, Dennis Monagle, and Tony Goddess
During the concerts, Harbor Loop, off of Rogers Street, is shut to vehicle traffic, and a live band sets up near where Maritime Gloucester's headquarters are at the top of the loop. This allows for great viewing of the band, even while sitting down, since most concertgoers set up seats or blankets on the grassy hill at Solomon Jacobs Park. With the historic Fitz Henry Lane House in the background, and the fabulous inner harbor as the background scenery, these concerts are a blast for all! The Harbor Loop Concert Series is made possible by the city of Gloucester as well as the Gloucester Fund.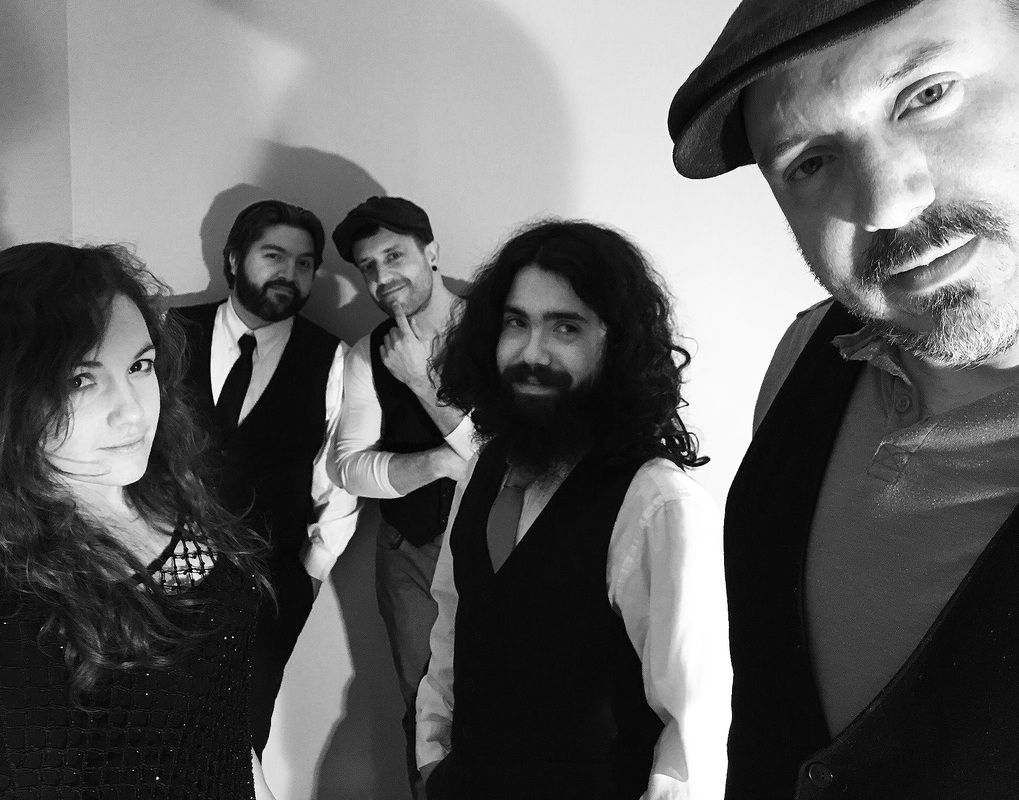 What Time is it Mr Fox, featuring (L-R): Renee Dupuis, Nathan Cohen, Dennis Monagle, Joe Cardoza, and Brian King
Like the movies, the concert series aims to be family friendly and great for a picnic dinner, but there are also food vendors selling fried dough, popcorn, and other foods. It's best to not only get there earlier than the 6:00 PM start time, but also make sure you don't forget bug spray. Since parking isn't available on Harbor Loop during the concerts, there are other lots nearby, such as the lot at the end of Harbor Loop, Walgreens, the I4C2 lot, and street parking on Rogers.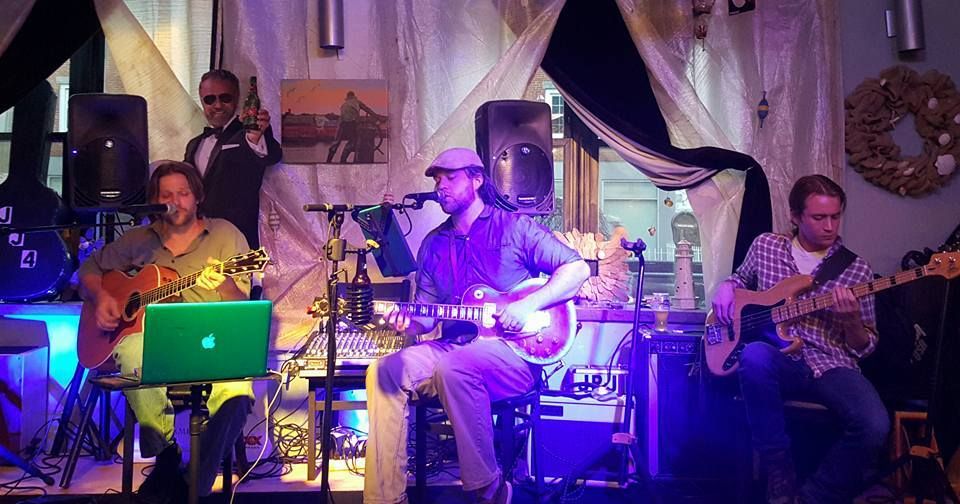 John Jerome Band
The concert is free, and the musicians don't get compensated for their performance. However, the bands typically have a tip bucket to solicit audience donations, so it's best to bring a few dollars to show your support for local music and to ensure the event continues years into the future!
This summer's lineup (all shows begin at 6PM on Thursdays), as well as their musical genre:
7/7: Old Brown Shoe - a rock band with a heavy Grateful Dead song rotation
7/14: Freevolt - a good time Americana jam band with a roots rock flare.
7/21: Safety - the best of 70's and 80's Party Covers, featuring local musicians Tony Goddess and Renee Dupuis
7/28: Mike O'Connell Band - a Blues Rock band with Neil Young Vibes
8/4: Groove Therapy- Legendary Gloucester band featuring raucous funk rock
8/11: Eric Coleville and Garfish- Progressive Rock
8/18: John Jerome- Laid Back Acoustic Rock (featuring Local Guitar Hero Geoff Small)
8/25: What Time is It Mr. Fox- Cabaret, Bard Indie Folk Rock featuring the immensely talented Brian King.
With all these great bands, it's clear that this concert series is a big hit for families, music lovers, and the Cape Ann entertainment scene!