Gloucester New Construction: 48 Pleasant Street
Chances are, if you've driven down Pleasant Street lately, you may have noticed one of the grand Victorians getting a major facelift. 48 Pleasant, on the corner of Franklin Square near the intersection with Prospect Street, is in the midst of a revitalization. The inside of the building has been gutted, and new, high-quality construction will take its place. Architect Jonathan Poore has designed a plan that will retain the building's ornate facade and architectural details, yet offer the convenience of new construction - the best of both worlds.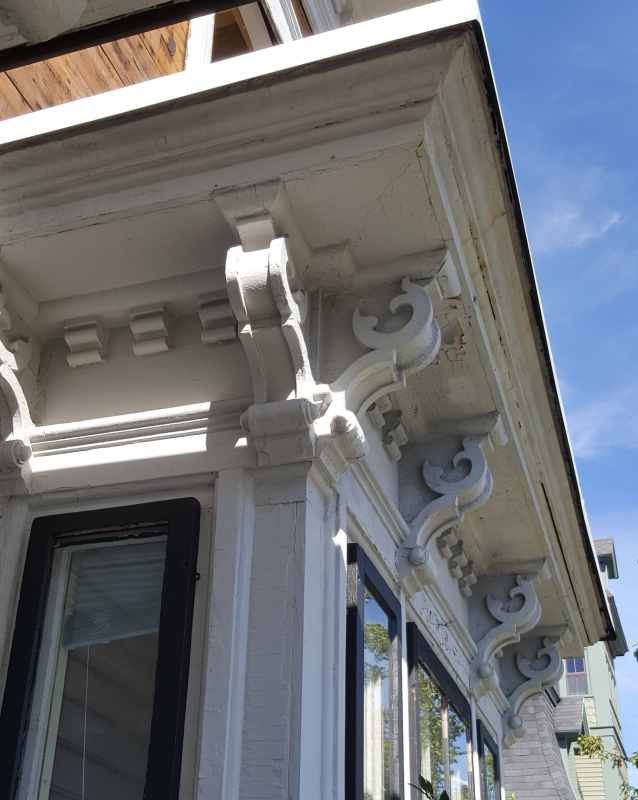 (These architectural details will be refinished, for instance)
When finished, this beautiful building in a historic district will offer 3 generously-sized, soundproofed luxury condominium units for sale, each with convenient one-level living. In addition to the front stairwell, a full-size elevator will service all floors from the basement garage, making moving furniture, unloading a car, and grocery shopping a breeze. This ownership opportunity is perfect for those who are downsizing or retiring, or for professionals who want the walkability to downtown merchants, restaurants, and nightlife without residing in a multi-unit, noisy apartment building. Almost everything you need is within a few convenient blocks - groceries, gas, specialty shops, drugstores, and attractions like Captain Solomon Jacobs Park and the Sargent House Museum. The Cape Ann Museum, Art Haven, YMCA, post office, and Gloucester's city hall are steps from the building's front door.
Inside, each spacious unit - just one per floor - will have a master bedroom with ensuite bathroom, plus a second bedroom and bathroom on the opposite side of the unit. An open floor plan concept will provide a spacious kitchen with natural gas-powered Bosch appliances, dining area, and living room. Each unit will have approximately 1400 square feet of living space, and offer forced hot air and air conditioning.
A planned addition on to the back of the original house will provide each of the units with some of the additional interior square footage, as well as add an outdoor deck/porch area for each floor with fantastic architectural views of the downtown rooflines, City Hall, St. Ann's Church, and even a peek at Gloucester harbor, especially noticeable on the upper floors.

The building's full-size basement is currently being converted into double garages for each unit, so there will be plenty of weatherproof, secure covered parking available for residents, and even guests - eliminating the parking headaches that living in a downtown area can bring.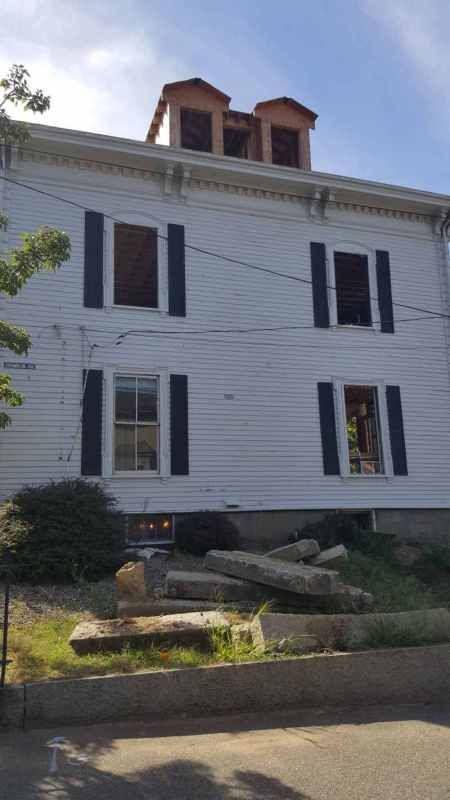 This project is currently in the first part of construction by local general contractor Andrew Stevens Company, with a target completion date of early spring. The listing price at that time is expected to be in the high $500s. There are already several interested prospective buyers for the units in this one-of-a-kind upscale condominium experience in a historic, walkable downtown setting.
For more information on this upcoming project or to speak with the listing agent regarding a possible sale, contact Peter Foster with North Shore's Gold Coast Realty at 978-823-3812.