Gloucester Neighborhoods: Magnolia
(Cover Photo by Sharon Lowe of Gloucester)
Welcome back to our Neighborhoods series, where each week we will showcase a neighborhood of Gloucester or Rockport and highlight the benefits of living, working, or visiting. This week we are covering beautiful Magnolia.
The seaside village of Magnolia lies southwest of Gloucester's downtown by several miles, along the shore. It lies very close to the city line with Manchester-By-The-Sea. Magnolia is known for its incredible ocean views - in fact, Magnolia was once a thriving tourist destination for wealthy guests. Before the advent of vehicle travel, it was not as easy to jet off to Florida or the Bahamas, and Magnolia was conveniently located on the B&M rail line. Magnolia was home to not only upscale stores like Tiffany's and Lord and Taylor, but several grand hotels in the first part of the 20th century. One was the Oceanside Hotel shown below, which unfortunately burned in 1958. For more information on Magnolia's heyday, contact the Magnolia Historical Society.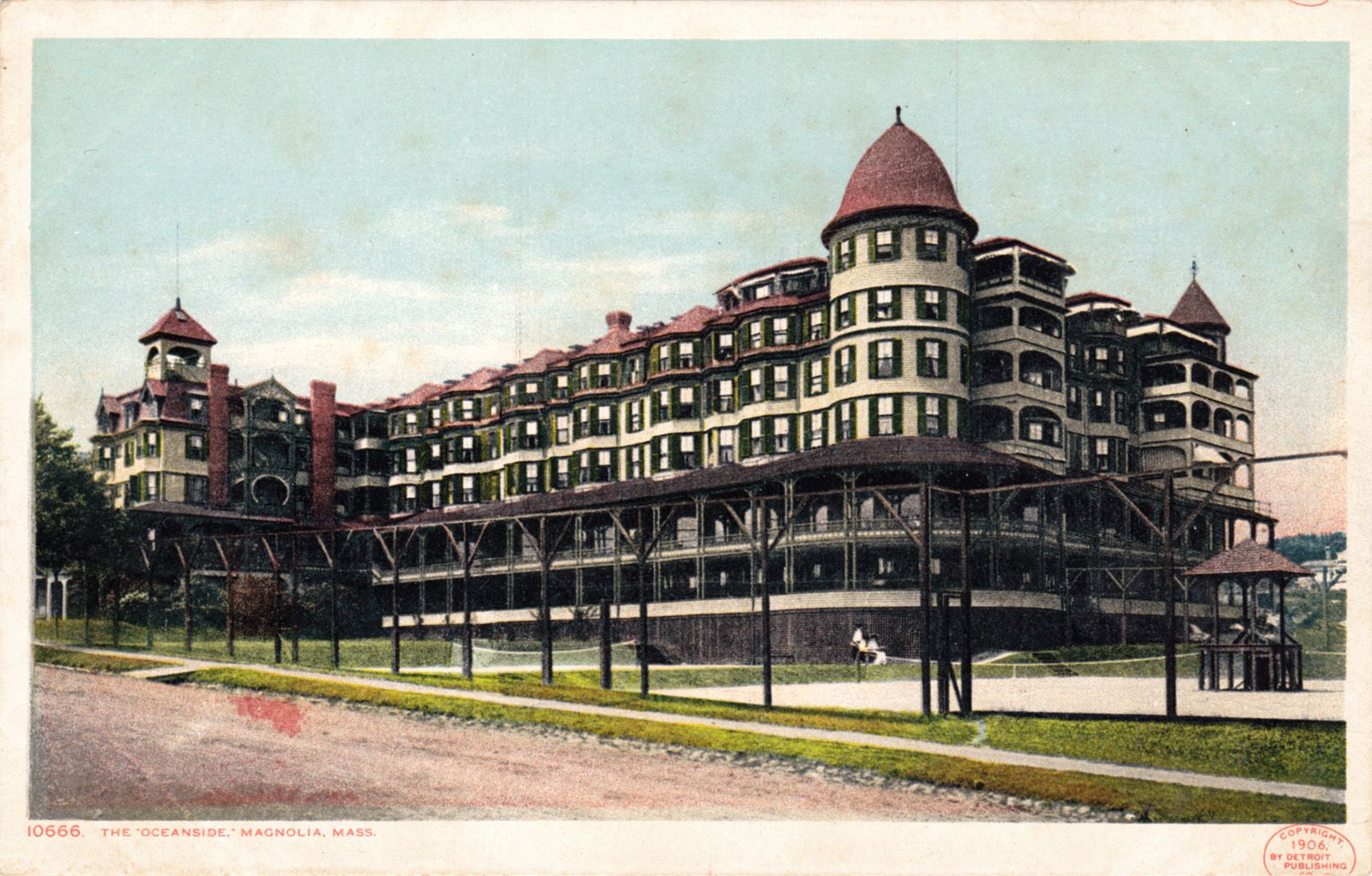 Hammond Castle is the largest tourist draw of Magnolia, and one of the largest in Gloucester and the surrounding area as well. The castle was built by John Hayes Hammond Jr, an inventor who pioneered remote control, in 1929. Open to the public, it is filled with Renaissance and Medieval artifacts, as well as exhibits on Hammond's many inventions. The castle's Great Hall contains an enormous pipe organ, and holds yearly haunted houses, a fair, and private wedding functions.
Another draw of Magnolia is the new Innovation House, which is located in the former Inn Magnolia building. The Innovation House serves as an international business incubator and retreat space designed by Opera Software co-founder Jon von Tetzchner, who moved to Gloucester from Iceland. There are a few other beautiful large estates in Magnolia as well, such as the Hiram Walker house.
While Magnolia may not be as populated as when it was a mecca for wealthy summer tourists, it still holds a great deal of charm, and is a caring close-knit community. There is still a thriving downtown strip, Lexington Avenue, with several businesses. Magnolia also has its own beach and library. The Magnolia 525 restaurant and tavern serves appealing American fare and has weekly trivia nights, as well as live music. It bills itself as a local's tavern, but is a bit more upscale and has far better food than a typical local pub!
Magnolia also has a Montessori school, a salon, several smaller clothing boutiques, as well as a variety store, a post office and Dunkin' Donuts. Magnolia's designated elementary school is West Parish School, which is currently being rebuilt into a brand-new facility slated to open next year.
For recreation, there is the nearby Coolidge Reservation, Ravenswood Park, and Magnolia Fields - Ravenswood Park, for instance, is a series of trails perfect for jogging and dog-walking that has plenty of parking. This area is perfect for keeping up an active lifestyle.
The housing options in Magnolia run from oceanside apartment buildings and condominiums to large single-families with ample yards, due to the wooded surroundings that separate Magnolia from downtown Gloucester. If you're looking for a charming seaside village full of history off the beaten path for raising a family or retirement, Magnolia may be the neighborhood for you!