Cool Gloucester: The WWII Photography Project by Jason Grow
"Thousands of ordinary young men and women from Cape Ann did the extraordinary when they answered their nation's call to duty seven decades ago. From Normandy to Iwo Jima, our parents, grandparents and great grandparents left the safety of our shores to fight for our country and our future." - Jason Grow
Back in March of this year, local photographer Jason Grow read the obituary of a World War II veteran and realized something: The end of World War II was reaching its 70th anniversary, and with every year the number of veterans on Cape Ann dwindles further. Spurred to action, Jason decided that in order to honor the veterans of that war, he would begin a labor of love: photographing as many remaining World War II veteran on Cape Ann as he possibly could.
We so often see our older generation of veterans for their post-war lives - as fishermen, as shop owners, factory workers, bankers. The culture they grew up in was so different than ours today, and most veterans did not open up about their experiences but simply moved on, back into civilian lives. Their stories, after seven decades, are in danger of being lost.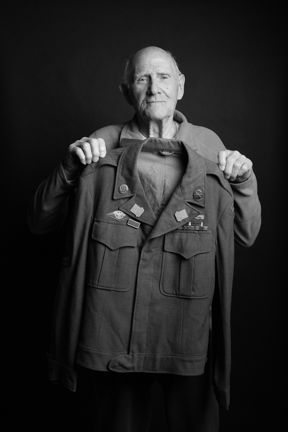 Robert Zager, 90, Gloucester
Jason didn't want to let that happen. This project is a personal one to him, borne out of respect for these men and the sacrifices we asked them to make, and the horrors we asked them to endure. Jason aimed to preserve their legacy, their memories, and their service to our country through his photography. Their stories are riveting and diverse - some remained on stateside bases until being deployed to Japan in the war's final throes, some helped open the gates of concentration camps. Most are humble, insisting that others had the harder jobs.
As word of Jason's project spread, more veterans are being notified of the project and are participating (it costs nothing to be the subject, as Jason is donating his time and skill). Last week alone, he was able to photograph 8 veterans: a member of the Army's 10th Mountain division; a 96-year-old Army nurse; a married couple who both served in the Navy; a 93-year-old Essex Marine who landed on Okinawa; a life-long Annisquam resident who was part of the first Army Air Corps search and rescue squad and the Mondello brothers, two of five Gloucester Mondellos who served during the war.
In November, as Veteran's day is celebrated, Jason will be exhibiting the photos at Gloucester's City Hall. He has set up a GoFundMe to defray the costs of framing the prints for display. His fundraising goal is $10,000 for printing, framing and the exhibition of the portraits (50 prints @ $200/print). He is halfway to his goal, but if he is unable to raise the funds to cover the cost of the show, he will not be able to complete the project.
If you don't want to contribute online, you can send a contribution through The Gloucester Fund (made out to The Gloucester Fund with a memo indicating the WWII Vets Portrait Project) or send a contribution directly to Jason Grow Photography. Any funds raised above and beyond the cost of the exhibition will be donated to benefit Cape Ann veterans.
If you know of any World War II veterans living on Cape Ann (Gloucester, Rockport, Manchester, Essex) who might want to be included in this project, please contact Jason Grow. There is no cost to the veterans and each will receive a print as a thank you for their participation.