Cool Gloucester: The Snotbot Project!
If you're interested in technology, science, and saving our environment - take a look at the Snotbot Kickstarter from local nonprofit group Ocean Alliance!
Tens of thousands of whales are killed or injured every year as a direct or indirect result of human activities. The health of ocean ecosystems is tied directly to the health of whales. If we continue to lose whales, the results will be disastrous not just for the oceans, but for our entire planet.
So what's the solution? Drones! Snotbots are custom-built drones created in partnership between Ocean Alliance and Olin College of Engineering. They hover in the air above a surfacing whale and collect the blow (or snot) exhaled from its lungs. Snotbot then returns that sample back to researchers a significant distance away.
By using Snotbots, the whale never knows the data is being collected. The custom-built drones fly well above the surface of the water and into the blow, the subjects are never touched or approached closely.
Ideally, whale researchers should be positioned about half a mile away from their subjects, giving the whales plenty of room to go about their business. Dozens of technological hurdles had to be overcome in order to make the drones capable of collecting a physical sample at this distance in an uncontrolled marine environment.
So, why snot? Having a lung lining sample is crucial. From the Kickstarter, "With it we can see virus and bacteria loads, analyze DNA, and look for environmental toxins that have been absorbed into the whale's system. Perhaps most importantly, we can test for levels of hormones, which gives us information on the reproductive cycles and stress levels of these creatures as they are increasingly impacted by human activity in their natural habitats."
Before Ocean Alliance came up with Snotbot, the standard way of getting a data sample of a whale (living outside captivity) involved chasing an extremely acoustically sensitive mammal with a loud motorboat and subsequently shooting it with a sampling dart from a crossbow.
Imagine if everything your doctor knew about your health came from chasing you around the room with a large needle while blowing an air-horn.The chart would say something like, "elevated stress levels, prone to shrieking." It's inaccurate. This is what they believe is going on with some of the current whale data due to the invasive nature of previous sampling methods, and with Snotbot they mean to correct it with a clearer picture of whales that are undisturbed.
This Kickstarter supports three expeditions to sites vital to the future survival of whales on our planet. All are locations where Ocean Alliance has significant experience conducting research and where we feel Snotbot will make the greatest impact on our current understanding of these species.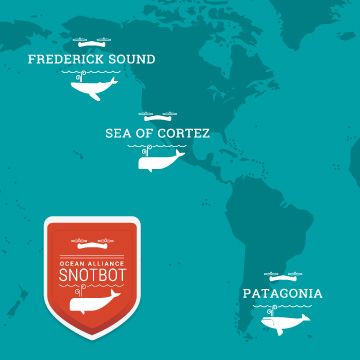 And the best part? The video features a celebrity appearance by Patrick Stewart! The principle goal of Snotbot is not only to collect physical data from whales but also to develop new innovative tools to collect it. Sir Patrick happily volunteered to be harassed in order to help tell the story in support of this endeavor. Sir Patrick is a longtime supporter and trustee of Ocean Alliance – even traveling on their research vessel the Odyssey.
To help support the Snotbot Kickstarter, please click here.