Cool Gloucester: Cape Ann Art Haven
Chances are, if you've driven down Pleasant Street, you've seen the Hive's window displays and had your interested piqued. There is always a great piece of art, sculpture, or woodwork being showcased. But what do the Hive and Cape Ann Art Haven offer? A lot - and the whole community benefits!
Art Haven began in the summer of 2008 when locals David and Sarah Brooks noticed there was a lack of affordable art classes in Gloucester. They opened a space at 180B Main St to offer children aged 3-8 an after school art program, as well as a weekly art class for the Compass Youth Program, a program of the Gloucester High School that caters to at-risk youth. Art Haven is a nonprofit which relies on grant and donations to function.
Art Haven's programming has since expanded to include darkroom photography, mural painting, and beginner adult pottery and drawing classes, and now has a wide range of classes for all ages and skill levels. Art Haven has a large array of machines and supplies: 10 pottery wheels, a low-fire kiln, a variety of painting, drawing, and printmaking supplies, a fully functioning darkroom, and a digital lighting studio.
in 2012, Art Haven was able to secure space and funding to expand another 4,000 square feet into a retail space at 11 Pleasant Street, in Brown's Mall. The Hive serves as a creative center for high school and adult students with basic to advanced class options. The Teen Artist Guild (TAG) program encourages young students to become working artists and provides them with the opportunity to sell their artwork, as well as run a thrift store of stock art supplies and scrap materials from local businesses. The Hive offers year round mentoring, support, and employment for teens and also functions as a community gathering space and art gallery. The Hive contains brand new pottery wheels, an Apple computer lab, classroom space, a fashion design studio, a screen printing facility, a function room and gallery/cinema room, and TAG studios. It's a new, clean, and brightly lit space that is an asset to Cape Ann!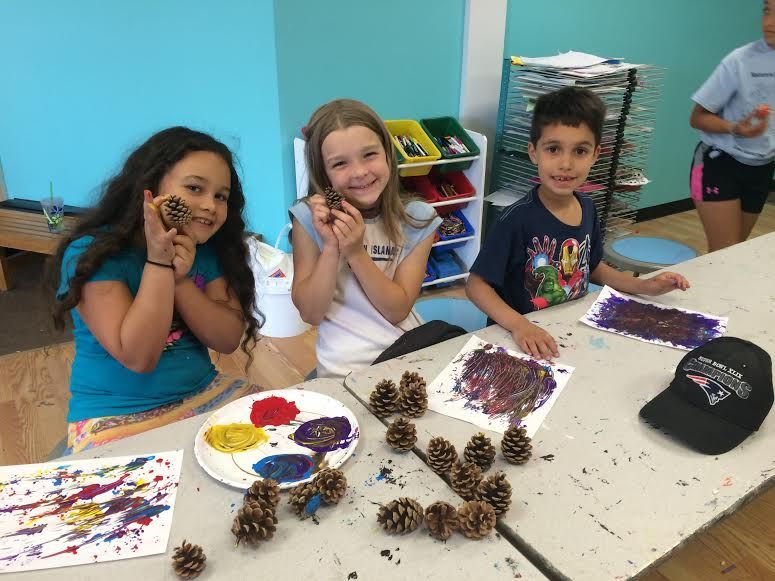 There is a full schedule of classes on the Art Haven website - clayworks, pottery and ceramic sculpture, drawing and painting, and open studio times. Art Haven offer low-income tuition reductions for eligible families on Cape Ann. Many classes are drop-in, although it is best to check before dropping in, as some require advanced registration or have a tendency to fill up in advance. Art Haven also offers summer camp classes, as well as childrens' birthday parties.
Since Art Haven is a nonprofit that relies on the community for grants and funding, they are always looking for volunteers and donations of time and supplies. Their wish list includes clay, watercolor paper, screenprinting supplies, a digital SLR camera, new pottery wheels, and much more. Please consider helping them out - and if you're feeling inspired, sign up for an art class to expand your creativity!