Check Out Design of Mine's Funky Clothing at Great Prices!
When Melissa Tarr began her shawl business in 2013, she didn't originally picture herself in a retail storefront. Her love of women's clothing trends, as well as her fashion experience, led her to carve her own path. She came up with the Flutter Shawl - named such because it can metamorphosize into so many different uses. The Flutter Shawl is a flowing, versatile garment made of lightweight, silk-feeling polyester that compliments any woman's figure and can be worn ten ways, all of which are comfortable and stylish - from a natural flow, to a tied in front or back look, moving the seams to front and back, asymmetrically, and as a skirt and scarf! In the video below, Melissa shows you the many ways to use the garment. It's perfect for travel, or as a coverall for the beach, and is easy to care for - and even better, it's one size fits all and makes a fantastic gift.
The Flutter Shawl is a success for Melissa, and sells well - even mayor Sefatia Romeo Theken wore one during this year's Fourth of July parade.
Melissa began the business as a mobile enterprise, taking her products to craft fairs and artisan markets, keeping low overhead while gaining a following - and market share. She sells the shawls wholesale to not only other North Shore boutiques, but nationwide as well, via her the flutter shawl.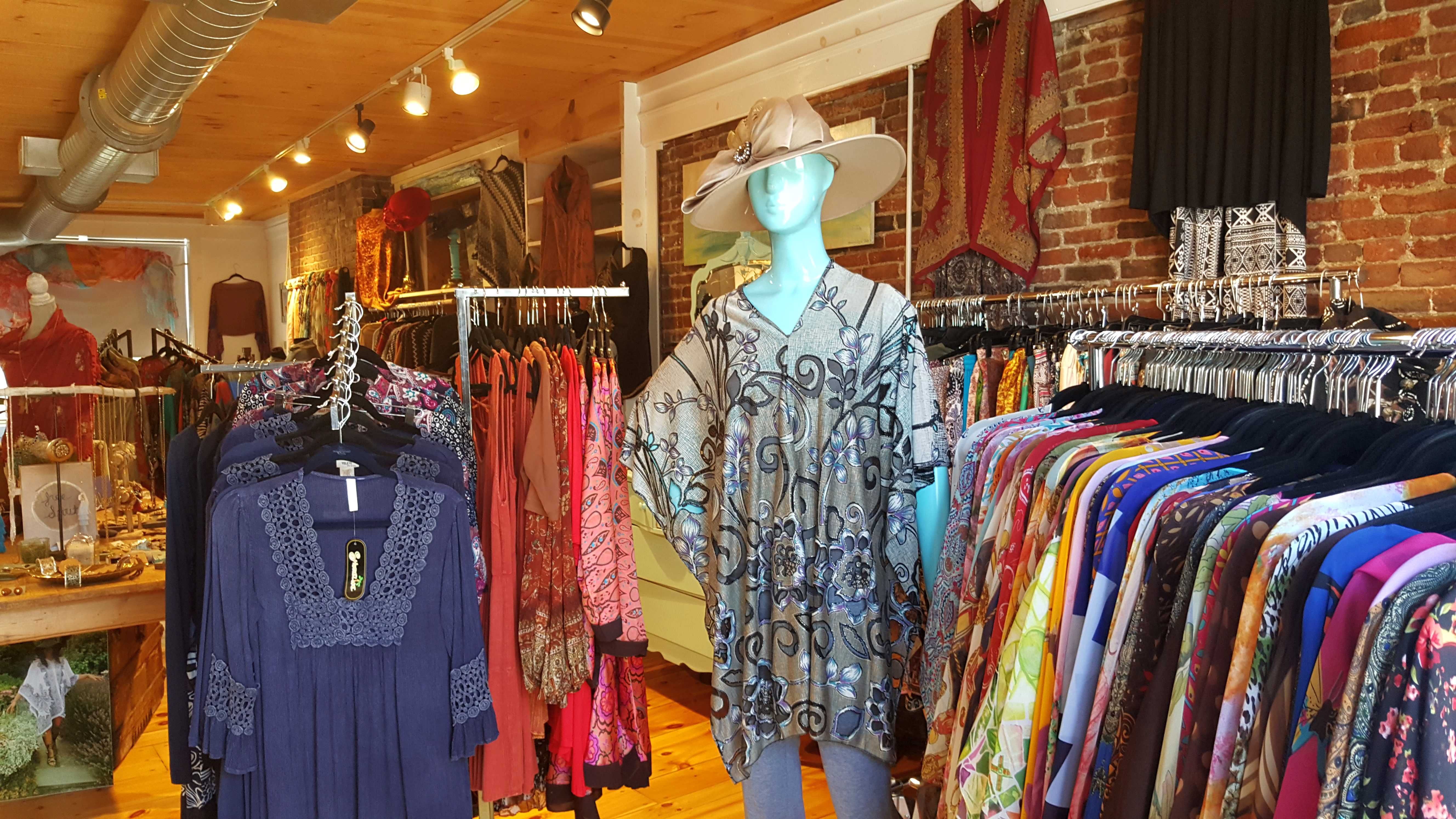 However, seeing an empty storefront as an opportunity, she decided to expand. Melissa opened her shop at 33 Main Street in the West End of Gloucester, which was previously occupied by TBT Post for several years, back in June. The storefront is beautiful, with rich hardwood floors, rough-hewn wood ceilings, and the radiant warmth of exposed brick walls.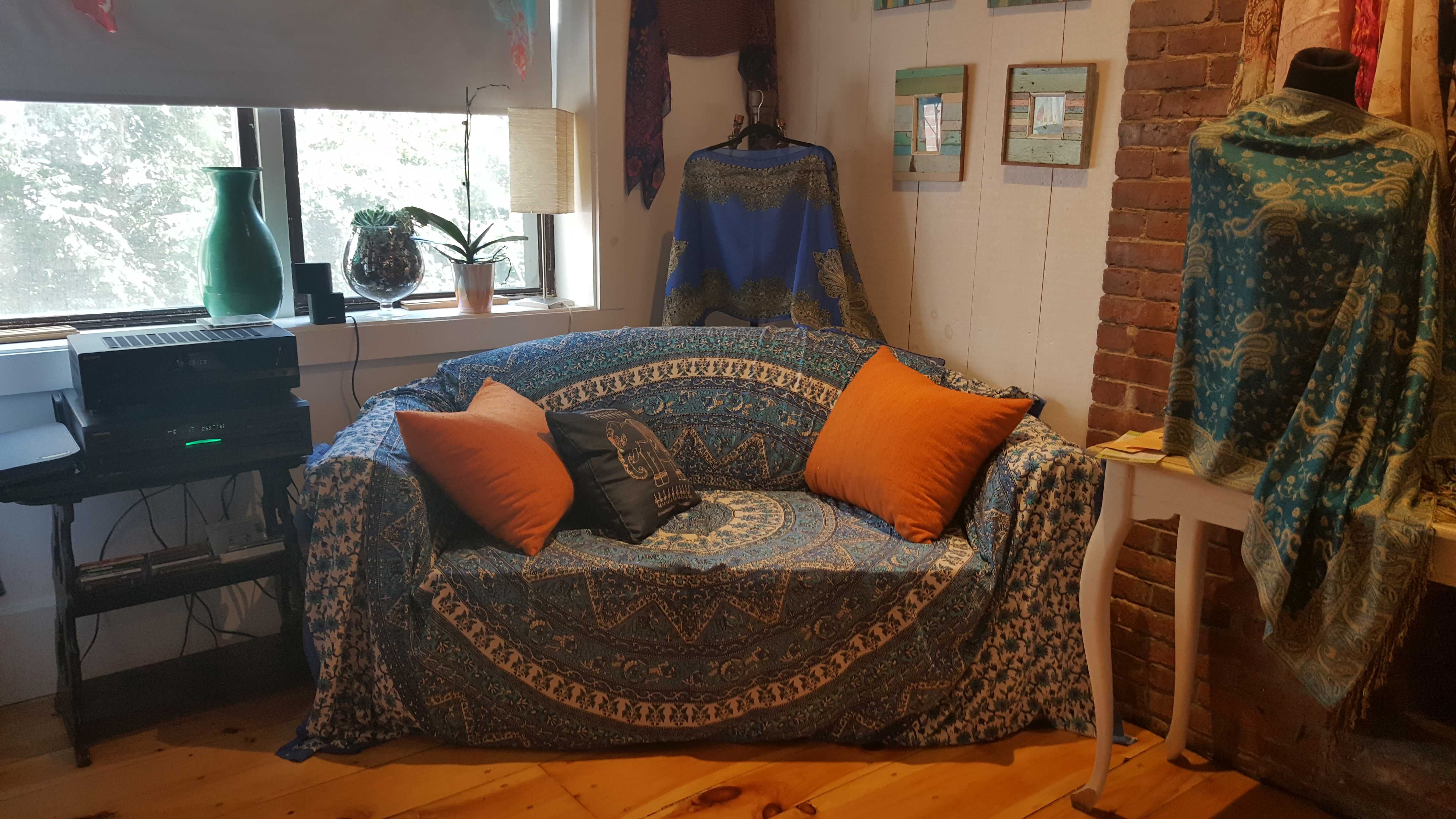 A comfortable couch, topped with a gauzy, comfortable medalla patterned slipcover and throw pillows, beckons shoppers to sit and relax before their next stop. Retro shabby chic furniture and fixtures are sprinkled throughout the store to showcase jewelry, scarves, and other accessories.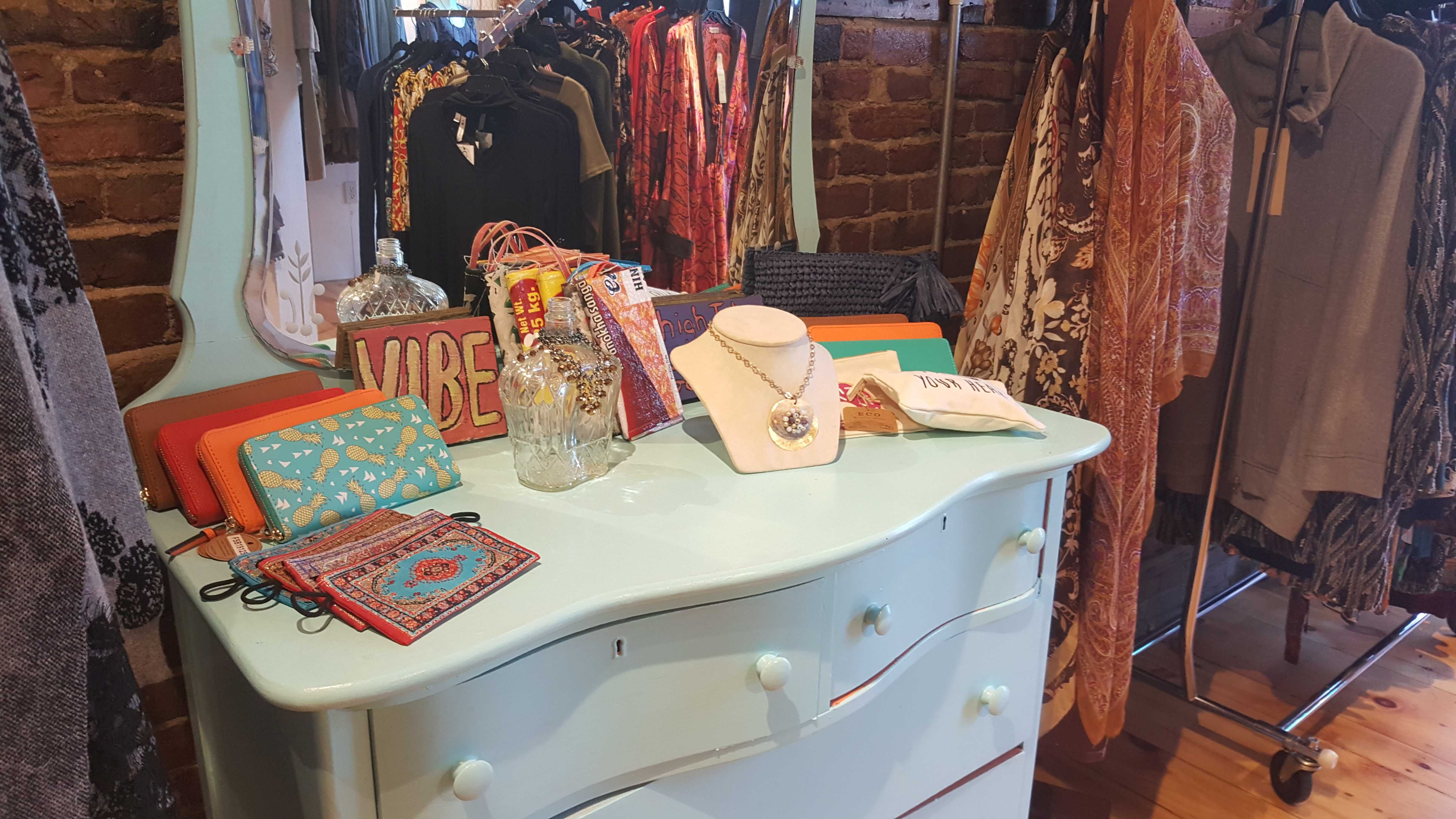 In an age when many people are shopping online, local retailers are still holding up well, if they can offer a product at a good price that locals want. "I've seen a resurgence in people wanting to shop local, Main Street USA stores," Melissa explains. And while she does get a lot of summer tourist traffic - especially from those staying at the nearby Beauport Hotel - she sees repeat local customers, as well.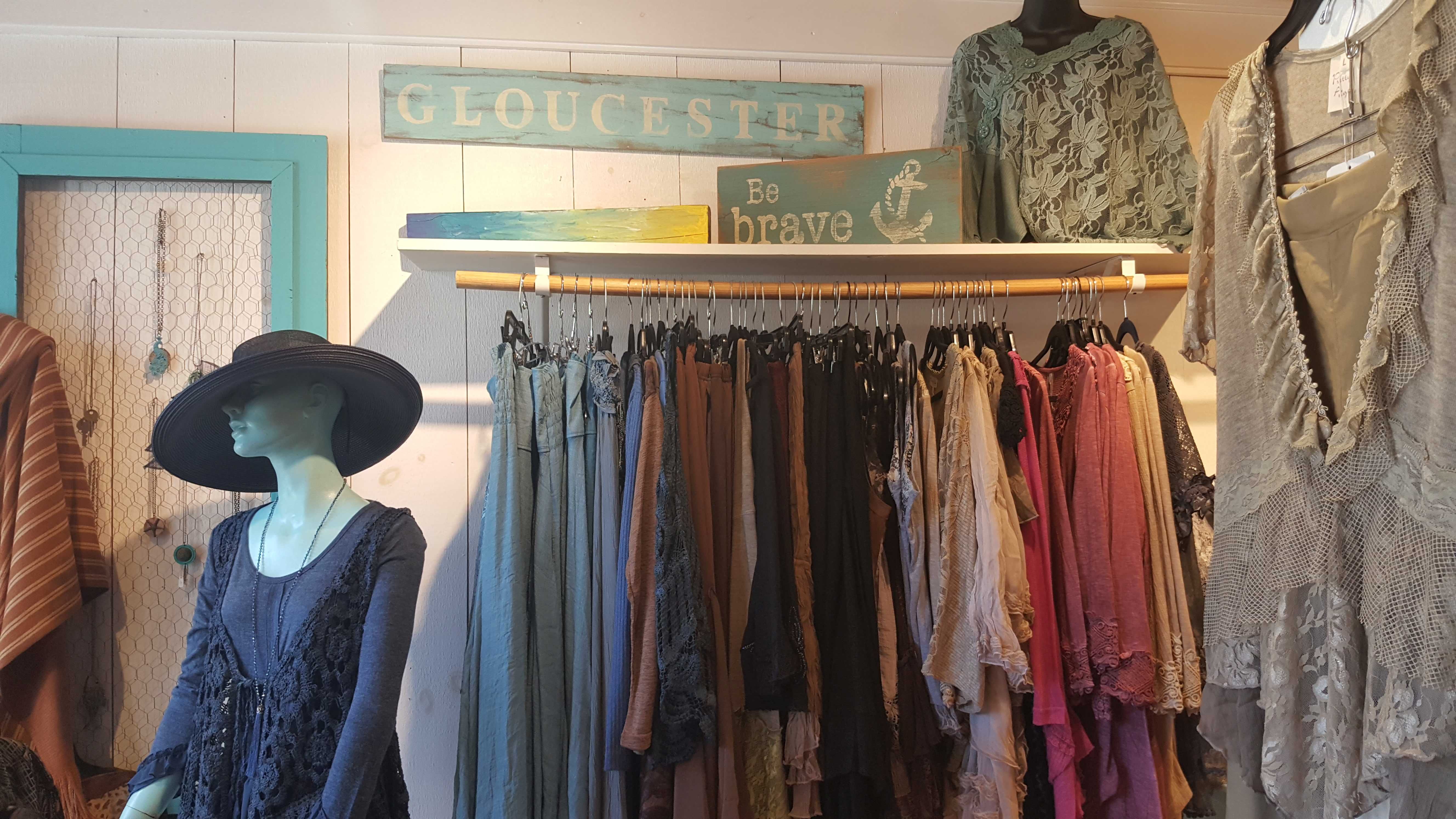 What keeps customers coming back, in part, is the fair price point that she sells her clothing and accessories at. "I keep my pricing reasonable so there's reasonable turnover of my inventory," she explains. For instance, beautiful sweaters and tunics in her shop, which she gets as designer overruns, would have gone for $120 in department stores, but she priced at a more modest $68. If an item in her shop would have originally retailed for $58, she prices them at around $20. Her idea is to be Gloucester's clothing store, but without high boutique prices. She shops carefully for what she sells in the store, and picks out bohemian, comfort fit designs that will fit a variety of women's bodies. She seeks out many elastic waisted items and those that will make any woman feel confident in their body. In order to avoid skewing to a middle-aged demographic. Her daughter, who is 23, helps with the buying - so younger women can find plenty to buy at Design of Mine as well!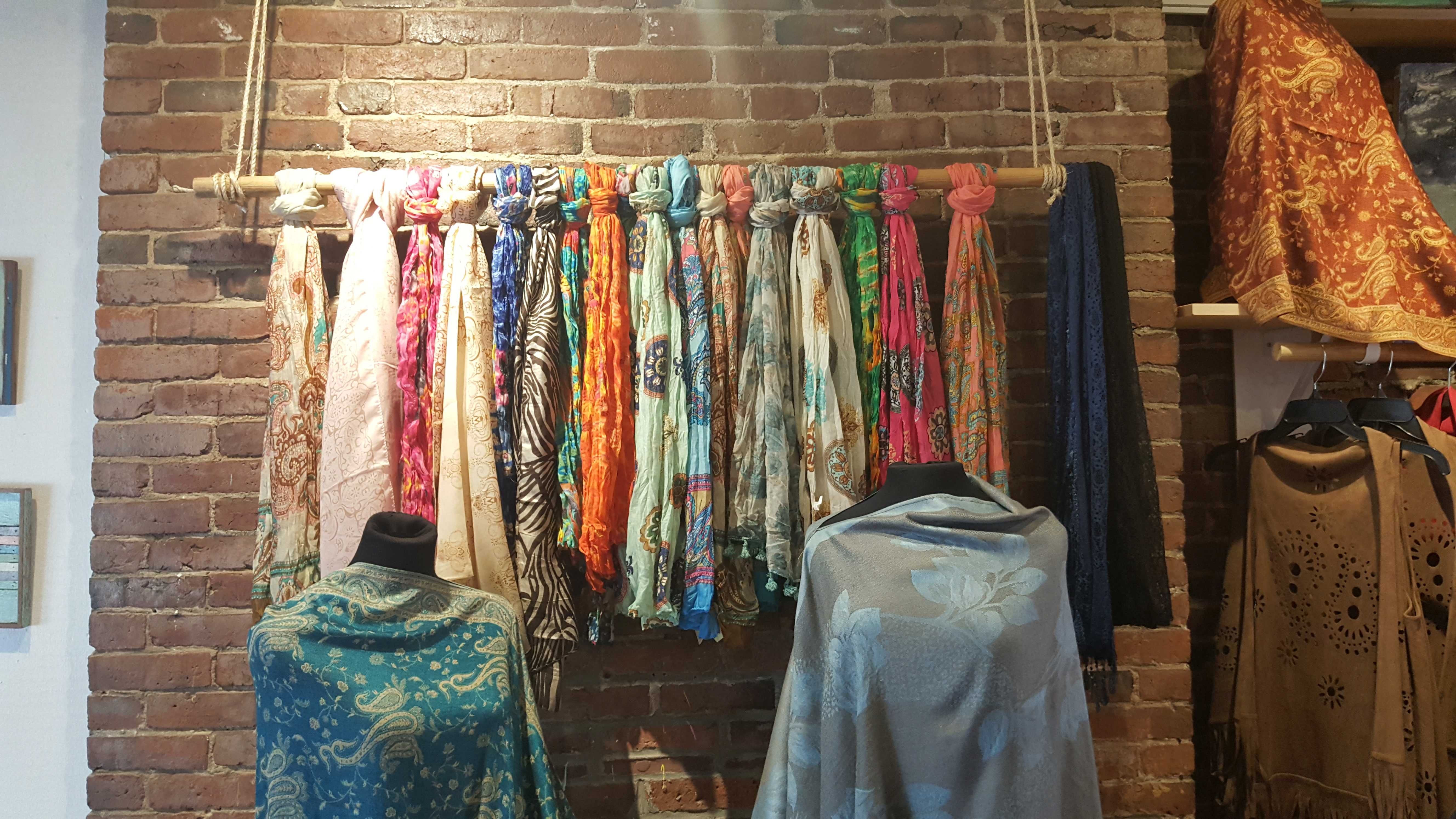 Soft, comfortable leggings in varied colors and designs - that were recently popularized by Lularoe - are for sale for $18 at the store, and some dresses are $24. She sells an assortment of scarves for $18 Melissa's handmade earrings are $10 per pair, and the rest of her stunning, fashionable jewelry - including bracelets made from recycled, braided fishing line - is reasonably priced as well. "I'm strategic on my pricing," she explains.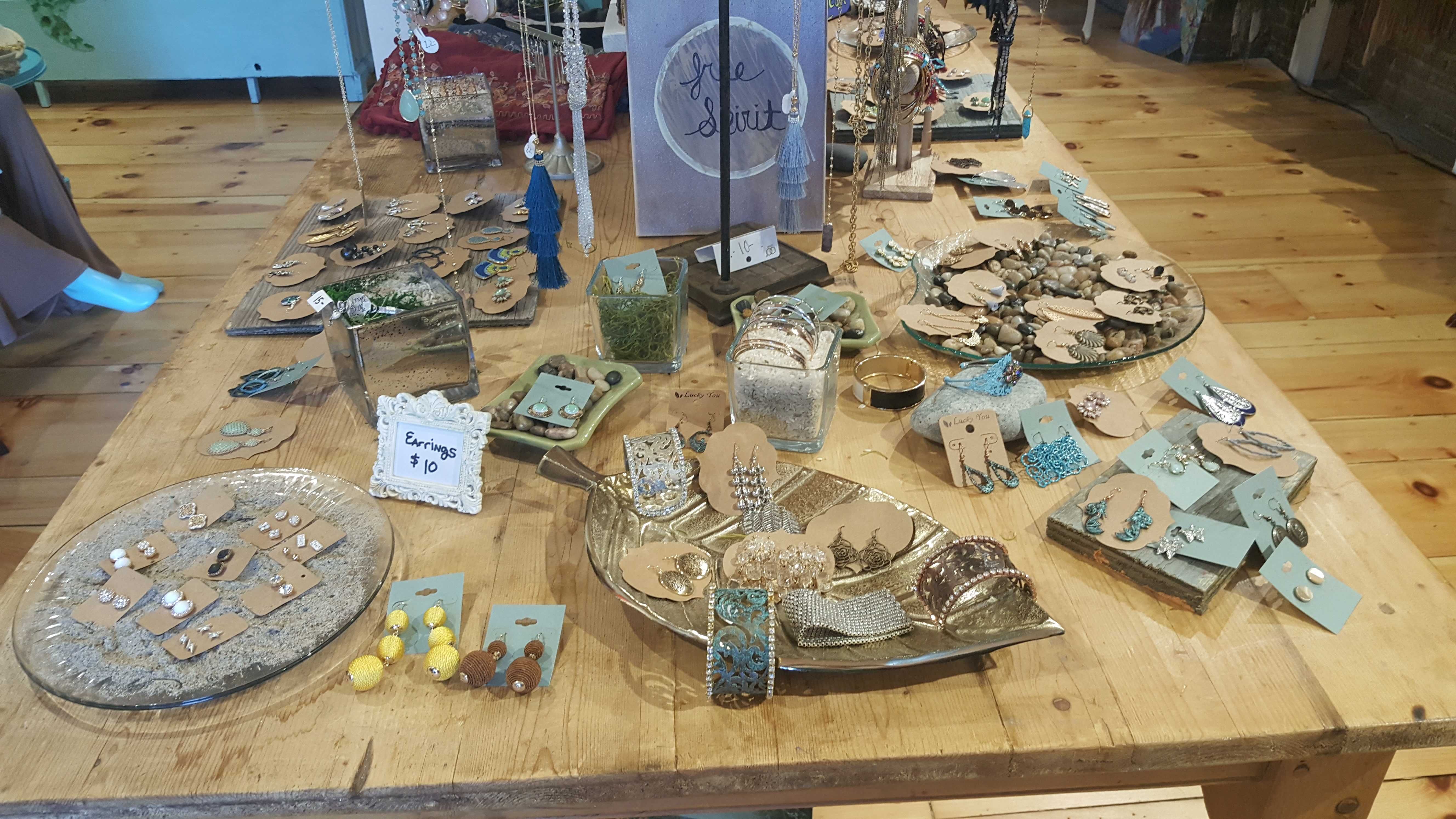 When others asked her if she had done market research on what other women's' clothing and accessory stores on Main Street were charging for similar items, Melissa stood by her decision to sell items at her predetermined price point. "I do my own thing," she states. And she knows that in a city like Gloucester, there's plenty of room for retailers at different price points, with different styles and designs.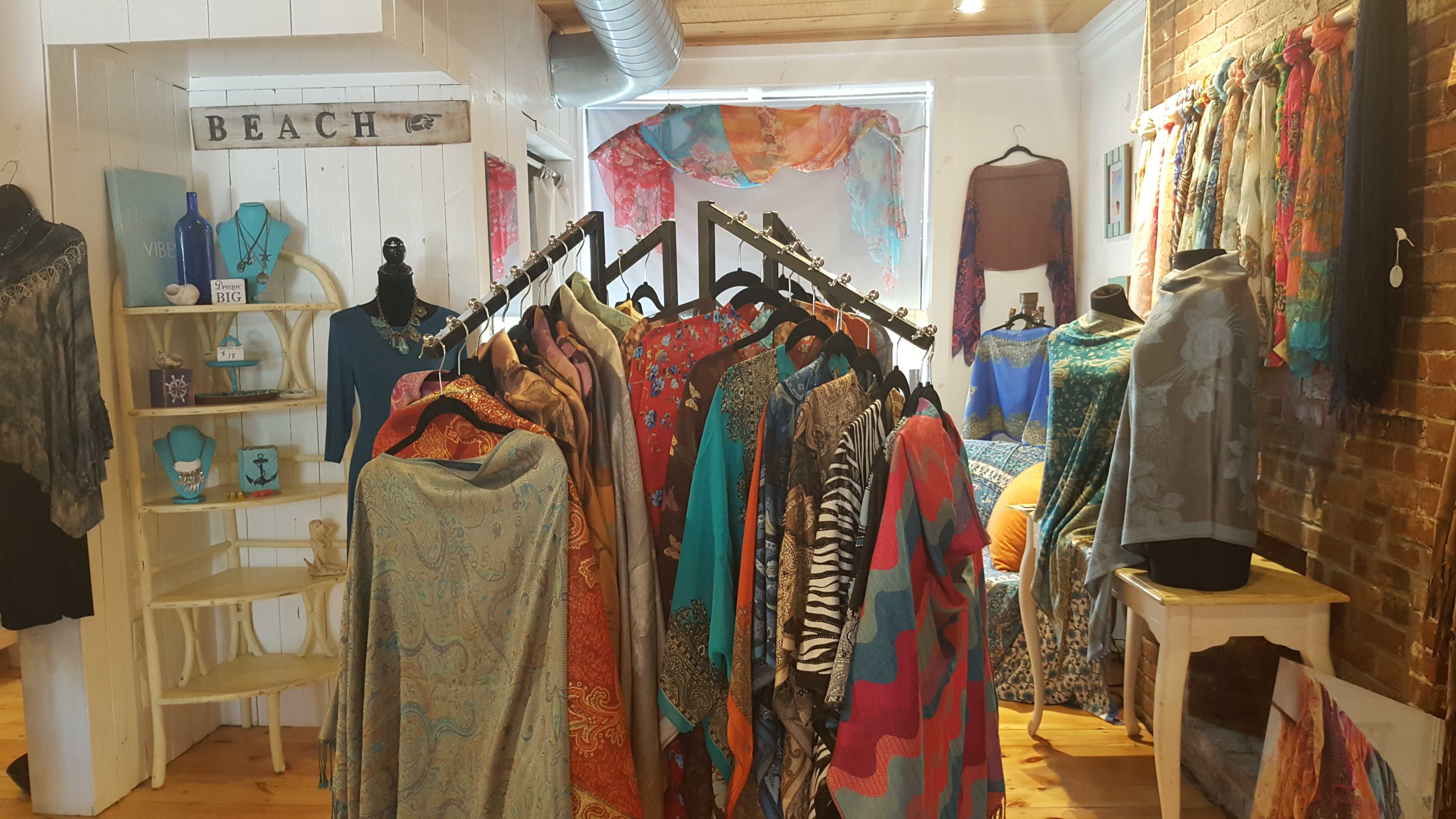 For instance, Melissa wants to stick with mostly women's garments and accessories, and doesn't want to branch too far out into home goods or unrelated giftware. For the holidays, she'll stock up on socks, scarves, and gloves for gift items, but she doesn't see the need to fill her shop with, for example, vases.


Melissa Tarr's Design of Mine, located at 33 Main St, Gloucester MA is open 10 AM - 6 PM daily. For more information, call the shop at 978-491-7495, visit her website or like Design of Mine on Instagram and Facebook!