Cape Ann's 2016 Blackburn Challenge is Here!
For those who are familiar with the story of Gloucester's Howard Blackburn, it's of no surprise that a man of his endurance and strength has a strenuous, fast-paced rowing race named after him. On July 16, the 30th annual Blackburn Challenge takes place, pitting rowers not only against their competitors, but nature itself.

Howard Blackburn gained fame and notoriety in the winter of 1883, when he and a dorymate were separated from the fishing schooner Grace L. Fears during a blizzard's sudden and unexpected onset, nearly sixty miles from land. With no other choice, and bereft of food and water, Blackburn rowed to shore in a five-day ordeal, with his hands frozen to the shape of the oars. His dorymate succumbed to hypothermia, and Blackburn carried his body to shore for a proper burial.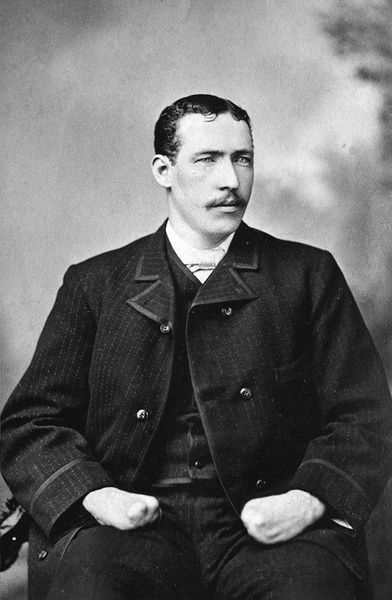 Blackburn lost all of his fingers and many toes in his quest for survival, but amazingly, his story doesn't stop there. After returning to Gloucester, the community helped him open a saloon, in the building that today houses Halibut Point restaurant. Soon, he became unsatisfied with this moderate success and, after an unsuccessful attempt at prospecting during the Gold Rush, decided to sail, solo, across the Atlantic Ocean in 1899. He reached England in just 62 days - an unbelievable feat for someone without hands.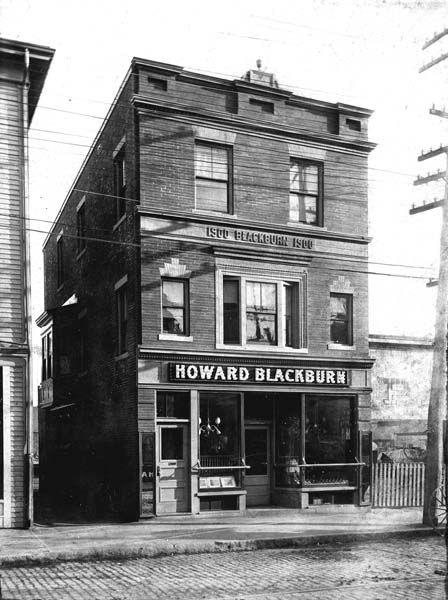 He later repeated the voyage, sailing to Portugal in a 25 foot Gloucester fishing sloop in a mere 39 days.Thus, the Gloucester community aims to preserve Blackburn's storied history with the annual Challenge hosted by the Cape Ann Rowing Club, a circumnavigation of Cape Ann undertaken by paddle and rowboats of many different styles and classe, including men's and women's Banks dories, fixed seat singles, doubles, multi-oars with cox, multi-oars without cox, sliding seat singles & doubles, single & double touring kayaks, single & double racing kayaks, surf skis, and outrigger canoes.
The open ocean waters can be choppy and rough, with powerful winds, and is meant for those with experience. There is no "rain date" - the event is held no matter the weather, although alternative courses are put in place for foggy or otherwise rough weather conditions. All racers MUST register in advance - the organizers do not allow race day walk-ons.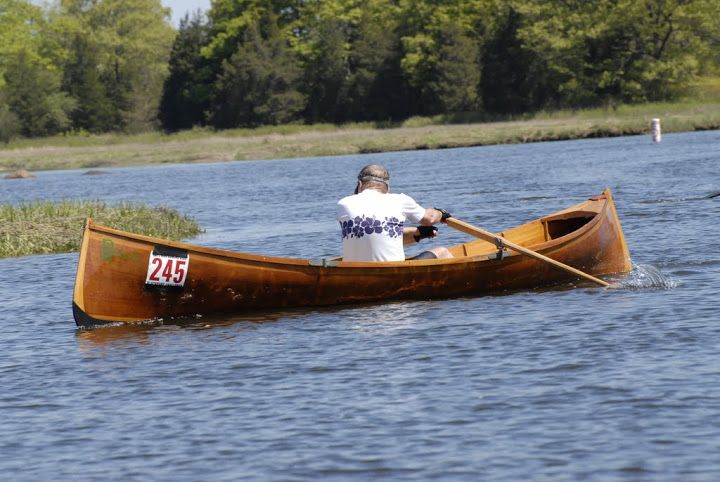 (Photo Courtesy of Blackburn Challenge Website)
The starting line of the race is on the Annisquam River north of the MBTA Railroad bridge, and most racers put their boats in the water at the Gloucester High School boat ramp. Each racer has six hours to complete the course. After leaving the river, the racers may proceed right, point-to-point along the pre-plotted course. At the halfway point, Straitsmouth Island, there is a checkpoint - the racers check in and boat numbers are then radioed in to the finish line.
As the racers cross the finish line, the boat numbers are called to the computer people to enter results via radio. It's expected that if you are not at the Straitsmouth checkpoint in three hours, you will radio the race organizers to let them know you are dropping out. Any racers left over six hours are racing at their own risk, as the race boats and timing committee will have ended their duties. Any racers left after six hours will also no longer be timed.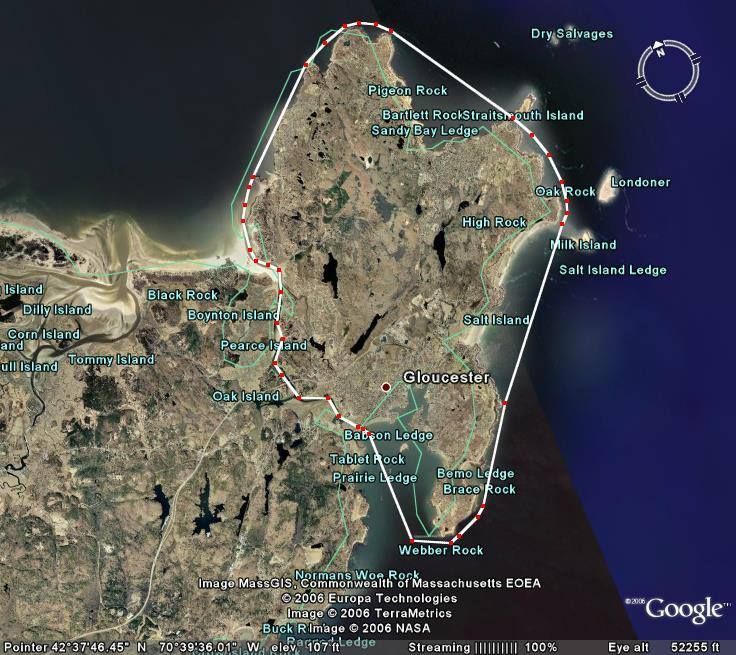 Despite the fun nature of the event, the rules are taken very seriously. Racers are disqualified if they have gained an advantage by "drafting any boat outside of its registered class, blocking an overtaking boat, ignoring someone in distress, or causing damage to another craft." The race organizers can also disqualify any individual or boat for lack of required equipment, unsafe operation, disregard for event rules or unsportsmanlike behavior. Participants must carry or wear a USCG-approved Personal Flotation Device (a life jacket) with them on their vessel, as well as a compass or GPS, an attention-getting noisemaker, such as a whistle, as well as a fully-charged cell phone. Kayaks must have spray skirts. Racers must be self-sufficient, and bring the amount of water and food they'll require for the twenty-mile race - you're allowed to bring both, even though Howard Blackburn didn't have that luxury! It's not recommended that those who are not comfortable and technically proficient with either the race, or the vessel they are racing in, try to undertake this race.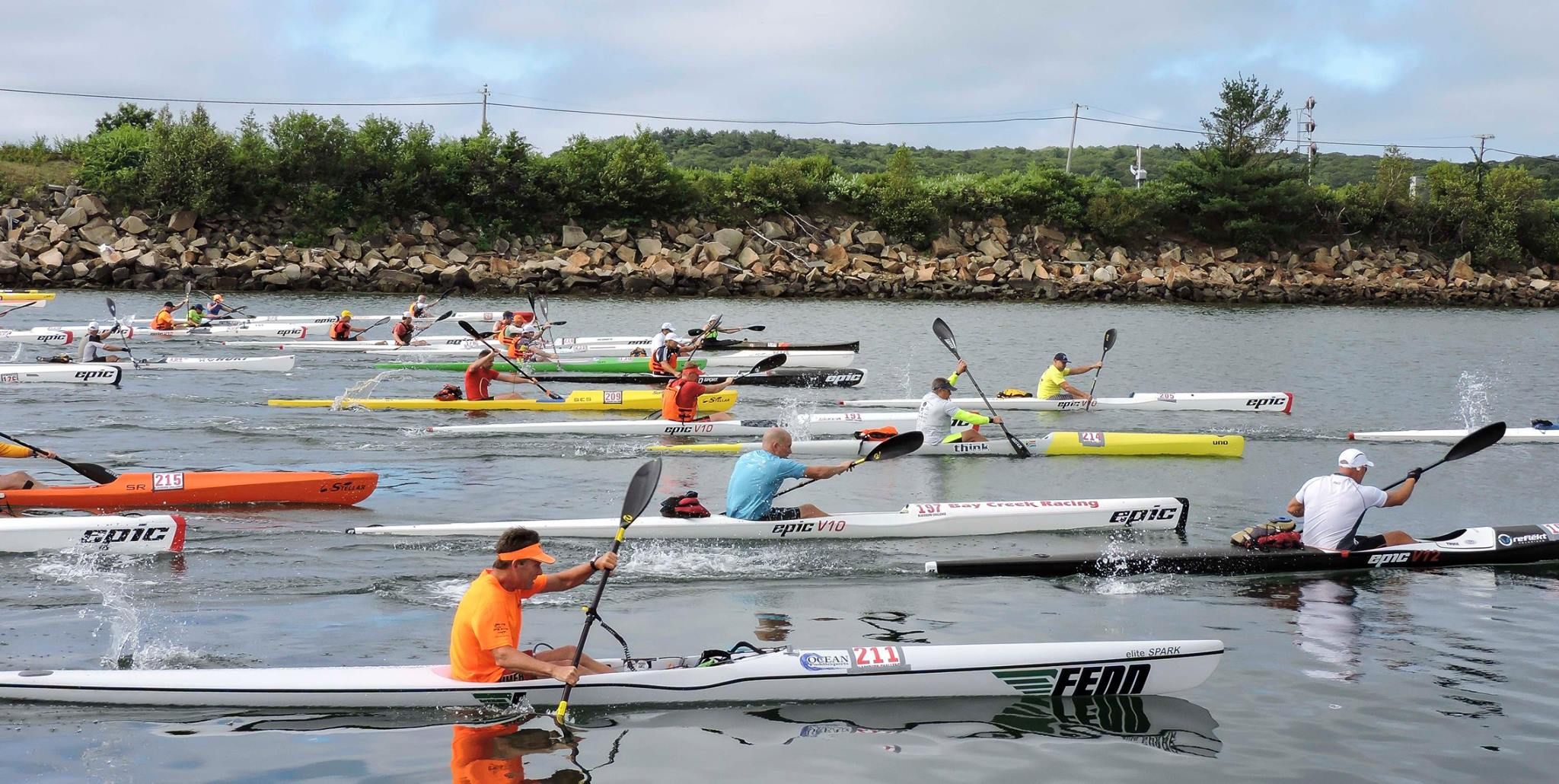 (Photo courtesy of Blackburn Challenge Facebook)
This year, an additional new technological development is in place for the Challenge - all racers or boats who register will get an electronic bib number mailed to them, which is connected to an application called RaceJoy that they must download onto their smartphones, which will be a requirement for this year's race, at the request of the Coast Guard. This is a software that will track all racers in real time. So, this year, it's possible to check on your favorite racer's progress via smartphone, tablet, or even from the comfort of your own office. It will also be massively helpful for the racers themselves, to see where they struggled, where they did well, and how to better their times for the following year.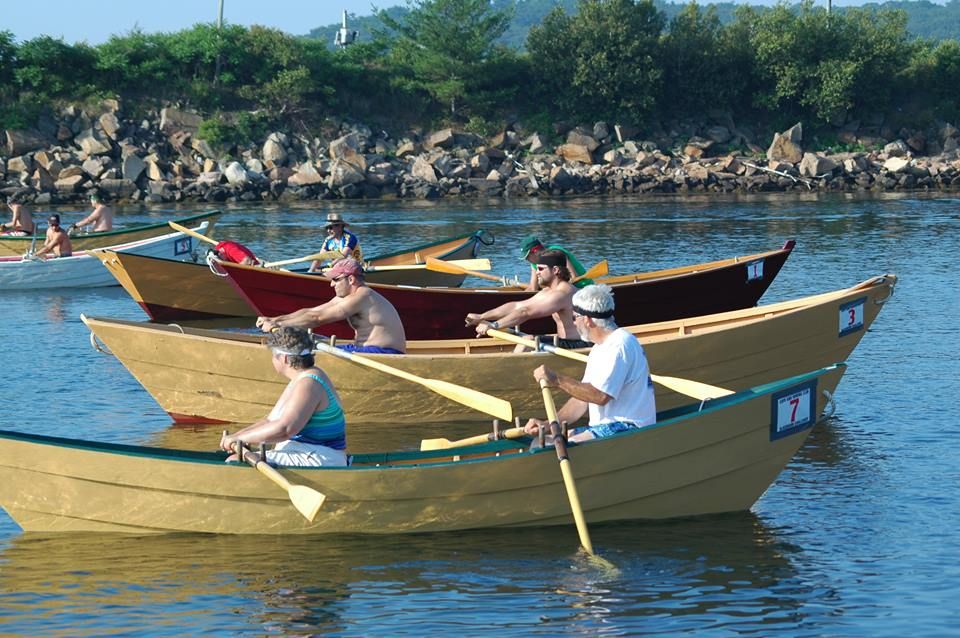 (Two-man Dory rowers, courtesy Blackburn Challenge Facebook)

In the three decades of the Blackburn Challenge, a "Hall of Fame" of sorts has sprung up. This includes Jon Aborn, who has participated in almost all the events, winning his division many times; Phil Bolger, who came up with the original idea for the Blackburn Challenge in 1966 and who is a well-known boatmaker in the area; Mike Dreher, the fastest single person over the first 25 years (rowing single, 1996 - 2:30:37); Al Peirce, a long time committee member who has completed all but 4 of the challenges. Peirce has the distinction of "know[ing] more about Howard Blackburn than anyone the Cape Ann Rowing Club know(s)", going so far as to have paddled in Newfoundland were Blackburn landed in a small fishing village after his frozen, snowy five days at sea. The Hall of Fame also includes past president Henry Szostek, who has been a lifelong member of the club the only person who has done all of the events. Lastlly, well-known local Jimmy Tarantino, who has been rowing banks dories in the seine boat races, as well as coaching rowers, for a very long time. He is also well-known in town for his short but memorable stint on Survivor.

How best to watch the Challenge? Local blogger Paul Morrison from Good Morning Gloucester quips, "Hint: Go to Cape Ann on Saturday, face water, watch racers go by left to right." However, some areas are better than others - Good Harbor Beach, for example, is too far inland for a good view of rowers. Areas jutting out into the water are better - or the finish line, at the Greasy Pole. It's also important that if you're another boater not participating but watching, you are aware there are a lot of high performance, razor-thin craft in this race. That means a larger boat's wake can easily flip their boat. It's best to be responsible, steer clear, view from a respectable distance, and keep the speed down near the race course.

Are you watching the race? Have you ever participated? Let us know on our Facebook page!