Cape Ann Lanes Brings Family And Adult Fun to Gloucester
To get an idea of everything the lanes have to entertain the community - and their plans for the future - I sat down with Caitlin Pszenny, who along with her husband Nic recently took over the bowling alley with their business partner and uncle, Jim Frontiero. Caitlin is the new events and community outreach manager for Cape Ann Lanes, and has been in the catering and brewery business for five years.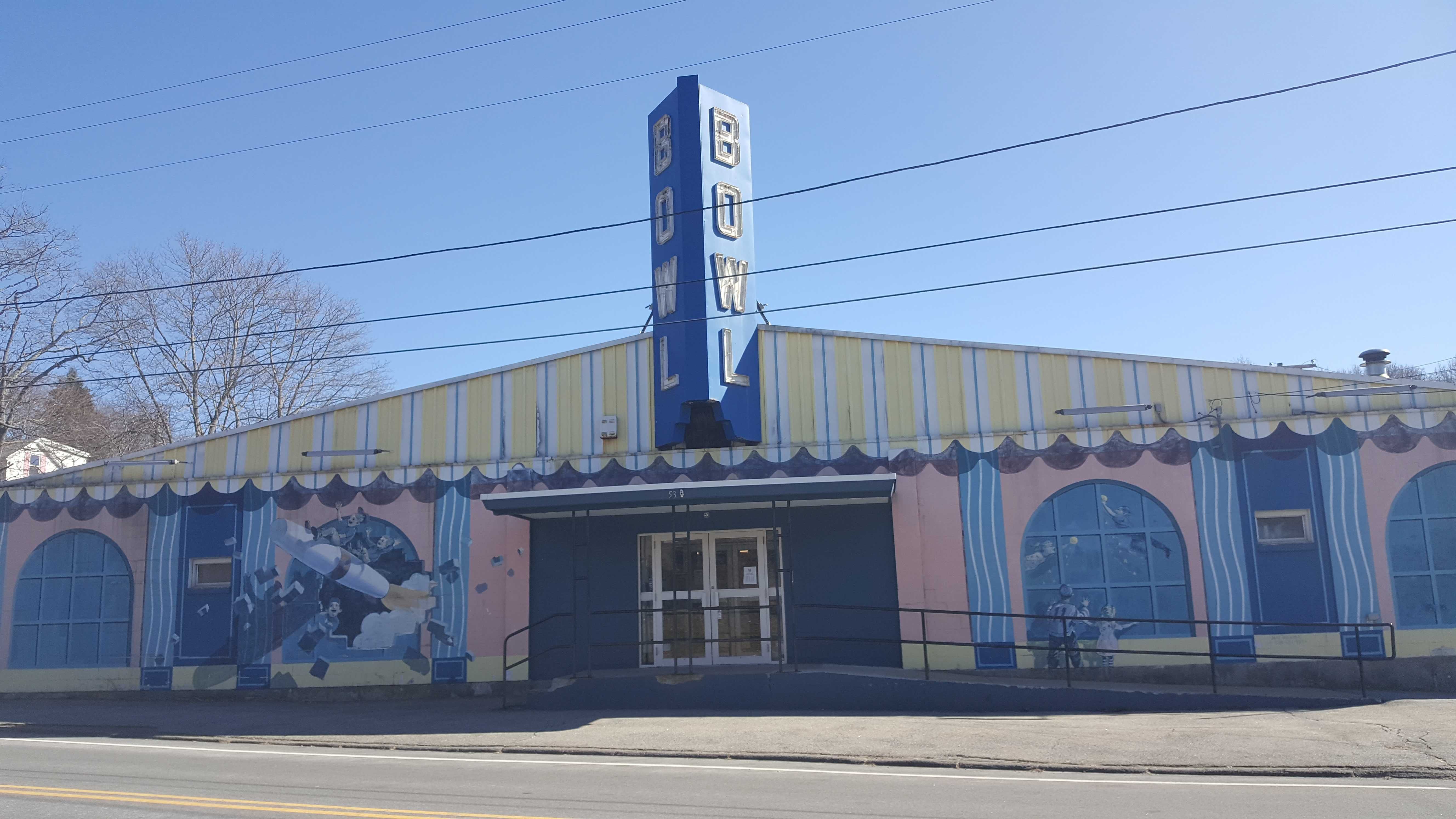 While most of the country plays tenpin bowling - the type with the large 6 to 14lb ball and tapered pins that are cleared by a machine after every roll, with two rolls in a frame - candlepin is somewhat different. Balls are much smaller - 4 1/2 inches in diameter - and the pins are much straighter. Each frame has three rolls of the ball, and fallen pins stay down - so they can be used to your advantage when trying to knock down the remaining pins. However, the game is harder to play than tenpin because of the size of the ball, and the highest score ever recorded was a score of 245 out of 300, right here on the North Shore in Peabody in 2011! Candlepin is unique to this part of the country. Invented in Worcester in 1880, candlepin bowling actually predates ten-pin bowling by about fifteen years. Outside of New England and the Maritime provinces of Canada, it virtually does not exist. Only a few alleys in Ohio, and one in Texas, have candlepin bowling.
The lanes have been a longtime staple of family fun - offering an arcade, as well as bumper bowling perfect for kids and families. League nights run on weekdays, but after 9PM, as well as on weekends, the alley has cosmic bowling. Thursdays are now unlimited bowling nights from 7-10 PM. For $15 per person, including shoes, you can bowl all you want! On half days of school, the alley opens early at 11 to accommodate parents looking for something to do with their kids. There are other specials as well - students can bowl two strings after school until 5PM for $7, including shoes.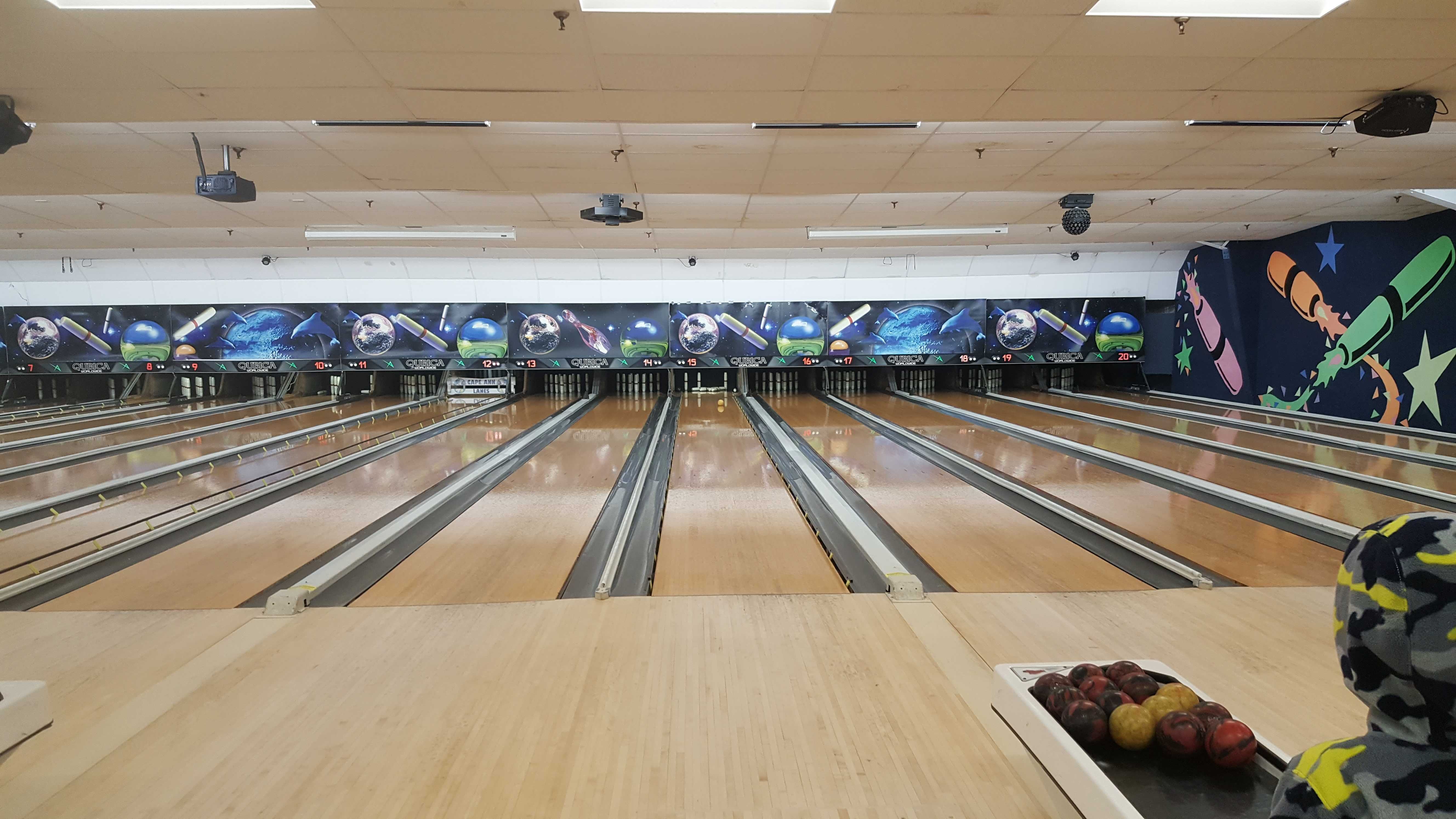 The snack bar currently serves staples like pizza, chicken tenders, hot dogs, fries, and mozzarella sticks. Caitlin and Nic have found a way to cook Reubens in the snack bar oven, and will expand the menu to feature sandwiches as well. The snack bar also has a beer and wine license and has bottles - making it one of the few places to relax with a drink while your kids can play to their hearts' content!
Birthday parties in their private event room - featuring two lanes just for the party attendees - are perennially popular. Cape Ann Lanes has three slots for birthday parties on weekend days, and most of the time those slots are filled! The parties include the private room for two hours for between 10-24 attendees, shoe rental, soft drinks, a birthday t-shirt, utensils, arcade tokens, and the party attendees are also given "birthday buck" coupons for future bowling excursions. Each bowler also gets a slice of pizza, and the parties run $14 per bowler. For $18 per bowler, cake is also included, as well as a second slice of pizza and a goodie bag.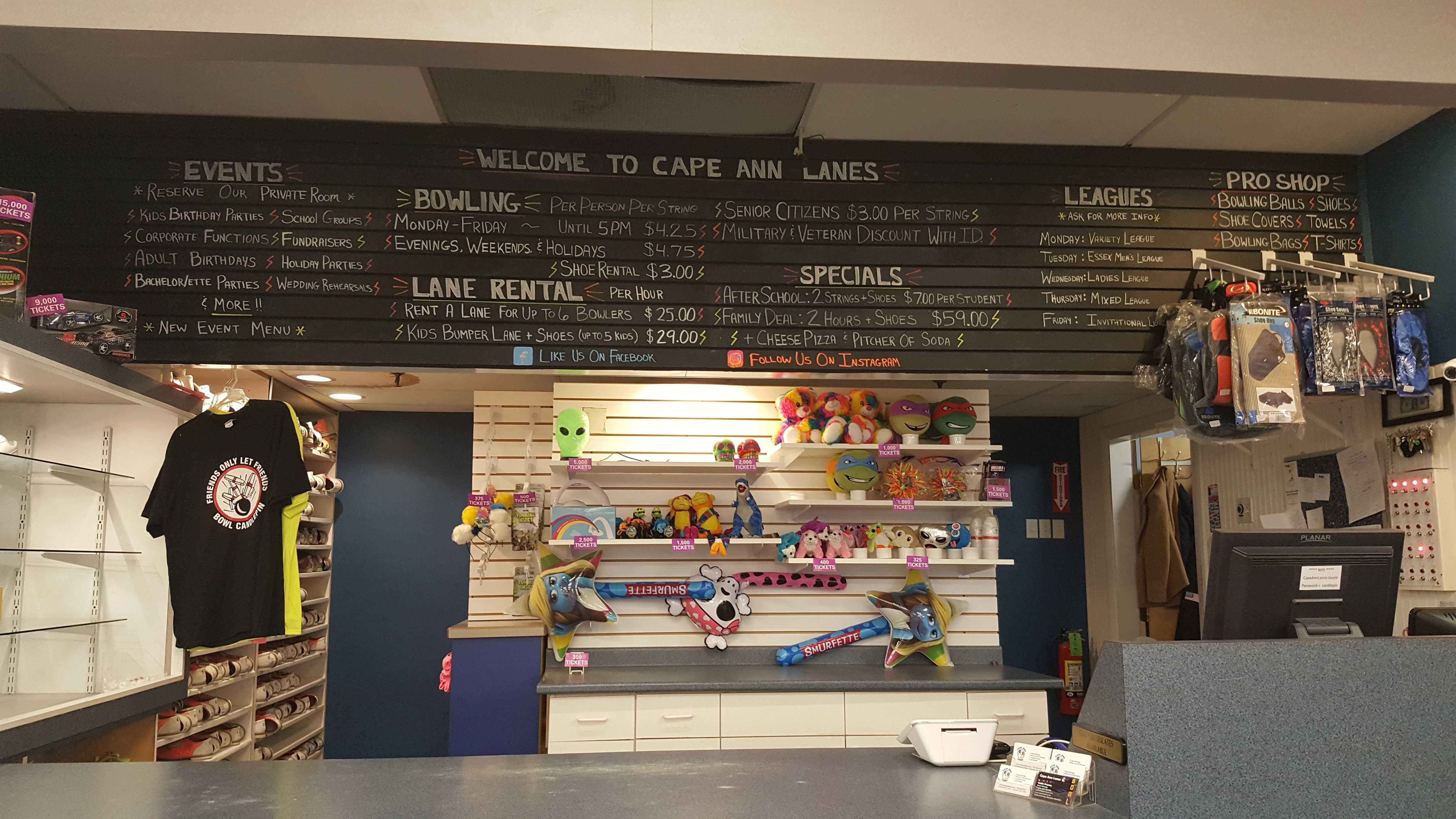 Recently, the team at Cape Ann Lanes has begun renting out the party room for evening adult parties as well. The room is $175 per hour, and includes a cocktail waitress as well as a special events menu on Friday and Saturday evenings. The events menu contains cheese boards, veggie platters, and wraps prepared ahead of time. The alley has recently hosted new types of parties - such as a confirmation party, with white linen tablecloths and ceiling decorations, that was both the upscale party the girl wanted, as well as the reasonably-priced rental the parents were looking for. - and everyone had a blast.
The space, Caitlin explains, is easily transformed into so much more than a bowling alley. And she has the experience to prove it - she and husband Nicolas were married there in October. They brought in linens, tables, flowers, and gave the space a great temporary makeover. She even bowled in her wedding dress!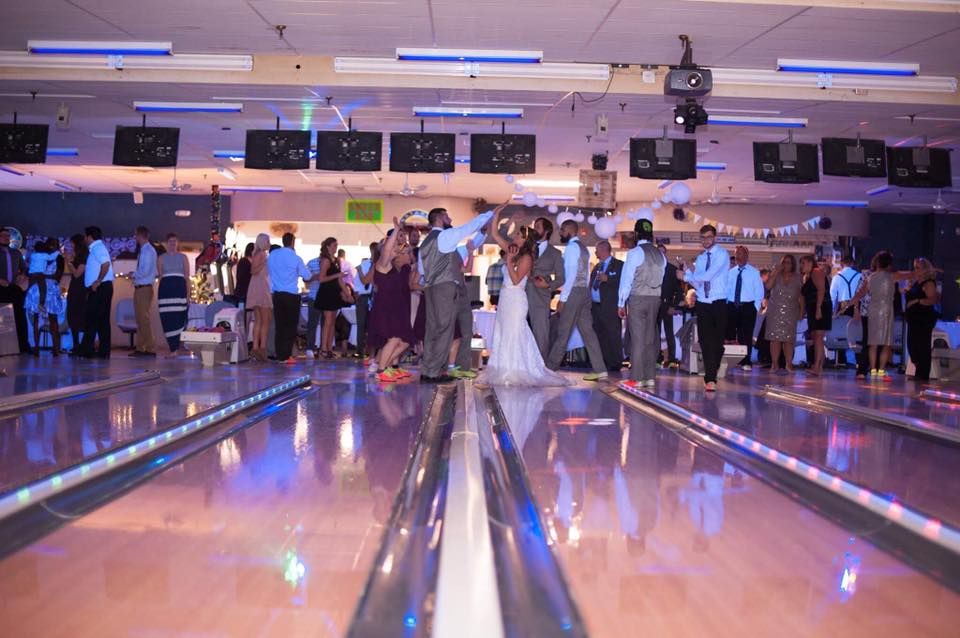 (Photo courtesy of Caitlin Pszenny)
The new owners plan to make some other small changes to improve the look of the bowling alley. For instance, they've already repainted some of the walls a solid color over the bowling-themed murals that were present before, and have bowling-themed photography lining the walls. They're also planning on changing up the floors this summer. The changes, they hope, will appeal to both children and adults.
The arcade has been changed as well, although many of the same games - from hoops to skee-ball to the token jackpot games - still remain. Nic and Caitlin's business partner, Jim Frontiero, fixes classic arcade games. The alley now features old classics like Space Invaders, Galaga, Centipede and Pole Position, which are the most popular video games with the parents and thirty-somethings feeling nostalgic, while kids still prefer the skee-ball and jackpot ticket games. They also have classic shooter games and even a golf-themed pinball machine!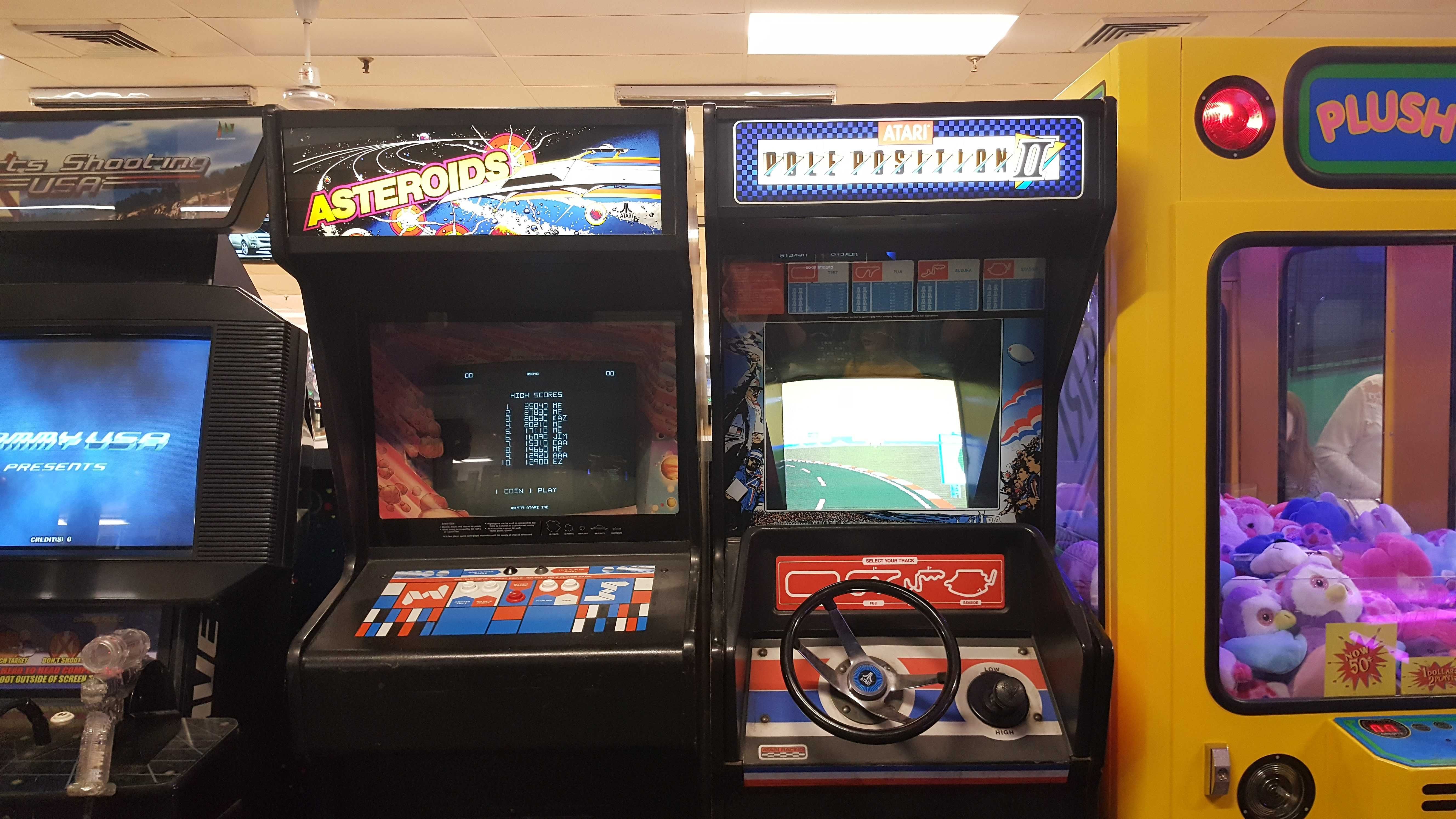 Even though the changes are meant to entice adults to the alley, the new owners don't want to push kids and families away. "We've heard rumors we're removing kid's stuff and that's just wrong. We want to have our own kids come here. We're definitely keeping it family friendly, but we also want to make it a place people of all ages want to be, " Caitlin explained. The new trend in bowling alleys - seen locally in spots like Kings and Town Line - is adult-oriented bowling that looks more like a nightclub than a family outing. That's not what they see in Cape Ann's future. But as Millennials - even if they're not fond of the label - they do want to help draw young families back to the island, and give them something fun to do.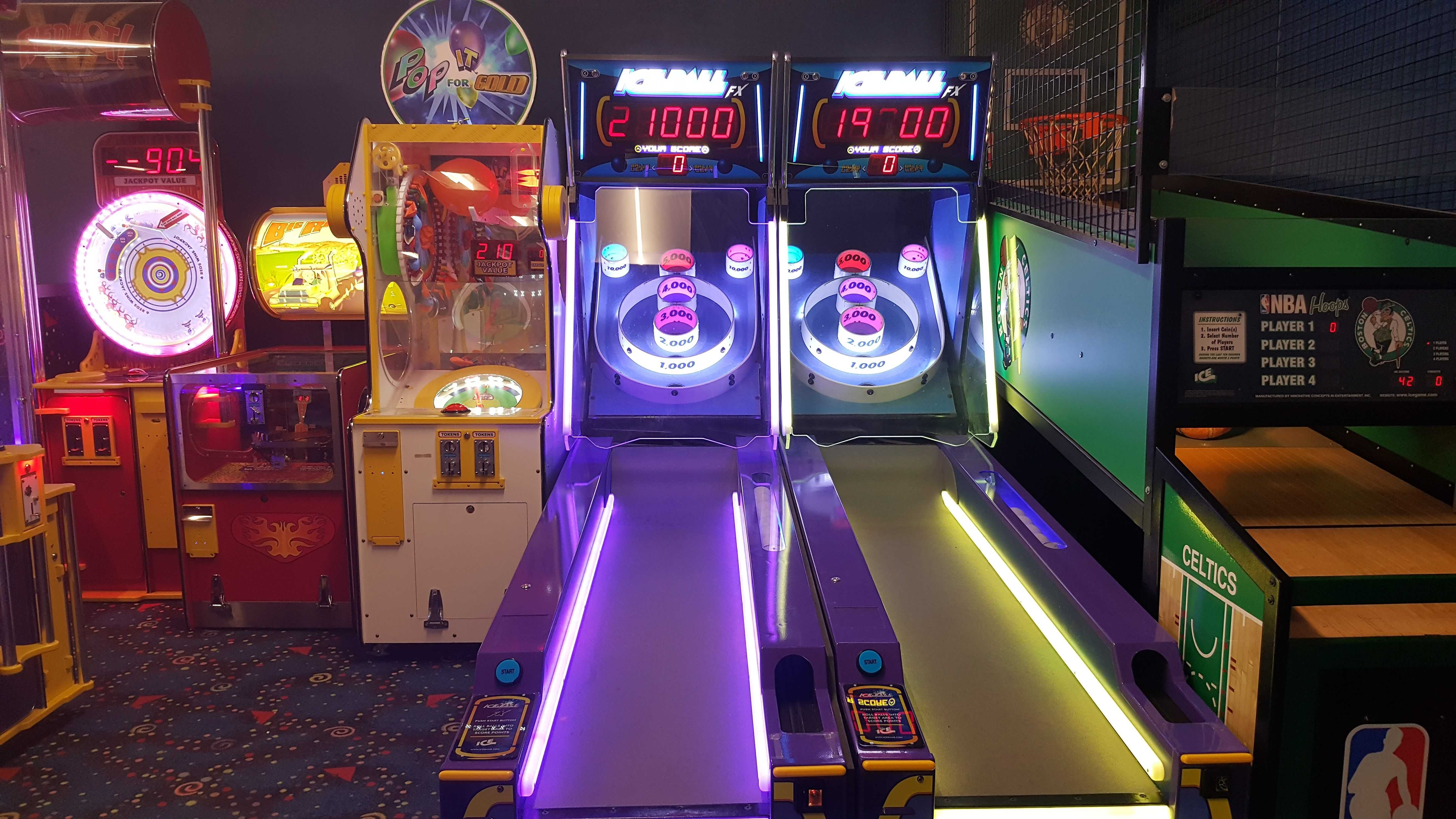 Recently, Cape Ann Lanes held an event for Next Generation Cape Ann, which is a meeting of local business owners in their 20s and 30s that meet to discuss their work - and fun - on the island. It's run by the Cape Ann Chamber of Commerce in order to help younger small business owners and managers network and learn from each other. The meeting was 6-8 PM and featured 2 hours of bowling for $10. For more information on Next Generation Cape Ann's next event, visit them on Facebook.
Cape Ann Lanes is located at 53 Gloucester Avenue, and can be reached at 978-283-9753. Their hours are Monday and Tuesday 12PM to 10PM, Wednesday and Thursday 9 AM to 10 PM, Friday and Saturday 12PM - 11PM, and Sunday 12PM - 9PM . For more information on renting the party room or bowling rates, visit their website.