Cape Ann Artisan Tour - This Weekend!
Cape Ann has long been a destination for artists of all types, from Rocky Neck to Rockport, Annisquam, Lanesville, and beyond. The area has had its fair share of famous artists visiting or taking up residence here - Fitz Hugh Lane, Winslow Homer, John Twachtman, and Edward Hopper among them. The area is still a hotbed of vibrant creativity, and this fall's Cape Ann Artisan tour brings the public right to the artists' studios this weekend.
The Cape Ann Artisan tour is a self-guided, free tour that showcases a variety of artists who work in different mediums - painters, sculptors, potters, beadmakers, and fabric printers. It takes place this Columbus Day Weekend, October 8th and 9th, from 10:00 a.m. - 5:00 p.m. daily. Since the tour is self-guided, there is a printable map and brochure on the Cape Ann Artisan's website that will bring you to all the artists, or just the ones you think will have the most appeal to your particular tastes.
The tour is sponsored by North Shore Magazine, Institute for Savings, Cape Ann Savings Bank, and North Shore 104.9, as well as a bevy of smaller local sponsors. The full list of sponsors can be seen on their website .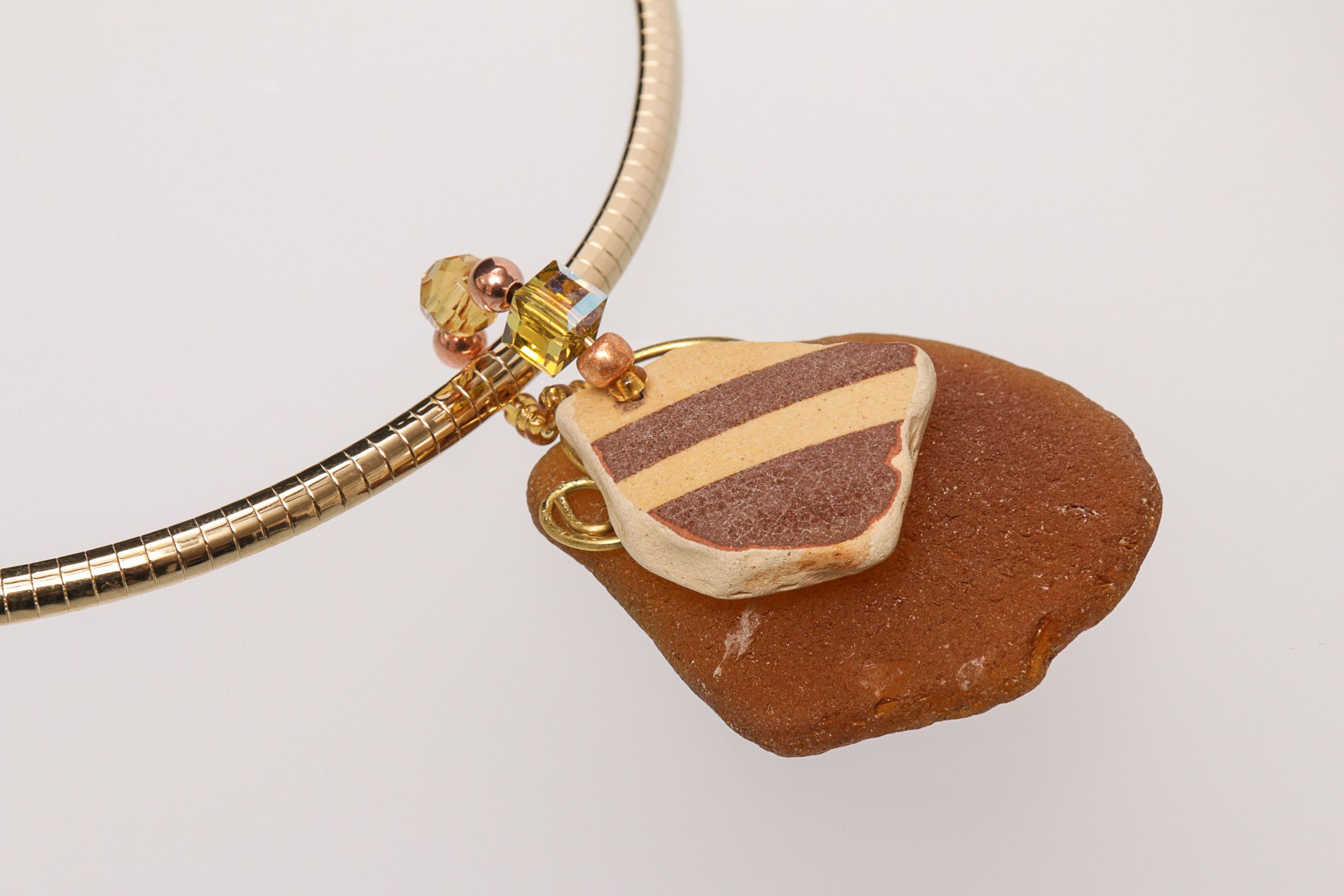 (Design by Jacqueline Ganim-DeFalco)
The tour is instrumental in helping artists remain successful on Cape Ann, as well as bringing the community closer to the artistic process. "Consistently, since the first Cape Ann Artisans Studio Tour in the early 80's, I have found that our visitors have sincere interest in our studios, the physical and creative processes, as much as in our finished work!," explains artisan potter Anni Melançon, "I love talking to people about what I do, when it's not too busy, I get time to demonstrate on the potter's wheel or handbuilding with clay."
Anni has great things to say about the community culture of the tour as well. "Because we are an group, we are able to pool our efforts and each of us in our individual jobs and committees helps us reach out to more people: through travel writers, visitors and arts centers, as well as to our loyal customers; much more so that we can in our individual studio sales and shows. It doesn't hurt that we work and live in one of the most beautiful places on the planet, and that a weekend circumnavigating Cape Ann is fun under any circumstances!"
.Want to know a little bit about the artists on the tour? Here's a list of each artist, in the order they're listed on the brochure.
Ruth Worrall Pottery, 354 Magnolia Avenue Gloucester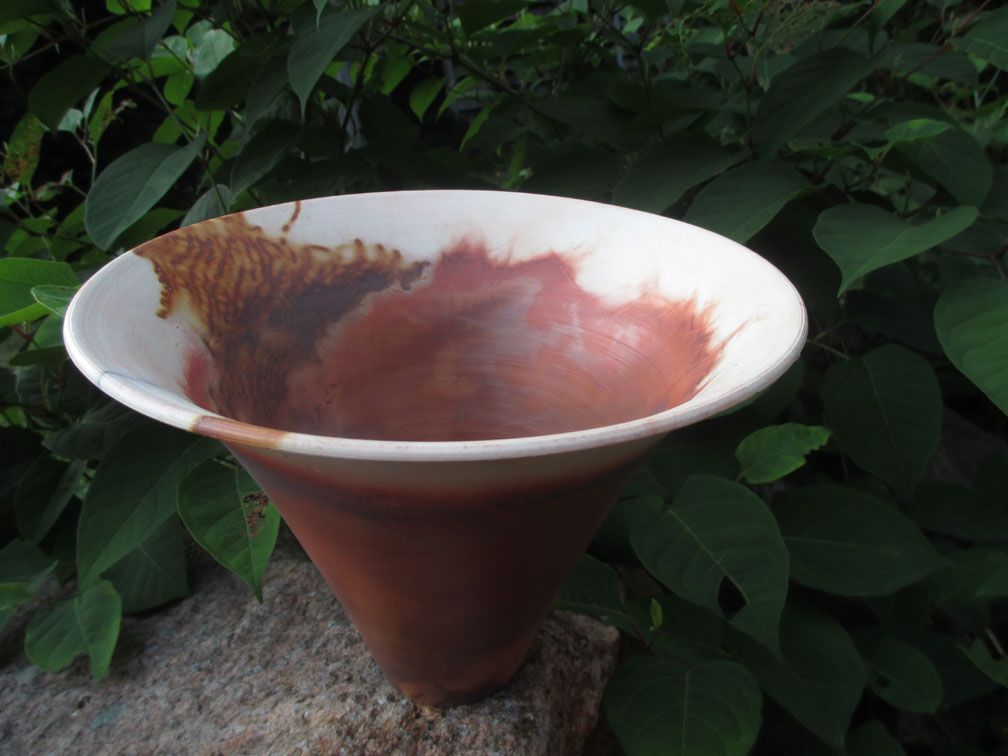 Ruth Worral took up pottery at a young age in her native Ecuador, gathering mud and water to form small bowls. However, she did not take up pottery as a serious pursuit until she went back to college and took a pottery class and fell in love with the pliability and durability of clay, and included Ceramics as part of her art degree. She has taught elementary and middle school art, and currently works at her home studio in Gloucester. Her work is sold at various stores across the North Shore. Ruth has been a member of the Rocky Neck Gallery for the last five years..
Bart Stuyf Sculptures,16 Mussel Point Way Gloucester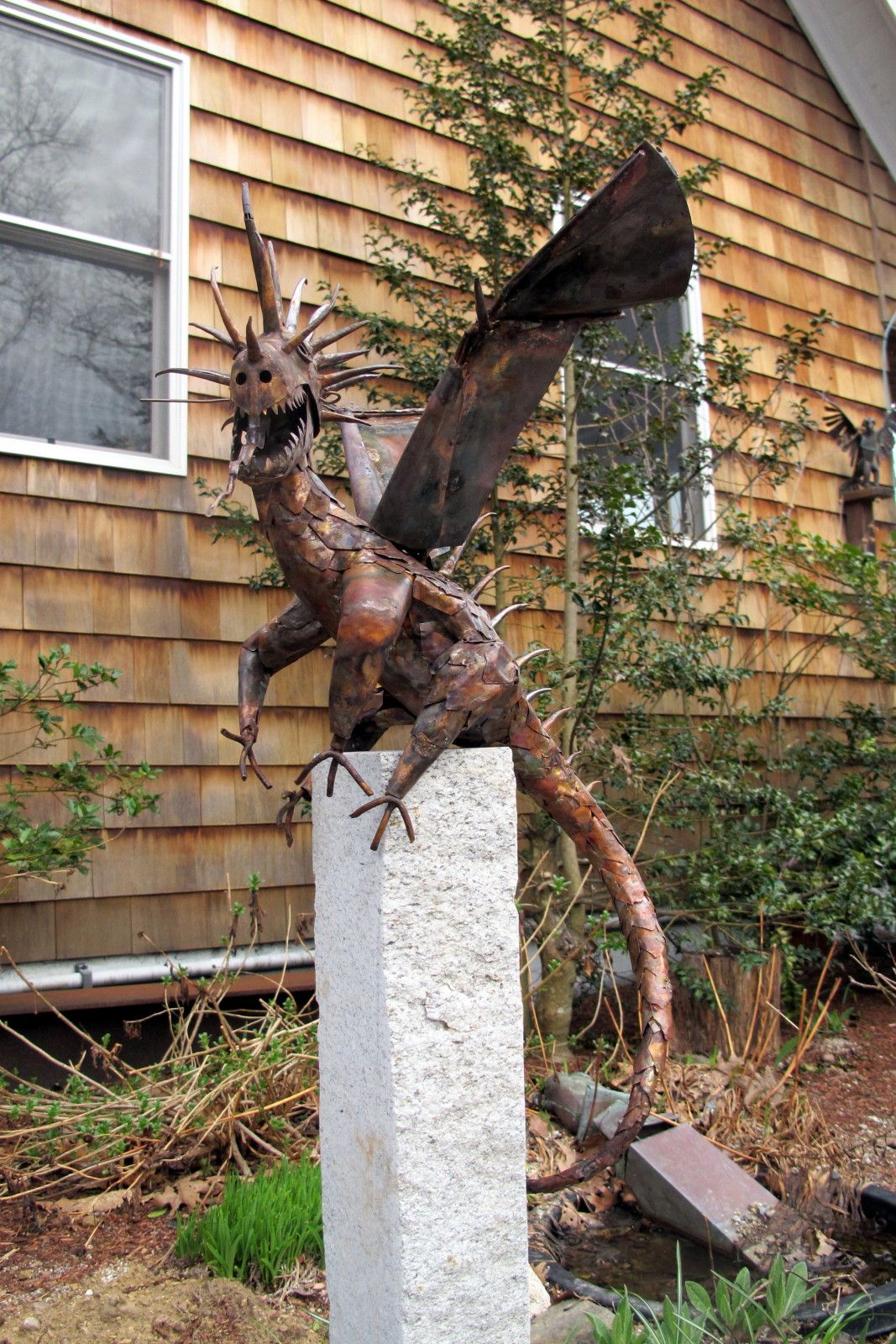 Bart considers himself a natural recycler, and enjoys reusing items that have been cast off by others, including .wood, soapstone and even recycled Styrofoam that has washed up from the ocean. Bart also works in copper and bronze, creating flowers, wildlife, and even kitchen accessories. He also designs intricate fountain designs which primarily feature water-based wildlife. His studio is open by appointment, year round and his art can be viewed on his website.
Beth Williams Studio -Glass Jewelry,17 Pleasant Street Gloucester, MA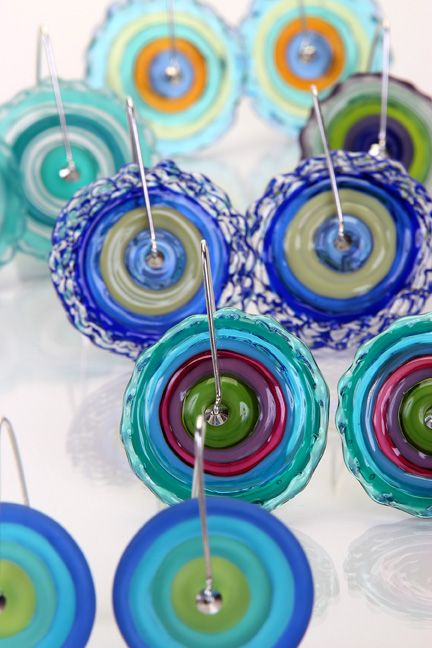 Tucked away between two larger buildings on Pleasant Street, Beth Williams' studio is flanked by an iron gate and courtyard garden. Her beads and glass jewelry are colorful, artistic, and brilliant!
Sinikka Nogelo - Paintings and Wall Pieces, 97 E. Main Street #4 Gloucester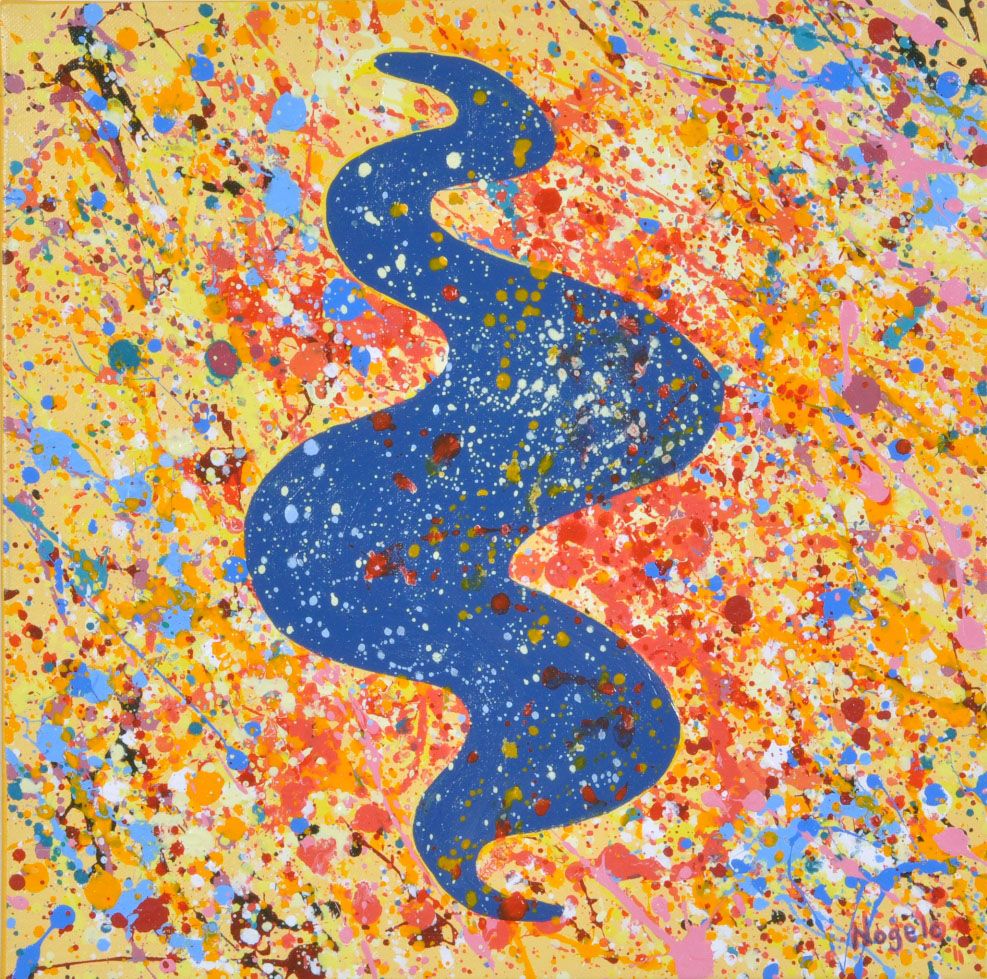 Sinikka Nogelo is a contemporary artist who works in in acrylic, oil, and watercolor, as well as wall pieces created from recycled and discarded materials and glass. Her pieces are based on themes of sea and sky, and her studio is tucked into Gloucester's working waterfront. More information on Sinikka's unique works can be seen on her website .

Rob Diebboll -Oil and Watercolor Painting, South St. at 1 Camborne Way Rockport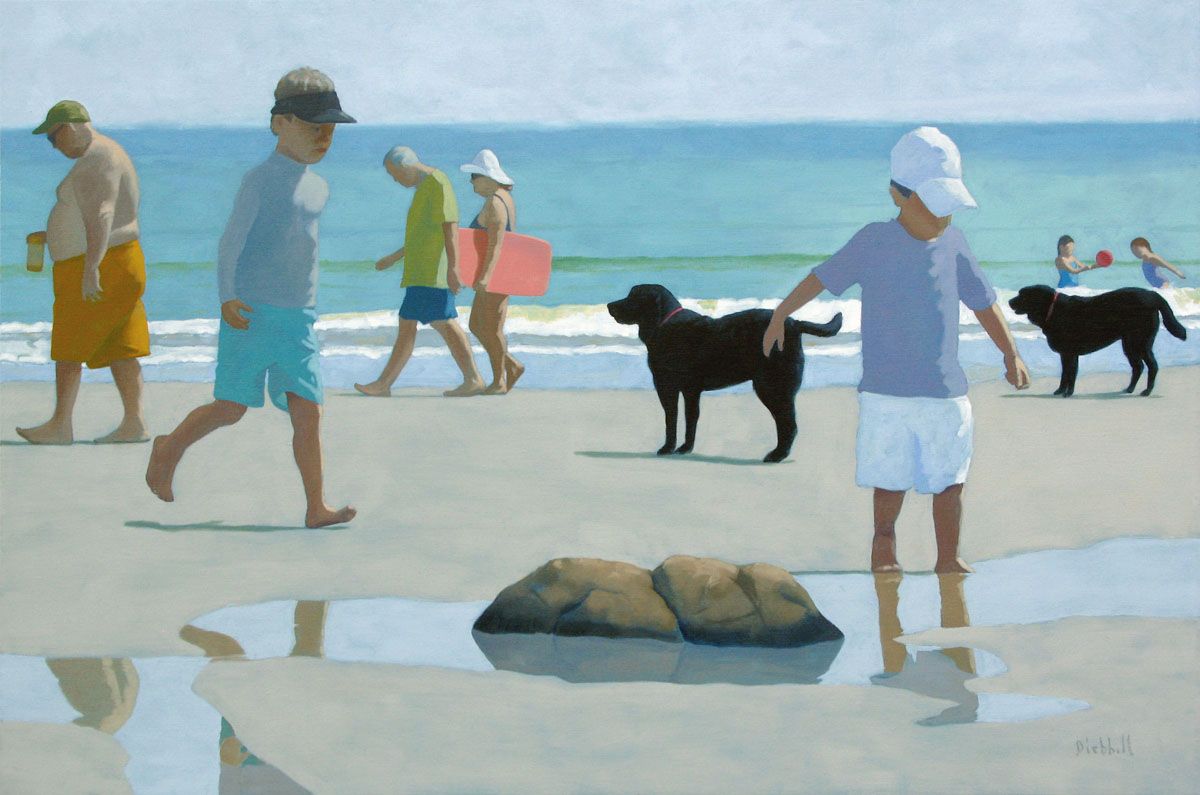 Rob Diebboll creates pieces in oil and watercolor, and often feature uncomplicated color schemes and simplified settings that bring out the subjects he has begun to flesh out.
Twin Lights Studio - Pottery and Sculpture , 52 South Street Rockport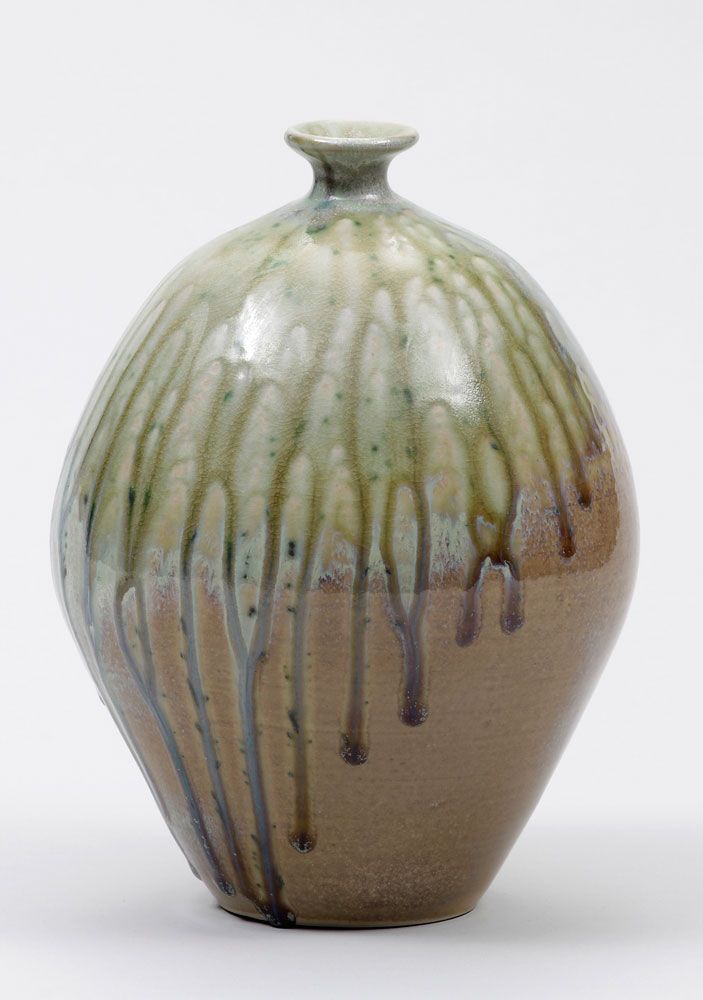 Twin Lights studio, owned by Scott Place & Erin O'Sullivan, creates unique ceramic art, from lobster and fish to garden-inspired vessels. The studio also offers pottery and sculpture classes for all ages, year-round.


Pam Stratton Mosaics,16A Prospect Street Rockport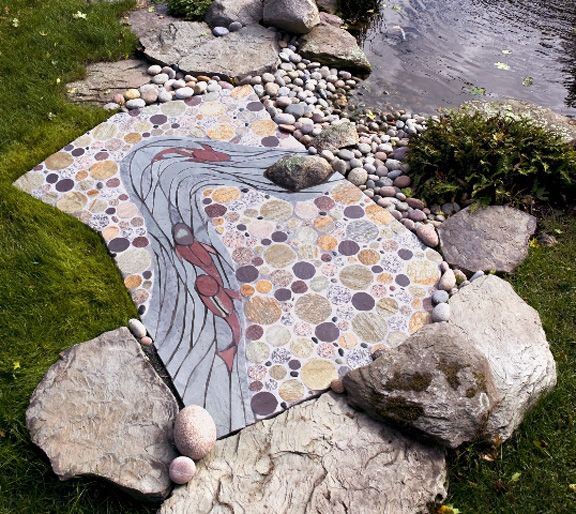 This is a stop you can't miss, as Pam has a fantastic outdoor garden with a Koi pond, featuring her own granite mosaic garden sculptures, as well as a 4' x 6' Pond Mosaic. Pam creates functional, modern fine art mosaics from stone and Italian glass in her studio, as well as offering year-round classes to the community. On the Cape Ann Artisan website, Pam states "Creating a mosaic is a deeply focusing activity like meditation. I enjoy the solid permanence of the materials, their weight, their texture and their history. I often work with stone and glass together as it reflects my surroundings — the granite coast and ever changing sea."


Cynthia Curtis Stoneware Pottery, 80 Pigeon Hill Street Rockport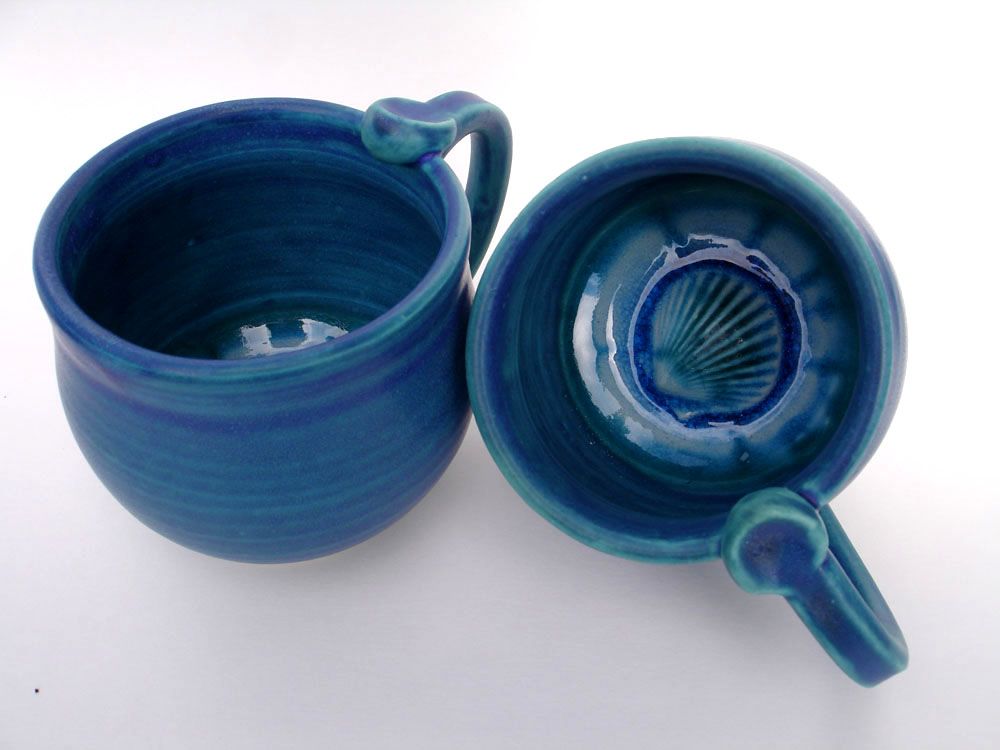 Cynthia Curtis has a twenty-year career as a full time potter and teacher. She creates ocean-inspired works, such as coral vases, undersea lamps, lobster and starfish ornaments, scallop and clamshell dishes, mugs, and wedding platters. Cynthia's work also features melted beach glass! She teaches year-round classes for all ages and experience levels on using a pottery wheel, hand building ,and glazing. Her callery is open by chance or appointment, with some of her creations sold on Rocky Neck, Bearskin Neck, and at galleries and shops on Cape Ann and the North Shore. Starting this year, she will also be featured at ArtWeek Boston! "We are so excited for the upcoming tour," she says, "In addition to my gallery full of new work, there will be demonstrations done by students taking classes" She will also have homemade chocolate chip cookies and hot cider for all visitors! Her studio has ample parking as well!


Sara Wright - Handwoven and Knit Accessories, 22 Stockholm Avenue Rockport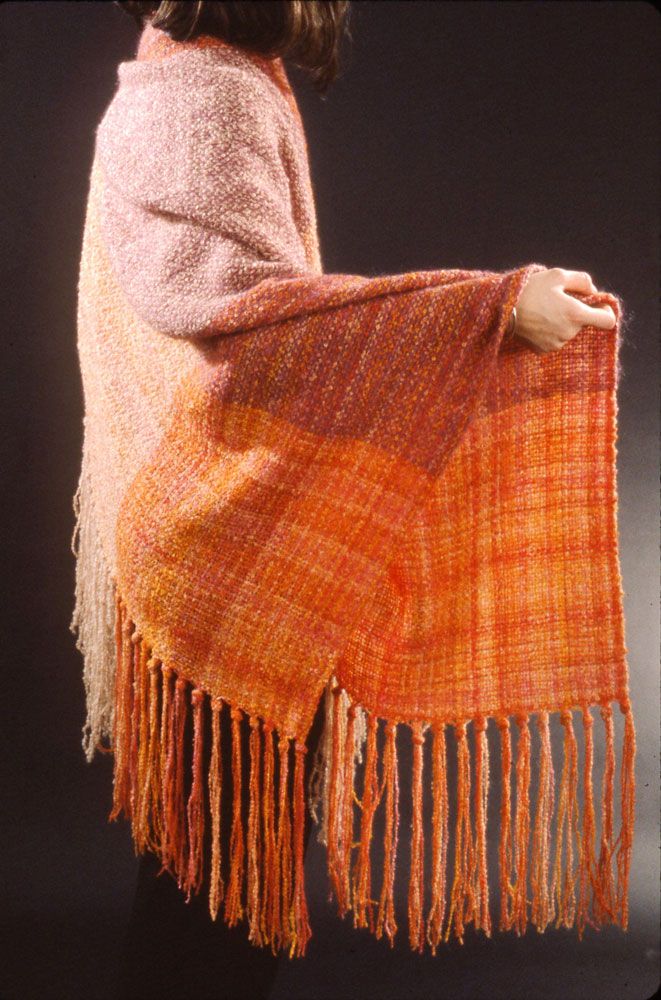 Sara write creates handknit, handwoven accessories and home decor items. She crafts unique, contemporary items with playful, modern yarns. Her studio has a variety of bed coverings, throws, scarves, sweaters, coats, and shawls.


David Archibald Porcelain and Stoneware, 9 Woodbury Street Gloucester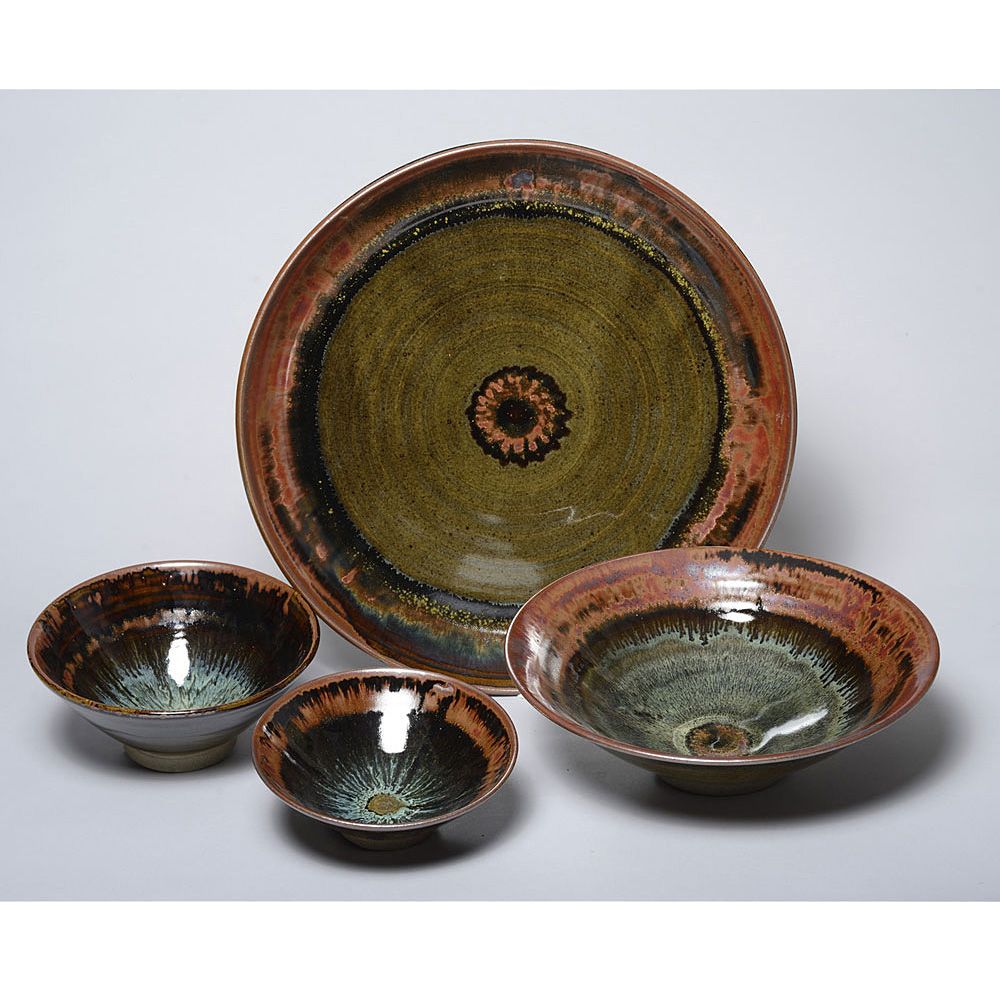 David Archibald has been creating pottery in Gloucester for over 40 years. His work primarily features combinations of two to four glazes in blues and reds. He operates Plum Cove Pottery afternoons Weds. – Sat., July through October.
Anni Melançon - Dogtown Studio Pottery, 1181 Washington Street Gloucester, MA
Anni works in series creating functional and art vessels in a variety of clays and techniques for collectors, the table and the kitchen. Handbuilt with slabs or thrown on the wheel, often altered or textured when soft; she is currently concentrating in high fire reduction stoneware and porcelain.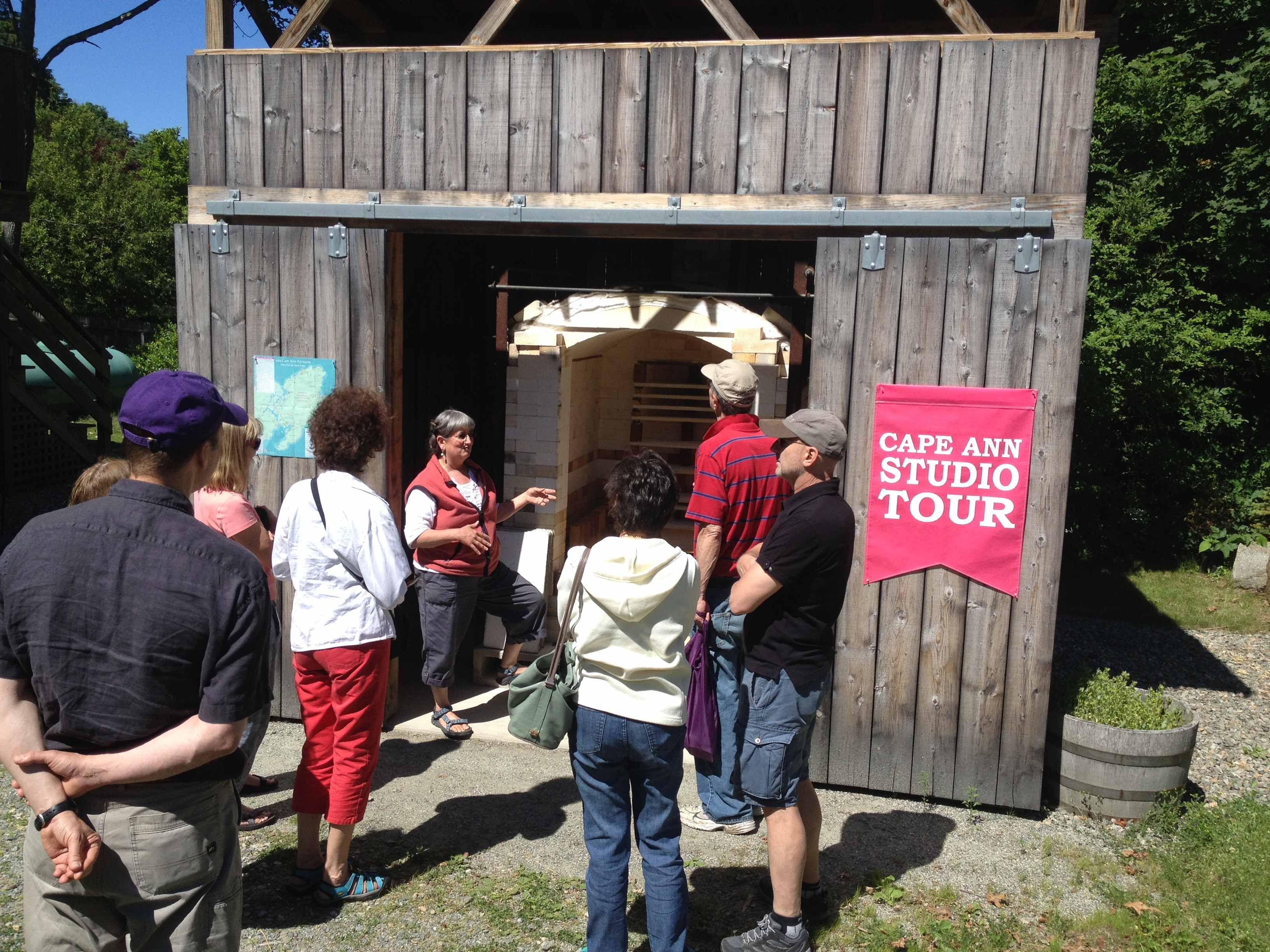 Above, Anni explains to her visitors how her gas kiln functions.
Below, Anni photographed her studio of pots waiting to be glazed and fired. She has created some dinnerware place settings, sets of porcelain bowls, baking dishes, cups and vases.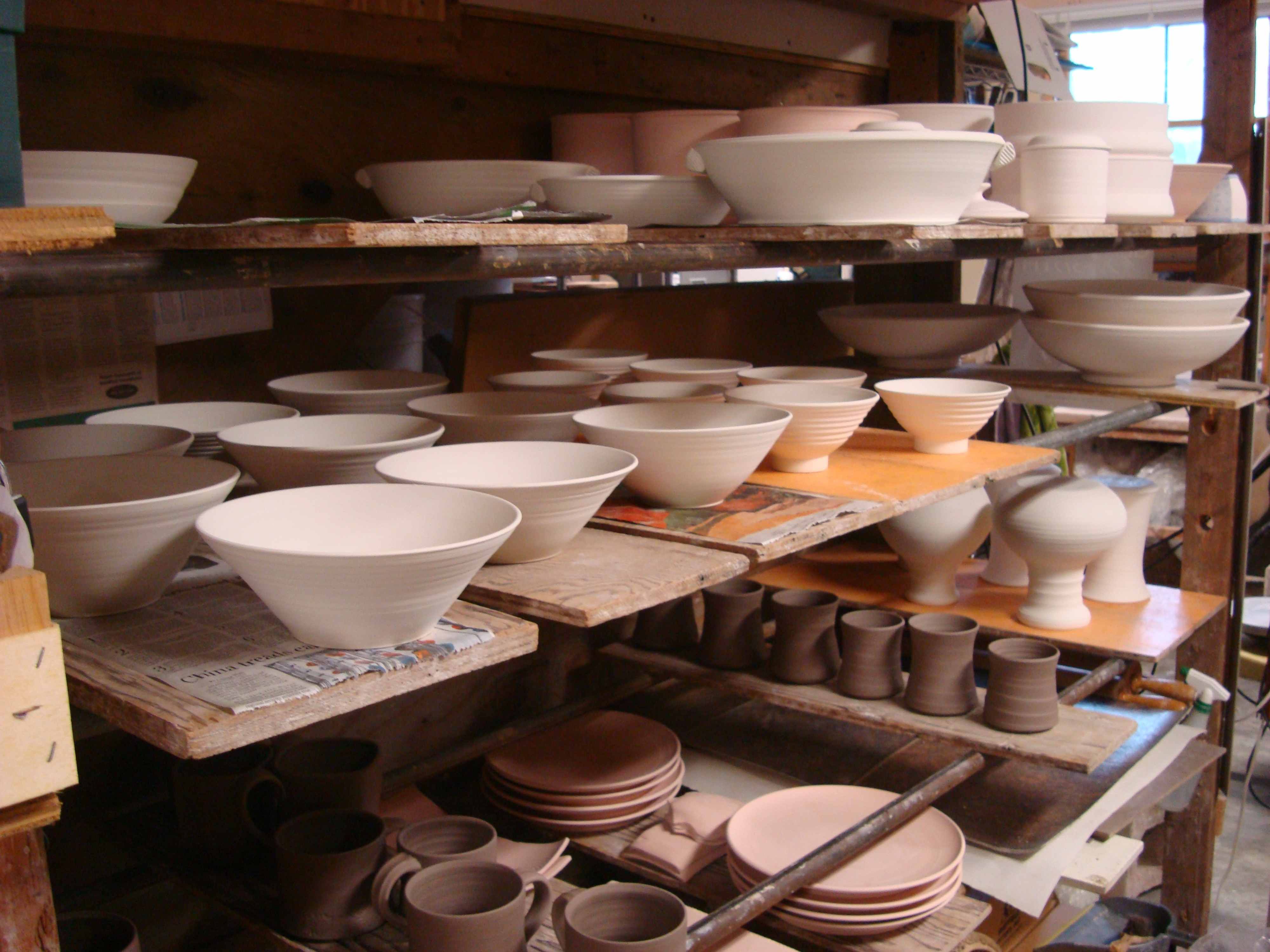 "The Artisans have been an important part of my personal and professional life as a potter. We started getting together about a year after I moved to Gloucester in 1978, and I have lifelong friends who I might have never had the opportunity to be close to, or even met, while we all worked alone in our studios. What I learned especially from my potter friends, is that supporting each other - not competing, but helping each other out, whether borrowing tin oxide and kiln shelves, firing each others pots, or sharing meals," she says.


Mi Robertson - Sculpture and Watercolors 63 Langsford Street Gloucester, MA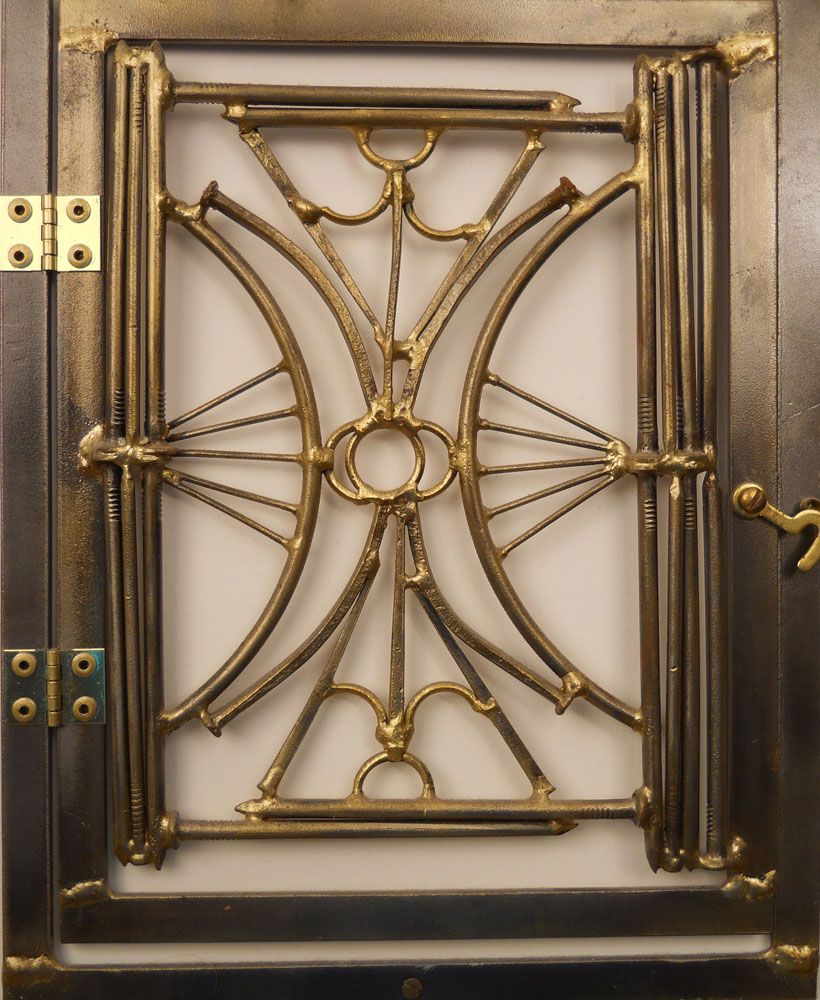 Mi Robertson's portfolio includes landscape and portrait watercolors, with world, spiritual, and cultural themes that are unconventional, light-hearted, and enjoyable. She also creates small scale, mixed-media sculptures out of natural objects.Small scale sculpture in mixed media including natural objects. Watercolors include landscapes and portraits. Mi's works reflect a passion for travel and other cultures, evoke quiet spiritual peace, or are quirky and amusing.


Margaret Rack - Sculpture and Wire Drawings 8 Ships Bell Road Gloucester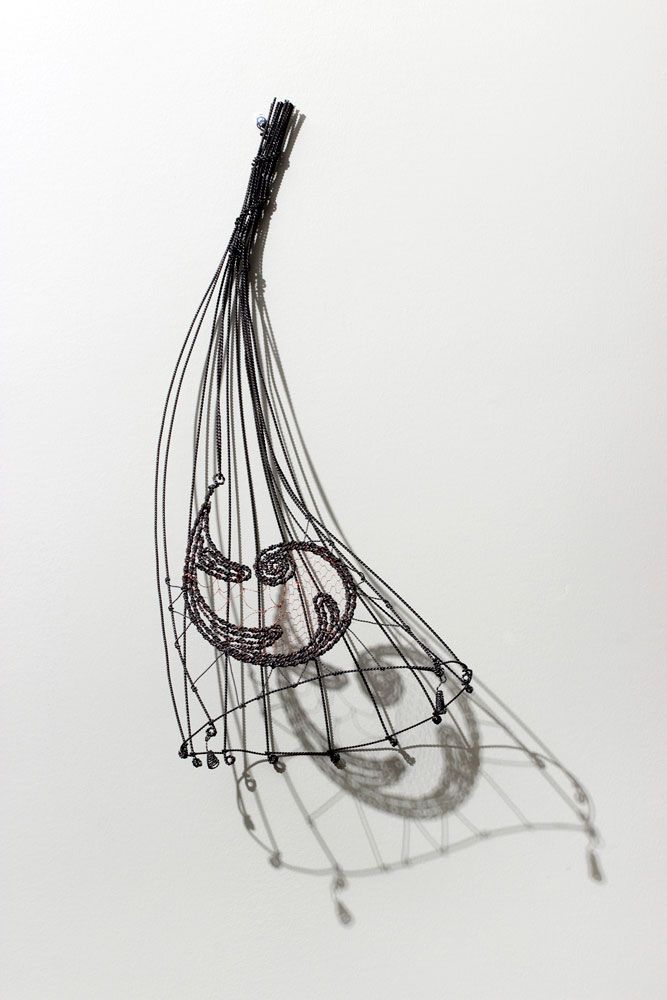 Margaret Rack's studio, featuring a beautiful water view, is full of sculptures and drawings that evoke her recent travels to Cambodia. Margaret works with materials like paper, fiber, wood and wire.

Camilla MacFadyen - Silkscreening and Fabric Art 16 Langsford Street Gloucester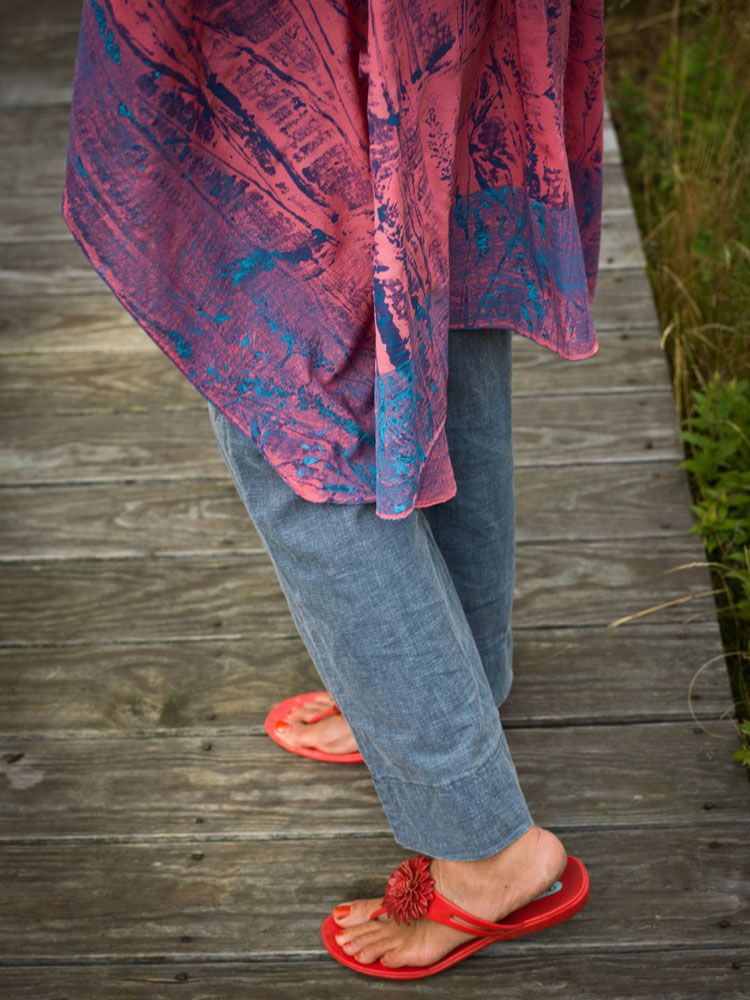 Camilla MacFadyen creates textile prints and a wide range of unique hand silkscreened items.
She has also created a new line of hand-printed, hand-sewn silk dolls. Her work, such as tee shirts, tea towels, and textile panels can be seen and purchased at Present, the holiday pop-up store in downtown Gloucester. She has also created a new line of hand-printed, hand-sewn silk dolls.
Judith Wright 12R Sunset Point Road Gloucester, MA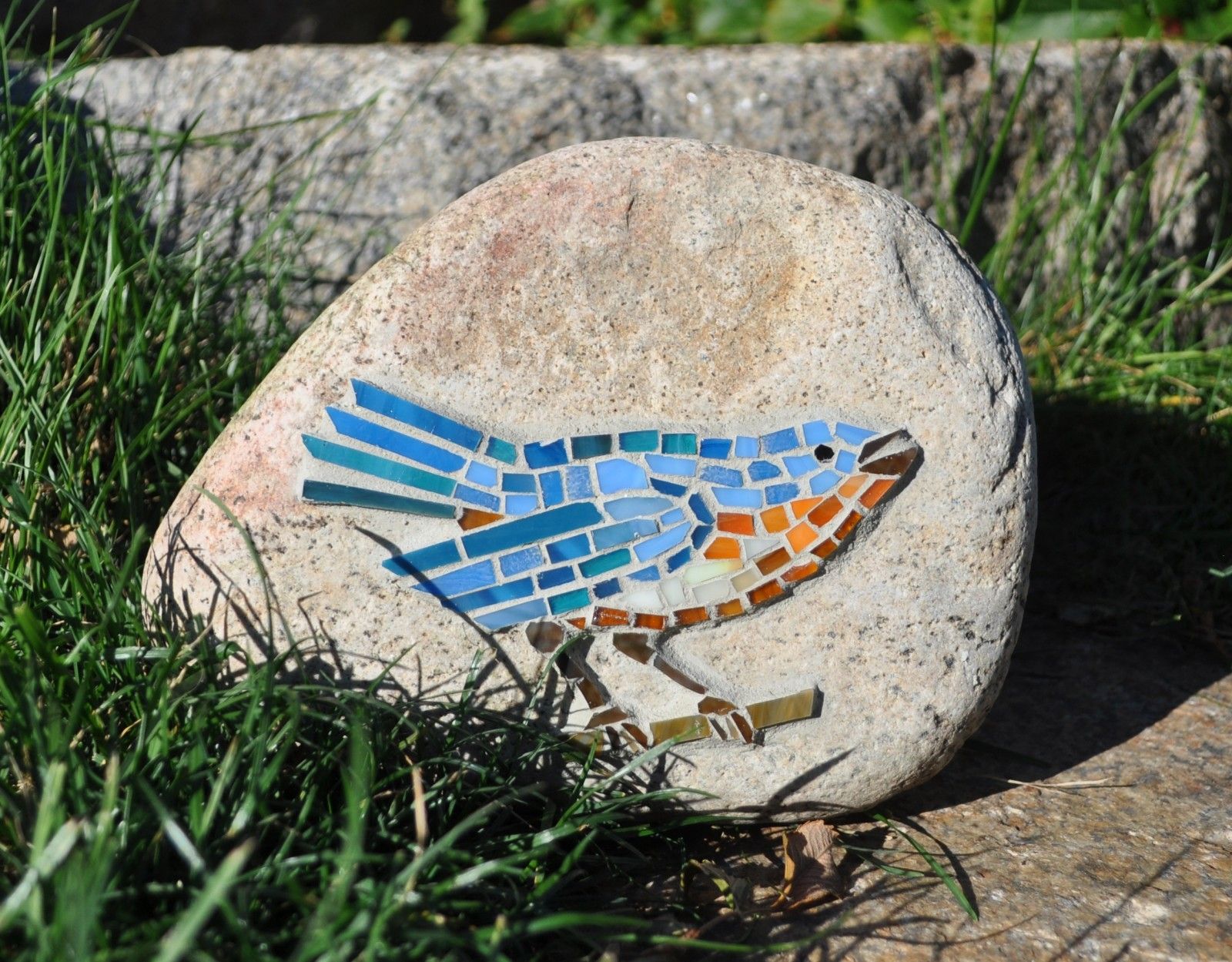 Judith's work is not only pastel and oil paintings, but she also crafts colorful jewelry, as well as working designing tables, birdbaths, and other home items with detailed mosaic design. Her art originated in her love of the ocean, and she also paints local streetscapes. She uses local materials, such as quarry granite, whenever possible.
Wenniger Cottage Gallery, 70 Holly Street Gloucester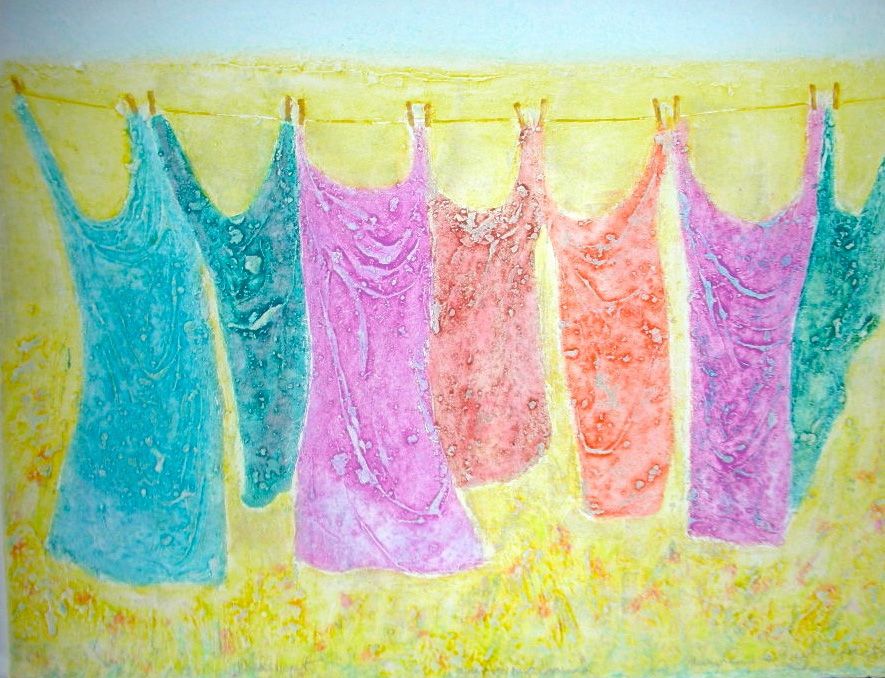 Mary Ann Wenniger creates Collagraph Prints, Encaustics, Oil Paintings with themes of time. She teaches small classes on collagraph printmaking in her home studio, and with her late husband, she owned and operated Wenniger Graphics for 18 years in Boston on Newbury Street, Boston, eight years in Provincetown Massachusetts and 40 years in Rockport, MA.
Seaglass Wearable Art - 44 Thurston Point Road, Back Barn Gloucester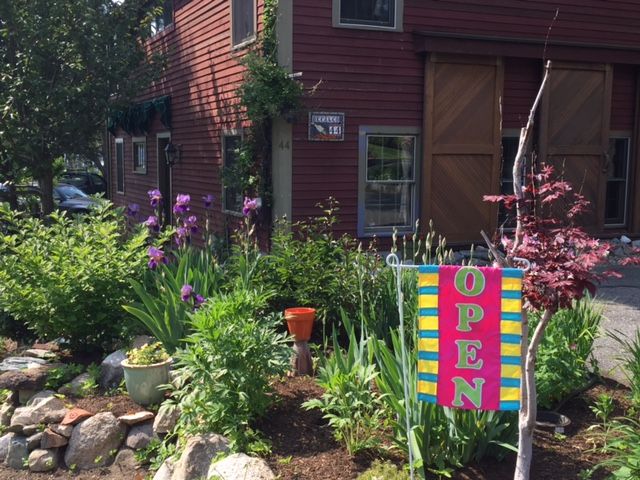 Jacqueline Ganim-DeFalco's work started when she created custom-designed hair accessories made out of pieces of sea glass and pottery collected on Cape Ann's beaches, and has expanded her work to create a collection of hair accessories and jewelry, which can be found at many local boutiques and galleries. Jacqueline also helped form the seARTS Wearable Arts group as well as created and ran the first seARTS Wearable Art Runway Show!


With all these wonderful artists on board, make sure not to miss the 2016 Cape Ann Artisan Fall Tour!
All photos appear courtesy of the artists/crafters via the Cape Ann Artisans website.