Bargain Hunt - And Help Your Community - At Second Glance!
Let's face it, most of us here on Cape Ann and across New England are economical and practical. Luckily for us bargain shoppers here in Gloucester, we have The Second Glance Thrift Shop! Second Glance is a full-fledged program of The Open Door food pantry that was created to serve the community. The Open Door has several different community programs, from the food pantry to mobile markets, SNAP application processing, and more - all programs that help low income families, seniors, and with Second Glance, and the Cape Ann and North Shore population as a whole!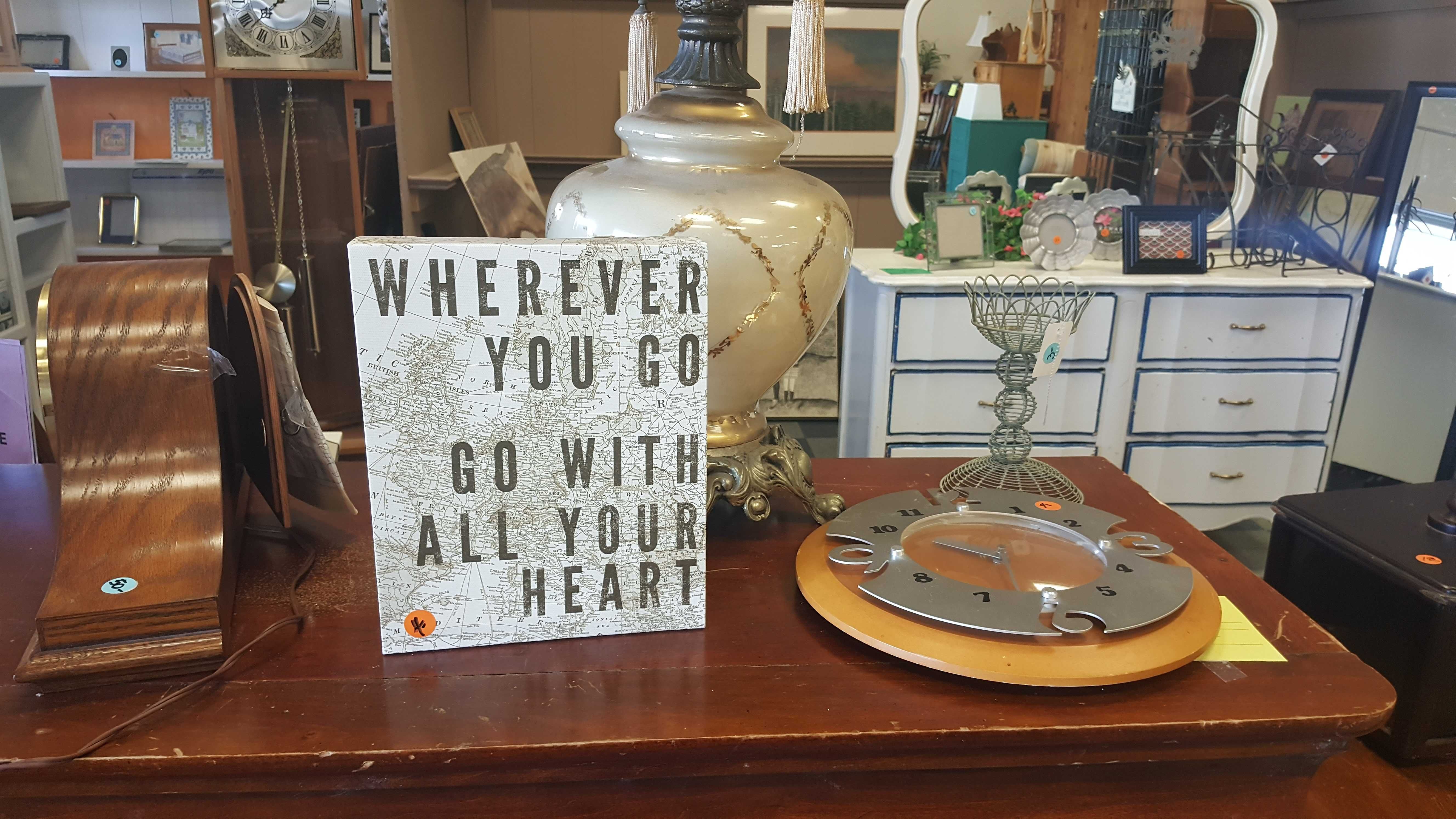 Now a cornerstone program of The Open Door, Second Glance has come a long way from its beginnings as a small clothes closet tucked away at the food pantry as a partnership with Community Enterprise. In 1998, Second Glance moved to its first "storefront" location on Thatcher Road in the Stop & Shop Plaza, and then on to Pond Road Plaza, where today it's a bustling thrift store operation offering the community low-cost items and recycling in a 9,500 square foot facility. In 2016, Second Glance sold 366,903 items through 88,286 transactions with an average transaction total of $ 11.52 and an average item price of $ 2.77.
Today, the Open Door employs 46 people, 15 full-time, the rest part time. 21 of those are paid employees of Second Glance. The Open Door has more than 1,000 volunteers a year - together, they contributed a whopping 25,232 volunteer hours to the organization in 2016. "We have a dedicated crew of 40-50 volunteers a week who dedicate their time to the Second Glance program. This includes students from the North Shore Education Consortium who work with a job coach to learn life skills and workplace readiness," explains Julie LaFontaine, executive director of the Open Door.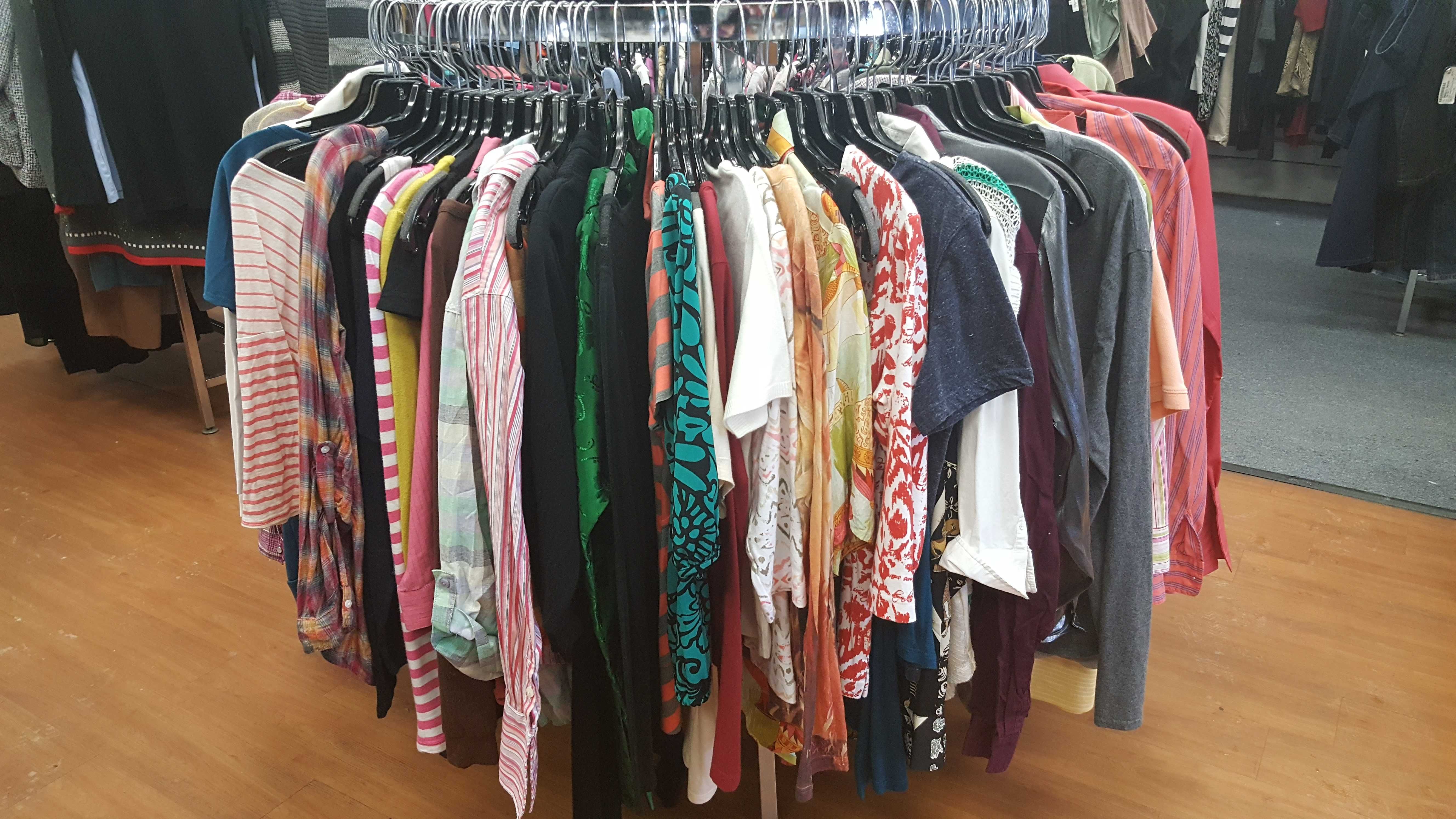 "Second Glance was first started as a means to help people connect with low-cost clothing and household items. It also served as a referral center for social service agencies who had clients who needed help. It has grown as a program to meet community need and provide revenue to support the organization's annual operating budget," she continues. To the organization, there are 5 "R's" that encompass Second Glance:


Reduced Cost Items for the Community
"You can always find a bargain at Second Glance. From everyday low prices to the regularly scheduled 50% off sales and our ever popular Everything is $1 Sale which happens twice a year, we operate in volume--meaning we need to move things through to make room for the steady flow of donations coming in the back door," Julie states.
Referrals
For those struggling back to get on their feet, Open Door helps families and individuals get what they need. After a loss or a qualifying event, Second Glance provides free clothing, household items and even furniture every three months. "Last year the staff at Second Glance managed 451 active referral cases. Our philosophy is to give what is needed at the time of referral rather than simply fulfilling a referral because 3 months is up. When people are transitioning in their housing situation, we make sure that household items are at the top of the list. If someone is starting a new job, clothing is the primary focus," Julie explains.


Recycling
"Second Glance is the ultimate recycling center. Everything there is something that has come out of someone's basement, garage, storage, attic, or closet. It finds new purpose and a second home when someone buys it at Second Glance. Beyond what can be purchased from our racks and shelves, Second Glance recycles the metals, electronics, books, cardboard, paper, shoes, handbags and textiles that may not make it to the floor."
Retraining
"Second Glance serves as a job site for youth in the Transitions program and the North Shore Education Consortium. Students come with their job coaches to dot books, tag clothing, and put [out] our merchandise. For some, working on the register is an end goal and for many, the work at Second Glance helps secure employment in the community after they have completed their training and job readiness," explains Julie.
Revenue
Lastly, as one of the larger programs of the Open Door, the store's sales provide 20% of the Open Door's entire annual operating budget. Not only does Second Glance fully support itself financially, it also generates revenue to help the Open Door's other programs, which help our local residents avoid going hungry.
It's easy to see why Second Glance has grown in popularity over the years. Thrift shopping is not only a great way to get one of a kind items at a fabulous price (especially for vintage collectible hunters and those with quickly growing kids), but it can be a social event. The store has more than its share of regulars, and Julie suggests why. "The Second Glance staff is a touchstone for their lives. Others meet friends and shop and chat for hours. All either leave with the find of the day, or the hope that they will come back tomorrow and all the merchandise will be new."

With all the items donated every day, the employees never really know what will come through the door. They process everything with care, as it's not uncommon to find a treasure in the bottom of a box of kitchen items or books - sometimes with extraordinary value - and instead of selling it on the floor, they seek outside help selling the item. For instance, Julie explains, "We once found a rare Russian icon which we sold through an outside auction house. It was worth thousands of dollars. It wouldn't have been responsible on our part, if we sold it for $20 in the store."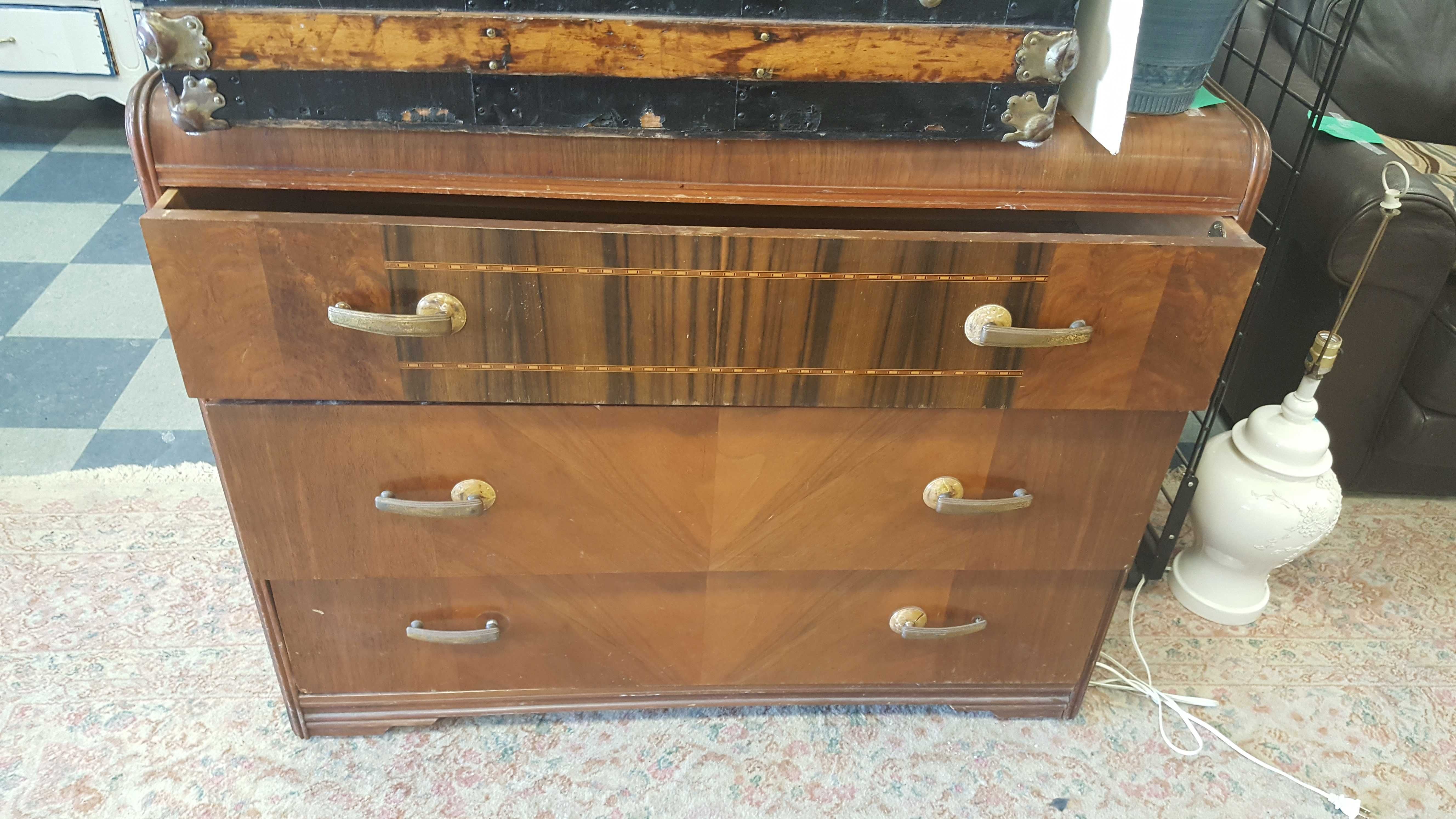 An Art-Deco Vintage Dresser - Perfect for Painting and Restoring!
There is a three month rotation cycle for all items, aside from furniture, which is an a monthly rotation cycle. On average, 75% of the store's inventory is turned over within two weeks, and inventory at Second Glance is restocked all day long. Julie is proud of what her team at Second Glance accomplishes:
They are such an important part of The Open Door family. They are the dedicated 'treasure brokers' who sort, tag, bag, and discover treasure in the heaps of donations at Second Glance to find the best of the best to raise money to support The Open Door. Collectively they have more than TWO CENTURIES of experience in the world of resale, antiques and collectibles. Together, they know a lot about STUFF. We couldn't carry out our mission nearly as well without their work and dedication."
Second Glance has multiple upcoming events for the community you won't want to miss.

The Dollar Day Sale takes place on Friday, March 17, Saturday March 18, and Monday, March 20th until 5 PM. All clothing is just a dollar when you donate $1 to support the Open Door's Mobile Market.

Also on Monday, March 20th, the Epic Equinox Exchange takes place from 6 to 9 PM. Second Glance will be stocked with fresh spring and summer clothing, shoes, handbags and more. Customers will have first chance at the newly stocked inventory, as well as enjoying complementary wine and cheese refreshments.

The Mother's Day Boutique takes place on Saturday, April 22 during normal store hours of 9 AM to 7 PM. The store will stock special clothing, handbags, jewelry, shoes, and other gifts just perfect for Mother's Day. Get something vintage for your mom - or if you're a mom, get a little something special for yourself.

Lastly, the store will hold a Patio Furniture Sale. Come get patio furniture and summer gear on this special day! The sale takes place Sunday, May 7, from 11 a.m. to 5 p.m.


Recently, the store had its first annual Jewelry Spotlight, where a special inventory of hundreds of items kept off the store's shelves for this unique event were displayed during a 3-hour evening event. Gold, silver, gems, and costume jewelry were on display for shoppers to eye while drinking a complimentary glass of wine. If you missed it, there's always next February!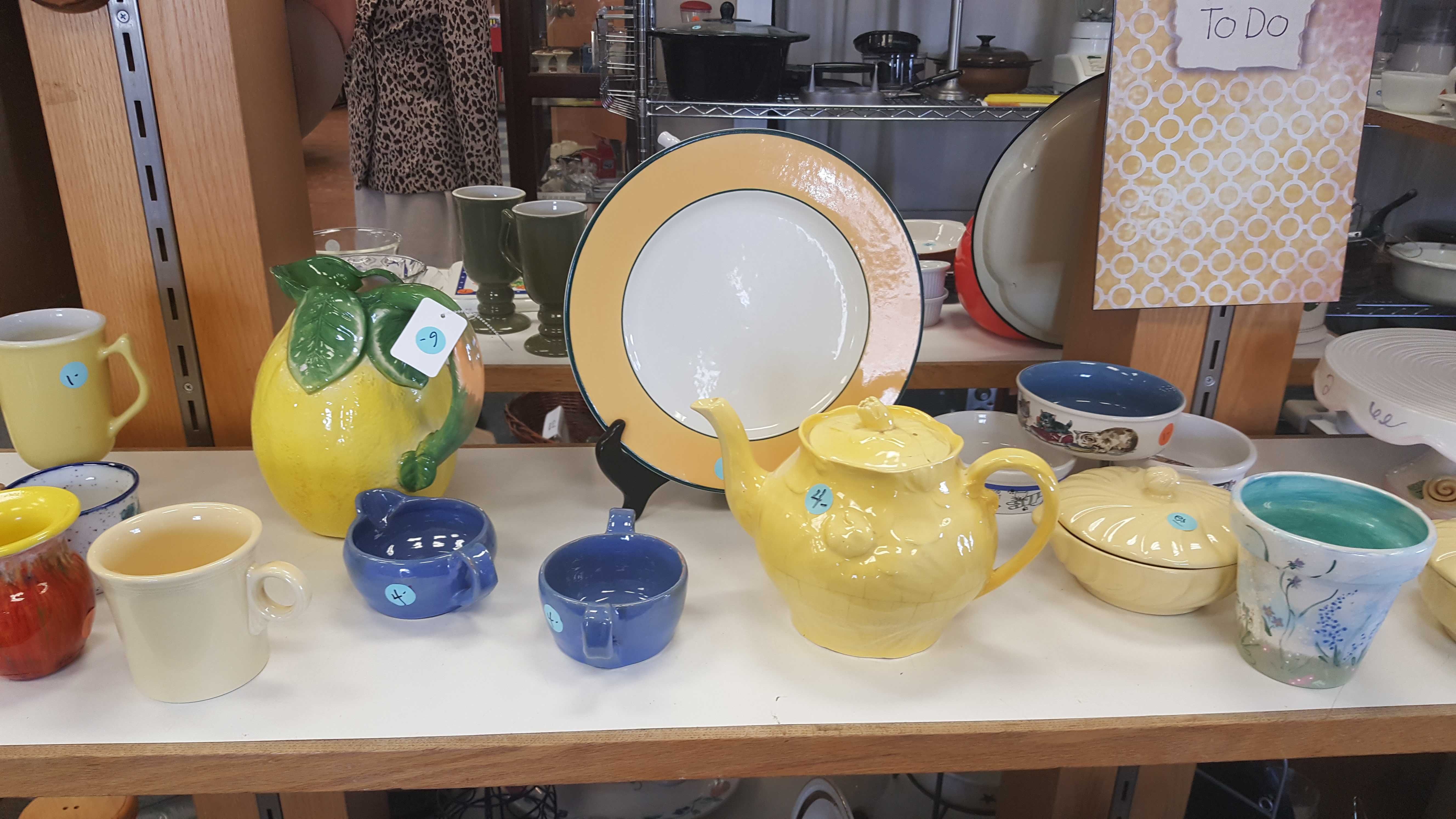 Second Glance welcomes donations of gently used items such as clothing, housewares, tools, and more. In 2016, The Open Door added a Donation Processing Center to the store in order to provide a more welcoming space for donor drop-off. This space is configured for one-piece flow and employee efficiency and makes great use of the vertical space inside.

For clothing donations, the store asks that they be clean and in good condition with no rips or stains, in bags and not on hangers, and that adults and children's clothes are pre-separated.

Household items, knicknacks, and linens are acceptable if clean and in good condition, packed in bags or boxes, and that fragile items are properly boxed to avoid breakage. Books, Games, Videos, DVDs, CDs are welcome, but please separate books for adults and children.

Furniture, small appliances, and electronics are accepted if they're in clean and good condition, as well as properly functioning. Broken items are not accepted. Items that Second Glance cannot accept are: air conditioners, encyclopedias, exercise equipment, car seats, child care items, children's furniture, computers and monitors, hazardous materials, large appliances, LP albums, mattresses, recalled items, sporting goods, televisions and toys.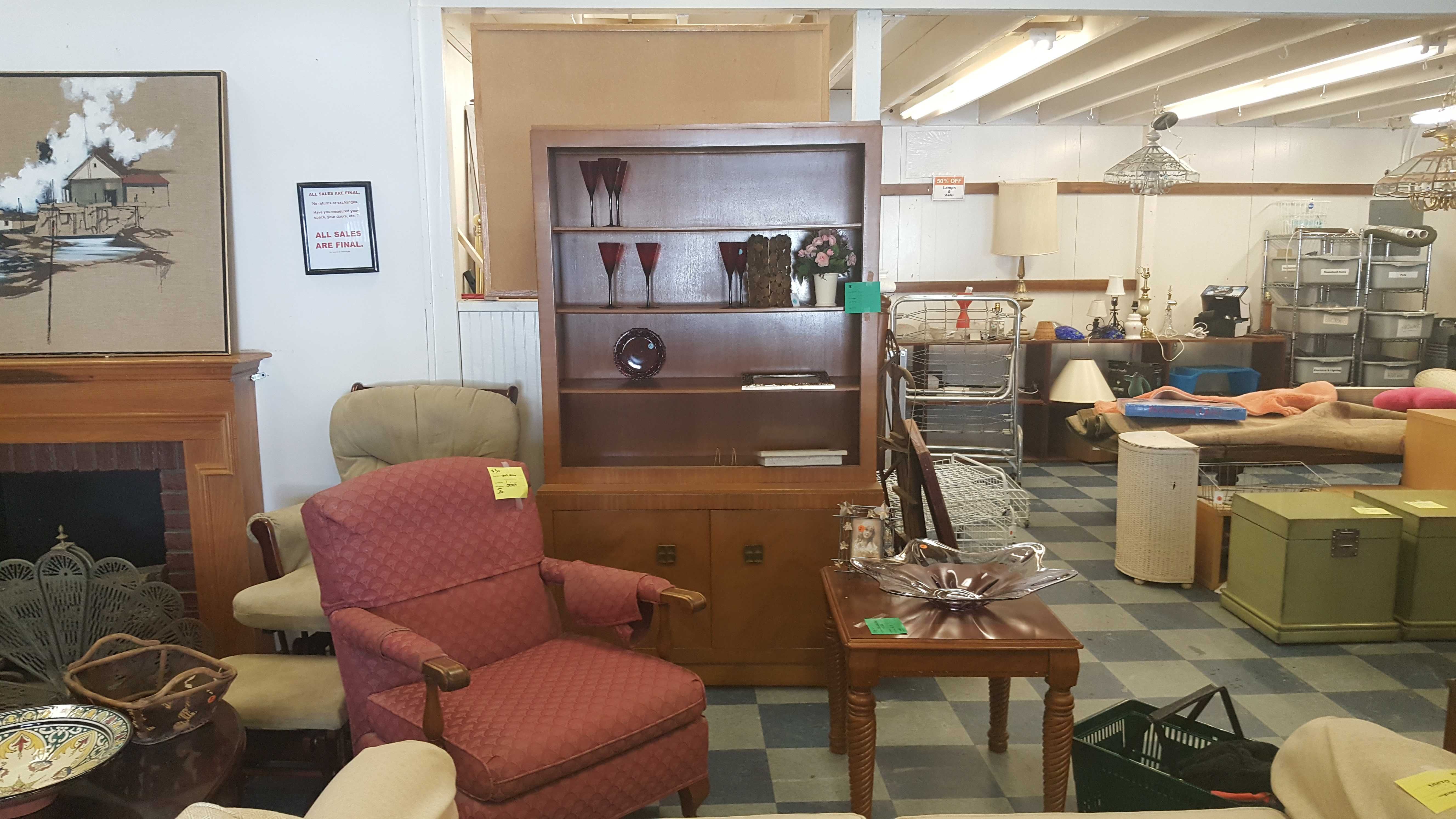 For large furniture donations, please call ahead to make sure there is adequate storage space. Please also call ahead if you have more than 5 boxes of yard sale leftovers. Scrap metal is also accepted for donation. Donations to Second Glance are tax-deductible, so you can feel great about purging your closet, garage, and more!
If you are new to Cape Ann and the North Shore, or just haven't taken a look at Second Glance, make it a place to stop - and a place for all your unwanted items to end up being loved by somebody else. Otherwise, you're missing out on a wonderful experience. As Julie Lafontaine explains once more, "Second Glance has become part of the fabric of the community. It is embedded in the culture as the ultimate recycling center and place to find a bargain"
Second Glance Thrift Store is located at 2 Pond Rd, Gloucester MA. It is open Monday-Saturday 9 AM to 7 PM and seasonally on Sundays. For more information, call the store at 978-283-4298.