5 Fabulous Family Christmas and Holiday Events on Cape Ann
The holiday season is quickly approaching, and this year's lineup of local events perfect for the whole family is better than ever! Most events are free for families or children, and open to the entire community. There's bound to be something to get your whole family in the festive holiday spirit happening on Cape Ann this season! Here's a list of great upcoming happenings.
5. Gloucester Christmas Parade and Tree Lighting
Of course, one of everyone's favorite long-standing traditions is this weekend's Holiday Parade right here in Gloucester! The parade welcomes Santa, fresh from the North Pole, to Cape Ann for the holiday season. On Sunday, November 26th, the parade volunteers and participants will meet at 2:00 PM at the State Fish Pier, located on Parker Street. The parade begins at 3PM, and winds from the Fish Pier through downtown Gloucester and the boulevard - and past the fisherman statue - before ending at Kent Circle. This year's parade is dedicated to Rudy Macchi, a longtime Santa for the parade. He was known for spreading the joy of Christmas to kids across Gloucester, Cape Ann, and the North Shore - and his memory will be celebrated this year.
After the parade reaches Kent Circle, the Tree Lighting Ceremony begins - usually around 4:15 PM. Not only will children have the opportunity to sit on Santa's lap (pictures are welcome!), but there is free popcorn and cocoa provided by Lobsta Land and Ringo Tarr, and the community has the opportunity to sign holiday cards that will be sent to our troops serving overseas. Donations for postage are appreciated, but not required.
The ceremony will have festive Christmas music by the North Shore Bell Ringers, and celebrates our close ties to Shelburne, Nova Scotia - the city provides us with a Christmas tree each year to light!
4. Santa Comes to Rockport and Tree Lighting Ceremony
Only in New England can you see something as unique as Santa arriving by lobster boat, and it happens right here on Cape Ann every year! This year's Santa Comes to Rockport event takes place Saturday, December 2nd from 1-5PM.
After Santa's 1PM arrival into Rockport Harbor and docking at T-Wharf, he will climb into a Rockport Forest Fire truck - and parade along T-Wharf to Mount Pleasant Street, and then to the Old Firehouse - a parade led by Rockport's cub scouts! At the Old Firehouse, children will be able to meet santa - and get their photos taken - until the tree lighting ceremony begins.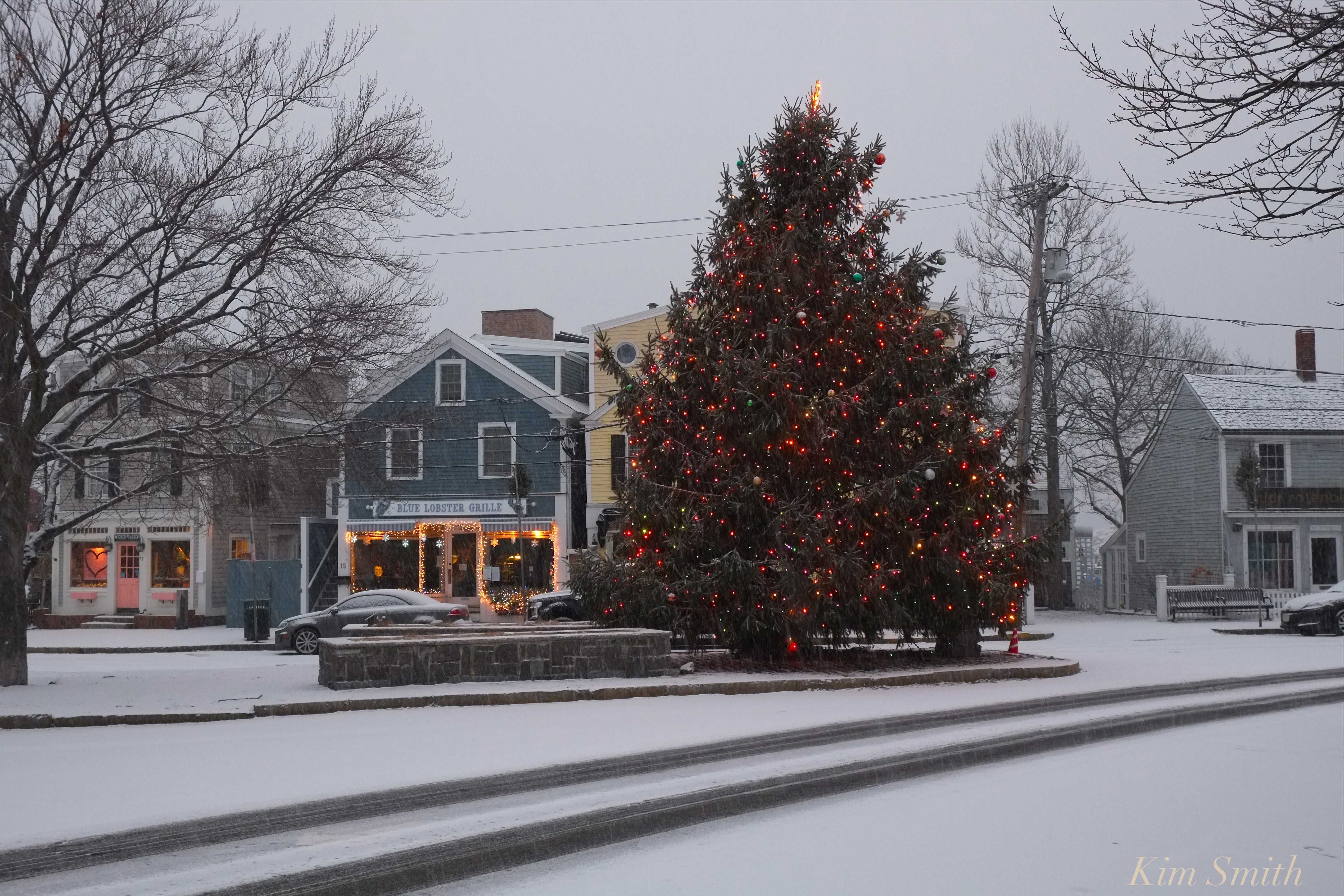 (photo courtesy of Kim Smith of Kim Smith Designs)
At the start of the ceremony at 4PM, Santa will greet the crowd and kick off the Tree Lighting festivities - taking place at Rockport's christmas tree at Dock Square. The public is welcome to join the Dock Square Carolers while they carol - including a rendition of "Christmas in Rockport". The participating carolers will first have a rehearsal at the Rockport Baptist Church at 2:30 PM.
During the ceremony, the Chairperson of the Board of Selectmen will offer official greetings from the Town - then pull the switch and light this year's Rockport Christmas tree. Santa will once again jump aboard the fire truck - and begin his trip back to the North Pole!
3. Santa Arrives at Essex Town Landing
Boy does Santa have a busy schedule this holiday season! On Friday evening, December 1, he'll be arriving at the Essex Town Landing, arriving on the Essex river by boat! This event takes place from 6-8PM. After he arrives, he'll walk up to the shipyard with some of his friends. Children will be able to visit with Santa and review their holiday wish lists. There will be clam chowder, hot chocolate, and donut holes - as well as caroling by Sound Waves. The event thanks Woodman's of Essex, Dunkin' Donuts, the Essex Police Department, ­Essex ­Radio and TV, Manchester Essex ­Regional School District and Essex County Sheriffs Dept for their participation and support.
2. Middle Street Walk Gingerbread Contest
What better way to spend time as a family than crafting a gingerbread house and submitting it to a Gingerbread Contest? Well, this year you can - during Gloucester's annual Middle Street Walk!
Both groups and individuals can create their gingerbread homes, mansions, or anything else they desire- entries can take any shape, form, or size - feel free to get creative! The contest is open to everyone in the community, and more than one entry is allowed to be submitted.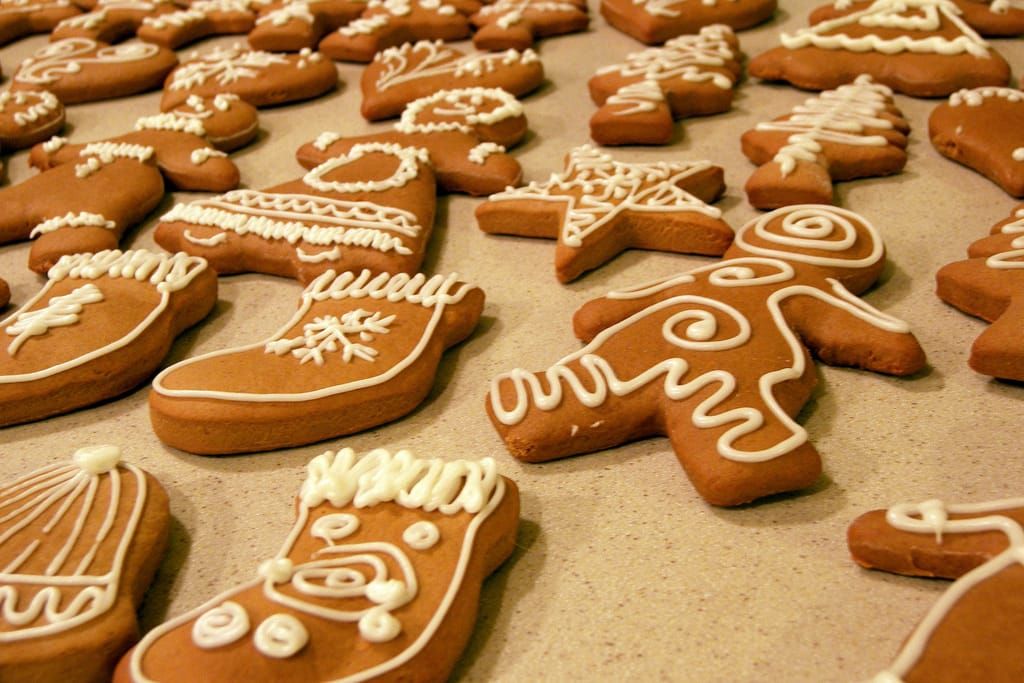 All the entries must be made entirely of gingerbread, and decorated with candy or any other edible embellishments - anything that appears on or connected to the house must be edible! Entrants are free to add non-edible figures and material, but they must not be connected to the home - think trees or figurines. Each entry must be submitted on a cardboard, wooden or plastic base (like a sheet of cardboard). There is no standard size or shape for the bases although it must be larger than the house.
You can enter the gingerbread contest by registering over the phone to either of the following contacts: Barbara Catalini of Cakes by Barbara at 978-281-0639 or Jan Bell at 978- 283-1107, or Gloria Parsons at 978-283-9292. You can also emaill [email protected].

Entries must be dropped off at Kyrouz Auditorium in Gloucester's City Hall either Thursday, December 7th between the hours of 8:30 AM and 6:00 PM or on Friday, December 8th before Noon. Make sure your contact information is on your house!
The contest's judging portion will occur prior to the start of the Middle Street Walk at 10:00AM on Saturday, December 9th. If you enter, it's important to note that entries need to be picked up no later than 2:30PM the day of the Middle Street Walk because of a special light show which will be happening in the auditorium. Entries which are not picked up by then will be moved to the first floor of City Hall.


Prize ribbons will be awarded in numerous categories as stated on the entry form. Points are given for the degree of difficulty and creativity, neatness, originality, uses of edible confections and decorations and workmanship. Points are deducted for the use of plastics, however, you may use a limited amount for structural support.
If you enter, it's important to note that entries need to be picked up no later than 2:30PM the day of the Middle Street Walk because of a special light show which will be happening in the auditorium. Entries which are not picked up by then will be moved to the first floor of City Hall.
For more information on the Middle Street Walk and the Gingerbread Contest, please visit the website!
1. Buoy Painting and Lobster Trap Tree Lighting
One of the Christmas traditions Gloucester has been known for the last few years is the unique and festive Lobster Trap Tree. The tree is located on Main Street across from Art Haven, at the Gloucester Police and District Court entrance area. Over the past few years, the tree has grown from just a stack of traps to a wide base where the public can walk inside the tree and enjoy a fantastic inside look- complete with a dazzling light show. The lit tree is adorned with buoys as ornaments - created by local kids!
All children in the Gloucester community are invited to paint their own buoy that will be displayed as one of the lobster trap tree's ornaments! The buoys will be painted at Cape Ann Art Haven's new storefront at 180 Main St # B (at Brown's Mall). Each school has a predetermined date to paint the buoys, with an extra weekday and weekend date for those who can't make their school's assigned date and time. Here are the following dates and times for buoy painting:
Wed 11/29 - 3:30 - 5 PM - EGS, Veterans
Thurs 11/30 - 3:30 - 5 PM - Plum Cove, Beeman
Fri - 12/1 - 3:30 - 5 PM - W Parish
Sat - 12/2 - 10 AM - 1 PM - Open to all
Mon 12/4 - 3:30 - 5 PM - Rockport
Wed 12/6 - 3:30 - 5 PM - O Maley, open to all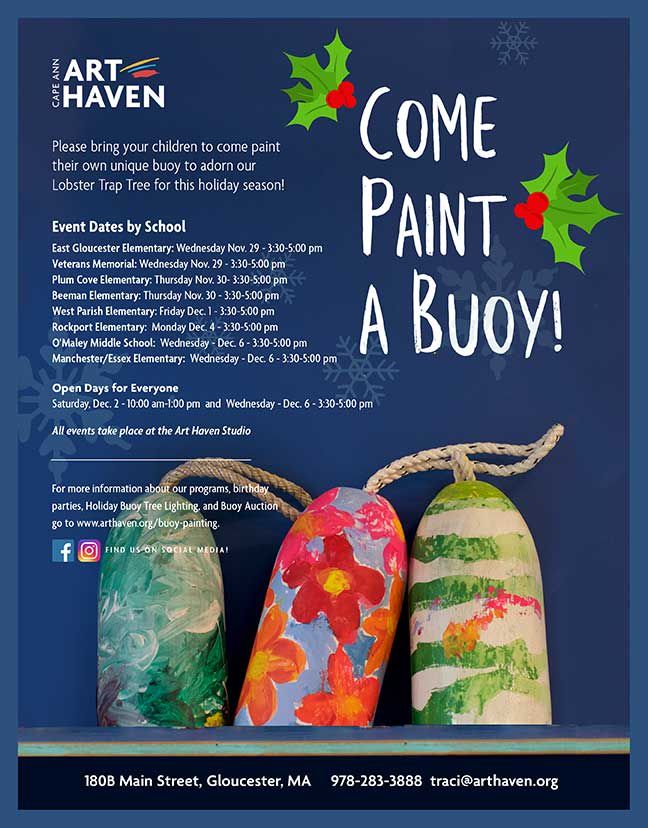 After all the buoys are painted and dried, it's time for the annual Holiday Lobster Trap and Buoy Tree Lighting to kick off the annual lit tree tradition! This year, the lighting ceremony takes place Saturday, December 9th at 4:30 PM. The community is welcome to join Art Haven for caroling, hot cocoa and, of course, tree-lighting. Kids will be able to see santa and there is even a countdown as the Art Haven staff puts the star on top - and turns the lights on for the first time! After the lighting, there will be a party inside their studio with crafts, music and a winter wonderland backdrop - perfect for taking holiday photos.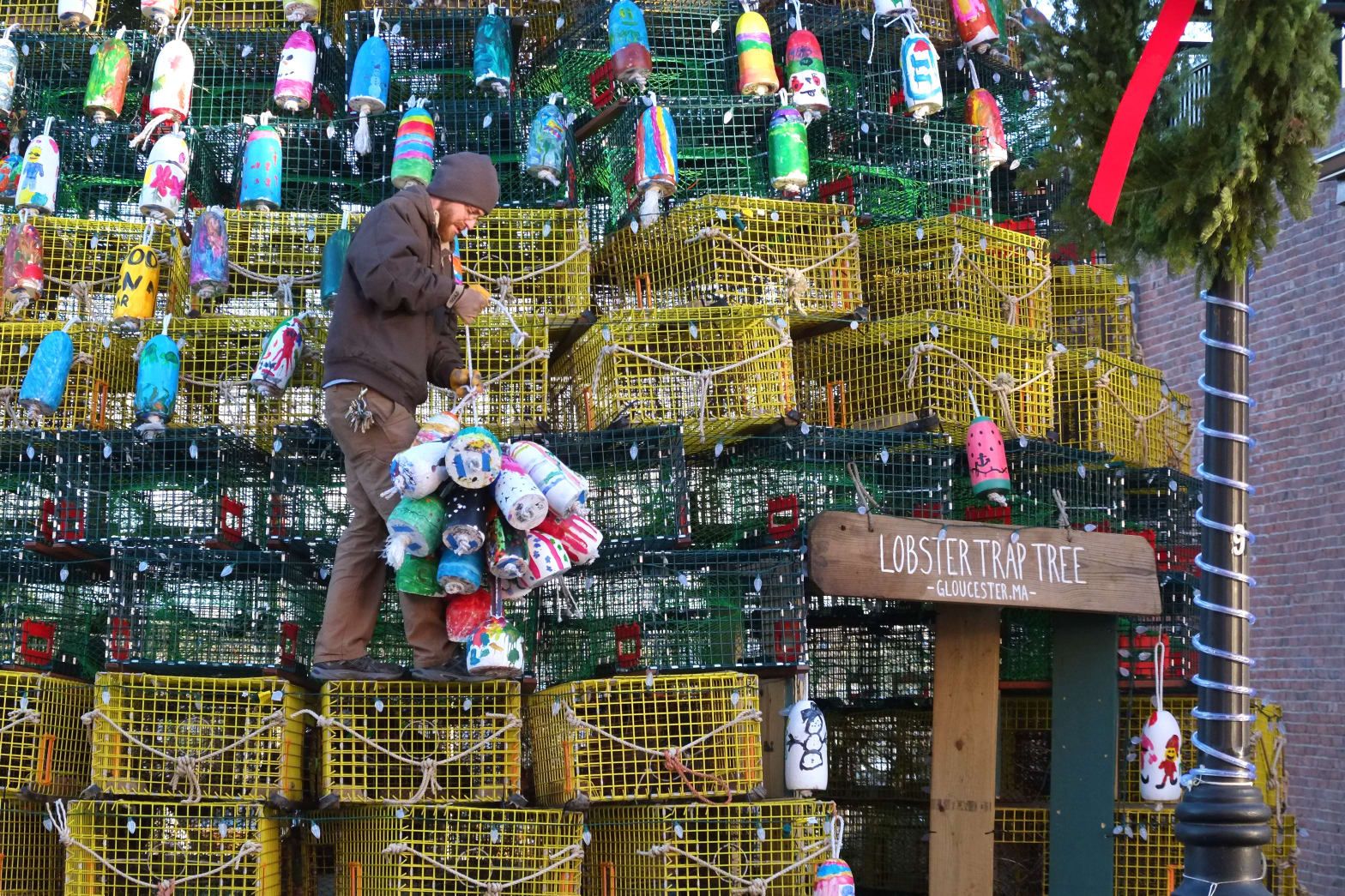 (photo courtesy of Kim Smith of Kim Smith Designs)
After the Christmas season, Art Haven auctions off the buoys to raise money for their community programs! All proceeds from the event will help Art Haven continue to provide their art classes free of charge to low-income familes. This year's Art Haven Buoy Auction & Family Fun Night takes place on January 26 from 5:00 - 8:00pm at Cruiseport Gloucester. There is free admittance for families whose children painted a buoy - those families will not need a ticket, as names will be checked at the door. For other families and individuals, tickets are $10 before the event and $15 at the door - and children are free.
For more information about the buoy painting, lighting ceremony, and the auction, check out Art Haven's web page!
Are there local events you don't see here you'd like to add? Which event is your favorite? Join the conversation on our Facebook page!