21 Beacon St 🏡 Gloucester MA is CUTE 🏡
This move-in ready, nearly new construction home - a rarity for walkable downtown - is perfect for first time home buyers looking for a condo alternative, those who are downsizing, or a pied-a-terre or summer home.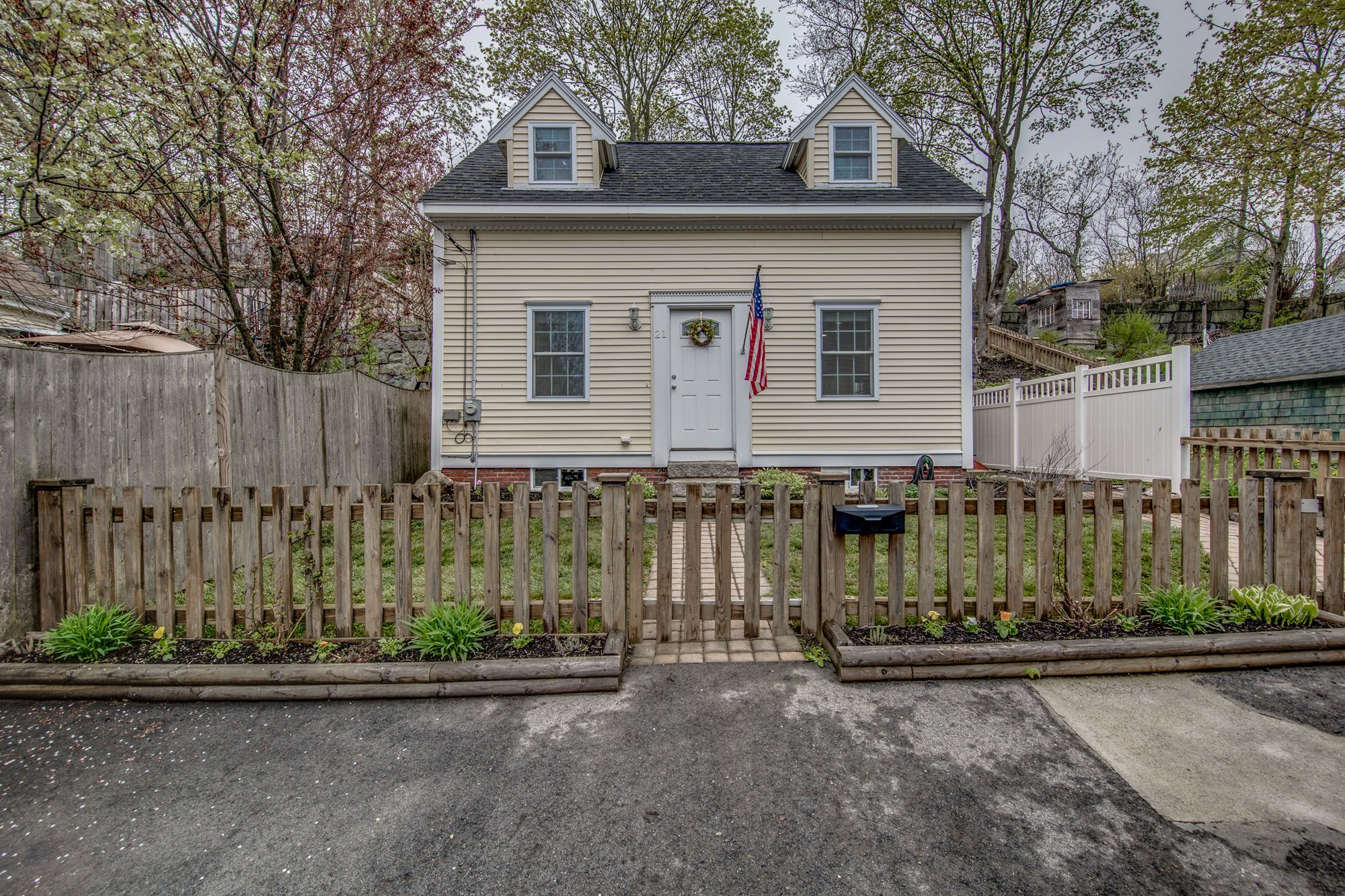 21 Beacon Street, built new in 2010, is nestled into the ledge of Governer's Hill, where painters have set up for hundreds of years to paint the beautiful scenery of Gloucester's downtown and harbor. This tiny (823sf) house is set back from the street, and the small front yard is bordered by an adorable picket fence flanked by raised garden beds with a small gate - perfect for a small or medium sized dog to roam in. Viewed from the street, this home is chock full of curb appeal! It's cute as a button, with doghouse dormers, a colonial-styled front door and dentil trim across the front. Access to the home is from the wide double driveway in which you have two tandem parking spots, side by side your neighbor.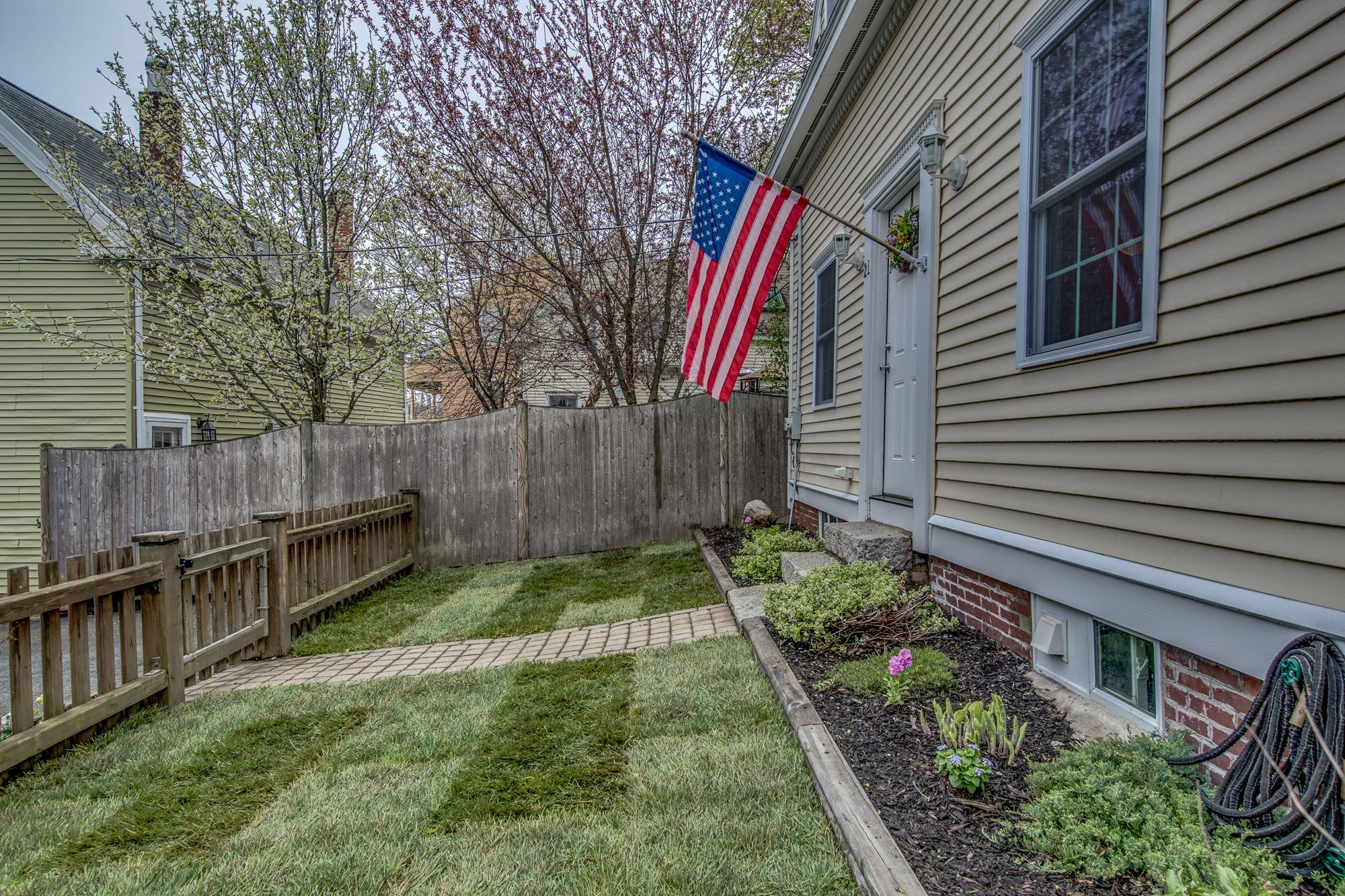 While the first floor is easily accessible from street level by the front and side doors, the "backyard" features a wide, winding staircase up to a treetop, roof-level deck large enough to entertain for a party and intimate enough to feel like you're in your very own adult treehouse!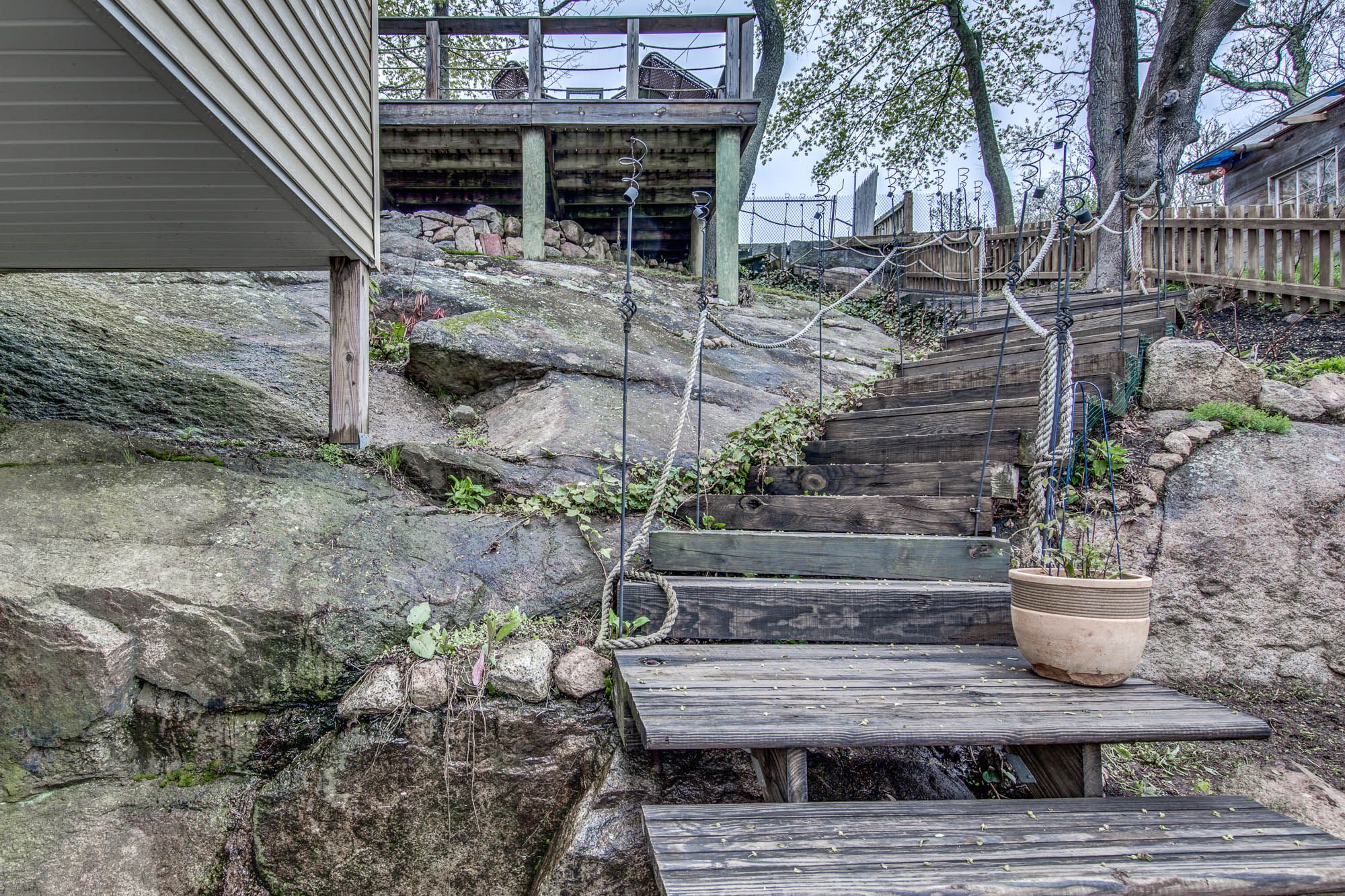 The treetop deck has space for outdoor furniture as well as a hammock - perfect for taking a nap in summer salt breezes under the stars!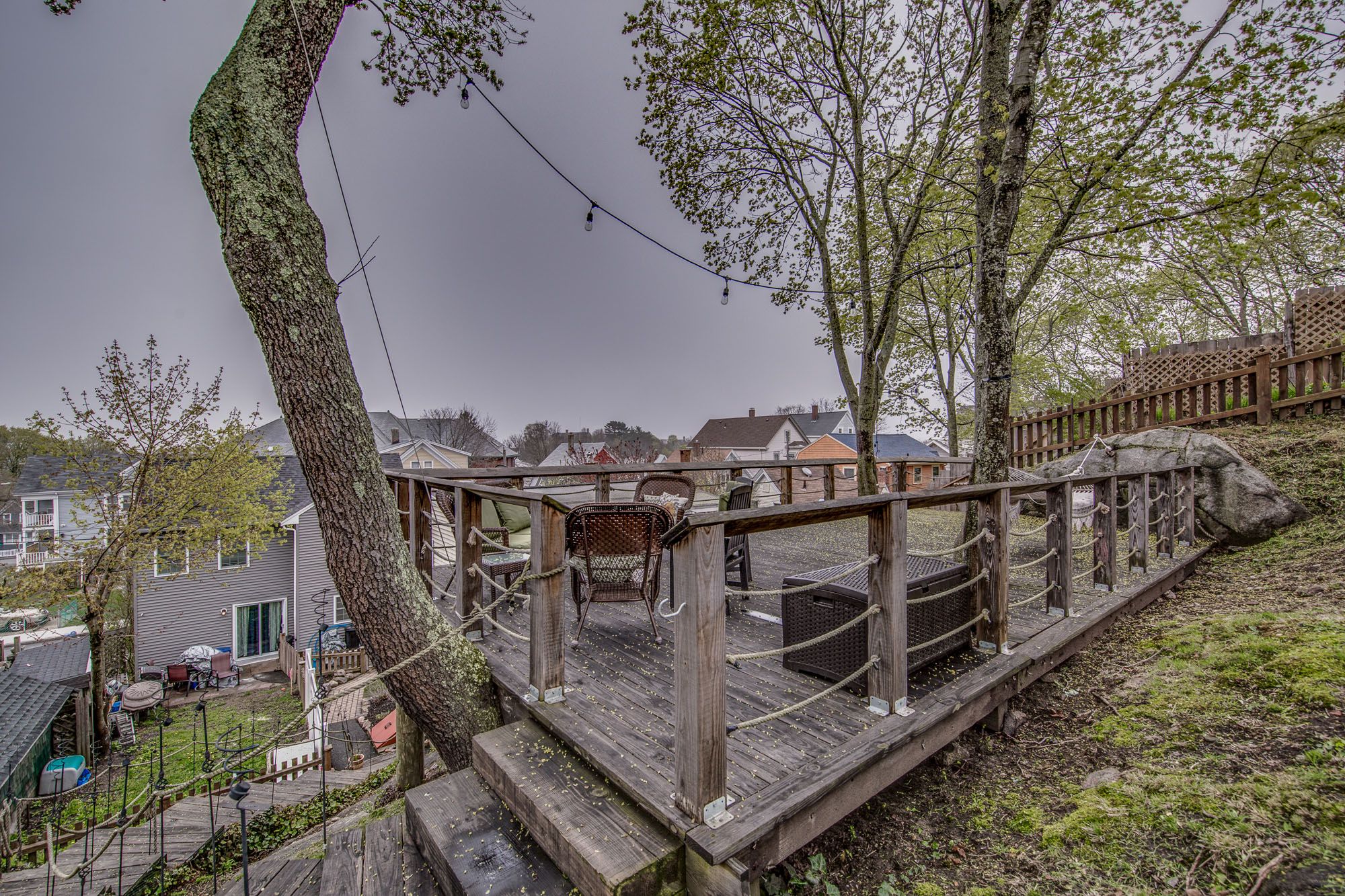 The treetop deck has another set of stairs (!) down to the attached deck, which is perfect for grilling and eating, offering easy access to the house's second floor.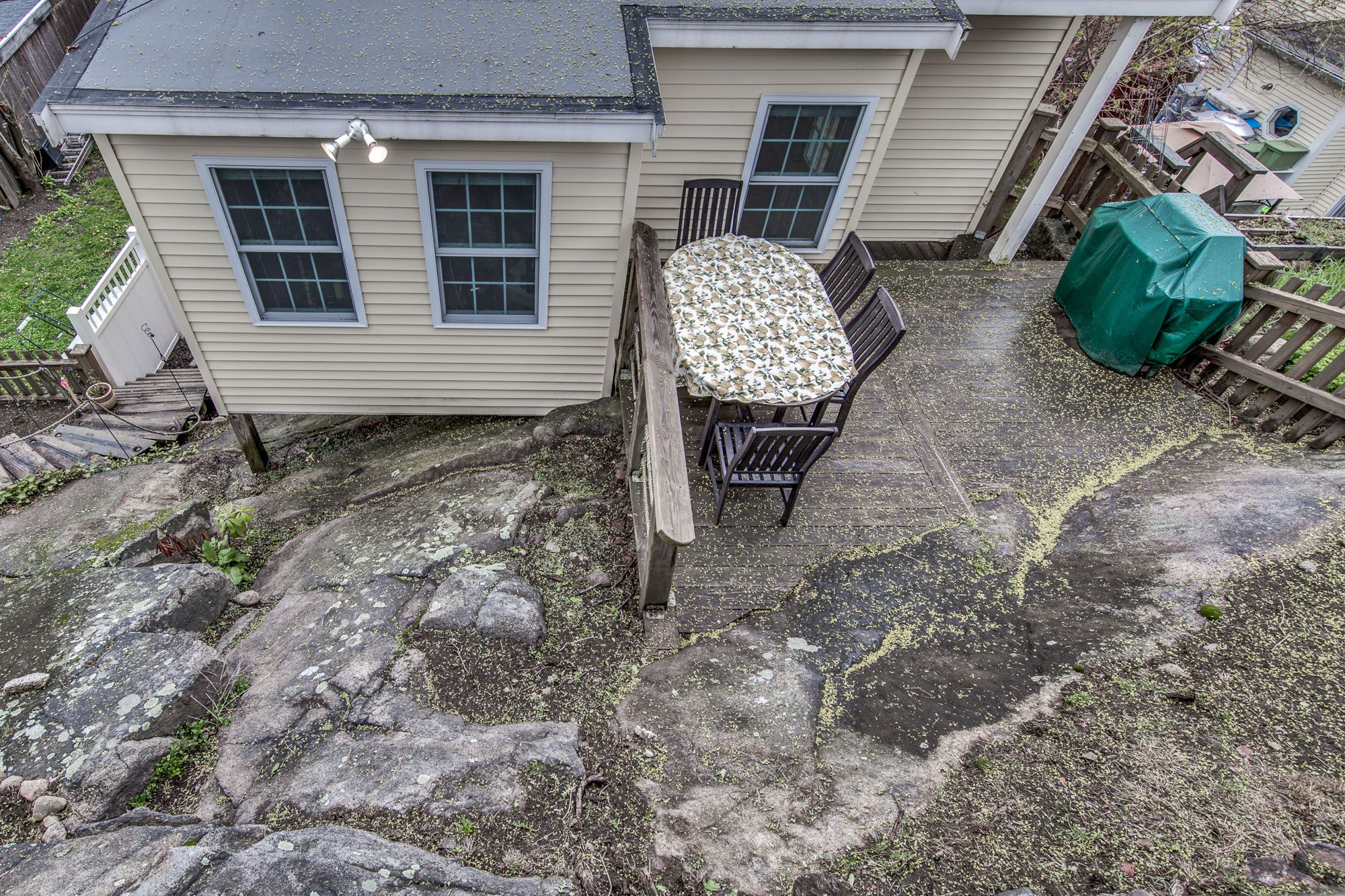 Enjoy a cup of coffee while taking in views of downtown Gloucester's rooftop architecture from the large tree top deck - and have a great, private place to view the Gloucester Harbor fireworks display! Behind the deck, and separated by open space and a large fence, is the fantastic, spacious Governer's Park (or Lookout Park), which is great for a stroll with or without a dog.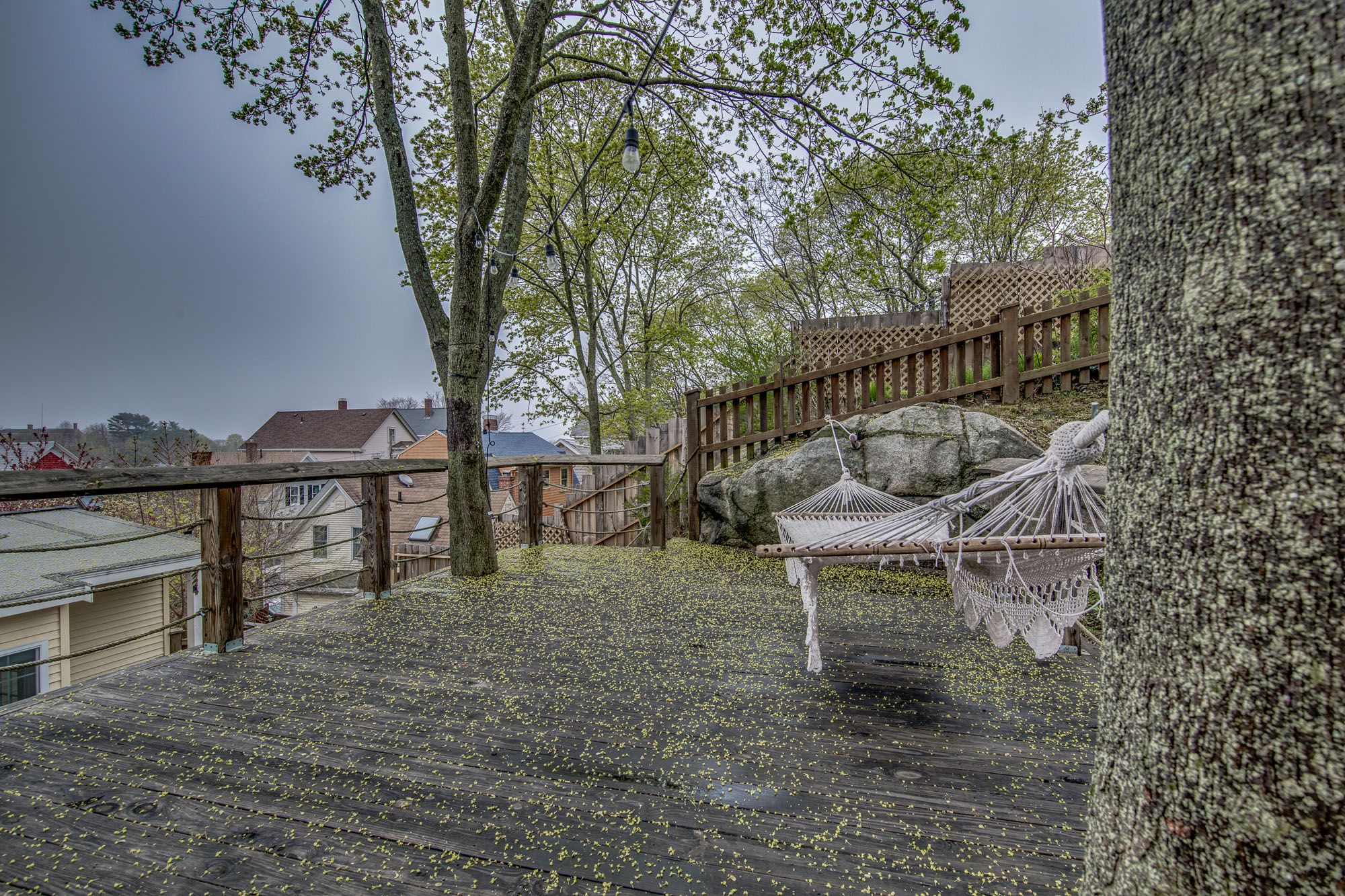 The first level of the home is warm and light, with an open concept living and kitchen area featuring gas stainless appliances and a built-in microwave over the stove, cabinets, and granite countertops, as well as hardwood floors.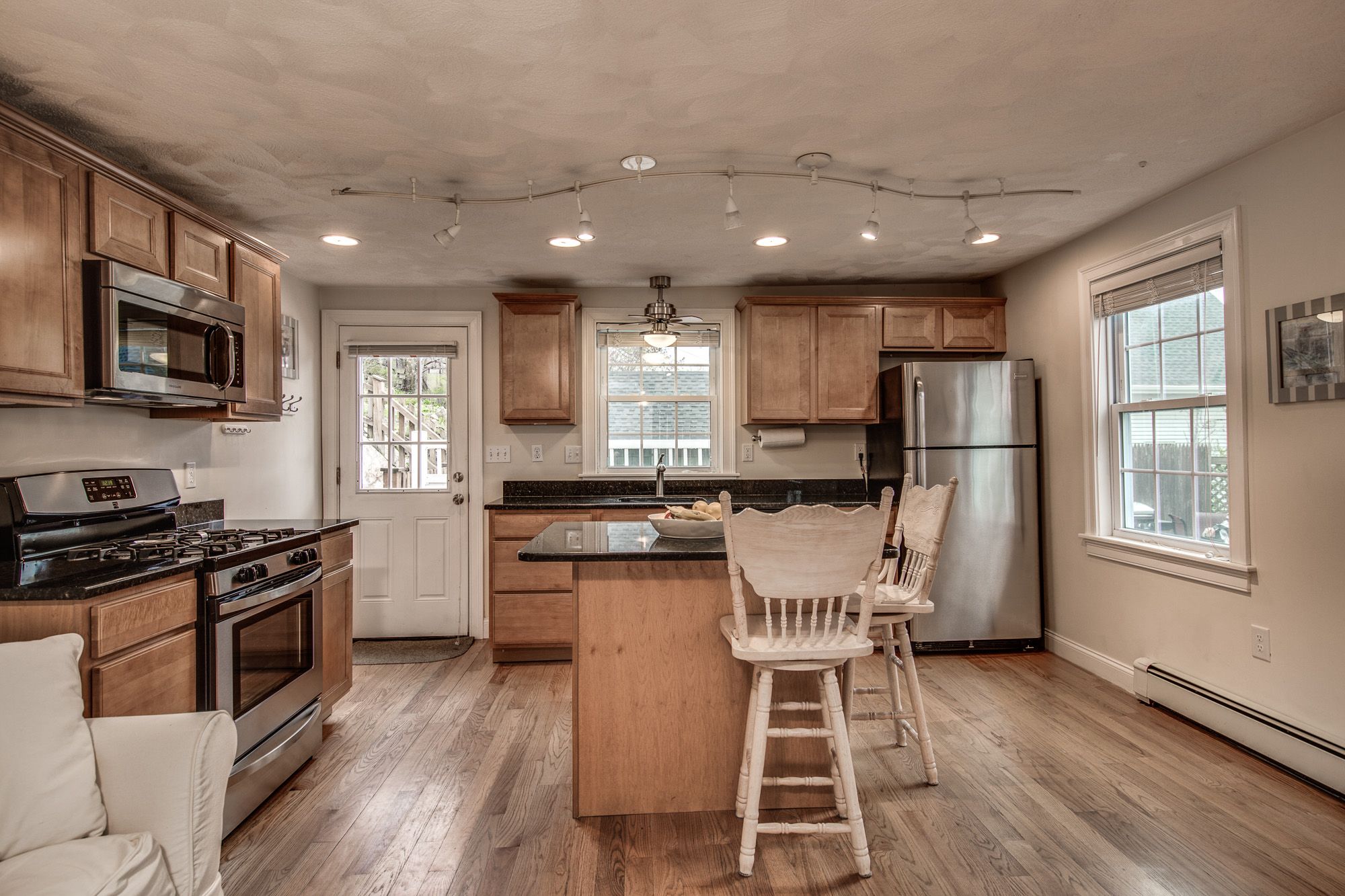 There are both track and recessed lighting, as well as fans to circulate the summer breeze, throughout the first floor. A large granite island provides both workspace and dining space.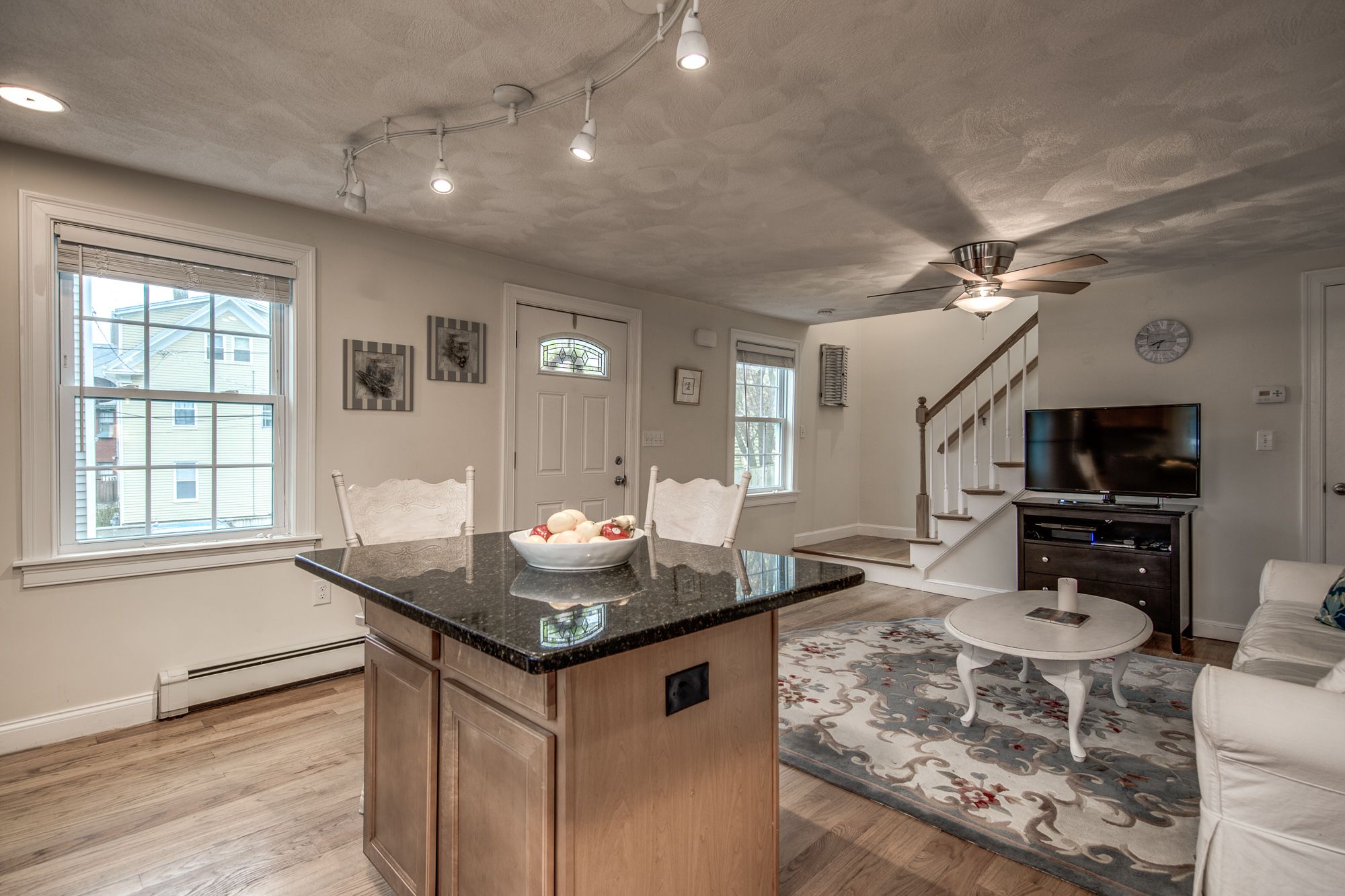 A convenient half bath, perfect for entertaining, with storage space is tucked underneath the staircase.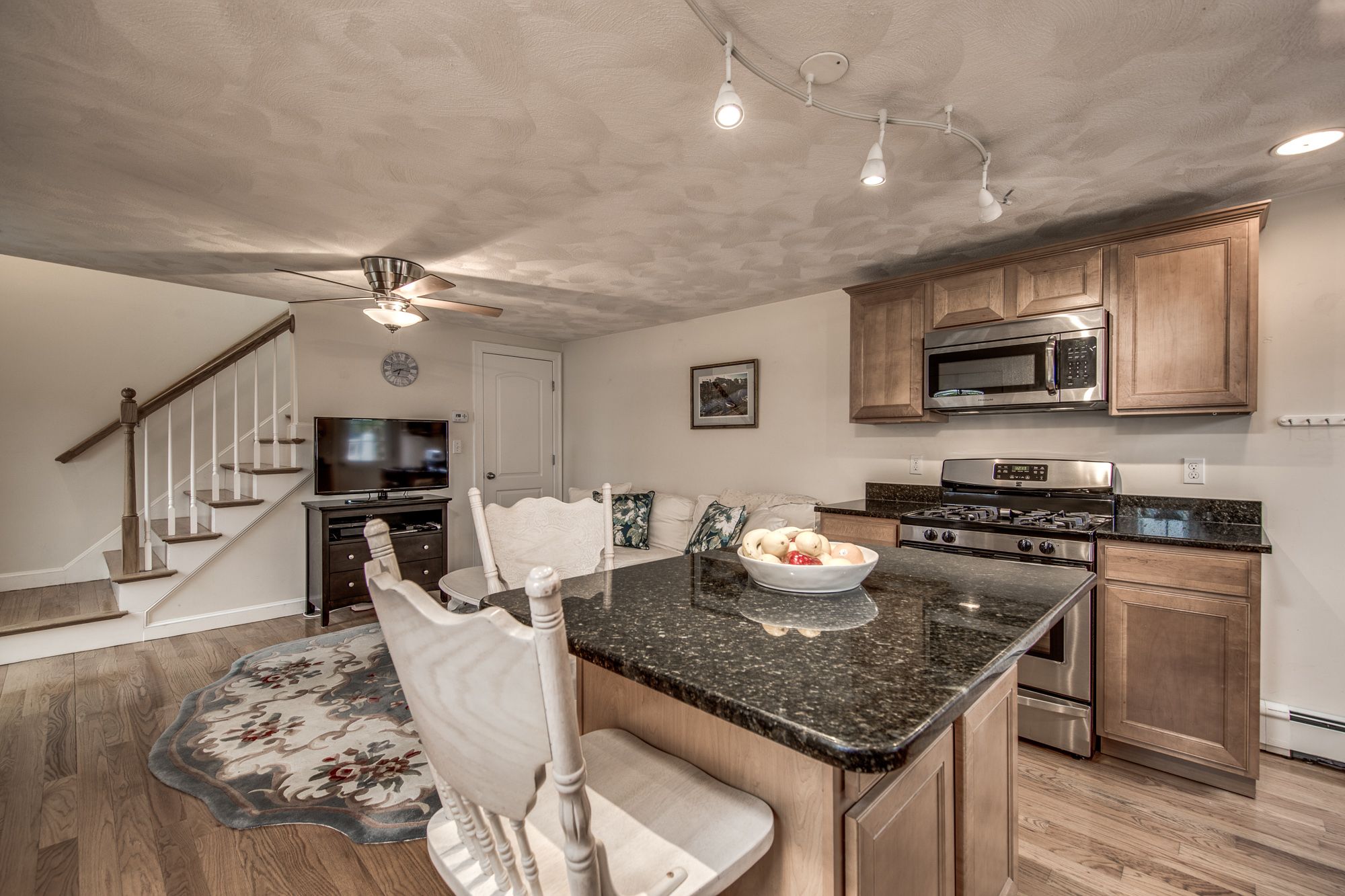 On the second floor, the master and second bedrooms, as well as a spacious full bath with oversized tile floors and storage alcoves, share hallway access with the exterior door to the second floor deck. Both bedrooms feature wall to wall carpet, while the hallway continues the hardwood flooring from the first floor and light-filled stairway.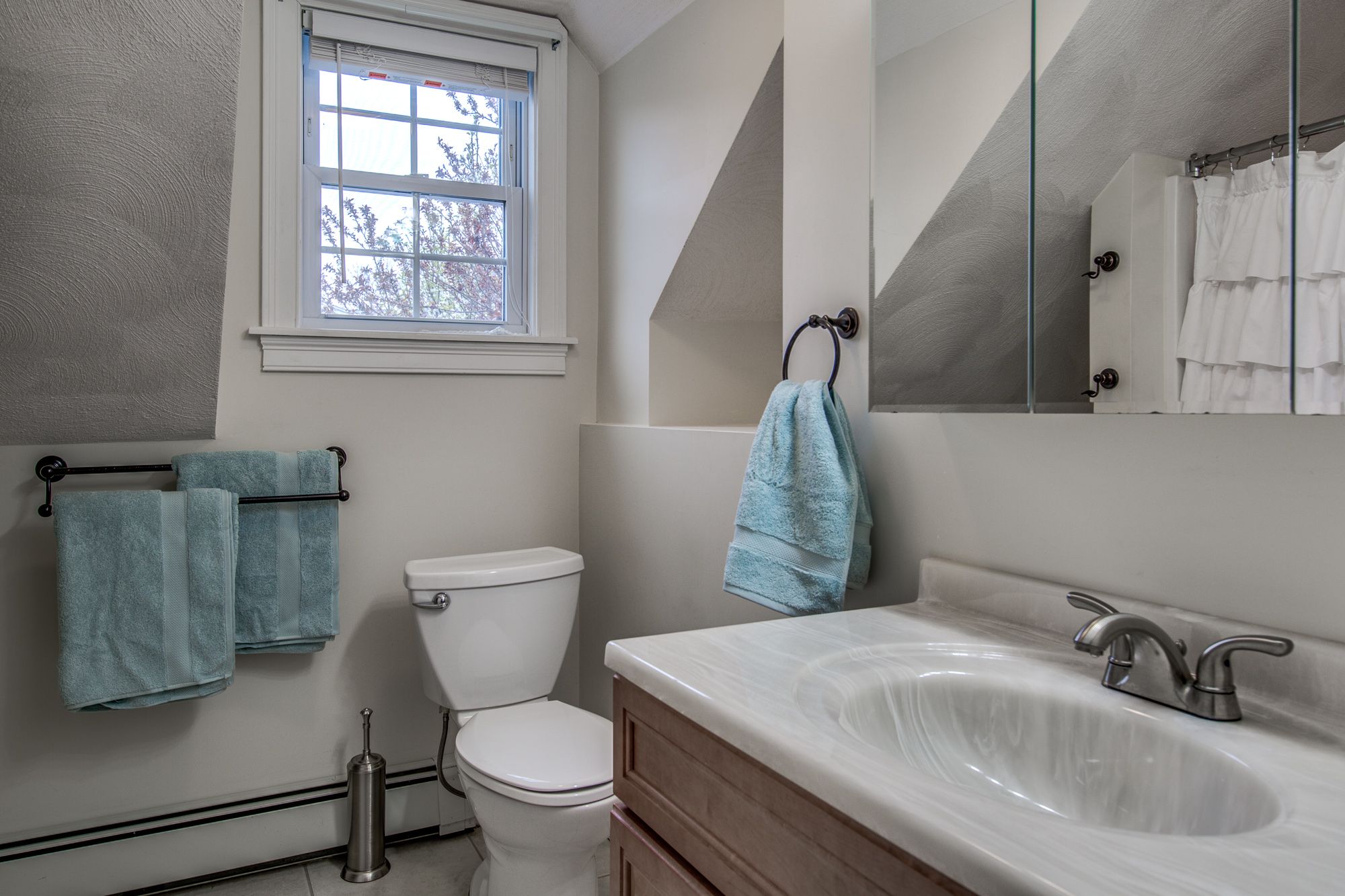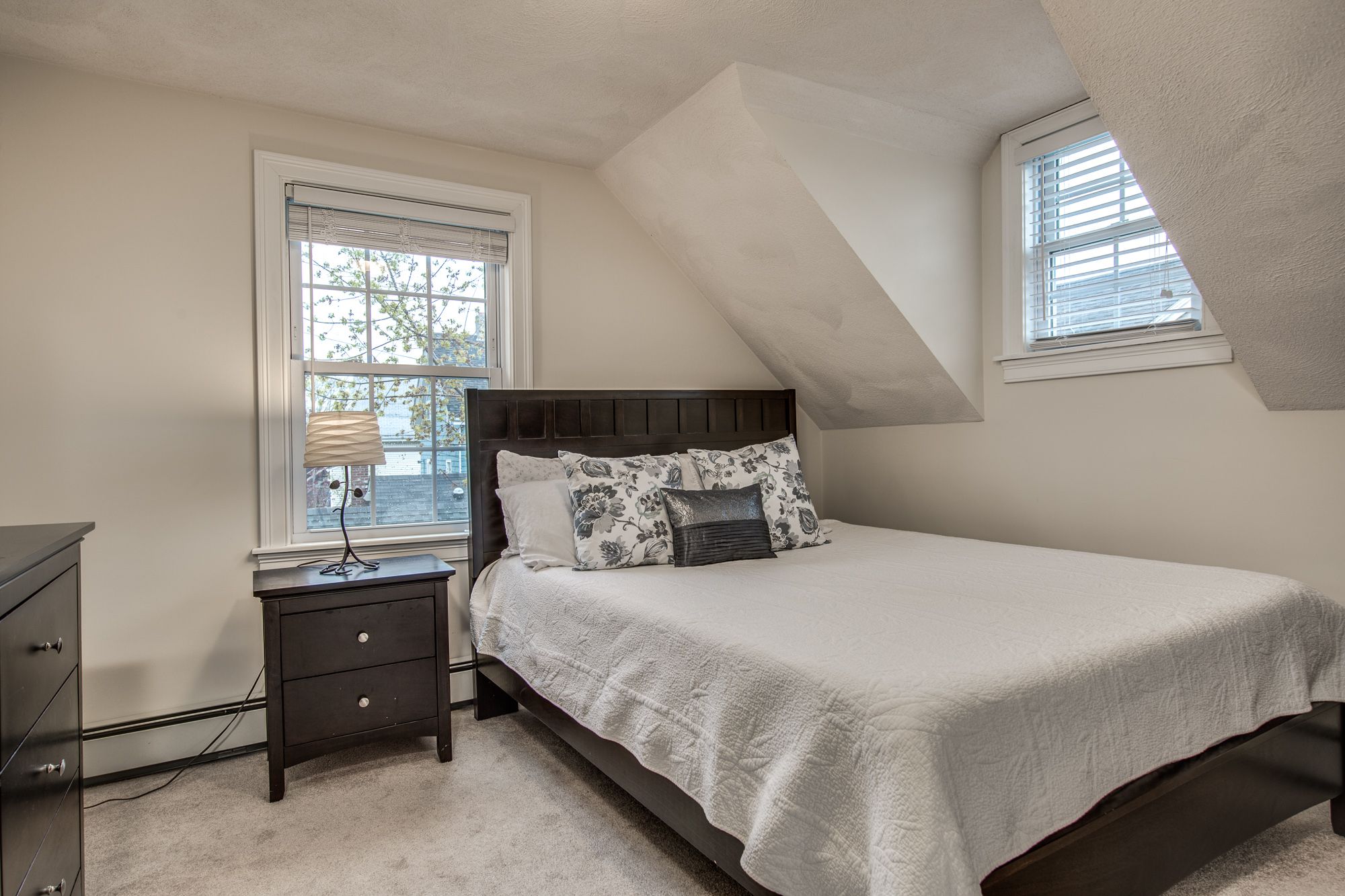 The second bedroom, perfect for guests clamoring to stay in our most beautiful seaside town, is built over the ledge and has amazing views of your private treetop deck.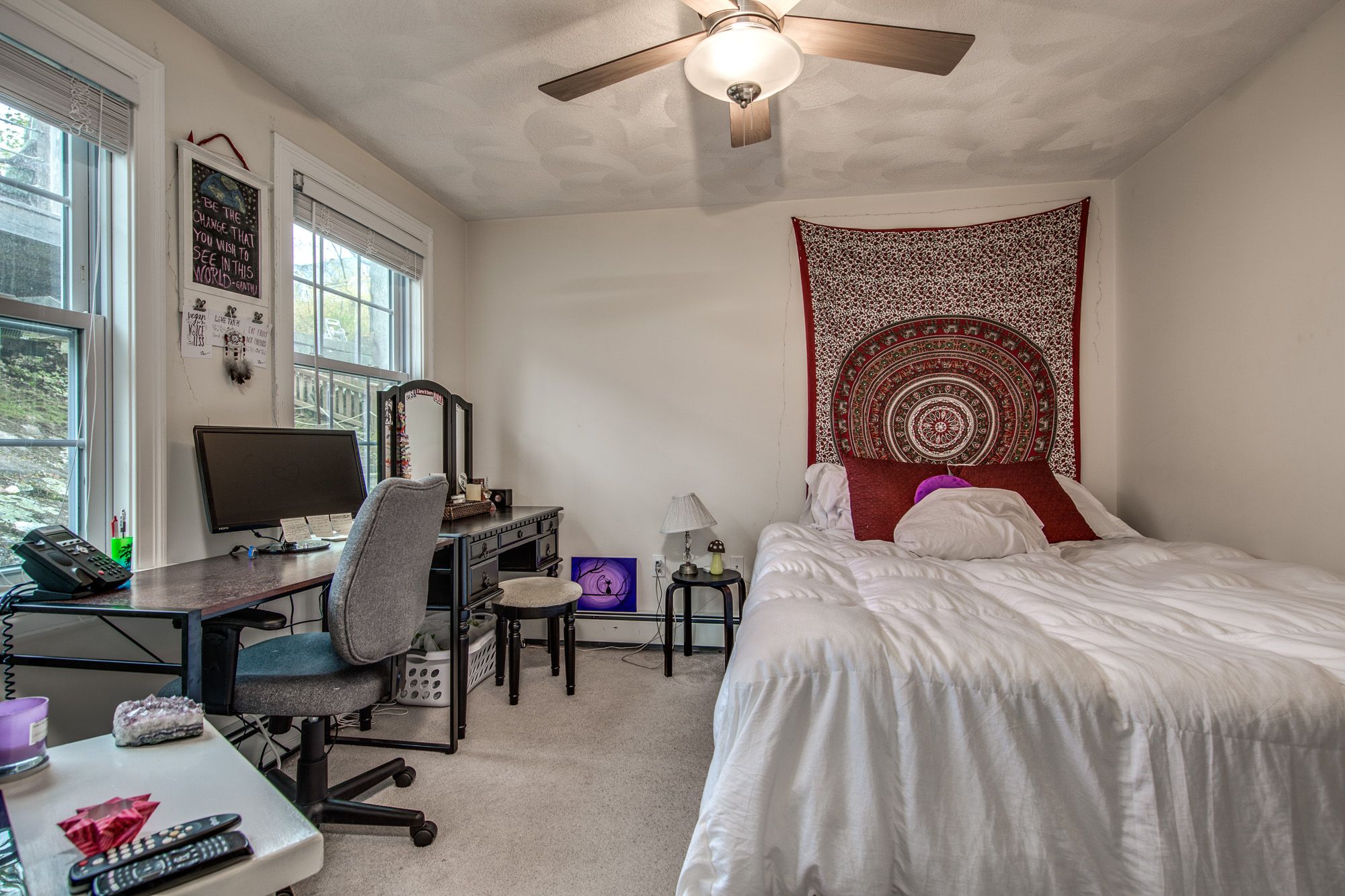 There is also a convenient area between the first floor of the home and the rocky ledge to keep outside items like gardening tools, trash barrels, recycling, even bikes!
There is plenty of space with a southern exposure (!) to garden, for those with a green thumb, and the previous owners have taken advantage of the unique footprint to make it pop with flowers and greenery.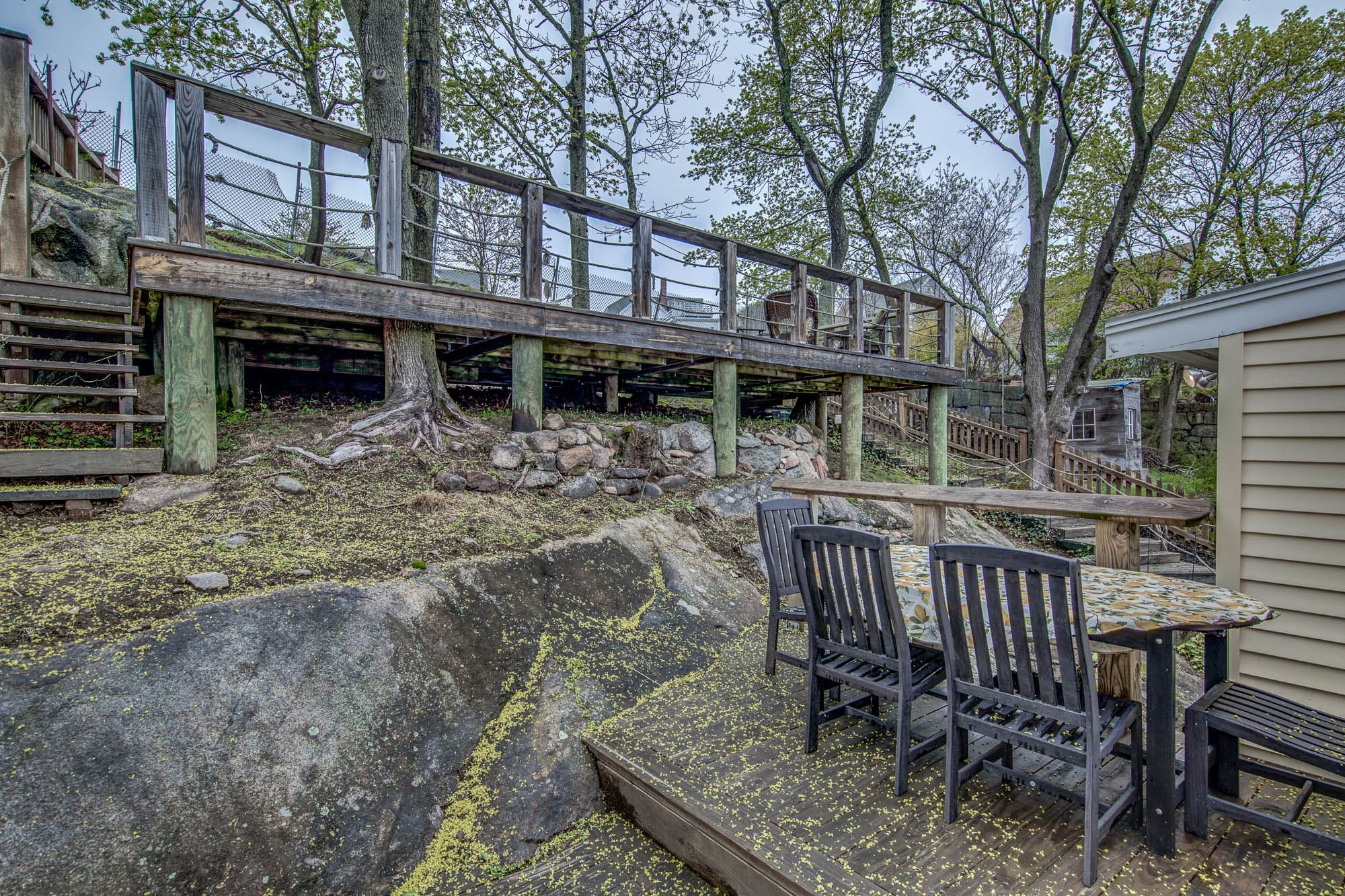 The basement, accessible by a bulkhead, contains a modern washer and dryer as well as the heating systems - all new from the home's construction in 2010. There is also plenty of storage area in the basement for lawnmowers, kayaks, tools, canoes - you name it!

Prefer to walk or bike? Park the car and be happy! The home's fantastic location is one of its major selling points. Beacon Street, in a calm but convenient part of downtown surrounded by historic homes, is a short walk to not only nearby restaurants like the Rhumbline, the Azorean, Midori, Tacos Lupita, Jim's Bagels and Bake Shop and more, but also all of Main Street, Pavillion Beach and the beautiful Stacy Boulevard! Stage Fort Park, with Cressy's and Half Moon Beach, and the dog park but a 15-minute walk.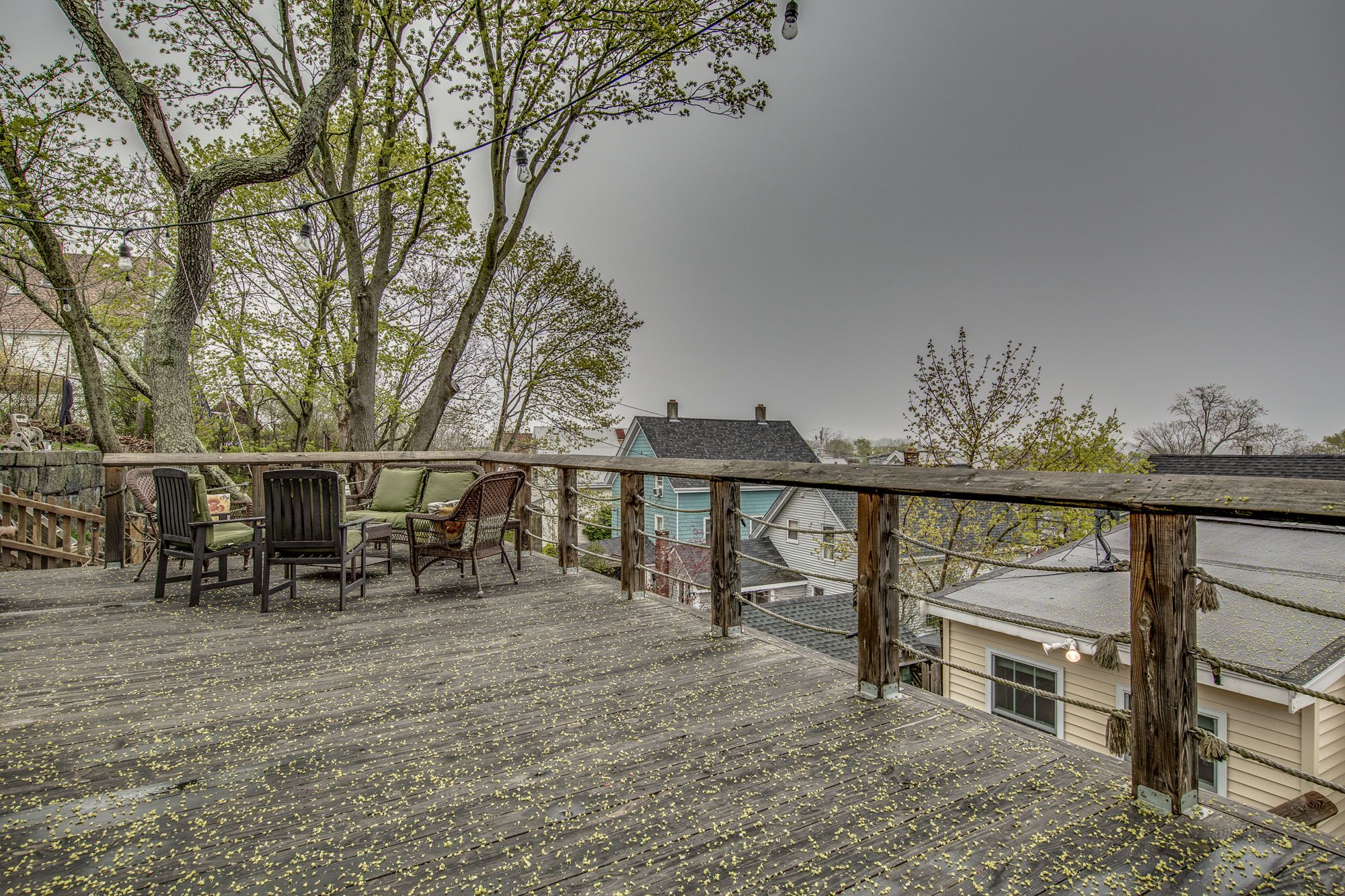 Pavilion Beach, as well, is roughly a quarter mile away - meaning there's no need to find beach parking on the hottest days of the year - just take a short stroll with towel & beach chair in hand! This home is also just around the corner - less than a five-minute walk - from the train station, meaning an easy and stress-free commute "up the line" such as Beverly, Salem, Lynn, or Boston.

If you're looking for a super convenient central Gloucester location, newish construction or a condo alternative that packs a lot of living into a small footprint - and has plenty of room for outdoor entertainment - 21 Beacon Street is the perfect place to make your own. Priced at $295,000.