Cape Ann Farmer's Market is Back for 2018!
It's summer, and the Cape Ann Farmer's Market is back and in full swing for 2018 - an incredible 12th season! With a fresh mix of organic and standard produce from area farms, CSA shares, local artisans and small business food distributors, the market is always a thriving community hub - and keeps growing each year. The market helps support over 800 acres of local farmland! Located once more at Stage Fort Park, the market takes place weekly every Thursday from 3PM - 6:30 PM. Parking is always free, and EBT cards are accepted.


Many of the same vendors from previous years have returned for this year's Cape Ann Farmer's Market, along with some fresh faces for the season. One major change is the loss of Markouk Bread, which has been a market favorite for years, but they have moved up and on into their own permanent restaurant space, which is a testament to how the market works as a small business incubator!'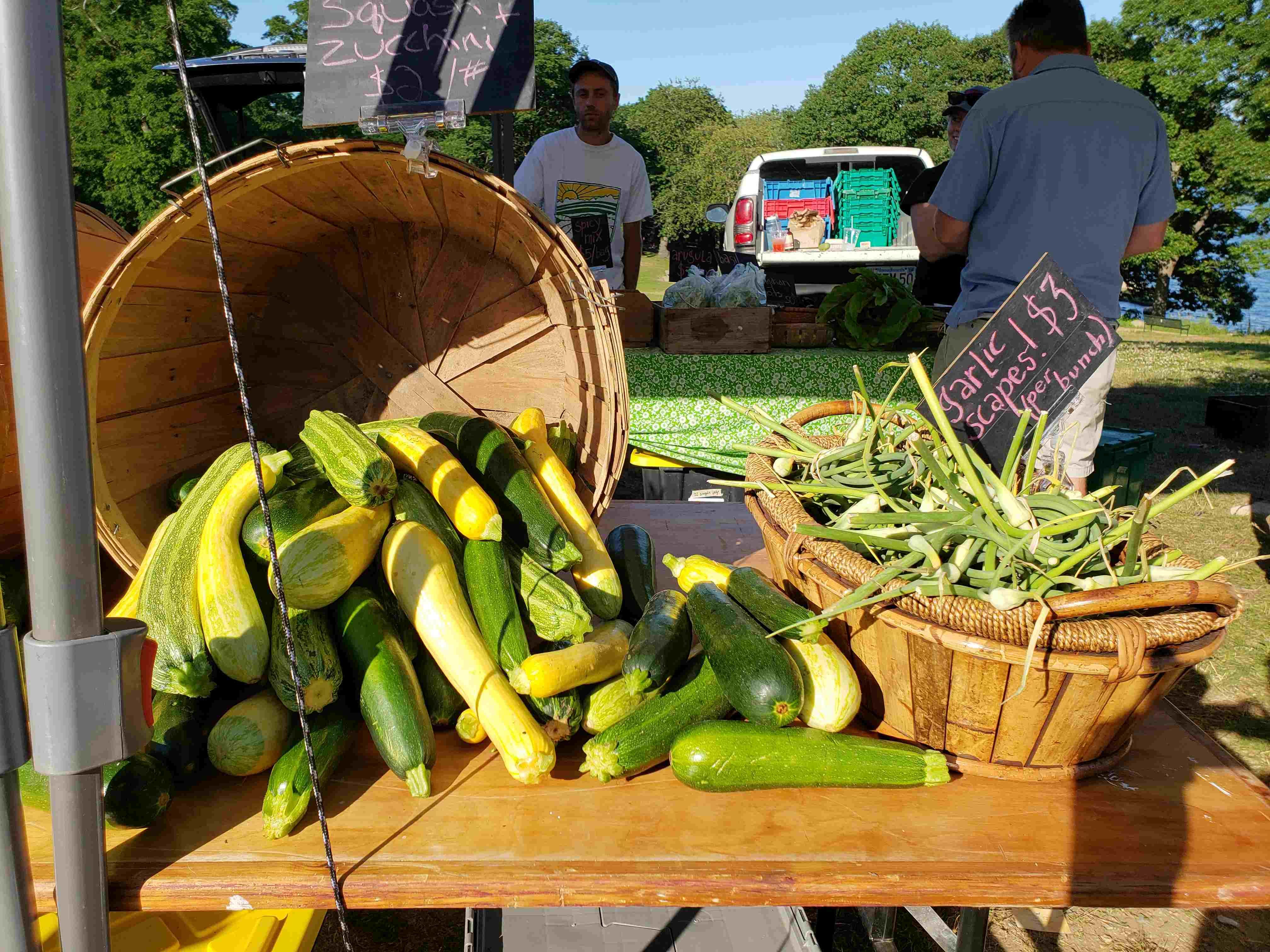 Fresh, delicious produce can be purchased from a variety of different local area farms, from Gloucester's own Marshall Farm, to Farmer Dave's, Arrowhead Farms, Gloucester's micro Iron Ox Farm, and Rockport's Seaview Farm.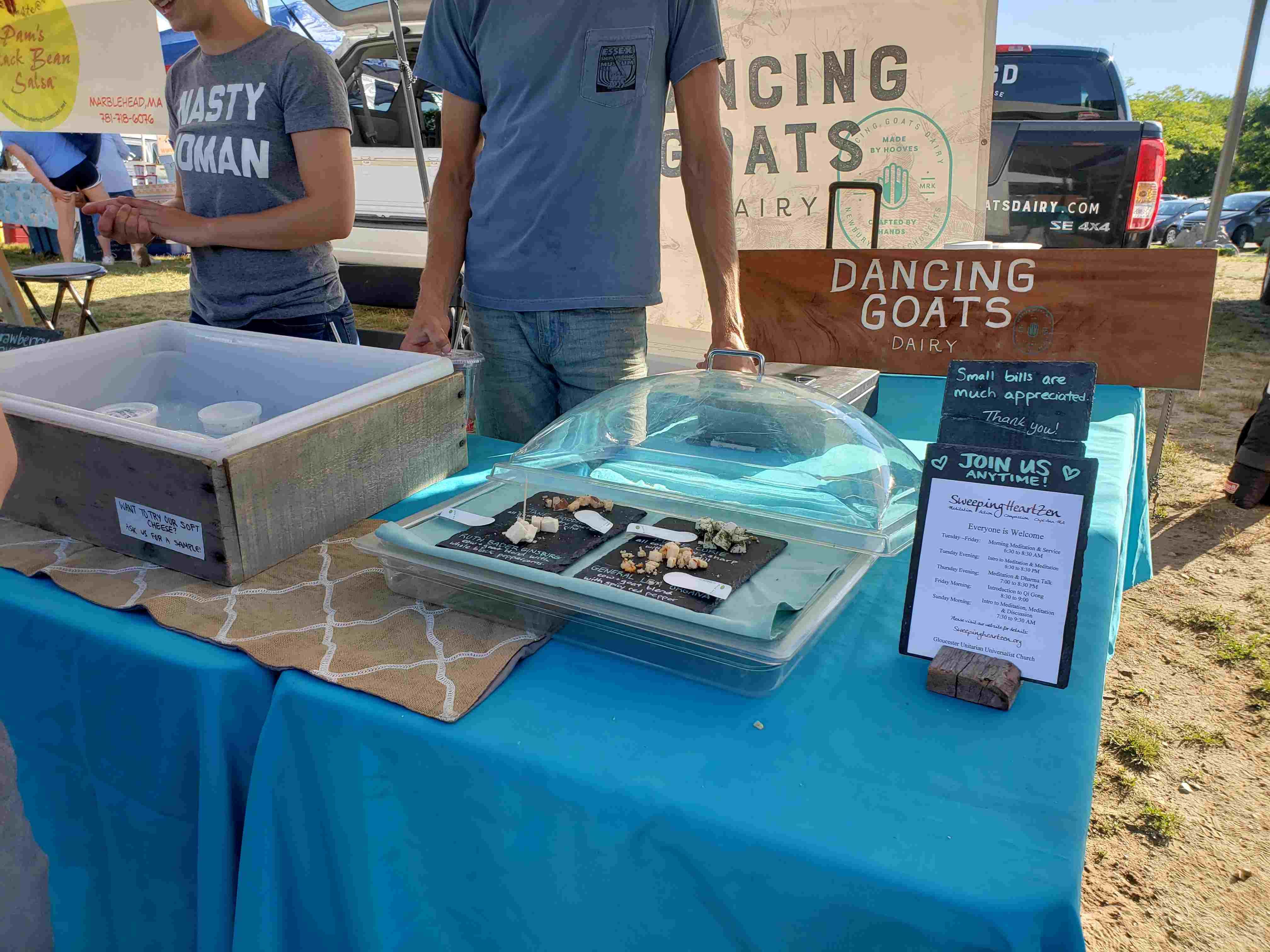 Dancing Goats Dairy, a small goat dairy farm based in Newbury, is back again this season, once more bringing a variety of handmade, small-batch cheeses made with cow, sheep, and goat's milk to the market. Dancing Goats Dairy had four different cheese blends to sample this past week, all named after famous strong women - General Leia Organa (cow and goat blend with spicy red pepper), Ruth Bader Ginsburg (a cow and goat blend with whole black peppercorns), Jane Goodall (a dry cheese with cocoa powder rind), and Marie Curie (a tangy, sharp dill cheese)!

The dairy sells whipped cheese with simple and elegant flavors like sea salt, fig, garlic and herb, and everything bagel, as well as a seasonal jam and marinated chevre.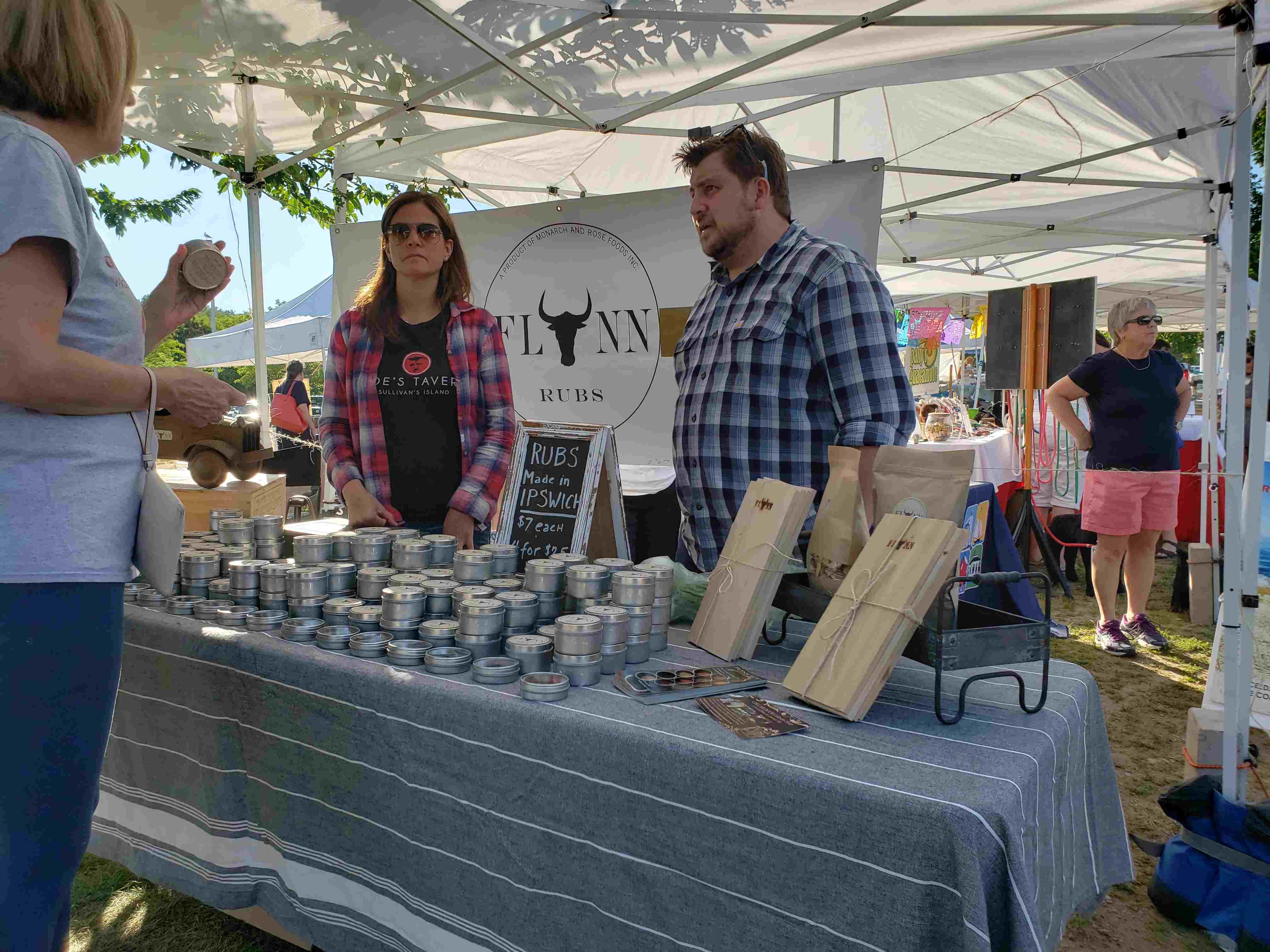 Flynn Rubs, based out of Ipswich, is a newer vendor selling pre-made meat rubs and spice blends like maple, chili lemon lime, applewood, sweet basil and tomato, rum and spice, seafood, and french fry seasoning.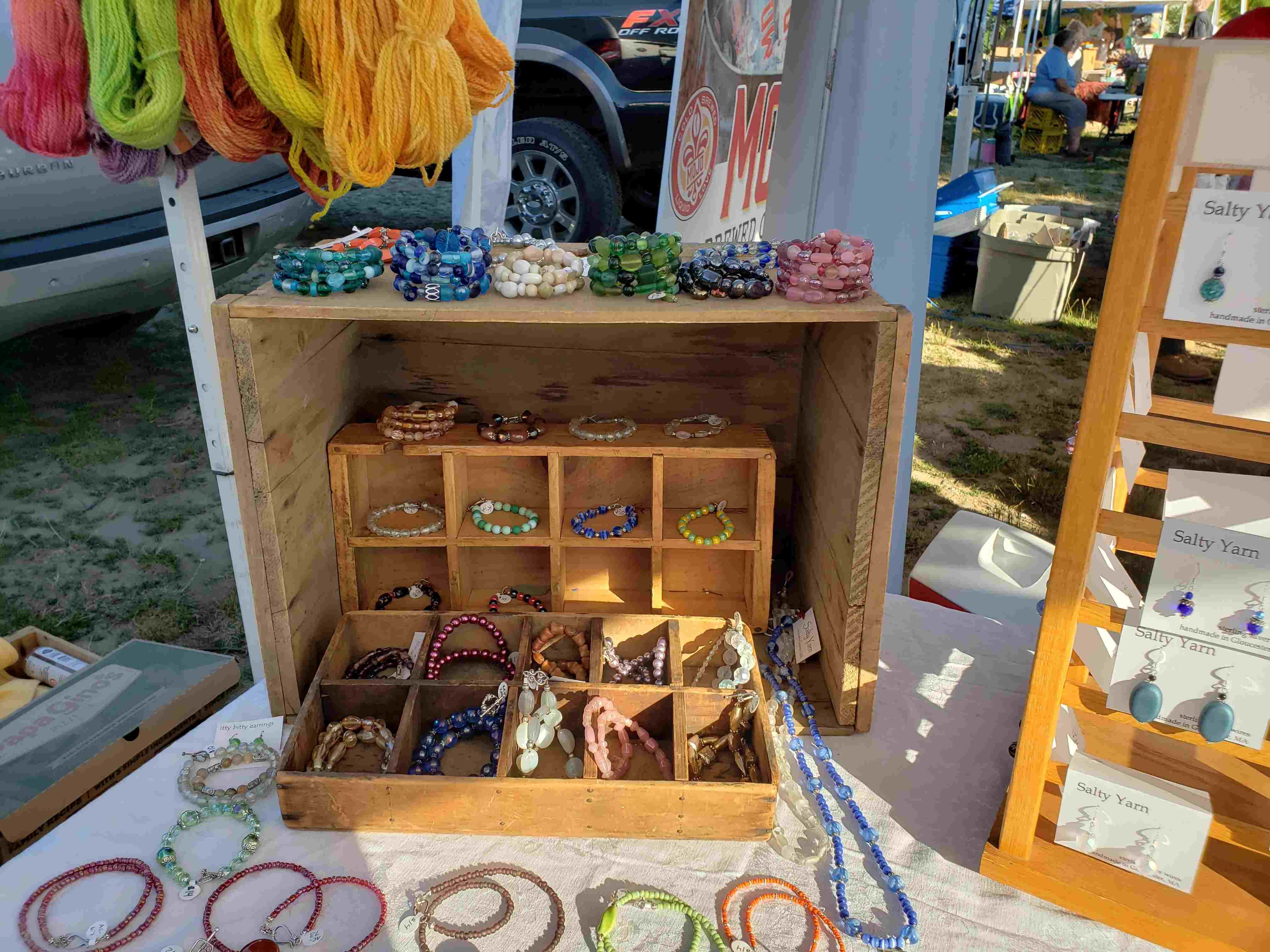 Flotsam and Jetsam Studios is made up of Camilla MacFadyen and Amanda Cook's Salty Yarn who are also two of the main contributors of the pop up holiday shop Present Gloucester. They have teamed up for the past few years to share a booth at the market, selling screen-printed shirts and bags, as well as jewelry and hand-dyed yarn.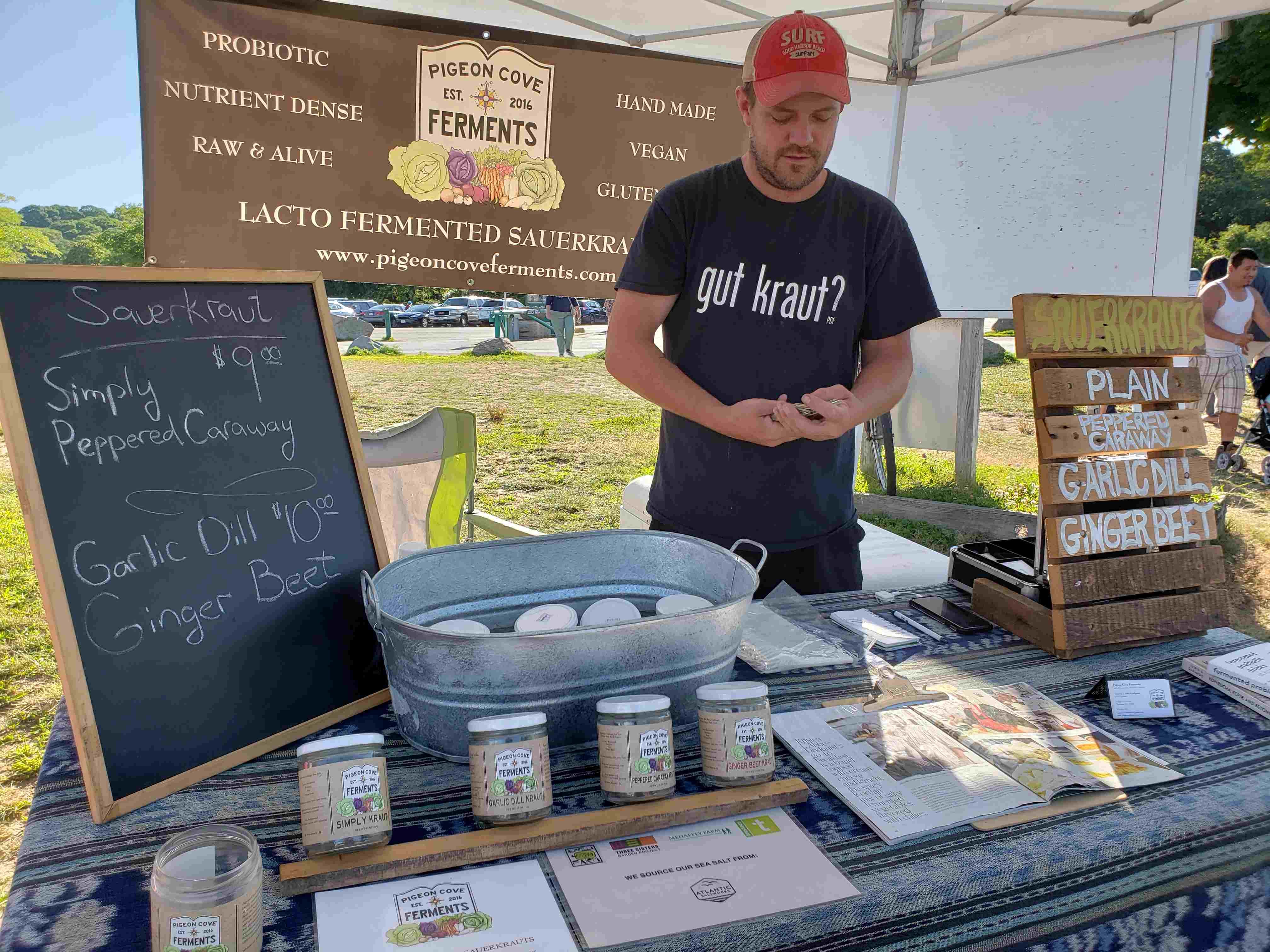 Local business Pigeon Cove Ferments was started by Rockport residents Dylan and Kristen, who started off urban homesteading - with chickens, a large garden, and a small greenhouse. The idea for the company came about when they realized they had an abundance of produce, they learned how to can and ferment to keep eating their garden's harvest year-round. Dylan is a head brewer at a local brewery and Kristen has a degree in Sustainable and Equitable Food Systems and a background in landscape design. Pigeon Cove Ferments works with local farms, and sources their salt from the North Atlantic, in all their sauerkraut products. These vegan, probiotic, nutrient-dense sauerkrauts come in flavors like Simply (Plain), Peppered Caraway, Garlic Dill, and Ginger Beet, with jars in the $9-10 range. The couple, and their business, was recently featured in Northshore Magazine!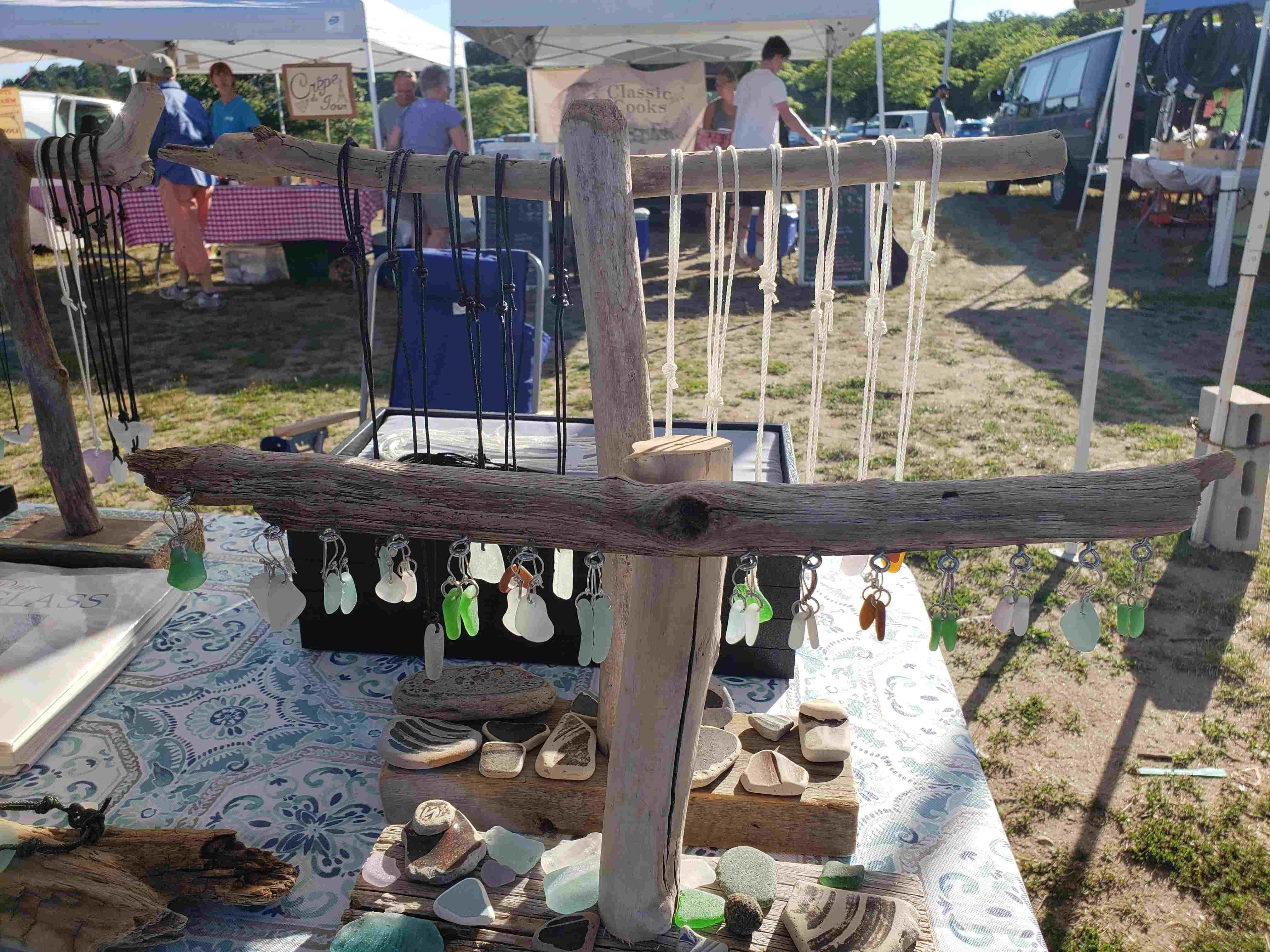 Tumbled by Time is owned by Marblehead artist Reni Wilson, who collects, designs, and hand-drills beach glass for stunning earring, pendants, and bracelets, as well as larger unique pieces.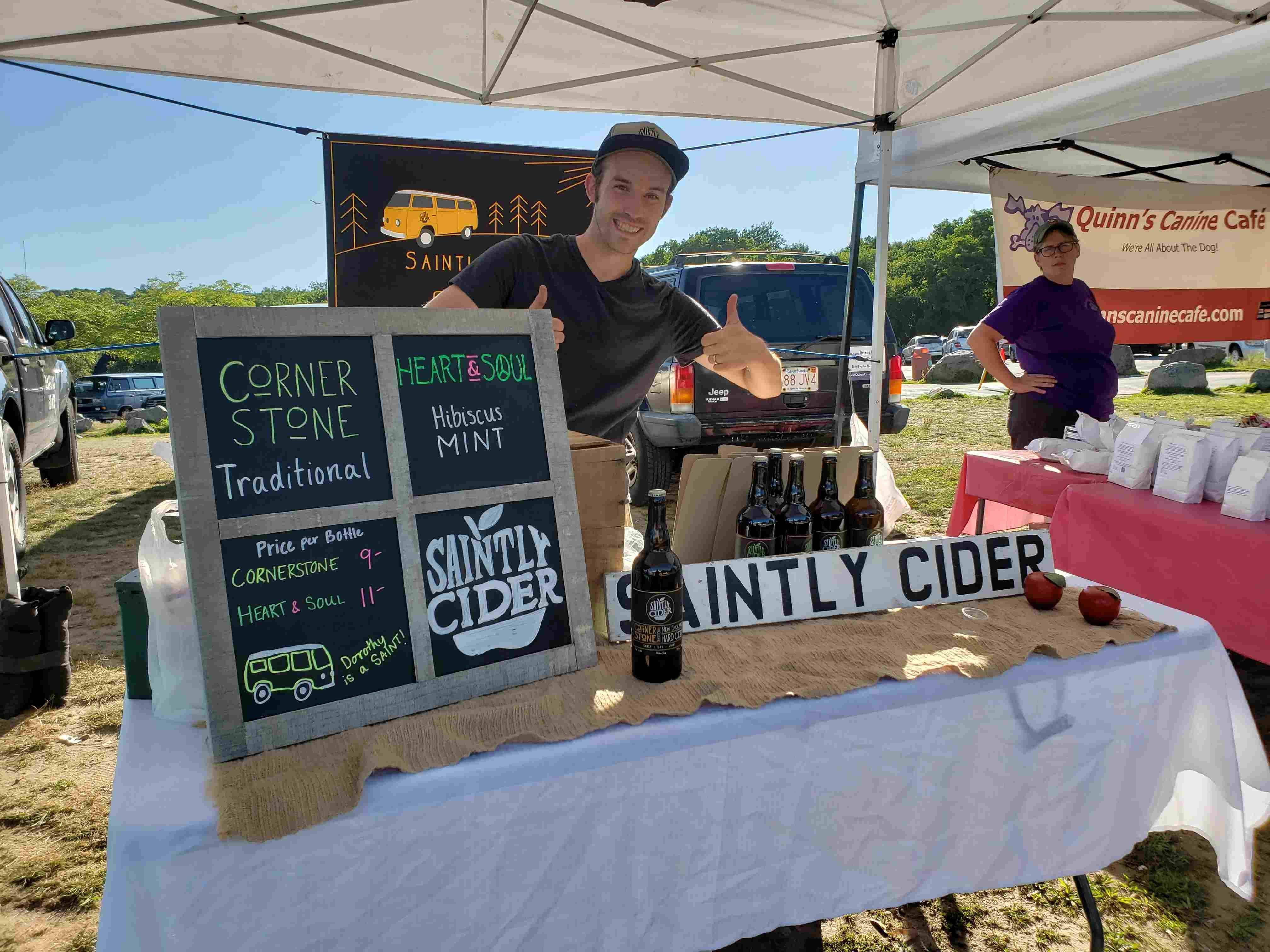 Another newer vendor, Saintly Cider, sells small-batch hard cider in a space they rent from Alfalfa Farm in Rowley. The founders, Caleb and Emily, met in college in Vermont. Caleb started the company in his basement with $200 of supplies, and the company has grown since then, with their traditional New England dry hard ciders being sold in specialty wine and beer stores across the North Shore. Their flagship cider is the Cornerstone Traditional, which is dry and not overly sweet, but still full-bodied. Another flavor, Hibiscus Mint, has a tender flavor and is a bit sweeter. Both are delicious, and Saintly offers samples at the market! A large bottle is $9-11. The best part? Saintly Cider has a bright yellow restored VW van with their logo!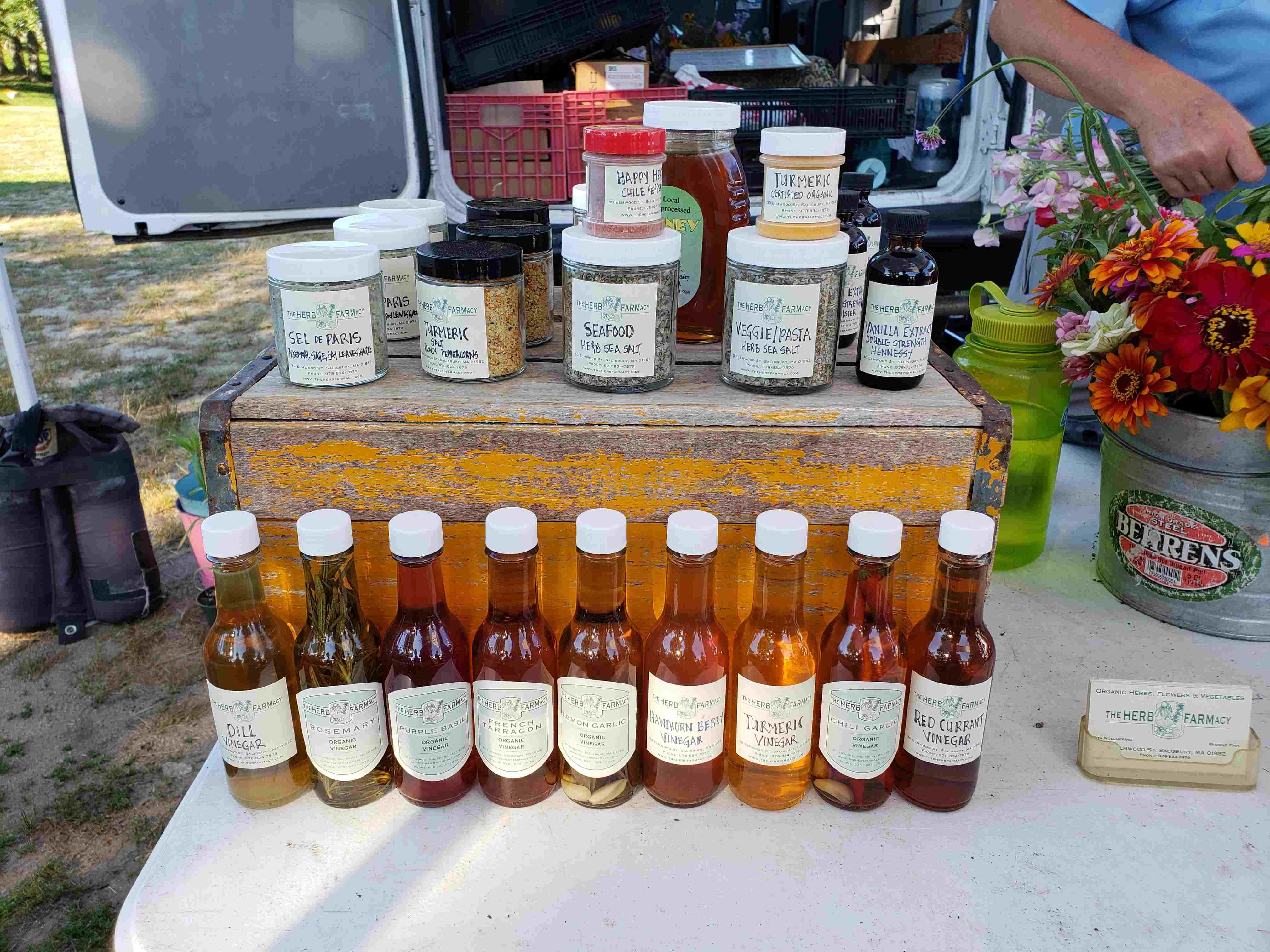 The Herb Farmacy out of Salisbury is part florist and produce seller, part retail vendor of artisan seasonings. They sell an array of flavored vinegars such as turmeric, red currant, dill, rosemary, and purple basil, along with meat rubs, floral arrangements, and live plants and herbs like lettuce, chives, basil, and parsley for re-planting at home.

One of the Cape Ann Farmer's Market's longest-running food vendors is the ever-popular Classic Cooks, a great place to grab dinner during the market. They sell comfort food like pulled pork, mac and cheese, and turkey chili, and have delicious pot pies and dessert pies to go - blueberry, key lime, and strawberry rhubarb, for example. Classic Cooks is also a catering company, so make sure to check them out for your next holiday or special event!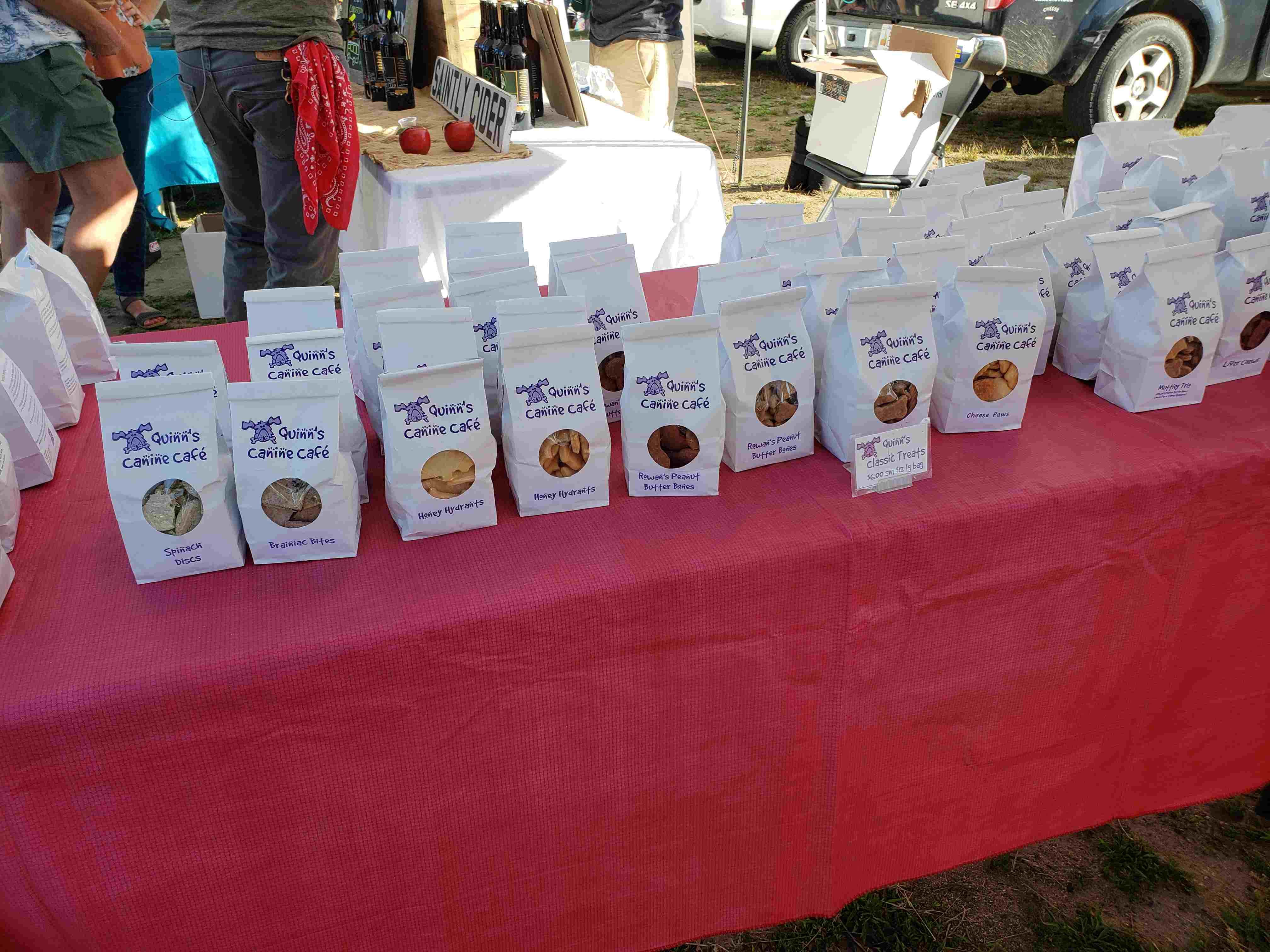 Quinn's Canine Cafe is a successful longtime market vendor - with fresh dog biscuits in many different flavors, from spinach to cheese and beyond! She bakes them carefully and playfully - in great shapes (like honey hydrants, cheese paws and peanut butter bones). Why not show your dog some love with these locally made and simple products?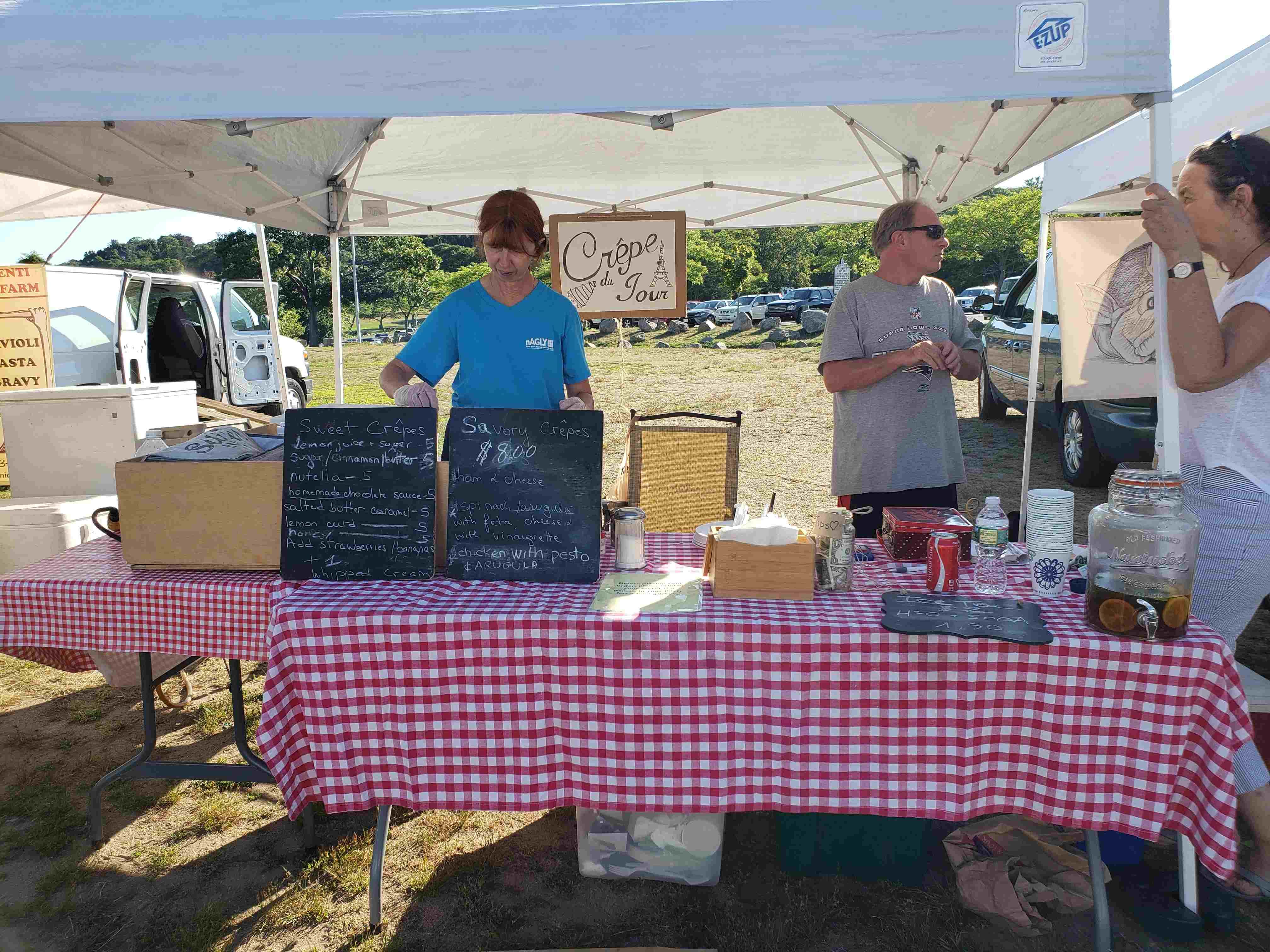 Crepe Du Jour has an array of sweet and savory crepes for marketgoers to eat while they shop. Sweet flavors are $5, and include lemon juice and sugar, sugar butter and cinnamon, nutella, homemade chocolate sauce, salted butter caramel, lemon curd, and honey. Savory crepes - a perfect dinner - are $8 and include ham and cheese, spinach, arugula, and feta with vinaigrette, and chicken with pesto and arugula.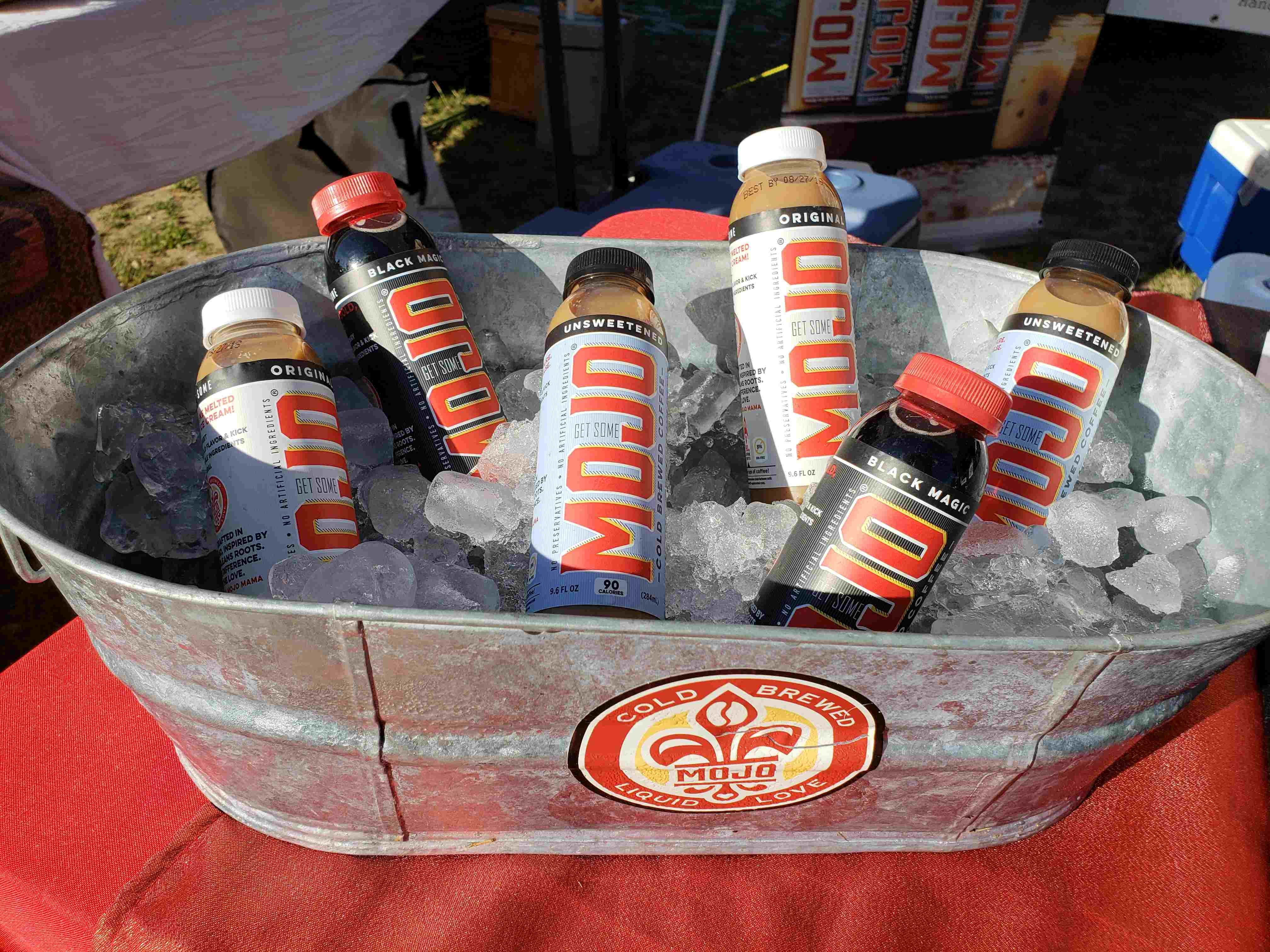 There are numerous other vendors setting up weekly, biweekly and monthly, like Sasquatch Smokehouse, Mojo cold-brewed coffee, A&J King Bakery, Patty's Guacamole, Trupiano's Sausage, Cape Ann Fresh Catch, Zen Bear Foods, Valencenti Pasta, Ma and Pa's Pickles, Tatiana's Treats, and In Good Taste.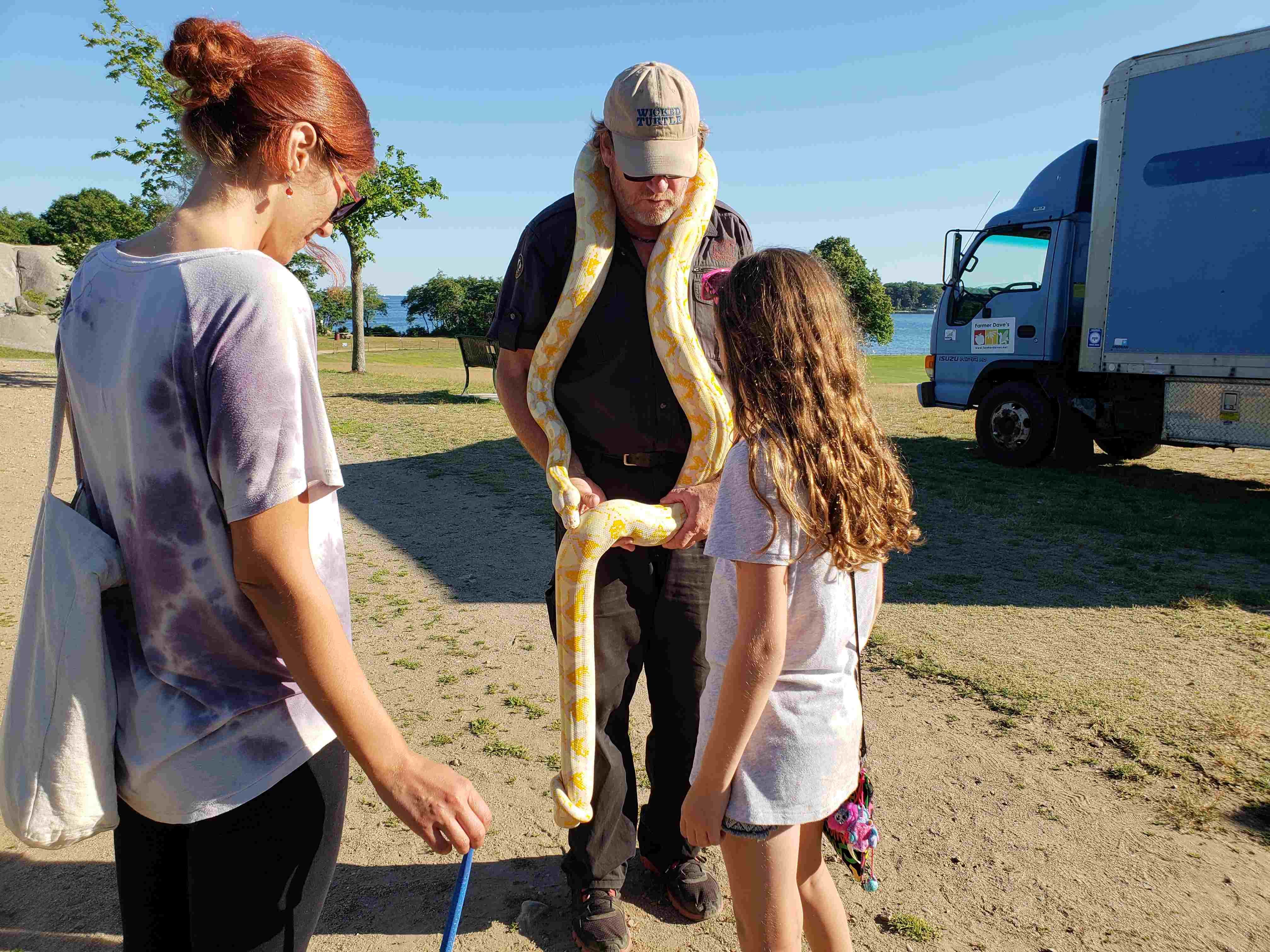 The farmer's market lets local nonprofits set up tents for free on a revolving schedule. Groups like the Cape Ann Vernal Pond Team, who certify small vernal pools which are so vital to wildlife, are invited to the market to increase their community engagement. This week, the Vernal Pond's Rick Roth showed off his beautiful, large snakes to adults and children at the market.
The Cape Ann Farmer's Market's next Seafood Throwdown Cookoff battle, where local chefs face off using locally sourced seafood ingredients and are judged by a panel of Cape Ann politicians, bloggers, and other prominent locals, will take place on August 16th.

For more information on the Cape Ann Farmer's Market, visit their website. The market takes place each Thursday from 3-6:30 PM at Stage Fort Park on Hough Avenue, Gloucester. The 2018 Farmer's Market season runs June 7-October 11.




Selling Your Home?
Get your home's value - our custom reports include accurate and up to date information.
Get Home Value